Phuket
Dutch national coach uses Phuket to target Olympic gold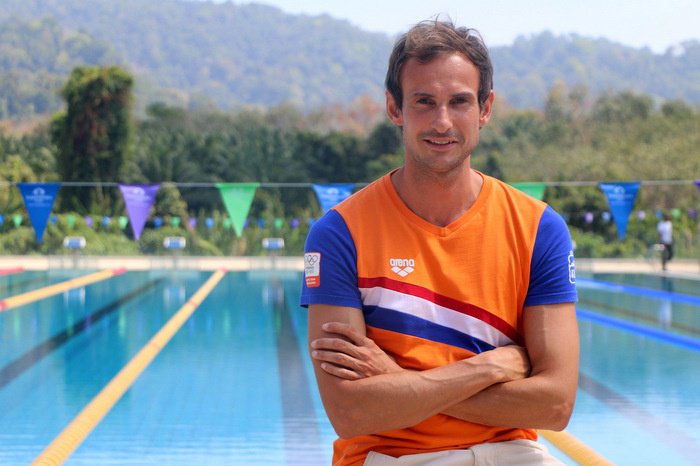 PHUKET: The Dutch national swimming team recently returned to Phuket for the third time to stay and train at the Thanyapura sports center. Among them was Ranomi Kromowidjojo, 50m and 100m freestyle Olympic champion, looking to improve her stroke and secure Olympic victory at the 2016 Games in Rio.
Yet, challenges lay ahead for the young Olympian, just 24 this year, said Patrick Pearson, Kromowidjojo's personal trainer and head coach of Dutch national training center in Eindhoven.
Pearson joined the national team in June 2013, less than one year after Kromowidjojo scored two gold medals and one silver at the Summer Olympics in London, and six years since her first Olympic gold, for 4×100m freestyle at the Games in Beijing.
"Ranomi had a pretty tough time having become two-time Olympic champion," Pearson told the Phuket Gazette. "In the first years, she found it difficult to motivate herself."
Two years later, Kromowidjojo is on the way back to the top of her sport, and with the Rio games drawing near, her motivation is peaking.
"She worked a lot on herself and on her goals, and now she knows that she simply likes swimming and that the main thing that counts are the Olympics," Pearson said.Motivation, however, is not everything. The Olympian has to outdo herself each time, and previous records are simply not enough for the next games.
"From a physiological perspective, she's as good as she was in 2012 when she was scoring medals in London," Pearson explained.
"But for the next Summer Olympics, she has to be better. And we see there is space left for improvement."
Kromowidjojo's performance analysis takes place during her weekly training session at the training center in Eindhoven, where the swimmer spends as many as 26 hours a week with her coach.
However, though the national center is very well equipped, the team has to travel abroad during the winter, in search of sun and conditions to train outdoors.
"When we want some sun, which provides Vitamin D, a crucial element in staying fit, we need to leave Europe and travel south," Pearson explained.
"Here in Phuket, we have these accommodations and facilities, the very good pools with starting blocks just like the ones we have at home, great food and the whole Thanyapura team working for us. That's what keeps us coming back here."
The team's visits to Phuket, the latest of which was three-weeks long and ended on January 30, are not holidays. The intensive daily training routine runs from Monday to Saturday, leaving just one day for down time, often including a visit to the beach or one of Phuket's tourist attractions.
"The training camp is always different than training at home," Pearson noted. "We have a small group; but it still includes a lot of support physiotherapists, doctors and so on, and we have a lot of social control over each other."
Kromowidjojo, however, needs no additional incentive. With the Summer Olympics just 18 months away and 16 of her colleagues on the Dutch swimming team eager to take her place on the podium, she has all the motivation she needs to give her best, again.
— Maciek Klimowicz