Culture update: The slow death of the Phuket dialect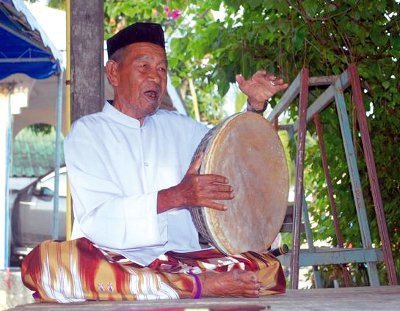 PHUKET: Developed over generations in isolation from the mainland, Phuket's unique version of the southern Thai dialect is dying out, diluted by the huge influx of migrant workers, the tourism boom, mass media and a slew of other factors.
The Phuket dialect is unique. Compared with other versions of southern Thai, it tends to be slower and more flowing than the rapid-fire varieties found in other parts of the region. It might be considered "cute" or even somewhat effeminate by other southerners.
"I was teased a lot by my other southern friends when I said words with "Y" and "W" sounds and for dropping "G" sounds. My friends tried to mimic the unique sound of the Phuket accent, but couldn't," one Phuket native told the Gazette.
At 93 years of age, Cherng Talay native Chote Jumpada has witnessed enormous changes in his lifetime.
"It is difficult to watch Phuket's unique language and customs disappear, but nothing can stay the same forever," he said with a sigh.
Thinking the Phuket dialect will perhaps have completely disappeared in a few decades' time, Mr Chote uses it exclusively with his children, grand-children, and great-grandchildren as a way of passing it on and preserving it as long as possible.
But it's an uphill battle. "When I want them to put ice in the glass I say ao sueng sai jog, but they say ao namkhang sai gaew," he explained.
Sueng and jog (ice and glass) are among the many words unique to Phuket Thai that have been supplanted by central Thai equivalents, in this case namkhang and gaew.
Many of the disappearing words were imported from Hokkien Chinese, a legacy of the tin mining era.
One such word that has enjoyed a comeback of sorts in recent years is banzaan (wet market). A market of the same name opened in Patong in 2005.
Dilok Vuttipanich, born in Phuket 84 years ago, said the soft tone of the Phuket dialect comes across as polite to people from other parts of the south, even though final "politeness particles" like krab or ka are often dropped.
Dr Prasit Koeysiripong, who heads the Old Phuket Foundation, explained that many young people in Phuket now grow up speaking central Thai.
"Even if they can speak with a Phuket accent, many of them no longer use the Phuket vocabulary," he said.
"For example, the Thai word for 'wait' is khoy in central Thai, but in Phuket it is tah, the same of the word for 'station' – because when you go to a station you go there to wait. But not many people here use tah anymore, they say khoy. So even if they use the Phuket dialect, they are now using more central Thai [or 'Bangkok Thai'] words."
Such a mixing of regional accents and vocabulary is called thong daeng – literally "copper alloy".
"So it's dying in two ways – vocabulary and accent – but we are trying in schools and privately to save it," Dr Prasit said.
Professor Sommai Pinphutasin, president of the Phuket Historical Interest Group, held Phuket's modern role as the cause for the demise of the island's dialect.
"Phuket is growing very fast, creating a lot of job opportunities that attract people here. The island is a melting pot of people from other regions of Thailand, Asians and Europeans. This of course has a big impact on local language and culture," said Prof Sommai, who is also curator of the Tin Mining Museum in Kathu.
"Natives tend to use the language most easily understood by outsiders, so the local dialect is being used less and less in daily conversation. New generations, whose parents are not Phuket natives, blend the Phuket dialect with their parents' native tongue.
"The local dialect is not included in [most] school curriculum; students are actually prohibited from using it when talking with teachers. It is now trendy for new parents to speak Bangkok Thai with their children at home, and younger Thais now blend the Bangkok and Phuket dialects. The result is a new hybrid Phuket dialect being created, while the old one fades away," he said.
Professor Sommai supports the effort by Phuket City Municipality schools to include the local dialect into curricula.
So does local historian Pranee Sakulpipatana. The effort is the complete reverse of what she experienced as a Phuket schoolgirl when Thailand was under the rule of Field Marshal Plaek Pibulsongkram, she explained.
"During my time, General P wanted to completely unify the country. He didn't want us to be like a salad, with green peppers and red peppers, but like khao tom – everything needed to be mixed and boiled together to make one [homogeneous] nation," she said.
"Later, people in the south came to think that speaking central Thai properly was a sign of high status. That's why the students didn't speak southern Thai…But now we are encouraging schools to promote the southern dialect. Most of the tessaban (Phuket City) schools have done this. They have one course that focuses on local Phuket culture, including language," said Ajarn Pranee.
Yet the dialect still suffers at university level, she said.
"Many Phuket students study in Bangkok or some other provinces, and there is a big influx of students from other provinces in the south," she explained.
Southern Thai has many regional variations. There is one main variety along the Gulf coast and another along the Andaman Coast. But Phuket was isolated for so long it developed its own very particular dialect, she added.
"For example, if I want to ask 'How are you?', in Phuket we we say bpen pheuy, but in Ranong they say bpen phreu or even bpen pheu-reu [three syllables with a trill on the final one]. In Phuket Thai we often drop the final sound compared to, say Surat Thani, where they say it very clearly," the associate professor explained.
She concurred with Dr Prasit's explanation that many younger Thais in Phuket are blending Bangkok Thai with the Phuket dialect.
"Some of the new generation still use southern pronunciation, but with central Thai words. So some words have been forgotten."
However, she added, "If you ask me whether I think the Phuket dialect is dying, I would say, 'No.' But it is just that it is not the real, proper Phuket language."
Phuket Town is where people are most likely to hear old-school Phuket Thai being spoken, Ajarn Pranee said.
"A lot of people in Phuket Town still speak the local dialect and I try to keep the language going myself. If I am in public I always speak using Phuket dialect first.
"If I am in town with foreigners, I ask if it is okay to switch over to English… and they are shocked. They feel like 'Hey! That lady speaks proper Phuket Southern Thai and she speaks good English too. The point I want to get across is that it is isn't cheuy [outdated] to use Southern Thai," she said with a laugh.
— Sim Scudder & Stephen Fein

Join the conversation and have your say on Thailand news published on The Thaiger.
Thaiger Talk is our new Thaiger Community where you can join the discussion on everything happening in Thailand right now.
Please note that articles are not posted to the forum instantly and can take up to 20 min before being visible. Click for more information and the Thaiger Talk Guidelines.