Phuket
Citing indelible memories and people, the Phuket Gazette bows out in a nostalgic farewell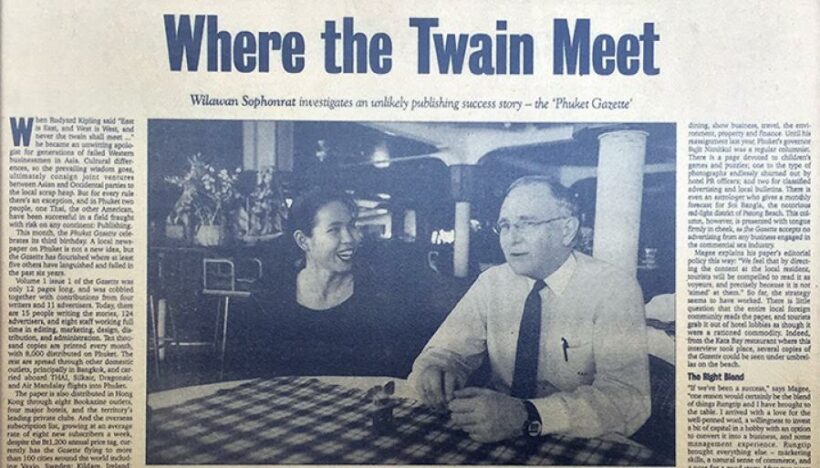 PHUKET: Times change and old media continue to bow to the new. With great regret, the Phuket Gazette is retiring from the field and will cease operations with effect from the end of this month – midnight, July 31.
Other than our office, owned by a shareholder (not the Gazette itself), our primary asset has long been the Gazette Online. It has now been sold to a well-funded and rapidly expanding tech-based company in Hong Kong. The sale and the buyer's plans for the site will be announced shortly.
Meanwhile, we continue to wind down in a process that started in November last year with an advisory to our staff. We announced the stoppage of the newspaper in May and have since been in direct communication with all of our stakeholders to ensure that no one would be caught short.
All freelancers, of which there were 28, have been notified.
As of August 1, just six staff will remain as our 'closing team'. All others have either resigned or departed with agreed termination packages. All subscribers have received refunds for the unused portions of their subscriptions, and refunds are in process for any unused commercial ads under contracts expiring beyond the end of this month.
All accounts payable are current and will likewise be settled in full at the end of this month.
Though clearly 'disrupted' by it, the Gazette has for years been an active user of new media and acknowledges both its virtues and deficiencies. We laud the virtues of YouTube in particular for its enormous potential to curtail malfeasance in government with 'caught in the act' footage; to document fault in road accidents; and to deter abuse of tourists and street crime of all types.
But at the same time, we've felt no temptation to reform our 'old media' ways to fit the best selling content models on Facebook – fake, hate, and opinion 'news', all interlaced with such platform development items as, 'Tell us more about yourself, Fernando….' and 'Kimmy [who?] wants to chat with you on Messenger. Download Messenger….'
So if not 'the people's' platforms, where quality journalism is a needle in a haystack, where does one go to find it? If we accept that it's news you can savor for style and respect for credibility (e.g., The Economist); that such news continues to correlate more closely with old media than new; and that it's something you're willing to pay for, then the the answer is clear.
Old media survivors continue to lie (no satire intended) just where they've 'always' been – in the proprietary websites of their big-brand publishers. The ongoing consolidation in that increasingly paywalled space is Darwinian, with the 'fittest' defined by superiority in journalistic quality and/or scale. By scale, we mean 'reach' (readership) and/or scope (breadth of editorial coverage geographically). Think BBC and the New York Times.
With that being our assessment of the outlook for old media news webs, and given the high cost of producing credible news streams on a daily basis while ad revenues succumb to ad blockers and the onslaughts of FB and Google, the Gazette's decision to face the music as a small-scale media business was not difficult.
As I wrote in our launch issue 24 years ago, I'd moved to Phuket as a refugee from the banking business in New York and Hong Kong, and I wanted a hobby "to keep me out of the bars." So I started a newspaper because Phuket didn't have one and I loved news. As writ, I had no expectations of making money with the activity but I didn't want to lose much either. Break-even would be just fine.
After a couple of decades of almost accidental prosperity, revenues started to move sideways in 2014 and began dropping like a bowing ball late in 2015, putting us in the red last year. Time to get out.
Most indelible memory: The start-up and my Thai colleagues who made me feel welcome and useful as a foreigner in one of the most bizarre, corrupt, random, worrisome, seductive, magnetic and unintelligible environments I'd ever encountered.
Most amazing thing: the durability of the environment just described
Indelible people: Rungtip Hongjakpet, Oranee Hildebrand, Anna Susangrat, Sangkae Leelanapoporn, Steve Rosse, Momma Duck, Roger Fox, Bill Page, James Eckhardt, Bruce Stanley, Woody Leonhard, Sudjit Nimitkul, Tom McNamara, Sutichai Yoon, Pana Janviroj, James Batt, Des Hughes, Bill Barnett, Bill O'Leary, Duncan Worthington, Maitree Inthusut, Boon Yongsakul, and scores of others who made the Gazette possible.
Future: Flying, jazz, books, news (reader only:))
— John Magee