Phuket
Canadian Women Olympians grace Phuket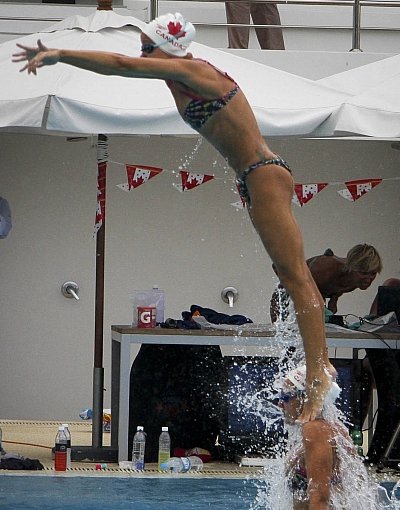 PHUKET: SYNCHRONIZED swimming combines the highest level of core strength, balance, flexibility, artistry and grace – a rare combination on the international stage.
Speaking to the Phuket Gazette and PGtv (see video interview here), Canada's Olympic coach Julie Sauvé and team captain Marie-Pier Boudreau-Gagnon explained the challenges of their chosen sport and future hopes of success.
The Canadian team, known as "Synchro Canada", has several goals.
Raising the profile of the sport is a constant, but as they get closer to major competitions the focus turns to podiums and medals.
The team started their bid for glory at the 14th FINA World Championships in Shanghai on July 17. On Tuesday Canada came fourth in the team technical final behind gold medallists Russia, silver went to China and the bronze was won by Spain.
Following the competition in China, they will begin preparations for the Pan-American Games in Mexico this coming October which, if successful, will allow them to qualify for the 2012 London Olympics.
"We want to show that Canada is on track to be number one in the world, and that we have the potential to be Olympic champions,"said Marie-Pier from Quebec.
"Of course we promote synchronized swimming through activities around our country. But when sports teams bring home medals, participation in that sport increases. Having champions from your country is always good for any sport," she added.
Canada are ranked in the worlds top five and depending on the competition, are considered to be the third best team at international level.
"Russia, Spain and China are our biggest competition, and we have beaten Russia and Spain previously. Taking on China in their own country will be difficult, but we look forward to a good fight," said Marie-Pier.
Julie Sauvé, also from Quebec, has been head coach of the team for 25 years.
A true character, Julie is one of the most experienced coaches in the sport and has traveled the world for 30 years, competing, promoting and coaching.
"This is not a natural sport. It requires balance, strength and fluidity in the water. Kids love to dance and swim, but to reach a high level these elements must be developed over 10 years," Julie said.
"Every routine must incorporate artistic aspects and difficult movements, but too much difficulty proves boring. It has to be flashy to make the audience and judges sit up and appreciate the routine," Julie added.
The Phuket Gazette was given the privilege of watching the team perform a routine which will be used at the FINA championships. The graceful movements, explosive and controlled lifts, somersaults and flips were amazing to witness at close quarters.
But to do all this with precision timing to music and without touching the bottom of a three-meter-deep pool defies belief, and hydrodynamics.
"To choreograph a routine takes about four months. To master it will take a year altogether. We draw up a plan on paper and then begin to work at it in the water. It's a beautiful design," Julie said in her exuberant French accent.
Music is crucial to the event and the routine performed for our benefit was accompanied by Queen's Bohemian Rhapsody and Bicycle Race.
"Canada is very innovative in this sense. In our duet routine the team performs to Metallica. We have the guts to change things," Julie said.
"You have nothing to lose until you win the gold medal. When you have the gold, you may sit on it and play safe. When you don't have it, you must do everything to target that prize. The Canadian team aims do this by changing expectations and the style," Julie said proudly.
Deciding to use Thanyapura Sports and Leisure Club (TSLC) in Phuket was important for the Canadian team. TSLC's 50m pool is 3m deep from end-to-end, unusual for most pools of this size.
This aspect allows for a larger training area, a fact which impressed the Olympic coach.
"TSLC is an amazing facility. Most pools don't have seating areas like this does. And athletes can walk from their accommodation to training in five minutes. This is one of the best I have ever seen," Julie said.
Click here to see the Phuket Gazette's Facebook page for more photographs of these dynamic olympians.
— Neil Quail