Can Phuket host an F1 race?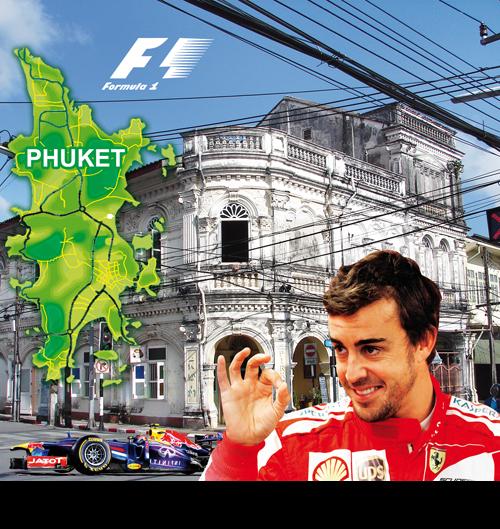 PHUKET: The proposed Bangkok Formula 1 Grand Prix has been scuppered by a new law prohibiting racing in the city's historic quarter. Strange?

Well, Phuket looks like the leading contender to host a Thailand GP, if it goes ahead, and rumours have for years abounded of a track in the north of the island. Other Thai destinations have been mooted, but how many could provide the facilities?

Just the teams and the media would probably account for 2,000 hotel rooms, and if the island only received 30,000 raceday fans it would be down with troubled Bahrain; 50,000 fans would be reasonable, and success would be 100,000. Phuket has 30,000 official rooms; it can manage, with an overflow in Krabi and Khao Lak if necessary. The Korean F1 will certainly have sensitised Formula One to the issue.

A race could be staged in two years if well planned, so Phuket could be a contender for 2015, but it needs to start now.

Mr Anon from the Ministry of Sport and Tourism told the Phuket Gazette: "The decision about the place to have F1 has not yet been made. Now there is no movement for this issue." So it looks as if nothing formal has yet started.

Ideally, F1 would probably like a March or April start date, where Sepang and Shanghai now sit, but a September/October date around Singapore, Japan, South Korea, and India might well be negotiable. That would suit the hotels, but it means the likelihood of a rainy race.

If it were to be a road race, or partial road race, it needs to be somewhere accessible from the main hotel and airport locations; the north or center of the island. The affect on an already overloaded infrastructure would be dramatic, and it is hard to imagine Sebastian Vettel negotiating flooded potholes.

I cannot believe that Phuket could sacrifice the highways, the backbone of the transport system for the race. Phuket Town does not look race-friendly, and access is difficult.

So we are left considering Patong, which would provide a great backdrop. That would be more like a Monaco race, Patong would effectively be closed for large chunks of three days, and gate-fees would be very hard to manage.

The alternative is a track. I will stick my neck out and say that typically a purpose built track would need about 2,300 rai (900 acres) and cost about US$400mn. That's not easy, and environmental impacts need to be managed, but with will it is possible. At most a capacity of 150,000 would be needed, and it could be 50,000 in the first year. Phuket would need to hold a night race to accommodate European TV schedules, so the lighting infrastructure costs would be high.

F1 cannot risk cars travelling at 300 km/h suddenly being plunged into darkness. The Singapore GP uses three megawatts; 1,500 lighting projectors powered by 24 generators, rigged in pairs. Should one generator fail, the load is instantly taken by its twin powerful enough for the whole race.

Then there is the question of getting fans in and out of the circuit from the hotels and airports. Abu Dhabi built an eight-lane highway and bridge as the access road. The public finance of access roads has been a vexed question at venues from Silverstone to Austin.

It has been written elsewhere that Grand Prixs are run in sophisticated cities with efficient public transport systems. That is not entirely true. South Korea International Circuit is 400 kilometers from Seoul; Silverstone is 120km from London; Spa is 60km from Liege; Circuit of the Americas is 20km outside AustinTexas; Nurburgring is 70km from Cologne; and Sepang is 60km from Kuala Lumpur, albeit convenient for the airport.

Be that as it may, most spectators will of necessity be relying on Phuket's celebrated public transport system, and that would be a special challenge. Undoubtedly there would have to be public sector investment in transport infrastructure.

The benefits for the tourism industry here would be significant, but assessing the value of the event is complex. There may be no increase in airline arrivals or hotel room-nights because of the race. These much vaunted numbers mean little, because hotels and airlines discount their rates during lean periods and increase them when demand is high to maintain occupancy. So the question is, will average tourist consumption increase?

Airlines may not be able to increase rates, but hotels certainly would, and restaurants, bars and shops would benefit.

Around the world, F1 circuits themselves do not really make money, for reasons discussed in an earlier article. Singapore for instance is rumoured to lose US$150mn annually. Phuket would need a sponsor with deep pockets. Red Bull fits the bill. It has a stake in F1, is Thai, and has the contacts to bring other sponsors and the government on board.

F1 will require a host fee from the race. For the sake of argument, let us guess $30mn. And the circuit will probably get no money from trackside advertising, TV fees, or corporate hospitality. The circuit would spend perhaps $15mn marketing the event, and its costs of running the track would probably be $20mn per year from what I know of other tracks. So it has an annual commitment of say $65mn.

The circuit would expect a range of tickets and some multi-day income. I am guessing an average gate-receipt of $250, and catering profits of $20 per person, say $270 per person in total. That would be $13mn income with conservative attendance estimates. So the circuit would reasonably be expecting to recoup its marketing costs, but not its operating costs. Of course, other racing events would raise additional income during the year, but those deals have to be negotiated as well.

There could be ancillary attractions on the site such as a Red Bull theme park, simulators, track-drives, hotels, air strip, marina, residential area, and other F1 themed attractions, with year-round income. But in any case, I guess the circuit would be looking for support from sponsors and the government of over $100mn in the first year, and similar amounts for some years thereafter.

Looking at the economy of Phuket, I have read that the local business community can expect increased consumption of $600mn from an F1 weekend. That would require 100,000 people spending $6,000 each over three days over and above what other low season tourists pay. That looks unlikely to me. Phuket might reasonably target 50,000 fans the first year, plus the circus itself, injecting over $100mn to the economy. It could be double that in later years.

In addition, there would probably be 200-400 permanent jobs created, and most importantly, the value of the Phuket brand, significantly eroded over recent years by cheap tourists, could be significantly increased.

There is probably no other destination in Thailand with such brand-value-added potential.

It is an interesting proposition, but it depends on having a really committed sponsor.

All I can say is, I really look forward to meeting you at Phuket's Red Bull Stadium in 2015!

Keep checking our online Phuket Sports pages, join our Facebook fan page or follow us on Twitter for the latest local, national and international sporting news.
— The Digby
Keep in contact with The Thaiger by following our Facebook page.
Never miss out on future posts by following The Thaiger.
The road less travelled – trekking to the Kalim Viewpoint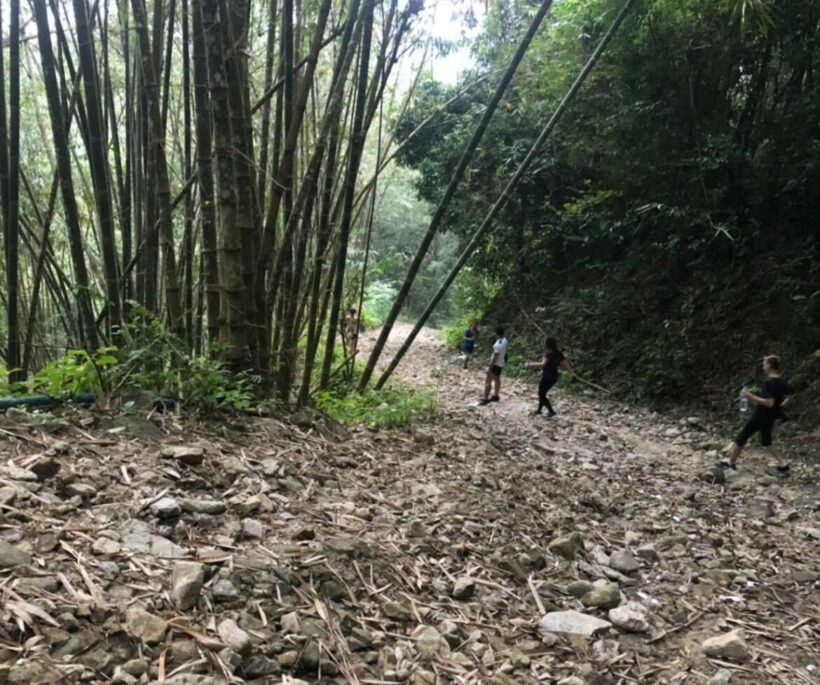 There are two well known ways to get from Kathu to Kalim or Kamala – one is across the Patong Hill, and the other is much longer, through Srisoonthorn and along the coastal road from Surin the Kamala (very scenic too).
But there's also another way. Also very scenic but will take you about 2 hours through dense forest although there is a well-worn walking track. The track will take you from Kathu up to the Kalim Viewpoint. From here you can head back to Kathu along a different path, or down into Kalim, near Patong.
Starting about halfway down Soi Namtok in Kathu, you head up a nondescript road past the Flying Hanuman zipline attraction, although there's no sign at the entrance to the soi (below). About the first kilometre is paved but then becomes increasingly 'agricultural' as you get higher into the hills, heading towards the Kalim Viewpoint. There's also a small temple on the way up.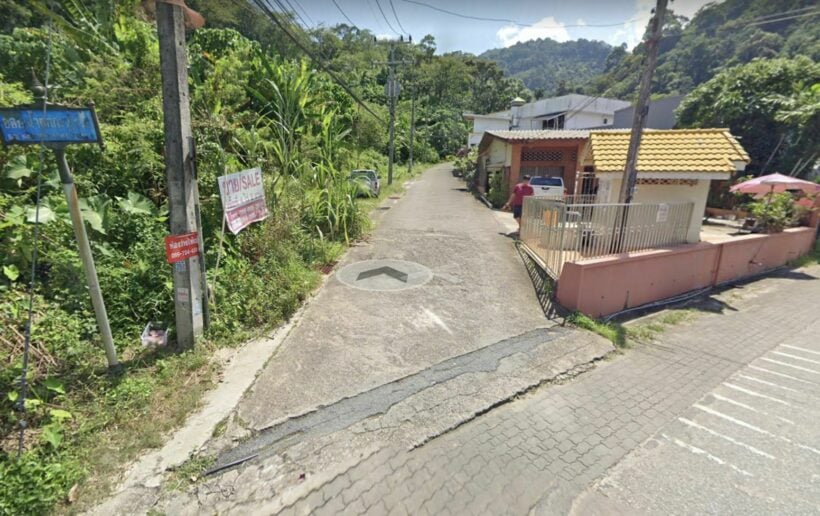 PHOTO: The start of the trek, a small soi off Soi Namtok – Google Maps
It will take around 2 hours to trek up to the Kalim Viewpoint. The walking is quite strenuous and you'll need to be wearing the right shoes and take plenty of water – there's no 7/11s on the way! As you get nearer the top, to the viewpoint, the track becomes less drivable although the track is still quite open and easy to follow. If you're feeling a bit lazy you can take a motorbike about halfway up the road until you'll need to proceed on foot from there.
From the Kalim Viewpoint you can see across Kalim to Patong Bay and the land that stretches along the bay south of Patong Beach. From the top you can either make your way down to Kalim or another exit along the Kalim-Kamala Road, just near the Iguana Beach Club.
You can also head back another way to Kathu, a longer return track that skirts around the top of the Kathu Waterfall. A lot of that track gets very narrow and parts of it are up and down the hills, some of it very steep.
The views are amazing and you get to see a vast swathe of Phuket, still very close to popular locations like Patong, Kamala and Kathu, but untouched by any civilisation.
You'll need to be in reasonable health to take on the trip but, just to go up to the Kalim Viewpoint and back, or down into Kalim, should take around 5 hours in total. On a scale of 1 – 5 for difficulty, we'd rate it a 3. An easy trek for experienced people but will need a bit of planning if you're not an experienced trekker.
Even on a hazy day, as it was today, the views were amazing. But best to start off early morning when the weather is cooler. Well worth the time for the views and the opportunity to see more of Phuket, away from the bars and beaches.
Thanks to BT for the pics and information.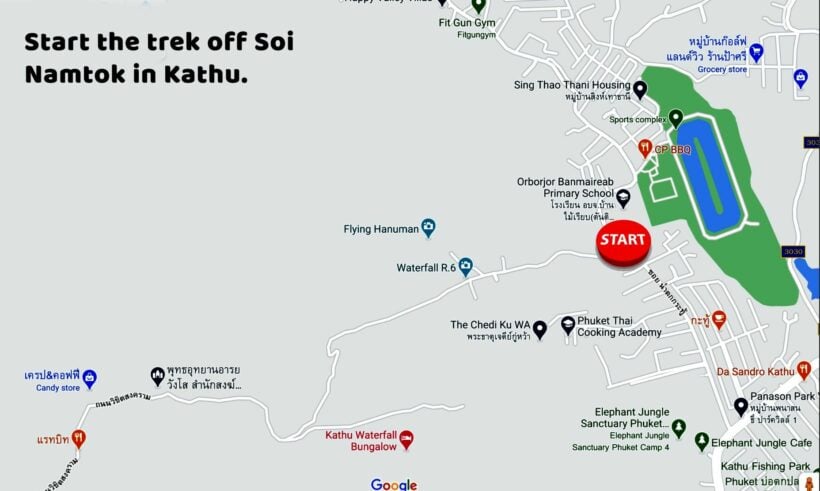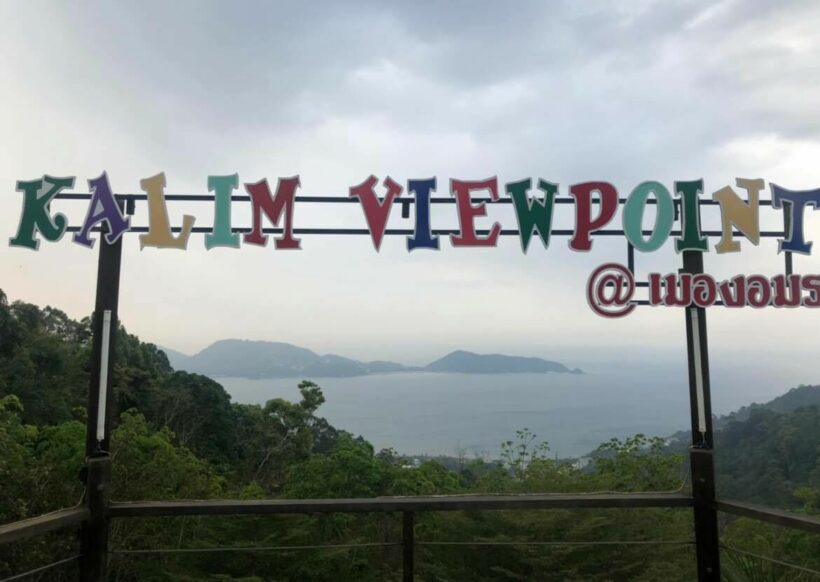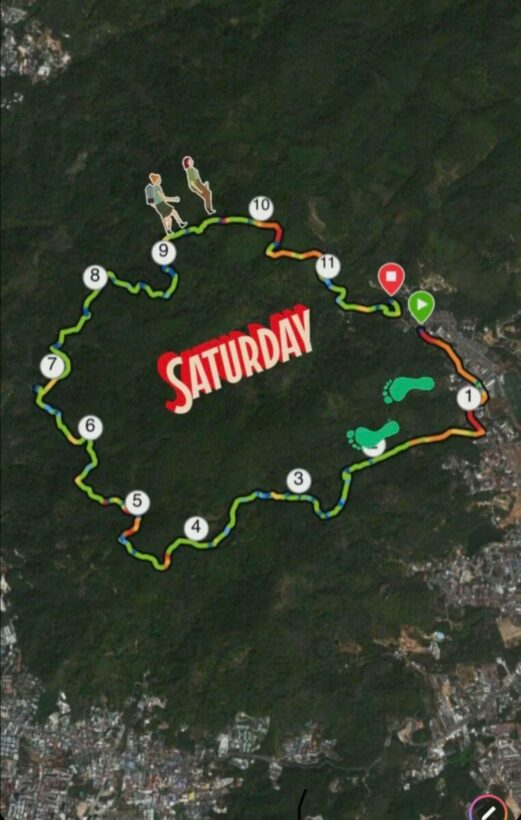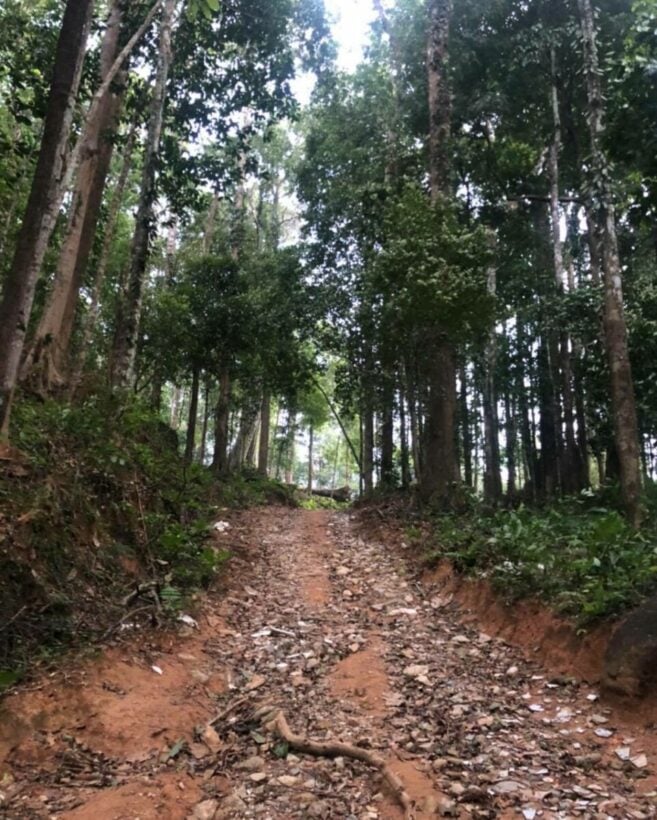 Keep in contact with The Thaiger by following our Facebook page.
Never miss out on future posts by following The Thaiger.
Police say Phuket school won't be charged for employing foreign teachers without a work permit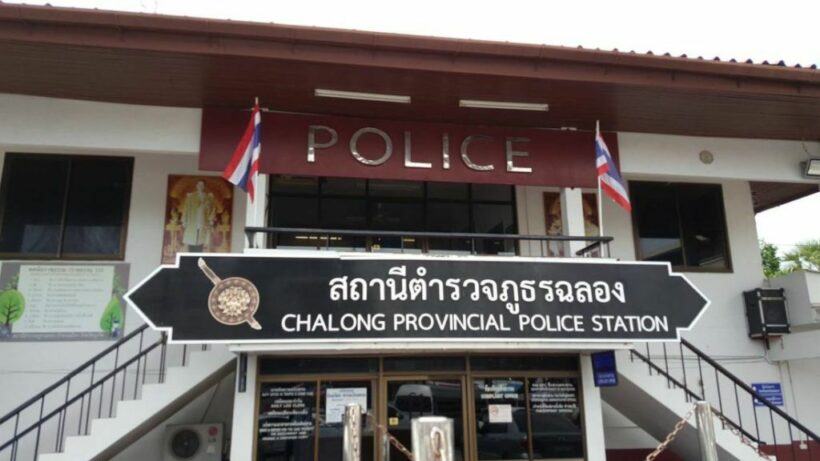 An international school in Phuket is not facing charges for employing foreign teachers without a work permit, police told the Phuket News. Back in November, 2 British nationals were arrested at the Palm House International School in Rawai in a raid by Phuket Immigration officers, acting on a tip that teachers were working at the school without a work permit.
The case was handed over to the Chalong Police. The department was also requested to investigate the school for suspected illegal hiring practices. When pressed by Phuket News reporters, the Chalong Police Chief Sarawut Chuprasit said the school officials are not facing any charges for employing the teachers illegally, without a work permit, and referred reporters to the provincial prosecutor.
"I have no reason to press any charge against the school at all. It is not right to accuse the school."
Many schools in Thailand, especially international schools, obtain work permits for foreign teachers and even pay the fees. It's also fairly common for foreign teachers to work without the proper documents, especially during the pandemic where travel restrictions make border runs nearly impossible.
Phuket News say police will not release the names of the 2 British teachers and will not give any additional information. They add that the provincial prosecutor's office will also not release information without a police case number or suspects' names. In a previous report, Phuket Immigration Deputy Chief also declined to identify the British nationals by name or age.
"Their visa status does not allow them to work or perform any form of business. They were arrested as they are suspected of working without a work permit."
SOURCE: Phuket News
Catch up with the latest daily "Thailand News Today" here on The Thaiger.
Keep in contact with The Thaiger by following our Facebook page.
Never miss out on future posts by following The Thaiger.
Phuket health chief urges "red zone" travellers to abide by quarantine measures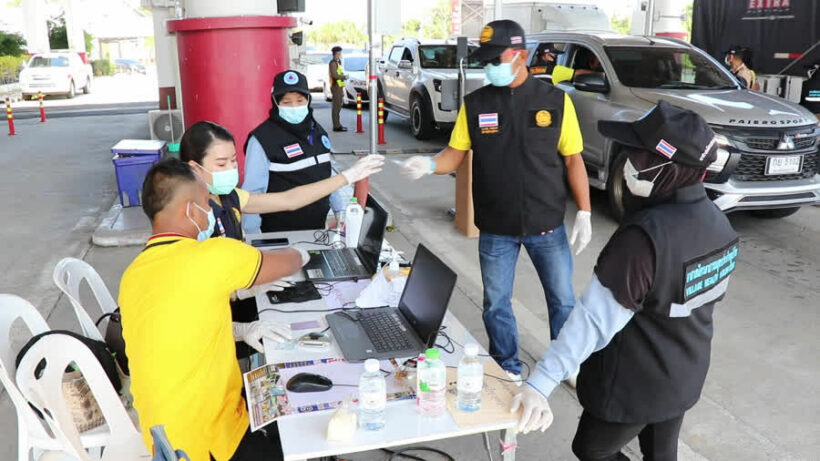 With Phuket's new disease control measures requiring those travelling from high risk areas to quarantine, the province's public health chief is now saying those at alternative state quarantine hotels won't be locked up in their rooms throughout their 14 day stay in isolation. He says guests can wander through certain areas of the hotel to have meals and do other activities.
Those travelling from "red zone" provinces are required to self-quarantine at a hotel or at their home for 14 days. People from areas classified as the "highest risk," including Samut Sakhon, Chonburi, Rayong, Chanthaburi and Trat, must quarantine and undergo a Covid-19 swab test.
The public health chief Thanit Sermkaew says there will be harsh penalties for anyone who violates the new measures and urges travellers to stay at their quarantine location, home or hotel, for 14 days. People who violate the order can be punished under the Disease Control Act, either under Section 51, which carries a fine up to 20,000 baht, or under Section 52, which carries up to a year in jail and a fine up to 100,000 baht.
"It would be great if visitors from the 'red zone' areas stay in their hotels, so we are asking for their cooperation. They do not need to stay only in their room. They are able to do activities within the hotel, such as having meals, swimming, yoga and other activities… Please do not go outside the hotel. That would be a good preventative measure in Phuket province."
Phuket Vice Governor Pichet Panaphong says hotels should "request" that their guests stay inside the hotel.
"Phuket officials have asked for the cooperation from operators to record the travel moments of guests before they arrived at the hotel and to request that their guests stay within the hotel area only, not to go outside of the hotel area."
People who completed quarantine in Bangkok and tested negative for Covid-19 do not need to quarantine in Phuket as long as they travel directly to the island immediately after being released.
SOURCE: Phuket News
Keep in contact with The Thaiger by following our Facebook page.
Never miss out on future posts by following The Thaiger.