Phuket
Cambodian monks disrobed in Phuket, await deportation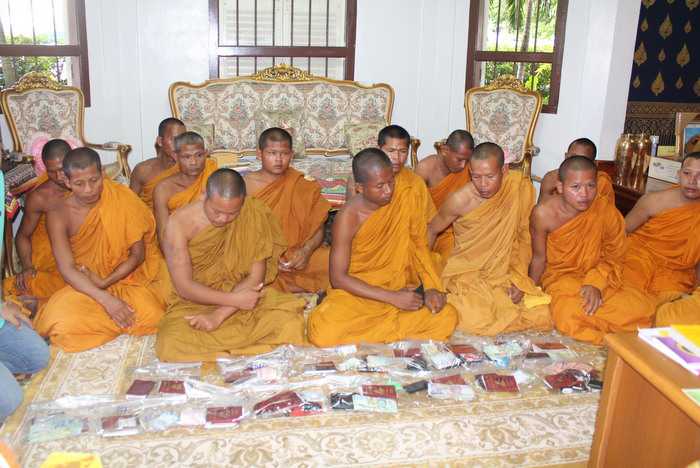 PHUKET: A group of 19 Cambodian monks are awaiting deportation after they were arrested and disrobed for violating several rules of the Buddhist monkhood as practiced in Thailand.
The monks were escorted by Wichit Police and Muang District officers to Wat Mongkol Nimit in Phuket Town to be stripped of their monkhood by Phra Kru Mettaphirom yesterday.
The monks failed to inform Phra Kru Mettaphirom, dean of Muang district, that they were coming and gain the necessary approval.
"All of the monks had proper monk identification from Cambodia, but they broke the rules by staying in an unapproved location, collecting alms at inappropriate hours and inveigling money from people," Lt Col Pongkarn Boonprakong of the Wichit Police told the Phuket Gazette.
After the Cambodians were disrobed, immigration officers were called in to verify the men's visas. Officers discovered that three of them had illegally entered Thailand.
"Only 16 of the men had valid visas to enter Thailand," said Maj Tienchai Chomphu of Phuket Immigration.
"We revoked the 16 visas because of the acts the men committed here. We charged the other three for illegally entering the country."
Police were notified of the suspicious monks by locals who spotted them squatting in tents set up near an old Chao Fa tin mine and soliciting money from locals daily.
"We went to investigate the area, and found the men there with about 28,000 baht in cash between them," said Col Pongkarn.
Phra Kru Mettaphirom told the Gazette that about a 100 Cambodian monks had been arrested in Phuket this year.
"Most of them don't notify us when they come to the island. They often live in tents in the woods and collect money from crowded communities or tourist areas," Phra Kru Mettaphirom said.
"Yes, local monks go out to collect food, but not after 8am. These people are looking for money. Once they have enough, they leave the country."
Phra Kru Mettaphirom cited the love Thais have for making merit as an incentive for such acts.
"A lot of Cambodian people sneak into Thailand to beg for money, but some have noticed that becoming a monk is easier and will get them more money, due to the Thai people's love of making merit," he said.
"They become monks and come to Thailand because they think they can earn thousands of baht per day. This only discredits the image of Buddhism."
Col Pongkarn has asked island residents to report any suspicious monks to the police.
"If anyone sees any monks behaving suspiciously, please call 191 so we can come and check it out," he said.
"Even though it is not the most serious of crimes, it bothers locals and ruins the image of Buddhism."
— Kritsada Mueanhawong