Phuket
Breaking News: Phuket bans beach sand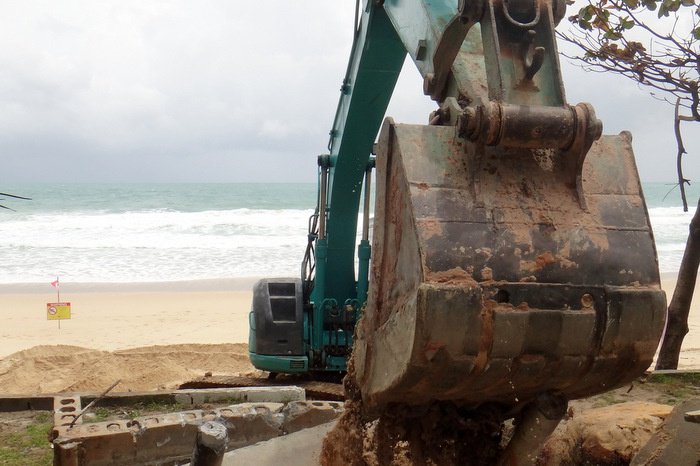 PHUKET: In the latest and likely final move to clear undesirables from Phuket's beaches, the island's local authorities today began a massive operation to remove the sand from key tourist hotspots along the west coast.
The beach cleanup campaign that began last year under military protection is expected to be complete by the end of this year, said Kaikun Kluaeyao, an expert at the government's renowned Tourism Business Ethics Center (TBEC).
"We thought we'd start today in order to show how serious we are about this," he told the Phuket Gazette this morning.
The move is touted as a way of simplifying the process of maintaining a clear coastline for tourists to enjoy.
"It should be a lot easier without the sand," Mr Kaikun said. "We're pretty much considering it a final solution. After all the conflicting comments we've received about whether people should be allowed beach umbrellas, sun loungers or even food at the beaches, we thought we'd make things easier for everyone."
Once removed from the coast, the sand is to be airlifted to China, with the first shipment to occur late tomorrow afternoon, confirmed local environmental officer Sukkapharp Dotchang, who lamented the move.
"Of course, I'll miss the sand, but at least we're not selling it," he said. "Foreigners cannot own one square centimeter Thai land, and sand is land. We're just leasing it out to the Phuket Happiness Forever (PHF) theme park on the outskirts of Chengdu. That way, instead of all the Chinese having to travel here for their holidays, they can simply play in the sand right there in their own country. And we can all go there too."
Members of the most prestigious local commercial consortium, the Anti-Sand-based Business Operators League (ASBOL), today welcomed the removal of the sand.
"At first, we thought it was a joke, as today is April Fool's Day, but we soon realized the story is true," said senior member Ngernsot Maijing.
"But we're not fools, we're ASBOLs – and we think this is a great idea."
The Gazette has yet to confirm whether the removal of the sand will have any bearing on the rights of the much-loved jet-ski operators to continue their operations along Phuket's soon-to-be completely unspoiled West Coast.