Barami 8 squatters pull up stakes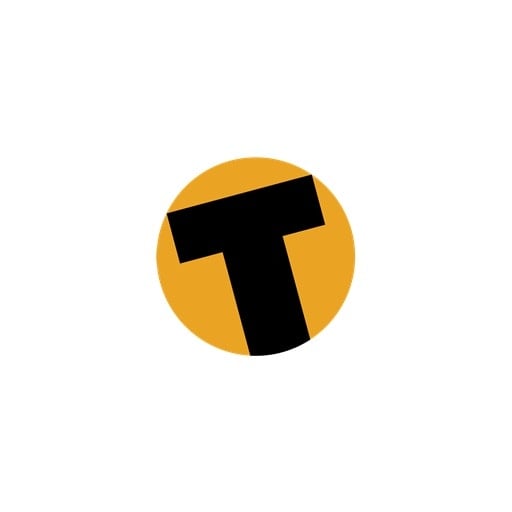 KALIM: Squatters living on government land on Soi Phra Barami 8 have slowly begun moving out, fearing court-ordered fines and possible arrest if they continue to stay in the area.

The move comes about eight months after they received the first eviction notices.

Poonsak Naksena, Chief Administrative Assistant of Patong Municipality, told the Gazette that the squatters in the first three homes hit with court-ordered fines have vacated their homes in recent weeks.

The squatters in those homes had accrued fines of around 180,000 baht by the time the province ordered them forcibly removed if they did not vacate by November 10.

However, when the deadline came, the Municipality, fearing a riot, did not go through with the forced evictions.

Since the deadline, many residents have begun to leave the area, fearing their homes would be the next ones served with court orders, said K. Poonsak.

In addition to fear of arrest, the squatters may be tiring of living without power, which was cut off in mid-2006 in an effort to enforce the initial eviction notices served two months earlier.

After the power was cut, the villagers staged an angry protest at Provincial Hall, demanding a fair resettlement and restoration of power.

The province, represented at the time by Provincial Chief Administrative Officer (Palad) Nivit Aroonrat, took a hard line with the villagers after they rejected a provincial plan to be resettled on small plots of land owned by Wat Kathu, some six kilometers away.

Some residents have contacted the National Human Rights Commission seeking help, K. Naksena said.

Most of the squatters work low-paid jobs in the Patong tourism industry.

Some moved to the area as long as 10 years ago, when the land was privately owned. The former owner ceded the land to the government, which now wants to widen the road.


Read more headlines, reports & breaking news in Phuket. Or catch up on your Thailand news.
Man found dead in pickup with charcoal burner in Rassada, Phuket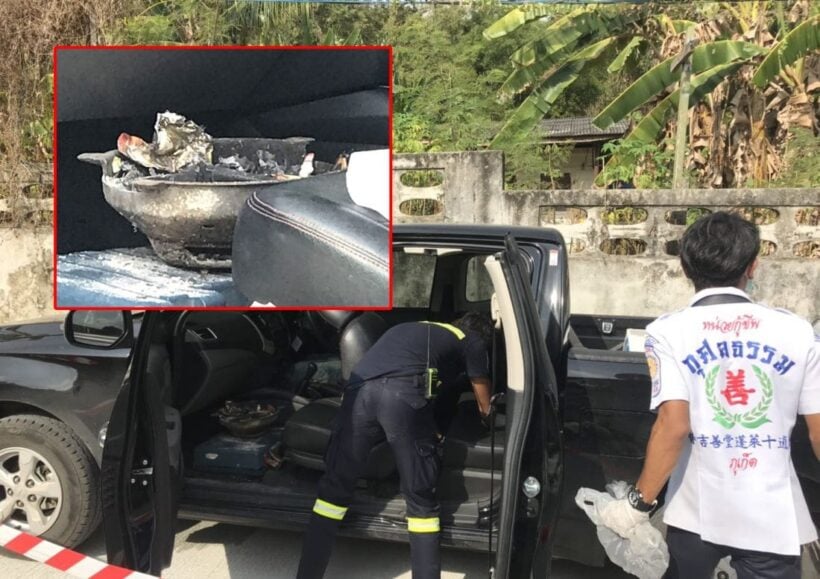 A man has been found dead inside a pickup truck with a coal burner also inside the vehicle in Rassada this morning. Police were notified of the situation in Soi Muen Sri in Rassada.
Police and emergency responders arrived to find the man's body in the parked pickup truck. The man was identified as 28 year old Weerawat Pakdeewirot from Phuket.
A coal burner was also found inside the vehicle. A suicide note addressed to his girlfriend was also found. The letter stated that he was facing financial problems. His body was taken to Vachira Phuket Hospital.
Police says that Mr Weerawat is a CCTV camera and internet contractor. His home was only 50 metres from the scene. Yesterday locals noticed his pickup parked at the scene. Today they saw the pickup in the same location and went to check out the situation.
Police are continuing their investigation.
If you or anyone you know is in emotional distress, please contact the Samaritans of Thailand 24-hour hotline: 02 713 6791 (English), 02 713 6793 (Thai) or the Thai Mental Health Hotline at 1323 (Thai).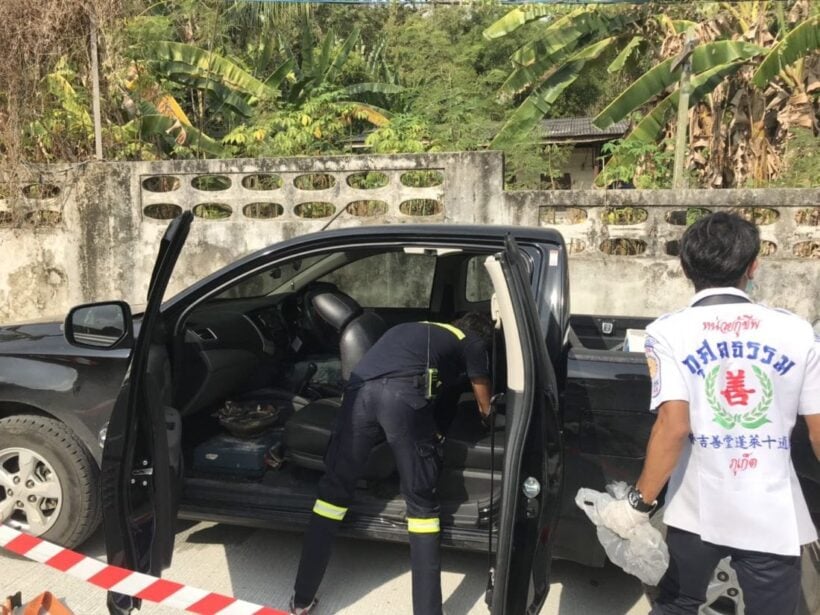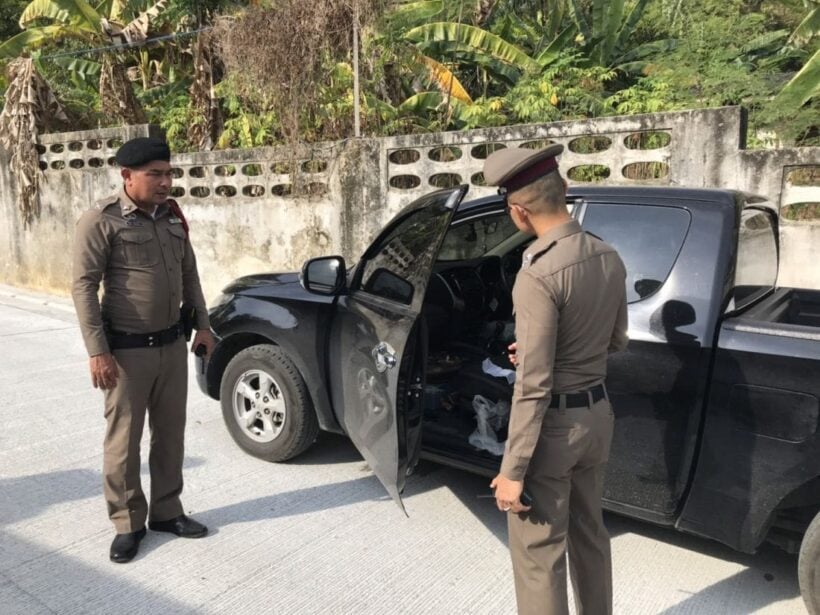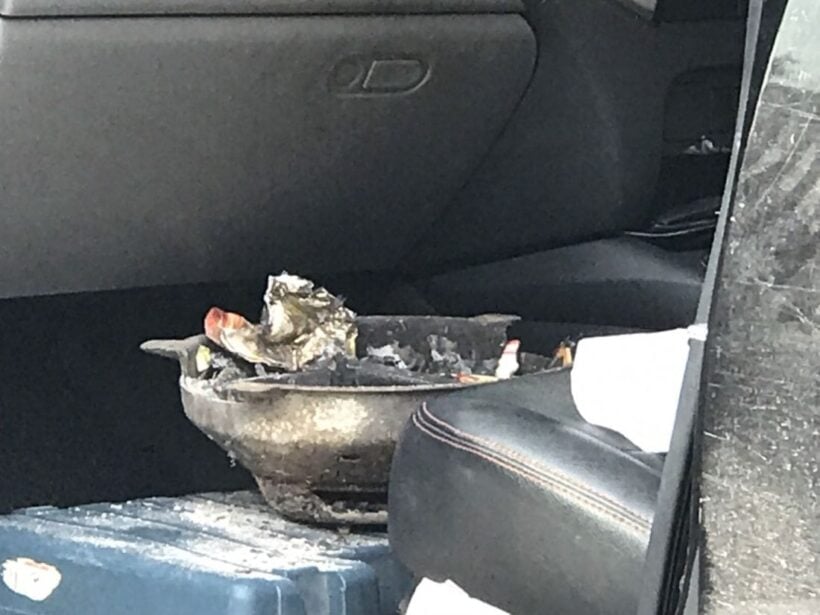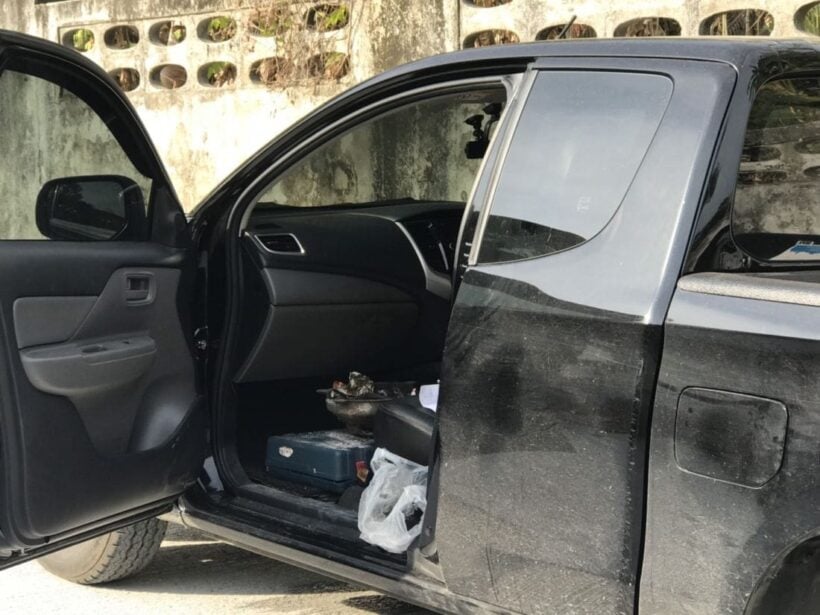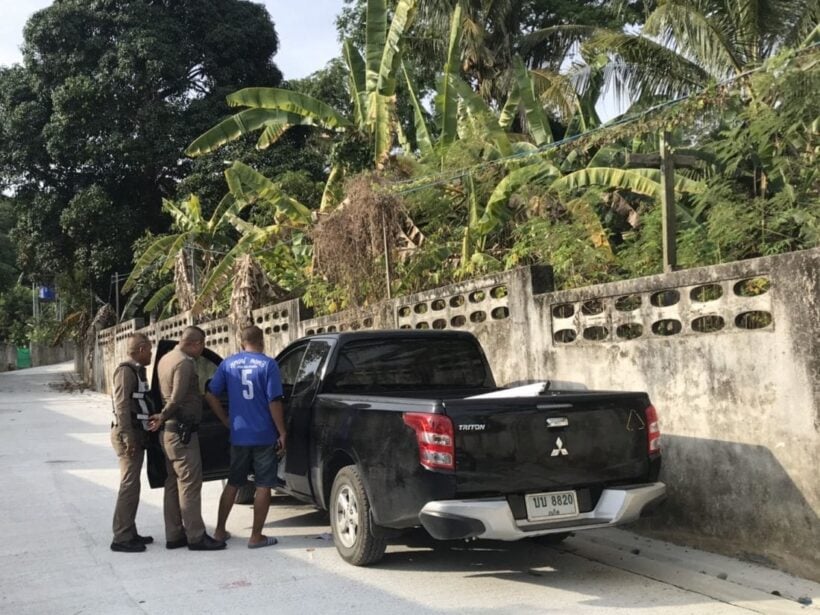 Injured Brahminy Kite (bird) rescued in Karon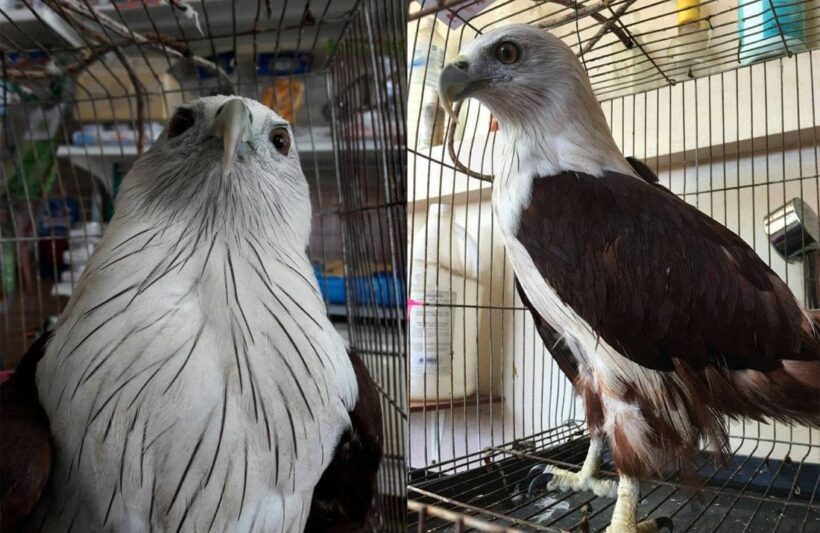 An injured Brahminy Kite has been rescued by locals in Karon, Phuket.
The mature Brahminy Kite was found in Karon this week. Locals who found the bird contacted the head of Khao Phra Thaeo Non-Hunting Area, Pongchart Chueahom.
The Brahminy Kite had a wound similar to a bite wound under its wing. It was unable tp fly. It is now being treated at a pet hospital in Thalang until it is ready to be set free.
The Brahminy Kite is a protected species in Thailand.
The brahminy kite (Haliastur indus), also known as the red-backed sea-eagle in Australia, is a medium-sized bird of prey in the family Accipitridae, which also includes many other diurnal raptors, such as eagles, buzzards, and harriers. They are found in the Indian subcontinent, Southeast Asia, and Australia. They are found mainly on the coast and in inland wetlands, where they feed on dead fish and other prey. Adults have a reddish-brown body plumage contrasting with their white head and breast which make them easy to distinguish from other birds of prey – Wikipedia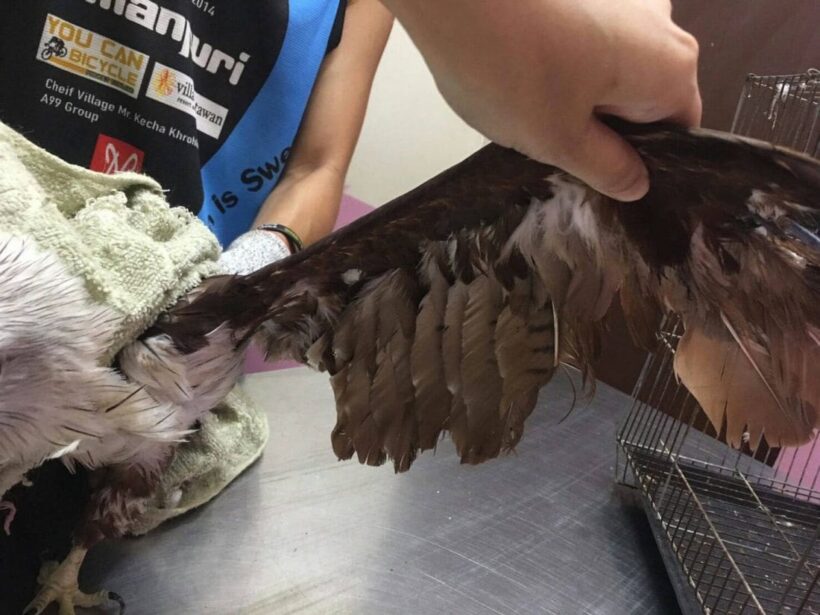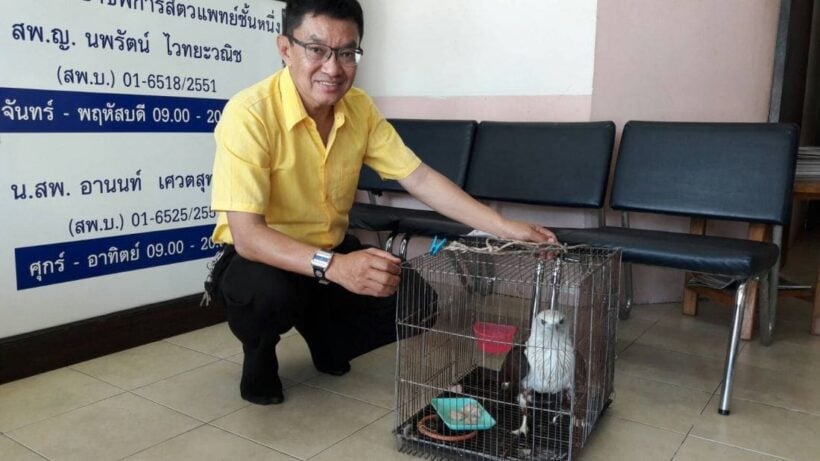 Army commander visits Phuket residents to discuss water shortage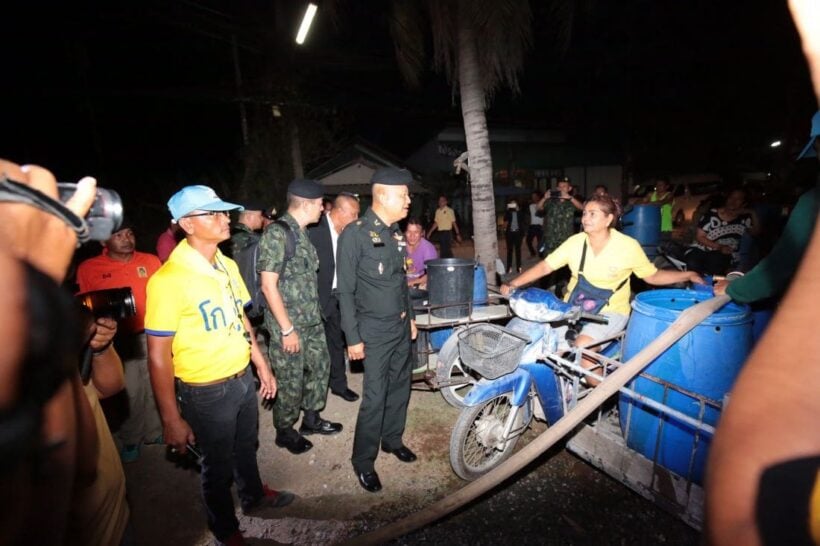 Lt Gen Pornsak Poonsawat, the Commander of the Fourth Army Region (Southern) in Nakhon Si Thammarat, came to Phuket to visit residents over water shortage issues in Rassada.
Lt Gen Pornsak says "we were contacted from the Phuket Governor that Phuket is facing serious water shortages. We have come here with water trucks to help residents to join with other government agencies in Phuket.
There are now 23 water trucks which are delivering free water to residents around Phuket. However we need cooperation from every one to save water."