Bangkok floods hit Phuket bars with 'beer crisis'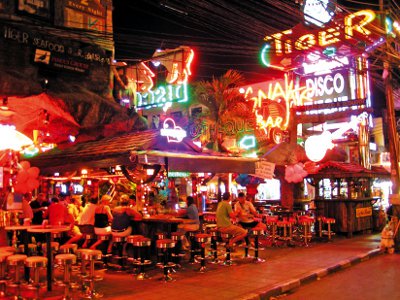 PHUKET: Phuket's critical tourism and entertainment industries are struggling to cope with the disrupted supply of consumer products and price rises brought on by the floods in Bangkok and central Thailand.
The latest shortage to take hold on the island is alcohol, with reports flooding in to the Phuket Gazette of bars either running dry or short of stock and having to pay inflated prices for beverages.
The Patong Entertainment Business Association (PEBA) says the situation will reach "crisis" level within 30 days if steps are not taken to bring booze back to Phuket's party town.
"At the beginning of the flood crisis, we didn't expect it to affect us much," said PEBA President Weerawit Kurasombat, whose members generate more than 100 million baht annually for the local economy.
"But now we are starting to feel the effects – we are running short of alcoholic beverages," he said.
Mr Weerawit said that even small bars in Patong make 6,000 to 7,000 baht a night from alcohol sales.
"The main income generator for each bar is beer sales. Big bars can usually make about 30,000 baht a night from selling beer alone," he said.
Alcohol sales comprise a critical portion of income for entertainment businesses, he said.
"Overall, between 20% to 30% of the income generated by entertainment businesses is from alcohol beverage sales alone.
"Of that income, 60% is from beer sales, 30% is from sales of whiskey and wine, and the remaining 10% is from cocktails," he added.
"This is the beginning of the high season. If the supply situation does not improve within about 30 days, I believe the entertainment business will start showing real signs of a crisis," Mr Weerawit warned.
Major retailers across Phuket say they foresee little respite in the near future.
"We've had no beer in stock for more than a week, and we've yet to hear from our headquarters in Bangkok on any news of when new stock will be delivered," said Napatsorn Jammeun, a shelf stocker at Tesco Lotus on the bypass road.
The alcohol situation at another Phuket retail giant is much the same.
"We don't have much left in stock and we haven't received a delivery from Bangkok in nearly a week," said Supawadee Kaewthai, a worker at Big C on the bypass road.
"We do not know when new stock will be delivered, as that depends on our head office in Bangkok. We are still waiting to hear from them," she added.
The shortages have even hit the ubiquitous Family Mart and 7-Eleven convenience stores across the island – some are even running short on water.
"We're short on bottled water, Singha beer and Chang beer…. We have some Leo beer in stock, but not much," said Kesinee Sanyee, store manager of a Family Mart on Rat-U-Thit 200 Pi Road in Patong.
She explained that Family Mart stores in Phuket are served by local distributors.
"We order stock from local agents in Phuket, but they too have only limited stocks."
Ms Kesinee told the Phuket Gazette she was at a loss of what to do with the problem.
"I don't know what to do to resolve the shortages, and I am not the one who is in charge of planning," she said.
Meanwhile, 7-Eleven stores nationwide are suffering the same.
A spokesperson for CP All Group, the parent corporation for all 7-Eleven stores in Thailand, told the Gazette, "Our problems are just like every other store in Thailand.
"We source most of our products directly from the manufacturers in Pathum Thani, where they are flooded. We try to distribute what we can to all our stores in Thailand."
However, she added, "7-Elevens are restocked through our network of distribution centers set up in each region in Thailand, so we are not really worried about running out of products for sale in all of our stores.
"We still can deliver some products such as rice, sugar, instant noodles and milk – but I can't guarantee beer. We are selling what we have, and it is running low," she said.
Further up the supply chain, the manager of the Corporate Information Center for Boon Rawd Brewery Co, the parent company for Singha Corp, told the Gazette, "We have five factories in Central Thailand, and four of them are flooded. "
"One of those flooded factories is dedicated to producing Singha. That's the main reason most stores in Thailand are short of Singha beer for sale.
"We actually have factories all over Thailand. Our factory in Chiang Mai produces bottled water. The one in Surat Thani produces bottled water and soda water, and our plant in Khon Kaen produces bottled water and Leo beer," she added.
"Even though we are running out of Singha beer, we still have Leo beer for sale as our Khon Kaen facility remains unaffected by the floods.
"However, we are unable to produce any more Singha beer until the situation is back to normal," she said.
A spokesperson for Thai Beverage Co Ltd (ThaiBev) reported a slightly brighter situation.
"Our factories are not affected by the floods. The only thing that is causing shortages of our products in Phuket and other parts of Thailand is the shipment," she said.
"We still have the same amount of product to send out to all of our distributors, but most of the roads out of Bangkok are flooded. That is what is delaying the whole shipment process," she added.
The spokesperson said that ThaiBev's top sellers in Phuket were Chang beer and Chang bottled water.
"We usually dispatch deliveries of beer and water to Phuket at least once a day. Now we have had to cut it down to once every three to four days," she explained.
"Although we are still able to deliver about 30 per cent of the regular volume of beer and water that we usually dispatch, we still have more than enough for consumers," she added.
Regarding rising prices for the beverages that do make it to the shelves in Phuket stores, the spokesperson said that ThaiBev had not passed on any extra costs of delivery to their customers.
"We have a policy to expressly not raise prices during this period. We are selling all of our products at the same prices they were before the floods," she said.
Additional reporting by Chutharat Plerin
— Chaiyot Yongcharoenchai
Phuket News

Join the conversation and have your say on Thailand news published on The Thaiger.
Thaiger Talk is our new Thaiger Community where you can join the discussion on everything happening in Thailand right now.
Please note that articles are not posted to the forum instantly and can take up to 20 min before being visible. Click for more information and the Thaiger Talk Guidelines.