B2m aid theft case takes a step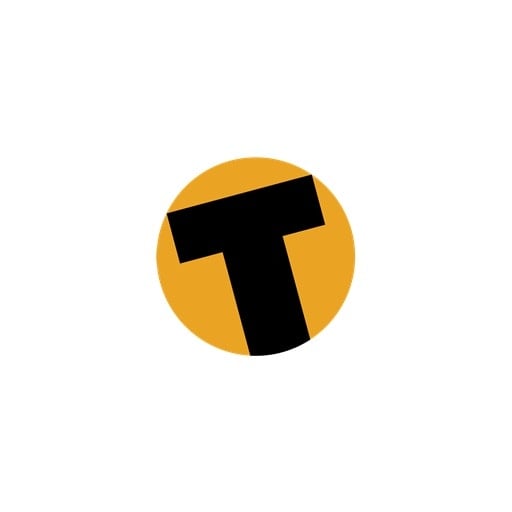 PHUKET CITY: The case of the stolen 2.05 million baht in tsunami aid money has entered a new stage, Deputy Provincial Public Prosecutor Thanit Adisakpaisan has revealed.

The Chief of the Finance Division of the Phuket Provincial Financial Office, Apichart Nooprod, from Nakhon Sri Thammarat, is accused of being the ringleader in the theft, which was reported on February 15.

Apichart denies the charge, and alleges that he has not received a fair review during the investigation.

K. Thanit told the Gazette that he has now attached his opinion to the case notes and forwarded them on July 20 to the Special Public Prosecutor in the Phuket State's Attorney's Office, Bantoon Thongtan. He declined to discuss what his opinion was.

K. Bantoon will, in turn, review the evidence, attach his opinion and forward the case to the Regional Director General of Prosecutions in Surat Thani, who is usually the one to decide whether such cases are sent to court or not.

The entire process is limited to no more than six months from the date that police forwarded the case to the Phuket Provincial Public Prosecution Office, which was on June 1.

K. Thanit noted that if a decision is made not to go ahead with the case against Apichart, or if Apichart is tried and acquitted, this does not mean the theft investigation will end.

"If there were to be an acquittal in this case, we would still have to find someone responsible. Money like that doesn't disappear into thin air," he said.

Meanwhile, Apichart has gone back to work after being granted bail in his own recognizance.

Under Thai law, individuals accused of theft of government property must post bail of up to 50,000 baht but Apichart, being Chief of the Finance Division – a senior post – automatically receives "credit" of up to 200,000 baht by dint of his rank.


Read more headlines, reports & breaking news in Phuket. Or catch up on your Thailand news.
Man found dead in pickup with charcoal burner in Rassada, Phuket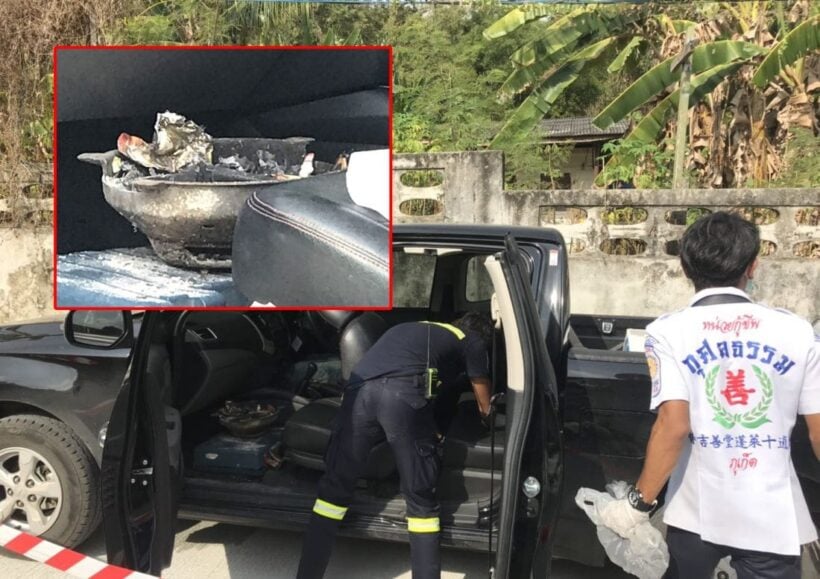 A man has been found dead inside a pickup truck with a coal burner also inside the vehicle in Rassada this morning. Police were notified of the situation in Soi Muen Sri in Rassada.
Police and emergency responders arrived to find the man's body in the parked pickup truck. The man was identified as 28 year old Weerawat Pakdeewirot from Phuket.
A coal burner was also found inside the vehicle. A suicide note addressed to his girlfriend was also found. The letter stated that he was facing financial problems. His body was taken to Vachira Phuket Hospital.
Police says that Mr Weerawat is a CCTV camera and internet contractor. His home was only 50 metres from the scene. Yesterday locals noticed his pickup parked at the scene. Today they saw the pickup in the same location and went to check out the situation.
Police are continuing their investigation.
If you or anyone you know is in emotional distress, please contact the Samaritans of Thailand 24-hour hotline: 02 713 6791 (English), 02 713 6793 (Thai) or the Thai Mental Health Hotline at 1323 (Thai).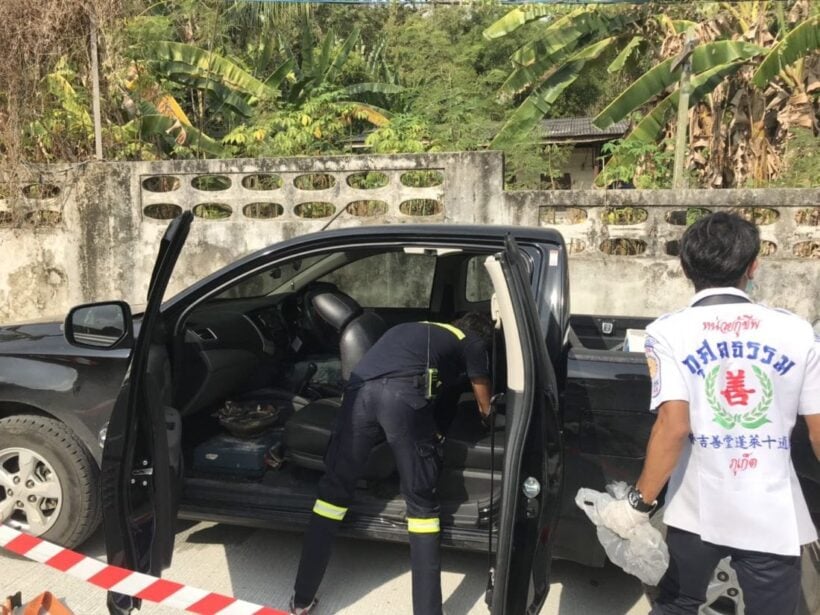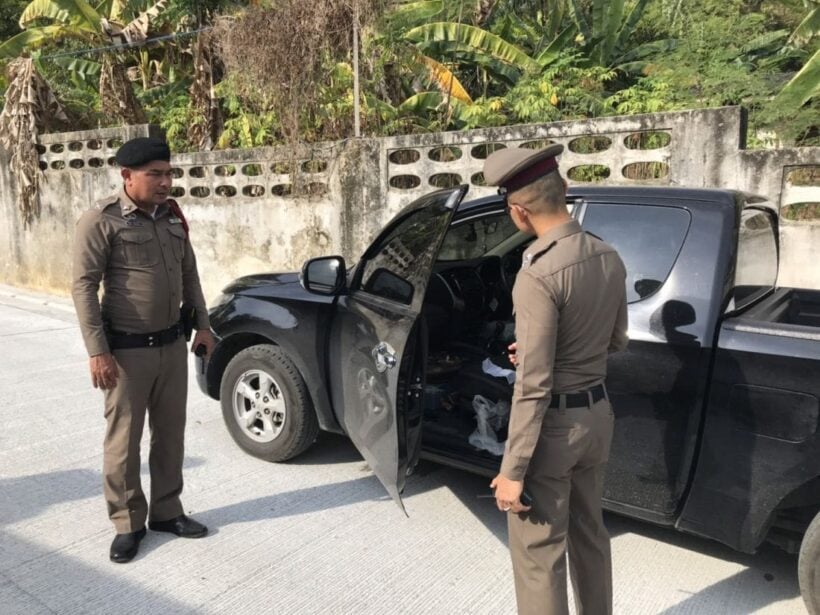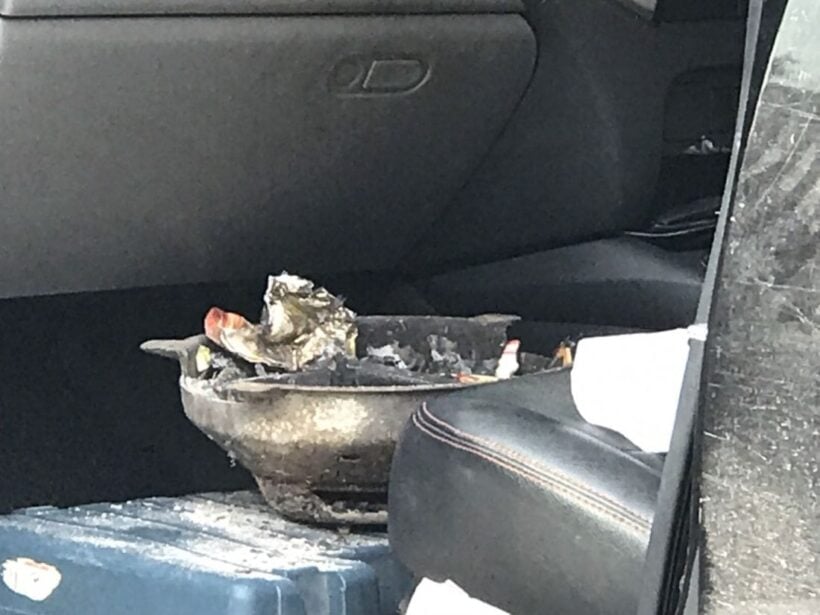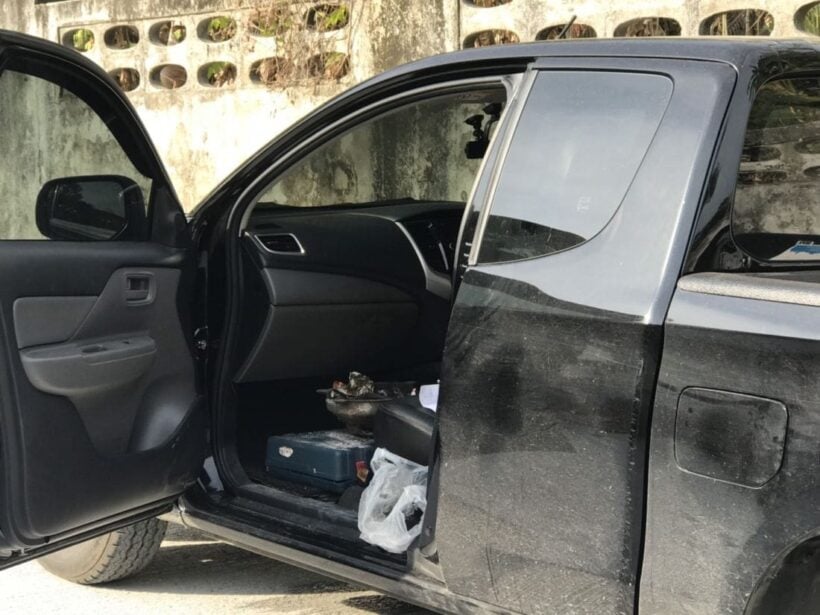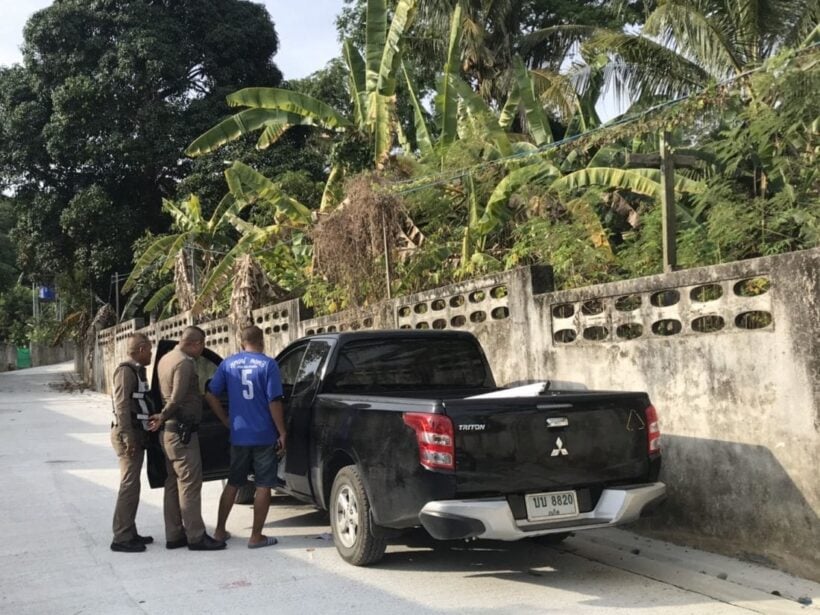 Injured Brahminy Kite (bird) rescued in Karon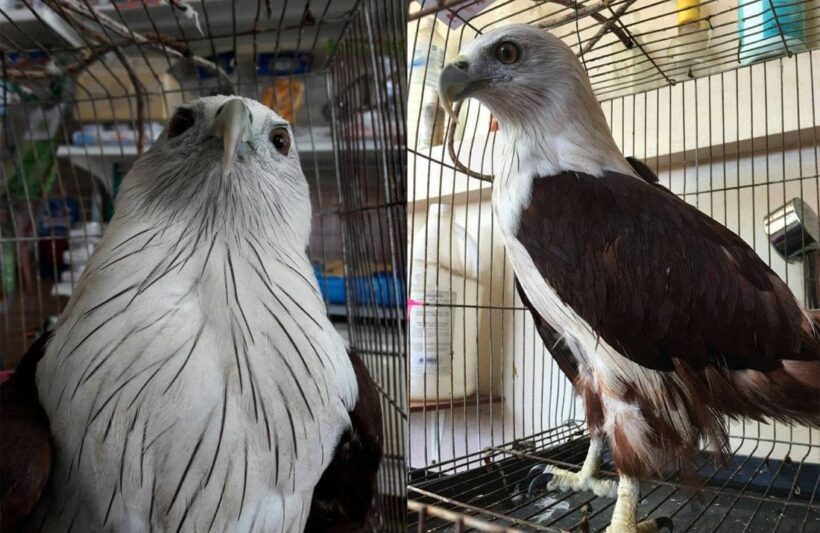 An injured Brahminy Kite has been rescued by locals in Karon, Phuket.
The mature Brahminy Kite was found in Karon this week. Locals who found the bird contacted the head of Khao Phra Thaeo Non-Hunting Area, Pongchart Chueahom.
The Brahminy Kite had a wound similar to a bite wound under its wing. It was unable tp fly. It is now being treated at a pet hospital in Thalang until it is ready to be set free.
The Brahminy Kite is a protected species in Thailand.
The brahminy kite (Haliastur indus), also known as the red-backed sea-eagle in Australia, is a medium-sized bird of prey in the family Accipitridae, which also includes many other diurnal raptors, such as eagles, buzzards, and harriers. They are found in the Indian subcontinent, Southeast Asia, and Australia. They are found mainly on the coast and in inland wetlands, where they feed on dead fish and other prey. Adults have a reddish-brown body plumage contrasting with their white head and breast which make them easy to distinguish from other birds of prey – Wikipedia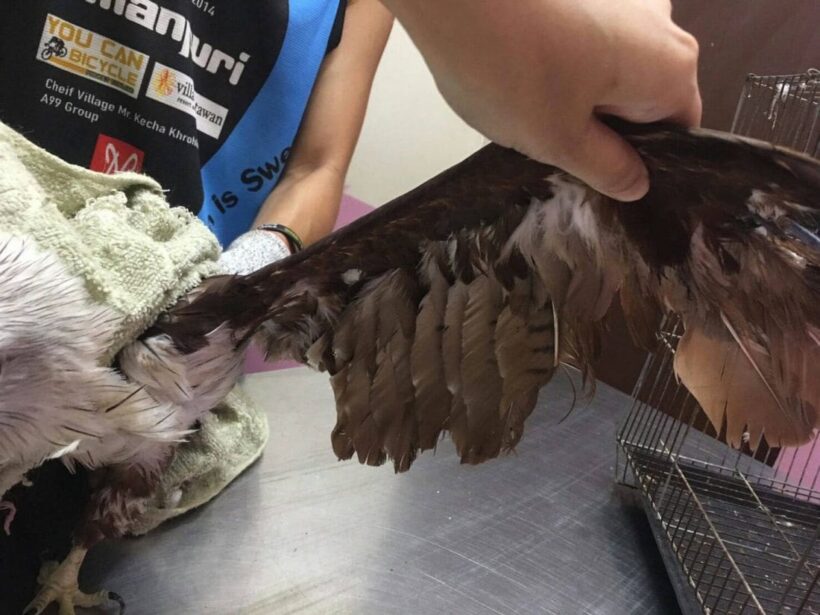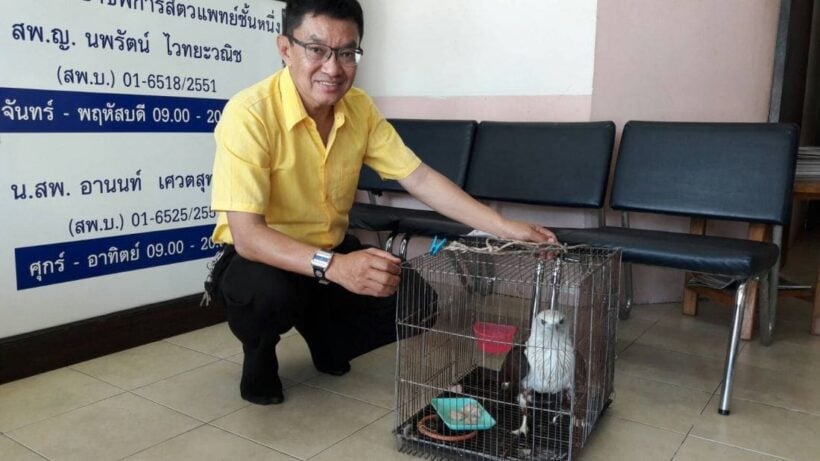 Army commander visits Phuket residents to discuss water shortage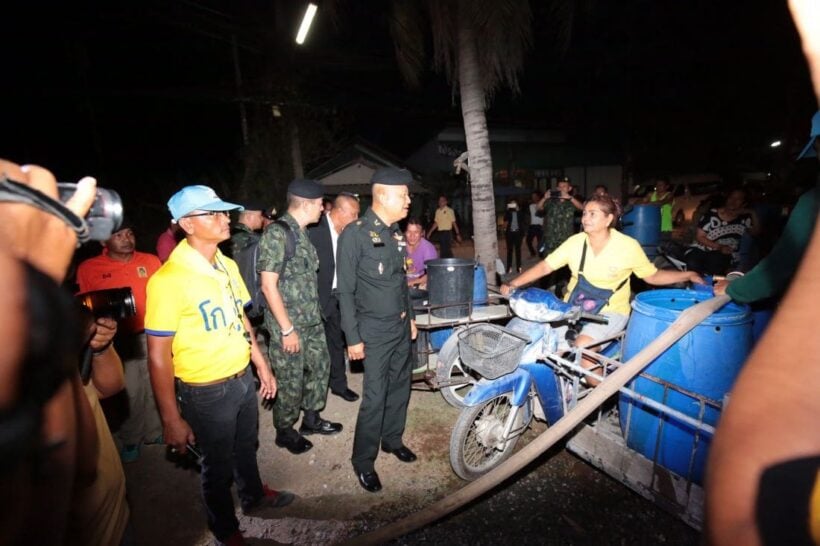 Lt Gen Pornsak Poonsawat, the Commander of the Fourth Army Region (Southern) in Nakhon Si Thammarat, came to Phuket to visit residents over water shortage issues in Rassada.
Lt Gen Pornsak says "we were contacted from the Phuket Governor that Phuket is facing serious water shortages. We have come here with water trucks to help residents to join with other government agencies in Phuket.
There are now 23 water trucks which are delivering free water to residents around Phuket. However we need cooperation from every one to save water."