Australian Govt rejects Bamford blast over Phuket rape claim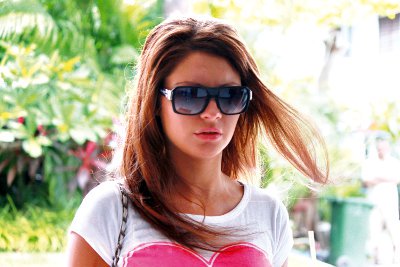 PHUKET: The Australian Government has flatly rejected allegations by one of their own citizens, Stevie Bamford, who went on Australian national television and accused embassy officials of telling her to lie about her alleged sexual assault ordeal on Phuket.
Ms Bamford, 21, alleged on the prime-time television show Today Tonight that Australian consular officials told her to confess to lying to police about being raped by three men in a tuk-tuk in Patong on June 10 – so she would be able to "walk away" from the incident.
However, in an email to the Gazette, a spokesperson for the Australian Department of Foreign Affairs and Trade (DFAT) stated that Australian consular officials at no time gave legal advice to Ms Bamford, or advised her to sign any statement.
Consular officials urged her repeatedly to engage a lawyer to advise her on legal proceedings, said the email.
"Consular officials from Canberra, Bangkok and Phuket provided extensive consular assistance to Ms Bamford, her boyfriend, her mother (while in Phuket) and her father (who remained in Australia) during the entire period from the initial rape investigation, her arrest, the court hearing, the lead-up to detention, detention and deportation from Thailand.
"Officials accompanied Ms Bamford to the police station during the initial investigation of her claims. A female Consul from the Embassy in Bangkok subsequently flew to Phuket to provide Ms Bamford additional assistance and to ensure that her rape allegations were taken seriously by police and that she received the appropriate medical attention.
"The Consul was present when Phuket police showed CCTV footage from the night of the alleged rape. During her subsequent arrest, consular officials provided extensive assistance."
During her exclusive interview, billed as "Terror in Thailand" and introduced as "a chilling story of how an overseas holiday can go horribly wrong", Ms Bamford tells Laura Sparkes, a senior Sydney-based reporter for the program, how she was held down and sexually assaulted.
Although the interview and footage shown was mostly produced in a way to support Ms Bamford recollection of events, and accuse the Australian authorities of encouraging a cover-up of a horrific encounter, it also questioned the veracity of those claims.
"Stevie Bamford is either a young woman denied justice in the most horrific way, or she's a very convincing liar," narrated interviewer Ms Sparkes.
During the interview, Ms Bamford explained that she was out enjoining the Patong nightlife with her boyfriend Tim Michael. "Somehow we lost each other in a mass of people," she said.
However, in her previous statement to police when reporting the attack, Ms Bamford said that she and her boyfriend had argued, and he had stormed back to the hotel alone.
During the initial investigation by Patong Police, the motorbike taxi driver who took Ms Bamford back to the hotel said that he had escorted her to her room so she could get money to pay him. While she got the money, he noticed that broken items were scattered around the room.
In her narrative of events on the night of June 10, Today Tonight interviewer Ms Sparkes said, "Unable to contact Tim, drunk, disorientated and a little scared, Stevie says she walked toward the beach looking for a tuk-tuk taxi ride home. She then claims she was grabbed."
Ms Bamford described being held by three men in what she believed to be a tuk-tuk. "It was a bit of a blur to me… I remember getting pushed down to the floor."
When asked by Ms Sparkes where this occurred, Ms Bamford said, "I remember there was a roof above my head so I thought… just assumed it was a tuk-tuk… there were three men at the time… someone was holding my arms back, above my head and someone started taking my clothes off me and trying to sexually assault me."
While Ms Bamford is telling Ms Sparkes of her ordeal, images are shown of bruising to Ms Bamford's legs and small scratches to her back.
In the exclusive interview, Ms Bamford also accused Patong Hospital of not providing her with the results of a rape test.
While showing receipts from the hospital for tests that included "jabs", "medicines" and a pregnancy test, Ms Bamford alleged that hospital staff denied showing her the rape test results, claiming that she had never received treatment at the facility.
Both Ms Bamford and her boyfriend reiterated that they were put in a position where Ms Bamford had no alternative other than to sign a confession saying that she had fabricated the whole rape story and lied to police.
It was either sign the confession or be jailed for more than three years for being found guilty of lying to police, Ms Bamford said.
Ms Sparks asked directly: "So the Australian Embassy were telling you to lie?"
To which Ms Bamford replied: "Yes, basically. They said 'It's for your best interests'."
After Ms Bamford was sentenced to 15 days' detention, her father, former Australian international rugby league player Peter Tunks, said he was phoned by an Australian Foreign Affairs official, who apologized for the sentence his daughter was given.
"She said that it was virtually unheard of in this kind of plea-bargaining case," Mr Tunks said.
The bewildered father told Ms Sparkes that he was told that "all his daughter had to do was drop the charges, say she made it up and she'd get a slap on the wrist and get out".
Although Mr Tunks did not attribute that statement to anyone in particular, it came right after Ms Sparkes had accused the DFAT of "hiding behind off-the-record chats and emails".
Regardless, the DFAT are adamant that Australian consular officials in Thailand did not tell Mr Tunks that his daughter should lie and that he first time a consular official in Thailand spoke to Mr Tunks was after Ms Bamford had confessed, been convicted and sentenced.
In DFAT's email to the Gazette, the spokesperson wrote: "At no stage did consular officials in Canberra tell Ms Bamford's father (Mr Peter Tunks) that it was 'in Stevie's best interests to lie' by signing a statement. Canberra consular officials' first contact with Mr Tunks was on the evening of 19 June, 4 days after her court hearing at which she was sentenced to 15 days' detention.
"The signing of a statement was not discussed during this, or subsequent conversations between Mr Tunks and consular staff. Consular staff underlined that DFAT was not able to provide legal advice and encouraged Mr Tunks to address legal aspects of her case with a lawyer.
"Subsequent contacts between Mr Tunks and consular staff took place on 20 June, 21 June, 22 June, 25 June, 26 June, 28 June, 3 July, 4 July, 6 July, 13 July and 18 July. DFAT records show that at no time was the signing of documents by Ms Bamford discussed in these conversations."
In the Today Tonight program, Ms Bamford went on to describe the "prison cell" where she spent her 15-day detention. "It was just a small cell. You just slept on little disgusting mattress on the floor [which] had like blood and stuff all over it," she said.
However, Ms Bamford was detained at the Bang Jo dentition facility in Cherng Tal
— Mark Dee

Join the conversation and have your say on Thailand news published on The Thaiger.
Thaiger Talk is our new Thaiger Community where you can join the discussion on everything happening in Thailand right now.
Please note that articles are not posted to the forum instantly and can take up to 20 min before being visible. Click for more information and the Thaiger Talk Guidelines.