Phuket
Arson considered in Phuket pawnshop blaze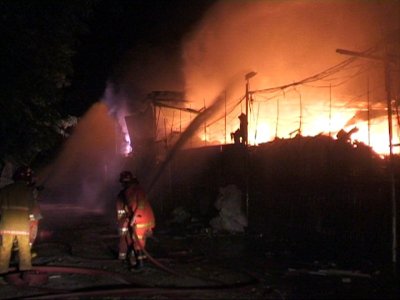 PHUKET: Police have not ruled out arson for a pre-dawn blaze that gutted a Phuket pawnshop warehouse today.
No one was reported as injured in the fire, although it took five firetrucks 30 minutes to extinguish the inferno on Sri Sena Road in Rassada.
An initial investigation suggests that an electrical short circuit might have started the fire, but the shop had been the target of arson attempts in the past, said Phuket City Police duty officer Sien Kaewthong.
Keen competition for customers among the many pawnshops on the island might have been a motive for arson, he added.
He will forward the case to police arson investigators, who are expected to question Sadayen "Bang Yen" Merteria, the owner of the warehouse, he said.
The fire was reported at 2am. Among those responding to the call were firefighters from Phuket City and Koh Kaew, who had difficulty accessing the flames that were largely contained within the structure.
Windy conditions helped the fire to spread, and fueling the blaze was a large variety of flammable materials, including oil-filled drums, paper, plastics, wood and gas cylinders, which sent out echoing booms as they exploded.
An inspection of the warehouse found extensive damage, including a scorched six-wheel truck, valued at an estimated 500,000 baht, parked inside.
Bang Yen was not present at the time of the fire, though some of his employees were asleep in the area at the time.