Phuket
Appeal for donations of building materials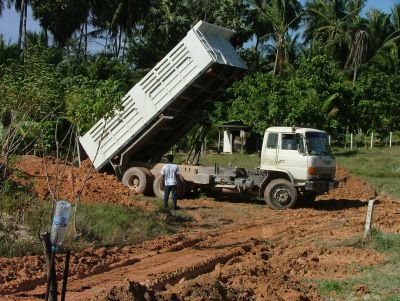 BANG TAO: Residents building emergency housing for neighbours who lost their homes in the tsunami have issued an urgent appeal for donations of building materials and voluntary labour.

Robin Plant, of Audio Visual Connections Phuket, told the Gazette that although a plot of land has been secured and some funds raised, building materials are in short supply.

"We began planning this around a week after the tsunami," said Mr Plant. "Survivors were moved to a makeshift community center on land between the beachfront at Surin and the restaurants and hotels on the road parallel to the beach.

"We cooked them food in our restaurant, which is nearby, and helped them with basic supplies of bedding and toiletries. They stayed for around a week and then left."

Mr Plant explained that he and colleagues then saw the same people wandering around Bang Tao Beach, some amid the ruins of their old homes.

"It's an old cliché, but we knew that something had to be done," he continued. "I realized that the basic need of these people was to have shelter, a home again, so I decided to set about building 10 houses."

Mr Plant has secured a plot of land at Bang Tao on a two-year lease, with an option to extend the contract for a further 12 months.

"We now have 18 families, approximately 100 people – half of them children – to house. We will build the houses and give the tenants the basic necessities such as bedding and cooking utensils but the landlord will collect rent – 800 baht per property per month – from the rehoused families," said Mr Plant.

"We hope that we can find people who are willing to 'adopt' a family and pay their rent for the first two years. The families will, we hope, be back on their feet after the first 24 months and should be able to support themselves."

Mr Plant explained that consideration is being given to other ways of gettiung the community back on its feet, for example by helping to repair damaged fishing boats, but the priority now is accommodation.

Plans for the houses have been drawn up and the land is being prepared for construction.

"We have raised 350,000 baht so far but we need more. More cash, and pledges of materials and labor are vital to keep the momentum of this project going," he said.

"These people need to have homes as soon as possible."

Anyone interested in donating time, materials or money should visit https://www.avcphuket.com/tsunami/ or call Robin Plant directly on +66 (0) 76 270660 or +66 (0) 1 970 0805 for more information.