Another attack in Rawai, Aussie and Brit mugged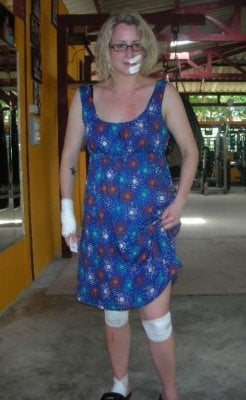 RAWAI: An Australian woman was pulled off her motorcycle and robbed at gunpoint early Sunday morning in the same area where Norwegian tourist Simen Knudsen was killed two weeks earlier.

The victim, 27-year-old Australian Sooz Lomas, arrived in Phuket about two weeks ago to learn Thai boxing at the Rawai Muay Thai camp.

About 2:30 am on Sunday, Ms Lomas left the nearby Icon Bar with an English friend named Paul, also 27. As Paul drove the motorbike and Ms Lomas rode pillion, the pair were approached from behind by two men on another motorbike.

Ms Lomas said the attack happened off the main road from Rawai to Kata.

"I don't know the roads very well and neither did the guy who was driving. I think we may have taken a wrong turn, because we ended up somewhere that was very dark. I think we were followed from the bar," she said.

"It was very soon after we left, and there were a bunch of people standing outside as we were leaving. We were going slowly, about 30kmh. Then two guys came up from behind, on the right. One of them reached out and grabbed my bag, pulling me off the motorbike.

"I came off and hit the ground face first, while the driver skidded along for a bit. I hit my head, so I was a bit confused about exactly what had happened. One of the attackers went up to Paul, pointed a gun at him and asked for money. So he emptied his pockets.

"They both had guns. I was lying face down on the ground. I didn't really know what was going on, but one of the guys came up to me saying, 'Money! Money! Money!' I didn't want to give up my bag straight away. Then I felt my bag being grabbed and they cut the strap and pulled it off me," Ms Lomas said.

Once they had taken all her possessions, the gunmen left quickly, getting away with about 1,500 baht in cash, credit cards, a mobile phone and camera – in addition to the money stolen from Paul.

Ms Lomas, who is on her first trip to Thailand, said she didn't get a good look at her assailants. "Once I saw they had a gun, I didn't really look at anything else. It was scary. I had never seen a gun before so it was one of the most frightening experiences in my life," she said.

Cut and bruised from her hard fall, Ms Lomas and Paul returned to Rawai Muay Thai, where the manager took them to the police and then to hospital for treatment.

Since that night, police have twice been back to the camp to question her about the attack, but Ms Lomas was not sure if the officers were from Chalong Police, which has jurisdiction in this case, or Phuket City Police, who have been assigned by provincial police to take over the high-profile Knudsen murder investigation that took place in the same vicinity.

Chalong Police earlier announced they had arrested a young suspect who had admitted to killing Mr Knudsen, with the help of a brother and a friend. The other two suspects were arrested soon thereafter by Phuket City Police, who after questioning ruled out all three as suspects in the Knudsen murder.

Ms Lomas said the attack has not only changed her vacation plans, but also the way she feels about traveling in Thailand.

"I have certainly been more careful since. I had heard stories of things like this happening. There was a Norwegian guy [Mr Knudsen] who was killed not long ago and the police had said that this had happened a few times recently. It does make me think twice about coming back to Phuket.

"I have heard that people with handbags are being targeted, so I am not going to carry one anymore. A lot of the people at the gym are really paranoid now; lots of the girls at the camp are quite scared," said Ms Lomas.

Her training at Rawai Muay Thai was going well until the attack, which left her covered in bruises and abrasions and forced her to cease training.

"I was going to leave, but I couldn't get a flight. I am a bit short of cash now with everything that happened and all my medical bills. I couldn't get a flight out on the 19th, but I was leaving on the 22nd anyway," she said.
Want more from the Thaiger family?
📱 Download our app on Android or iOS for instant updates on your mobile
📧 Subscribe to our daily email newsletter
👍 Like/Follow us on Facebook
🔔 Subscribe to or Join our YouTube channel for daily video updates
Phuket visitor Covid-19 rapid antigen testing may end May 15th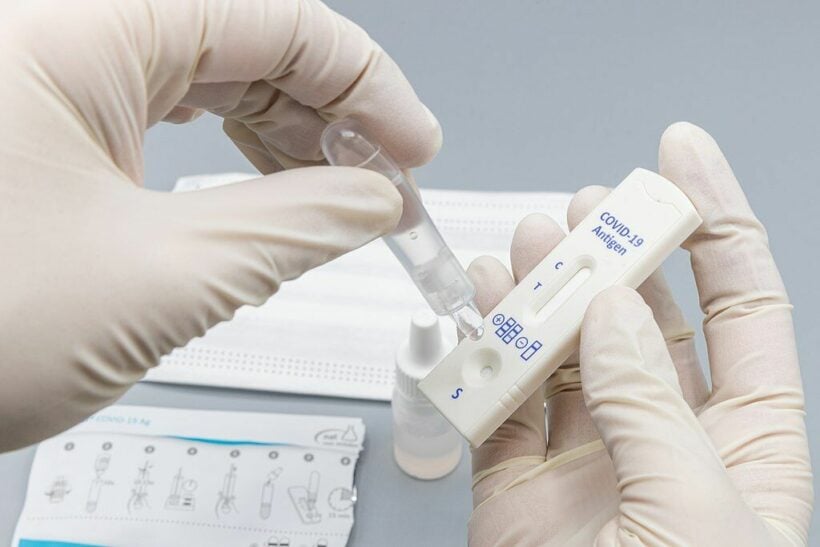 In a live broadcast interview, Phuket Vice Governor Piyapong Choowong said they will consider discontinuing Covid-19 rapid antigen testing for people arriving into Phuket after May 15th. The interview from the Phuket Check Point at Tha Chatchai yesterday seems to contradict a recent statement from the governor launching the rapid tests from today.
Entry to Phuket since April 22nd has been limited for travellers from red zone provinces, requiring proof of vaccination or a negative Covid-19 test within the last 72 hours. Anyone arriving without either of these would be screened on the spot with rapid antigen tests. Though originally offered for 300 baht per person, controversy arose over Thailand's 2-price system as it was announced that testing would be free for Thai people and 500 baht for foreigners.
The National Health Security Office provided 40 billion baht for testing in Phuket, allowing free testing for nationals, but as that funding is used up, Phuket Governor Narong Woonciew announced that the testing will no longer be free for Thai people after May 15th. Phuket does not have the budget for free rapid antigen testing so they will likely be forced to require payment after that date.
The current testing has seen a decline in positive Covid-19 infections, not finding any new cases for several days, prompting the government to rethink whether the current system of rapid testing those who are not vaccinated or holding a recent negative test certificate is worth the money spent. Over 40,000 people have been tested since the program began April 22nd until the current figures on May 5th, with only 22 covid infections identified. Furthermore, 5 of those infections turned out to be false positives.
The vice-governor conceded that Phuket has Covid-19 outbreak problems with growing infections every day, but explains that the infections are from within the community and not from outside visitors. The latest infections stem in large part from gambling get-togethers without proper Covid-19 safety.
As of now, the rapid antigen testing will continue until the May 15th cut off, but government officials are still debating whether to continue testing and whether funding will exist for it after that date. The NHSO has recently hinted that they will approve more funds to continue testing, a signal that had not been received before the governor's announcement on Wednesday about the rapid antigen testing.
The vice-governor stressed that the situation is constantly evolving and that new information it's shared frequently, and often out of local control. He urges everyone to pay attention to forthcoming announcements.
SOURCE: The Phuket News
Want more from the Thaiger family?
📱 Download our app on Android or iOS for instant updates on your mobile
📧 Subscribe to our daily email newsletter
👍 Like/Follow us on Facebook
🔔 Subscribe to or Join our YouTube channel for daily video updates
Phuket to rollout rapid Covid-19 testing campaign for visitors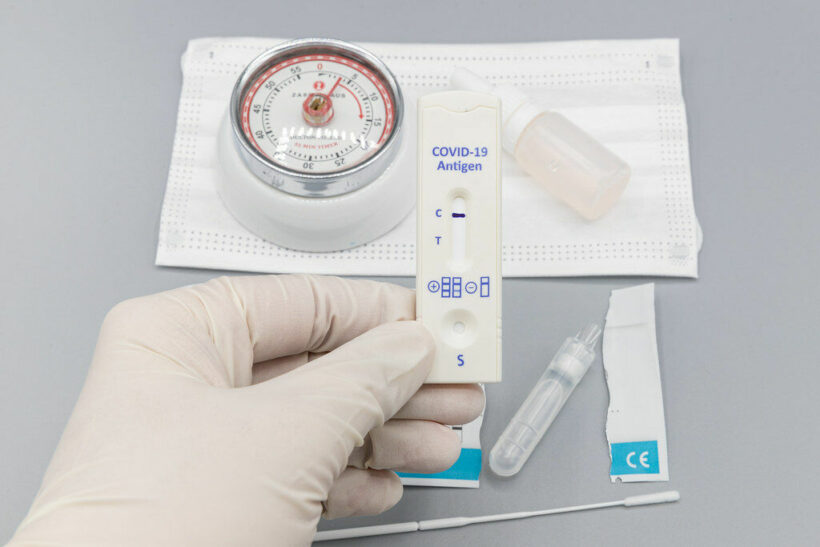 A rapid Covid-19 antigen testing campaign for visitors to Phuket is being rolled out to quickly detect cases in an effort to prevent the spread of the virus. The island province is set to reopen to foreign tourists in July, that is if the virus is contained and if at least 70% of the population is vaccinated against the coronavirus.
The rapid testing campaign will start today and go until May 15. Visitors from Krabi, Ranong, Trang, and Phatthalung will be tested, according to deputy Phuket governor Piyapong Choowong. After May 15, those entering Phuket through official checkpoints will under Covid-19 tests funded by the National Health Security Office.
If daily new Covid-19 infections are more than 20 after the rapid testing campaign ends next week, then local officials will impose stricter disease control measures to help contain the virus.
In the recent wave of infections over the past month, there have been 493 confirmed Covid-19 cases in Phuket with 229 currently in treatment, according to the chief of the provincial public health office, Koosak Kookiattikul. To help contain Covid-19 in Phuket, the governor has also ordered local officials to find at-risk groups and carry out active case finding campaigns.
Despite the recent Covid-19 outbreak, Phuket is still scheduled to reopen under the so-called sandbox model, allowing foreign tourists who are vaccinated against Covid-19 to travel to the island without undergoing quarantine. A mass vaccination campaign is being rolled out on the island province in an effort to vaccinate 70% of the population, reaching herd immunity, by the end of June. Expats in Phuket with a valid work permit will be able to register for a vaccine starting next week.
SOURCE: Bangkok Post
Want more from the Thaiger family?
📱 Download our app on Android or iOS for instant updates on your mobile
📧 Subscribe to our daily email newsletter
👍 Like/Follow us on Facebook
🔔 Subscribe to or Join our YouTube channel for daily video updates
Tourism Minister says Phuket must reach zero infections before July re-opening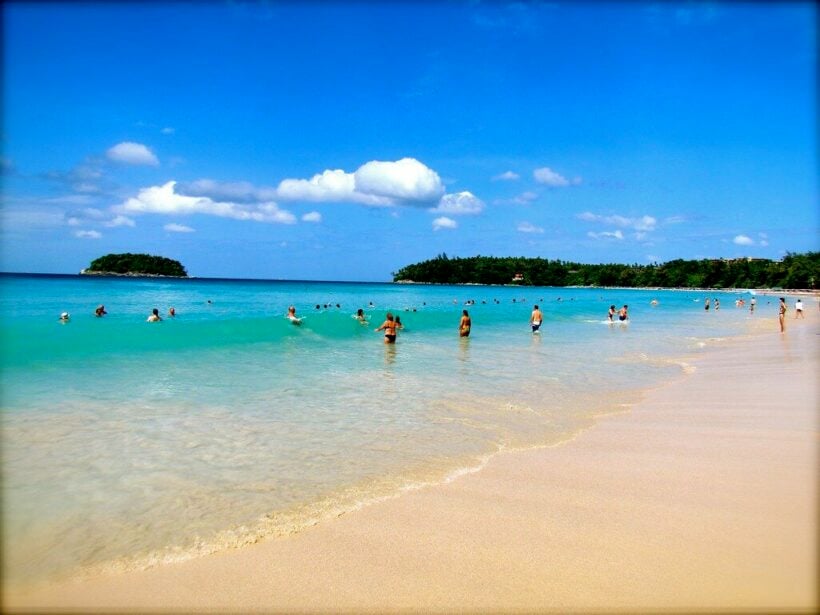 The Tourism and Sports Minister insists the southern island of Phuket must record zero Covid-19 cases if a planned July re-opening is to go ahead. Phiphat Ratchakitprakarn adds that, should new infections be reported once 70% of the island is vaccinated, the Tourism and Public Health Ministries will work together to decide what action to take.
Tourism operators in Phuket are desperately clinging to the hope that the island's July re-opening will go ahead, with many businesses seeing it as their last chance. The so-called "sandbox model" would see the island reopened to vaccinated foreign tourists without mandatory quarantine. Phiphat says tourism officials hope to attract between 3 and 4 million international visitors.
The Bangkok Post reports that in the last quarter of the year, the model will be extended to other parts of the country, including Phang Nga, Krabi, Koh Samui, Pattaya, Chiang Mai, and Bangkok.
"We have to speed up inoculations, particularly in Bangkok, to achieve herd immunity by the fourth quarter. The number of daily infections should be below 200 by the end of this month to restore international tourism confidence."
Given that many people may need a lot of persuasion to travel, particularly if it means mandatory quarantine once they get home, there may be some raised eyebrows at the government's decision to charge foreign arrivals a 300 baht "tourism fee". Yes, you read that correctly…
Phiphat says that particular initiative will launch in January, with the proceeds used to create a fund to help the tourism industry survive any future calamities. He calculates that if Thailand gets 20.8 foreign tourists in 2022, the fund will have 6.2 billion baht to future-proof the sector.
According to the Bangkok Post, once Thailand gets its Covid-19 outbreak under control officials plan to re-open travel bubble discussions with neighbouring countries, including Hong Kong, Singapore, Laos, Malaysia, and Vietnam.
SOURCE: Bangkok Post
Want more from the Thaiger family?
📱 Download our app on Android or iOS for instant updates on your mobile
📧 Subscribe to our daily email newsletter
👍 Like/Follow us on Facebook
🔔 Subscribe to or Join our YouTube channel for daily video updates