Phuket
A Decade Ago: TAT battles direct flights to key markets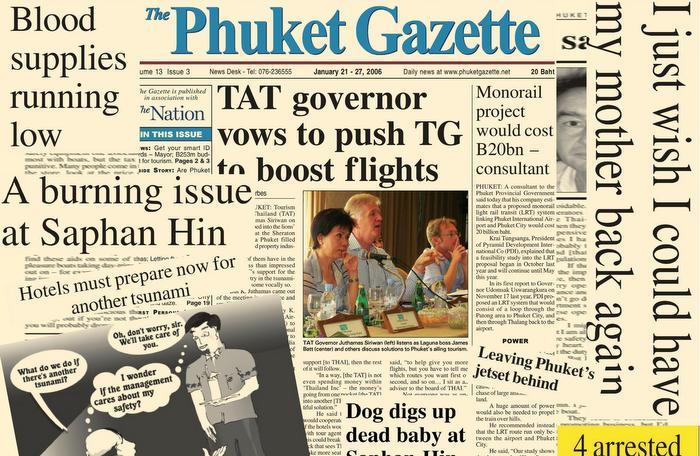 PHUKET: More direct flights from key tourist source markets to Phuket were put forward as the Tourism Authority of Thailand (TAT) Phuket Office scrambled out of a 'lion's den' of hoteliers and property industry figures a decade ago.
"It seems to me, from what I have heard here, that there are tourists who want to come, but there are no flights. If we see the potential from Australia, say, or Hong Kong, instead of [using the TAT's] budget for advertising, we [will] support Thai Airways International and you [will] do the marketing," TAT Governor Juthamas Siriwan told the group.
With the battle of short-haul budget airlines now raging in the region, direct flights to many key markets have come online since Ms Juthamas' proposal. Though there has been recent focus on direct flights to Phuket by HK Express, as well as Thomson Airways, the real impact is coming with more and more mainland Chinese cities being directly connected to the island.
Though it seems the page one story of the January 21-28 issue of the Phuket Gazette feels dated now that Phuket International Airport is set to out pace the capacity of their yet-to-be-finished expansion – set at 12 million people – clippings of headlines from the rest of the pages could be thrown into this week's Gazette with only a change of the dateline.
'Monorail project would cost B20bn – consultant' reads the sidebar of page one. Yes, that's the lightrail project for which Bangkok officials are currently hot. The feasibility study into the project began in October 2005… and now, ten full years later, we really aren't that much closer to the project being built, despite many hoping it will mark the dawn of a new era on the island.
There was also the call for blood at the beginning of 2006, which is something we now regularly hear from the Red Cross.
"We have nearly run out of supplies in Phuket," the President of the Phuket Blood Donor Club told the Gazette.
However, the headline that is frighteningly realistic nearly ten years after the fact reads: Could Phuket hotels cope with another tsunami?

— Isaac Stone Simonelli