Phuket ready to host Foremost IRONMAN 70.3 Thailand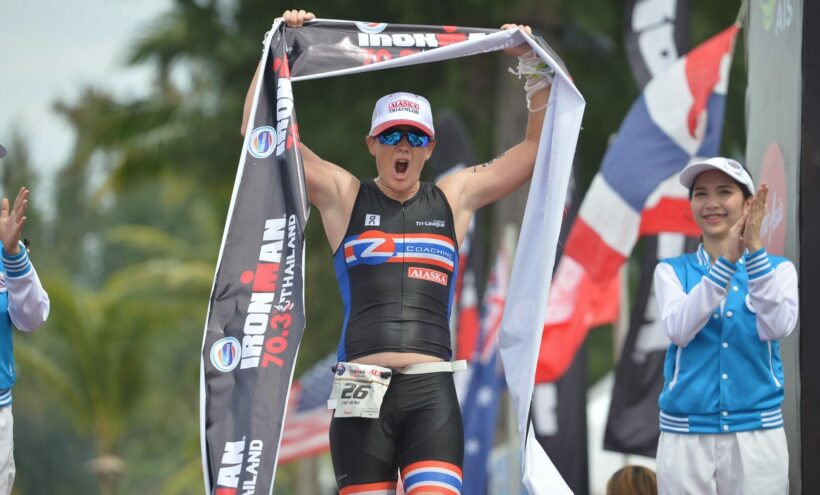 Having hosted triathlons for more than 20 years, Phuket is in an enviable position as the leading triathlon destination in South East Asia and the island is set to bolster its sports tourism credentials further when it hosts the 2017 Foremost IRONMAN 70.3 Thailand, Sunrise Sprint and Foremost IRONKIDS Thailand on 25 and 26 November, 2017.
"IRONMAN is a global triathlon brand that is famous for organising world-class events, and we're very proud the organisers have chosen to host Thailand's only IRONMAN event in Phuket for the second year. Approximately 1,500 triathletes from more than 60 countries will be taking part and it is events like this that really help the island economy and the local communities in which they take place." said Mr. Norraphat Plodthong, Governor of Phuket.
An established sports infrastructure, quality roads and idyllic beaches are just some of the reasons Phuket has become a triathlon mecca, welcoming thousands of triathletes from around the world each year to train and compete. What is often overlooked, however, is the island-wide support which is essential to the success of such events, from local government to local communities.
"Phuket is well developed for triathlons and there is a lot of experience on the island in this area. The island's reputation for hosting spectacular triathlons spreads far and wide, making it a popular destination with triathletes the world over," said Ms. Dittaya Curtz, Project Manager, Sunrise Events (Thailand).
What is a four-day event starting with registration and the IRONMAN Expo, racing starts in earnest on Saturday, November 25 with the Foremost IRONKIDS Thailand which will see almost 300 kids aged six to 14 years old compete in varying swim/ bike/ run distances at Thanyapura Health & Sports Resort. This will be followed on Sunday, November 26 with the Foremost IRONMAN 70.3 Thailand (1.9km swim/ 90km bike/ 21.1km run) and the Sunrise Sprint (750m swim/ 20km bike/ 5km run).
Following the one-loop 1.9km open-water swim in the pristine waters off Bang Tao Beach, athletes embark on the 90km bike which for this year is a new and exciting route, taking competitors through Cherng Talay and along the island's west coast and Naithon hills to the Northern tip of the island, where competitors will turn around and race back along the east coast before cutting across the island and finishing at the beachfront transition where they will begin the run. The two-loop 21.1km run course is alongside Bang Tao and Layan beachfronts making for a scenic finale with the finish chute at Angsana Laguna Phuket.
Foremost IRONMAN 70.3 Thailand start/ finish times:
06:20 Male Pros/ Male Asian Elite
06:22 Female Pros/ Female Asian Elite
06:30 Rolling starts for Age-Groupers and Relay.
Swim Cut Off: Each participant is given 70 minutes to finish the 1.9K swim based on a rolling start.
Bike Cut Off: 5 hours and 30 minutes from the last rolling start release (approx. 12:15).
Finish Line Cut Off: The finish line closes 8 hours and 30 minutes after the last rolling start
swim release.
"All the relevant island authorities have been working closely with the organisers to make sure the event is successful. We have engaged with local communities along the route and together with the Police the bike course has been designed so that the necessary road closures will have minimal impact on island residents and Marshalls will be all along the course to ensure safety for the participants," added Governor Norraphat.
For the almost 1,500 age-group triathletes taking part thirty age-group qualifying slots are available for the 2018 IRONMAN World Championship in Kona, Hawaii and thirty age-group qualifying slots for the 2018 IRONMAN 70.3 World Championship in South Africa, while the male and female Professionals will compete for a US$15,000 (approx. 500,000THB) prize purse.
"This is our second year of hosting the Foremost IRONMAN 70.3 Thailand in Phuket and the support we have had from residents, authorities and athletes has been fantastic. I would like to thank everyone and encourage island residents to come and see the race on Sunday 26th November," concluded Ms. Dittaya.
Organised by Sunrise Events (Thailand), the Title Sponsor is Foremost with Major Sponsors FBT and Fox Sports, and support from the Sports Authority of Thailand and the Province of Phuket. Event Partners include Angsana Laguna Phuket, Bangkok Airways, Thanyapura Health & Sports Resort, Gatorade, Pepsi, Aquafina, Bollox, UFC, Cetaphil, Zoot and Kitbrix. Media Partners include Mthai, Phuket Cable, The Phuket News, Phuket Bulletin, AsiaTri and FinisherPix.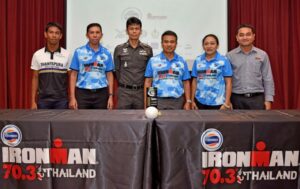 Keep in contact with The Thaiger by following our
Facebook page
.
Never miss out on future posts by
following The Thaiger
.
Thailand News Today | Shots fired, the yellow ducks, "no coup" promise | November 26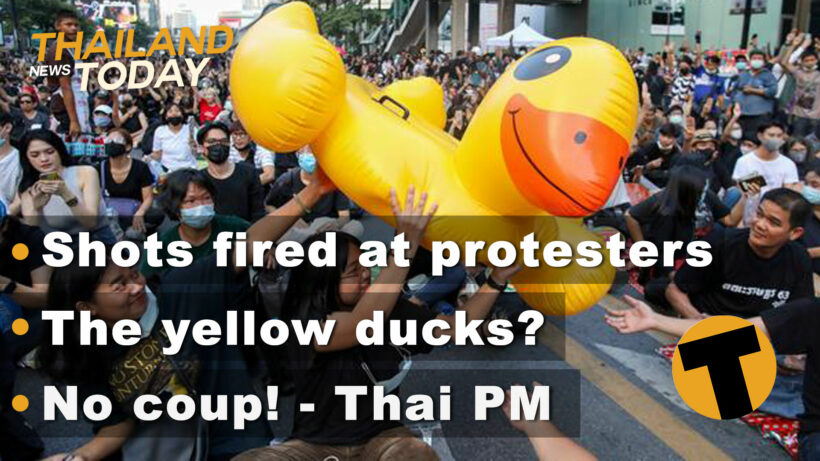 Today's news includes some live footage of the explosion and chaos at last night's rally outside the Siam Commercial Bank building. Here we go with today's Thailand news.
An explosion and gunshots fired at last night's protest outside the Siam Commercial Bank HQ
There were reports of shootings and the throwing of an explosive device, caught on video at last night's protest out the front of the Siam Commercial Bank HQ.
2 people were shot and injured in the chaos that erupted as people were starting to head home after the rally at about 10.10pm.
Firstly there was a man, dressed in a bike helmet, caught on camera hurling some explosive, through to be a pipe bomb, into a crowd of protesters. After the explosion there was up to 4 gunshots fired. A gunman was apprehended whilst other alleged shooters escaped into the crowd. Both the injured protesters were rushed to hospital. The protesters had their own security contingent present at yesterday's rally, some 50 volunteers, who co-operated with police in their immediate investigation into the incident.
Yellow ducks dominate at Bangkok pro-democracy rally
Speaking about the protests, what is it about the yellow inflatable ducks that keep popping up at the rallies?
Having been used at protests in Hong Kong earlier this year, the rubber duck has also become a regular feature at the Thai protests, a symbol of mutual support between both pro-democracy movements. And, more practically, became a useful defensive shield to fend off the water cannons and anything else that ended up hurled at the protesters.
At yesterday's rally outside the SCB building, the duck could be seen everywhere, with enterprising vendors selling t-shirts, toys, hats, torches and hair pins, all bearing the yellow duck's image.
Yesterday's protest was originally set to take place at the Crown Property Bureau, but organisers took to social media the night before to announce a change of location to the SCB headquarters. Protest leaders say the change was to avoid a confrontation with royalists who, they claim, were being deliberately sent to provoke them.
10 passengers injured after Bangkok-Chiang Khong bus crashes into tree
10 people were injured and sent to the hospital after a bus driver lost control of the vehicle and crashed into a tree early this morning.
The double-decker passenger bus on the Bangkok-Chiang Khong route was passing through the Phitsanulok province in Central Thailand when the driver lost control and crashed into a tree on the side of the road. The incident happened at 2:50am.
Thai PM insists martial law will not be used against protesters
Thai PM Prayut Chan-o-cha says he has no intention of resorting to martial law to put an end to the current political impasse and protests. He says that existing laws provide enough scope for dealing with those who take matters into their own hand.
But the then General Prayut, head of the Thai army, made similar assurances in the latter stages of the Yingluck Shinawatra government before he led the NCPO in a bloodless military coup against her government in May 2014.
City officials plan to demolish abandoned Pattaya condo project
After years of talks, threats, and complaints, the abandoned Waterfront condo development overlooking Pattaya's Bali Hai pier looks set to be demolished.
The Waterfront Suites and Residence is a half-finished condo project that was stalled in 2014 after safety inspectors discovered that the building's fire escapes and elevator systems designs varied from the already approved construction designs.
Now Pattaya's mayor says officials plan to tear down what many have condemned as an eyesore, "as soon as possible", and charge the owners for the costs of the demolition.
The Israeli-owned development company, Bali Hai, are accused of violating building regulations, by building a structure that exceeds the legal height limit, as well as restrictions on proximity to the beach. Local residents have also complained that the development obstructs the panoramic vista of the bay from Pattaya Hill.
Ex-Thai Airways official gets fat prison sentence for failing to pay excess baggage fees
You'll never complain about excess baggage charges after hearing what happened to a former Chairman of Thai Airways who's ended up with a 2 year prison sentence for fudging his baggage allowance on a flight back in 2009.
The former chair for the airline has been sentenced to 2 years in jail because he didn't pay for 300 kilograms of excess baggage. The court says he abused his authority by ordering airline staff to change the stated weight of luggage so he could get out of paying excess baggage fees.
The judge says the sentence could not be suspended. Ex Chairman Wallop's lawyers say they will appeal the harsh sentence.
Keep in contact with The Thaiger by following our
Facebook page
.
Never miss out on future posts by
following The Thaiger
.
Royal Thai Army denies claims about Twitter campaign to spread pro-government propaganda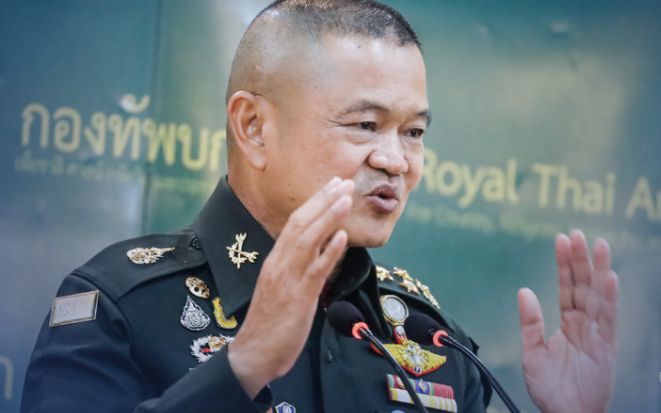 Following a shutdown of 926 Twitter accounts linked to the Royal Thai Army, documents were leaked of what appears to be a contract between the Army and a private company supposedly hired to spread pro-government propaganda.
Army chief Narongphan Jitkaewtae denies the claims and says the Army never hired a company to spread pro-government propaganda through the Twitter accounts.
Last month, Twitter announced that it had suspended 926 accounts linked to the Royal Thai Army for violating the social media company's "platform manipulation" policies.
A report by Stanford Internet Observatory's Cyber Policy Centre says the Army used Twitter to "cheerlead" with pro-government propaganda. The report says the Army used Twitter to criticise the now disbanded Future Forward Party and neutralism criticism after February's mass shooting where an Army soldier killed 30 people and injured 57 others.
Former Future Forward Party spokesperson Pannika Wanich says members of the opposition plan to sue the Army for "using tax money to cause divisions and hatred among Thais."
SOURCE: Nation Thailand
Keep in contact with The Thaiger by following our
Facebook page
.
Never miss out on future posts by
following The Thaiger
.
Thai officials approve transfer of 3 Iranians involved in 2012 botched bomb plot in Bangkok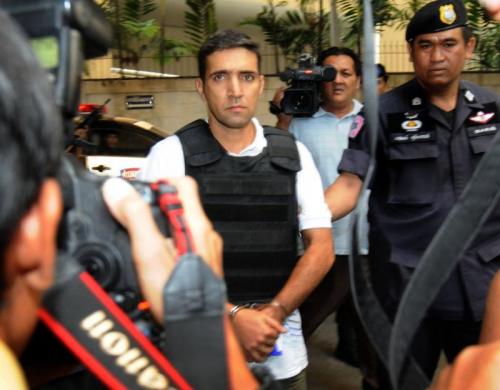 Thai authorities are transferring 3 Iranian inmates to Tehran. The inmates were involved in the 2012 failed bomb plot, which Israeli and Thai officials say, was targeted at Israeli diplomats in Bangkok.
According to Iranian state TV, the transfer was a swap. The report says 33 year old British-Australian Kylie Moore-Gilbert, who was incarcerated for the past 2 years on espionage charges, was released from Iran prison in exchange for the 3 Iranians imprisoned overseas.
Although Iranian media reports the transfer was a prisoner swap, Thai officials have not confirmed the reports. Thailand's deputy general Chatchom Akapin says the transfers are normal and Thailand approved the transfer in an agreement with Iran.
"These types of transfers aren't unusual… We transfer prisoners to other countries and at the same time receive Thais back under this type of agreement all the time."
Back in 2012, a cache of homemade explosives accidentally blew up at a Bangkok villa on Sukhumvit 71 rented by the Iranians. Saeid Moradi fled the home carrying explosives, but dropped them as police chased him. He lost both his legs in the explosion.
While both Thai and Israeli officials say the explosives were intended to attack Israeli diplomats in Bangkok, Iran officials deny the allegations. The men never faced terrorism charges or any charges relating to attempting to kill the Israeli diplomats.
Moradi along with his accomplice, Mohammad Kharzei, were convicted in 2013. Thai Court sentenced Moradi to life in prison for attempting to murder a police officer and sentenced Kharzei to 15 years in prison for possessing explosives. Another suspect, Masoud Sedaghatzadeh, was arrested in Malaysia in 2012 and then extradited to Thailand in 2017.
SOURCE: Associated Press
Keep in contact with The Thaiger by following our
Facebook page
.
Never miss out on future posts by
following The Thaiger
.