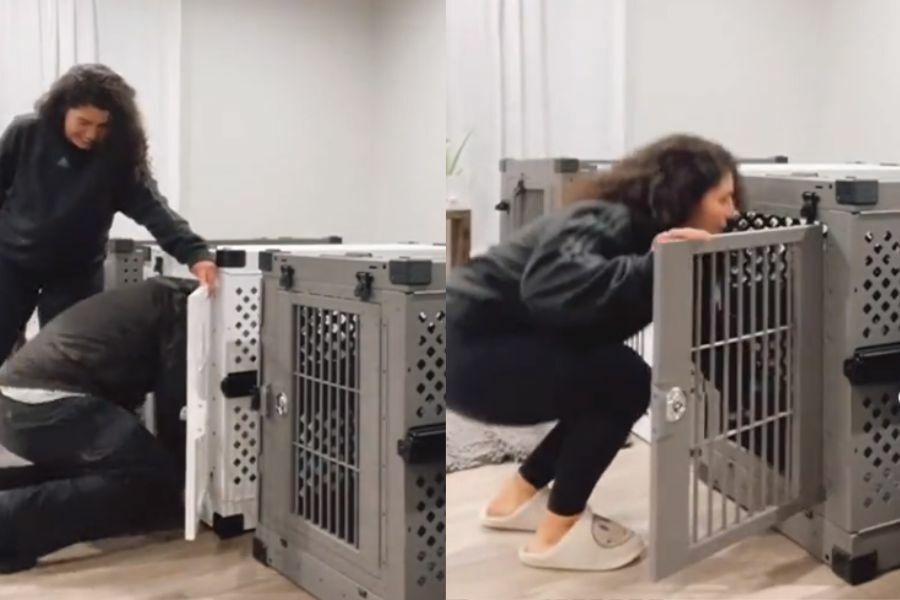 A hilarious video of a pet-loving couple from California locking themselves in a dog cage has gone viral.
Hats off to Stephanie Ferrari for posting the priceless video on TikTok @stephanieiferrari and allowing the rest of the world to laugh at her mishap.
Pet lover Stephanie and her husband are seen in their home with three dog cages. He husband, holding the family pet dog, lets go of its collar and it walks slowly into the cage. Stephanie closes it and then opens cage No.2 for her husband to crawl into before she enters cage No.3.
After a few seconds, they realise they are locked inside the cages and can't escape.
They are heard saying, "I can't get out," "can we get out?" "The dog is freaking out" and "we didn't think this through."
Stephanie's husband is then seen shuffling his cage toward his wife's new prison. He manages to stretch his fingers and release Stephanie who is seen laughing as she climbs out. She then sets her husband free.
Luckily the couple could see the funny side of a potentially dangerous situation.
The American Kennel Club (AKC) considers the crates "vitally important" for the well-being of dogs of all ages and believes they provide a sense of security and safety for the dogs and peace of mind for the owners. However, they stress that the use of crates should be a positive experience for the dog and not a form of punishment.
The AKC recommends ways to make the crate a positive experience, such as feeding the dog inside the crate and not leaving them in there for extended periods of time.
A holistic dog trainer at Sarah-Anne Reed told Newsweek…
"The key is never to use the crate as a punishment, only as a safe space and only for a limited time. Once your dog learns this, it will be content to go in the crate.
"The crate should be big enough for the dog to stretch out completely and get up to turn around without hitting its head. Dogs like their space to be clean, so crating is a great tool to housetrain."
Not sure whether the cages should be used for housetraining a human, however.
The video, which garnered over 11.2 million views on TikTok since its January 11 post, features the caption "Putting our last name to work," referencing the surname Ferrari.
As well as over 800,000 likes, the video has generated more than 5,000 comments in just a few days.
Naturally, thousands of TikTok users found the video hilarious while pet lovers added it was a great advertisement for the dog crates if even people can't get out of them.
One person commented…
"This should be an Impact Crate commercial."
Another said…
"These kennels are awesome and now they just levelled up because of this video!"
Don't try this at home! pic.twitter.com/1hH6UwaB0Q

— USA TODAY (@USATODAY) January 18, 2023