Peeling back the red tape – Thailand 4.0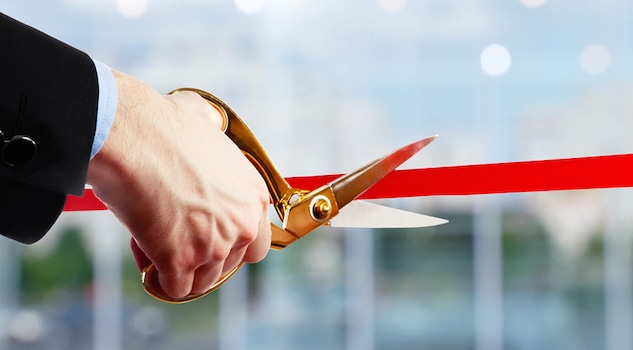 A committee tasked with propelling needed reforms under the Thailand 4.0 policy on Monday heard progress updates from state bodies in a meeting chaired by PM General Prayut Chan-o-cha.
A series of measures must be implemented to aid in the nation's digital transformation including, this August, cancelling state agency requirements for photocopies of the Thai national ID card and household registrations to access services.
Tasked with developing Thailand's e-Government, the Electronic Government Agency, a public organisation, will by the end of May provide details of its choices for 40,000 public service access points, the meeting at Government House was told.
A smart phone application to provide information about the EGA services would be available from October onward. That same month, the state agencies' requirement for juristic persons' certified photocopies would be scrapped.
In January 2019, a system to assess the levels of people's satisfaction in using EGA services will also be launched.
The meeting also heard that 18 per cent of the 28 per cent of Nan's forestland that has been occupied by people will be reclaimed, while the remaining 10 per cent would be used for growing economic crops. It would continue with its official status as "state forest" in order to lessen the issue of forest encroachment, the meeting heard.
Those at the meeting reiterated the junta government's aim to promote five qualities among Thai people – self-sufficiency, self-discipline, vocational decency, public service mindedness, and responsibility – so as to meet the 21st century's challenges.
STORY: The Nation
Want more from the Thaiger family?
📱 Download our app on Android or iOS for instant updates on your mobile
📧 Subscribe to our daily email newsletter
👍 Like/Follow us on Facebook
🔔 Subscribe to or Join our YouTube channel for daily video updates
PM weighs in after Thai national injured in Gaza explosion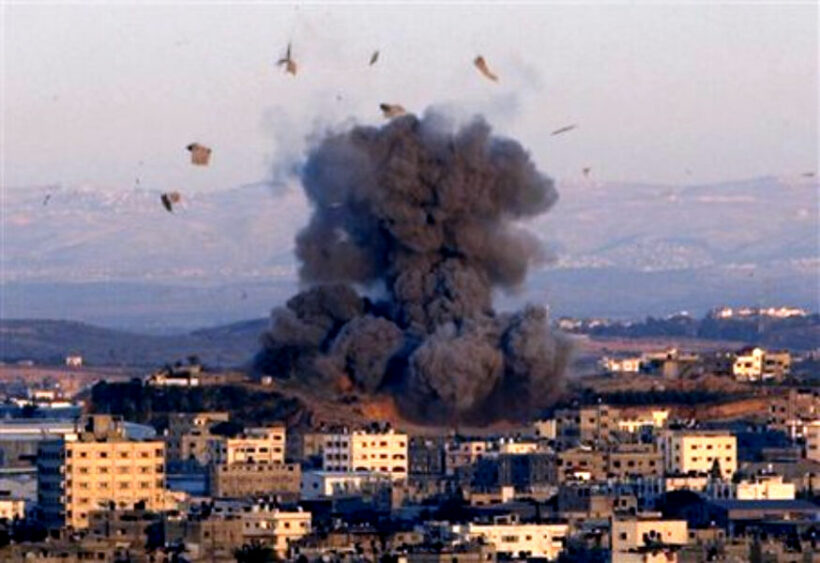 PM Prayut Chan-o-cha has made statements expressing concern and sorrow for the violence in the Gaza Strip as recent explosions have injured a Thai national. Thailand has a quota for agricultural labourers that work on exchange in Israel, with about 250 workers travelling to Israel each week on a charter flight. 3,100 Thai workers are currently already working in Israel.
Among the Thai labourers is Sitthichok Nanam, a 24 year old from Udon Thani who was injured in the Gaza Strip this week by a Hamas-launched explosion. No details about the nature of his injuries have been released yet, though he was treated at Soroka Hospital in Beer Sheva already. The Thai man had been working in Israel since June of 2017.
The Thai Royal Embassy in Tel Aviv passed on the information to the Labour Ministry who then contacted his family in Udon Thani to keep them updated on the situation. The ministry also requested funds to take care of the injured Thai man as well as to help other labourers who may need assistance.
Conflict has been escalating in the region as Israeli police and Palestinians have battled most recently over Muslims gathering at the Damascus Gate for iftar, the evening meal after daily fasting during the holy month of Ramadan. This is in addition to balloon bombs and dozens of rockets being launched from the Gaza Strip into Israel last week and other growing local conflicts.
PM Prayut has weighed in on the international matter since it does affect Thai citizens working near the Gaza Strip and in the region. His concern was added to a recent statement Thailand released regarding growing violence in the area.
"Thailand is deeply concerned by the violence in Israel and Palestine and strongly urges all parties concerned to exercise utmost restraint and refrain from any provocative actions that could escalate the situation and cause further casualties of innocent civilians and damages to heritage sites. Thailand also expresses its condolences and sympathies to those who have been affected by the violence."
SOURCE: The Phuket News
Want more from the Thaiger family?
📱 Download our app on Android or iOS for instant updates on your mobile
📧 Subscribe to our daily email newsletter
👍 Like/Follow us on Facebook
🔔 Subscribe to or Join our YouTube channel for daily video updates
Priceless Buddha statue stolen in March found at a bus stop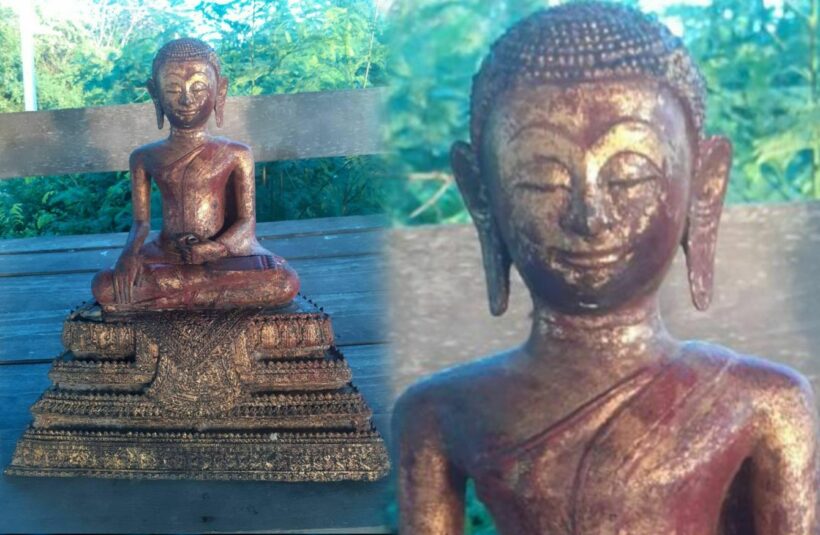 In Lop Buri's Tha Wung district, a rare Buddha statue went on a mysterious and strange trip having been stolen in March and just found at a bus stop nearby. The statue was stolen from a local museum in the Central Thailand province at the beginning of March and was spotted yesterday morning sitting at a bus stop.
The statue is of Phra Sri Arya Maitreya, an important figure in Buddhism that represents the future Buddha in heaven. This Buddha will later come to the human Realm after Gautama Buddha. The statue is of the future Buddha in a seated position holding a fan in his left hand and is considered a Priceless historical artefact.
A monk was out collecting food donations yesterday morning and saw the statue sitting alone at a bus stop only one km from where it was stolen. He immediately contacted local leaders and the police to inform them of his discovery. Lop Buri Police suspect that whoever stole the statue dumped it at the bus stop after coming to the realization that selling it or getting any value out of it would be exceedingly difficult. With everyone on the lookout for the statue, it would be hard to find a buyer and they would easily be caught if they attempted to sell it.
The museum is volunteer-run, operated by the "We Love Wat Lai" local conservation organisation, and they were preparing to open a new extension building for the temple Museum. This statue of Phra Sri Arya Maitreya was set to be a highlight of that wing.
Police have suspicions that the theft may have been an inside job, though no arrests have been made as of yet. An advisor for the local Museum group who is also a cultural expert stated that the volunteers running the museum have decided to install CCTV for future security.
SOURCE: Bangkok Post
Want more from the Thaiger family?
📱 Download our app on Android or iOS for instant updates on your mobile
📧 Subscribe to our daily email newsletter
👍 Like/Follow us on Facebook
🔔 Subscribe to or Join our YouTube channel for daily video updates
Norwegian-flagged ship with 6 Covid-19 infections off Songkla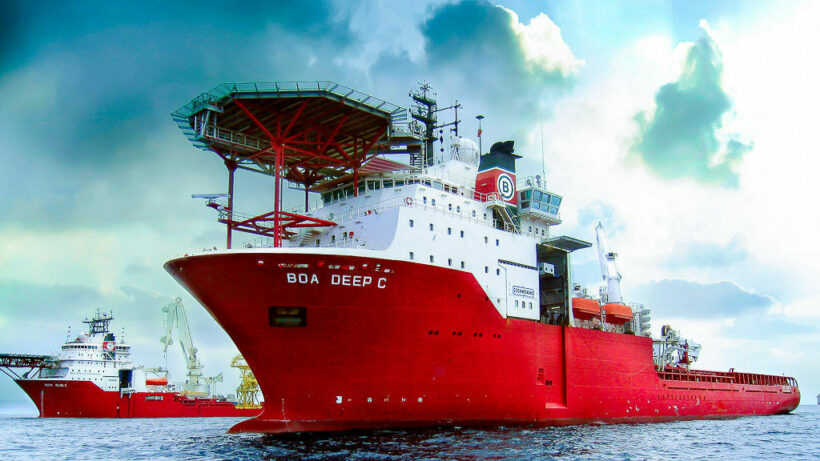 A Norwegian-flagged ship is currently floating off the coast of Songkla in the south of Thailand with 6 crew members infected with Covid-19. The offshore support vessel is named the Boa Deep C and is currently anchored near Ko Nu Island and awaiting further instructions. A spokesman for the Thai Maritime Enforcement Command Centre confirmed that the boat has been waiting there since May 12.
At the Songkla Deep Sea Port, an official in the International Disease Control Office reported that the boat has 29 crew members on board for a journey that began on May 1 from India. The boat previously docked at port in Singapore for a stopover before travelling on to the Thai port.
The offshore support vessel arrived in the area around 8 am 0n May 11. At that time, Port of Songkla officials inspected the ship's documents and administered Covid-19 swab tests to all people on board. The ship was originally cleared to travel on to Chon Buri and departed at 5 pm.
But later that evening around 10 pm, test results came back and revealed that 2 crew members from Ukraine, 2 from Poland, 1 from Russia, and 1 from India all tested positive for Covid-19. The ship was immediately ordered to return back to Songkla port by the local marine office.
The vessel arrived back the next day and was instructed to anchor by Ko Nu Island and await further updates. They were informed that travelling to any other seaport in Thailand or a nearby oil platform was strictly prohibited for any crew member. A field hospital was established on board the ship to isolate and begin treatment of the six Covid-19 infected crew members. None have reported any severe symptoms yet.
The maritime enforcement centre has dispatch patrol boats to observe the waters around the vessel and make sure that nobody leaves the Covid-19 infected ship and that nobody is allowed onto the boat. Officials in Songkla will continue to monitor the boat, stating that the ship is free to return to its country of origin at any time as long as they inform Thai officials first.
SOURCE: Bangkok Post
Want more from the Thaiger family?
📱 Download our app on Android or iOS for instant updates on your mobile
📧 Subscribe to our daily email newsletter
👍 Like/Follow us on Facebook
🔔 Subscribe to or Join our YouTube channel for daily video updates