Three teenage girls in hospital after driving into a badly-signed 2 metre trench – VIDEO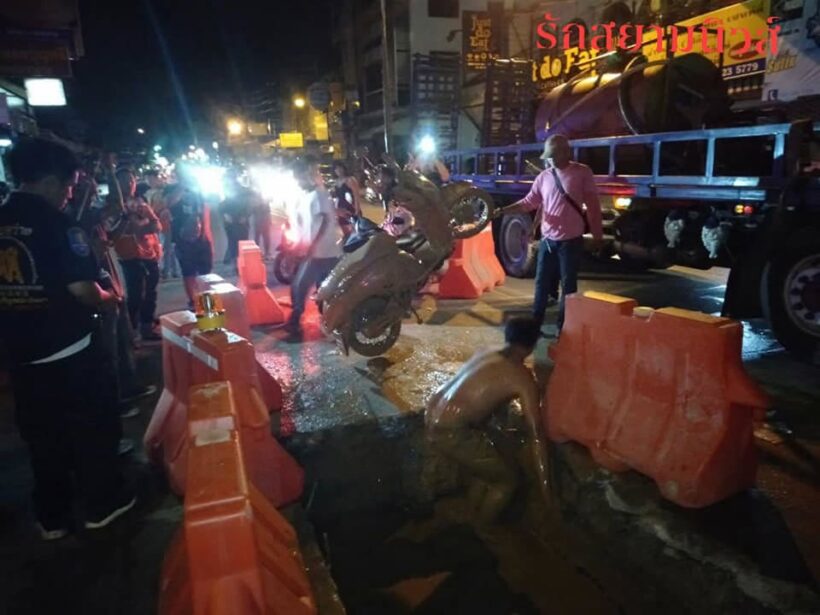 PHOTO/VIDEO: Run Siam News รักสยาม นิวส์
Three female teenagers have been injured after crashing their Honda Scoopy into a trench filled with mud, two of them seriously. The incident happened at 2am yesterday (Sunday) morning in Soi 9, central Pattaya. The three were riding on the same motorbike.
Sawang Boriboon rescue arrived at the scene and rushed two of the injured to Pattaya Memorial Hospital. The third young female was also taken to hospital for observation.
The two metre-deep and three metre-long trench had no lighting warning traffic with only plastic barriers guarding the area. Witnesses claim the 'death trap' is the cause of many accidents yet authorities have not responded to complaints and the situation remains unchanged.
Credit goes to the poor volunteer who jumped into the hole to help retrieve the muddy Scoopy.
สามสาวขับขี่รถจักรยานยนต์ มองไม่เห็นทางชนบังเกอร์ไม่มีสัญญาญไฟเสียหลักตกหลุมโคนอาการสาหัส เมื่อเวลา 02.00น.วันที่ 9 มิ.ย.62 ร.ต.อ.ชานันท์ เกษรบัว รอง.พนักงานสอบสวน สภ.เมืองพัทยาได้รับแจ้งเหตุว่าได้มีรถจักรยายนต์ตกลงไปในหลุมที่กําลังขุดทิ้งไว้เพื่อจะนําสายไฟลงใต้ดินแต่ยังไม่ได้ดําเนินการไม่แล้วเสร็จในที่เกิดเหตุมีผู้ได้รับบาดเจ็บเป็นหญิงจํานวน3 คน อยู่ในอาการสาหัส 2 คน ได้ถูกมูลนิธิสว่างบริบูรณ์ ธรรมสถานเมืองพัทยา ช่วยเหลือในเบื้องต้น และจากนั้นก็รีบนําตัวส่งโรงพยาบาลพัทยาเมโมเรียลทั้ง 3 คน เหตุเกิดบริเวณปากทางเข้าพัทยากลางซอย9 ถนนพัทยากลาง ต.หนองปรือ อ.บางละมุง จ.ชลบุรี ขอให้มาตรวจสอบในที่เกิดเหตุด้วย หลังได้รับแจ้งแล้วจึงได้รีบรุดไปตรวจสอบยังที่เกิดเหตุ เมื่อถึงพบไทยมุงยืนดูเหตุการที่เกิดขึ้นอยู่บริเวณสองข้างทางจนทําให้รถที่สัญจรไปมาติดขัดเล็กน้อย เมื่อทางเจ้าหน้าที่เข้าตรวจสอบในที่เกิดเหตุพบหลุมขนาดใหญ่ความลึกประมาณ 2 เมตร ความยาวประมาณ3 เมตร พบรถจักรยานยนต์จมอยู่ในน้ำโคนซึ่งเป็นหลุมจนมีรถของบริษัทแห่งหนึ่งเข้ามาทําการข่วยเหลือยกขึ้นมา ทราบยี่ห้อฮอนด้าสกุ๊ปปี้สีขาวหมายเลขทะเบียน งวง-712 ชลบุรี สภาพรถได้รับความเสียหายเป็นอย่างมาก ตรวจสอบในที่เกิดเหตุ ไม่พบสัญญาณไฟหรือแสงสว่างบอกแต่อย่างไร พบแต่แบริเอ่อปิดกั้นเอาไว้เท่านั้น จนทําให้เกิดอุบัติเหตุเกิดขึ้นบ่อยครั้งแต่ก็ยังไม่มีการแก้ไขแต่อย่างได จากนั้นทางเจ้าหน้าที่ตํารวจจึงได้เดินทางไปตรวจสอบดูอาการคนเจ็บทั้ง3 คนที่โรงพยาบาลพัทยาเมโมเรียล ทราบชื่อ (1)ด.ญ.ทิพรัตน์ ศาลางาม อายุ 14 ปี (2)ด.ญ.ทิพวรรณ ศาลางาม อายุ 14 ปี และน.ส.ชิภาดา พ่วงชื่น อายุ 16 ปี โดยทั้ง3 คนยังให้การไม่ได้ โดยทางแพทย์กําลังช่วย เหลืออาการคนเจ็บทั้ง3อยู่ก็คงจะรอให้ทางคนเจ็บทั้ง3 รักษาตัวจนหายก่อนและจากนั้นก็จะได้เรียกมาทําการสอบภายหลังอีกครั้ง

Posted by รักสยาม นิวส์ on Saturday, June 8, 2019
SOURCE: Ruk Siam News | ThaiVisa

Join the conversation and have your say on Thailand news published on The Thaiger.
Thaiger Talk is our new Thaiger Community where you can join the discussion on everything happening in Thailand right now.
Please note that articles are not posted to the forum instantly and can take up to 20 min before being visible. Click for more information and the Thaiger Talk Guidelines.