Pattaya
Rayong grandmother gets back 117,000 baht in termite-damaged banknotes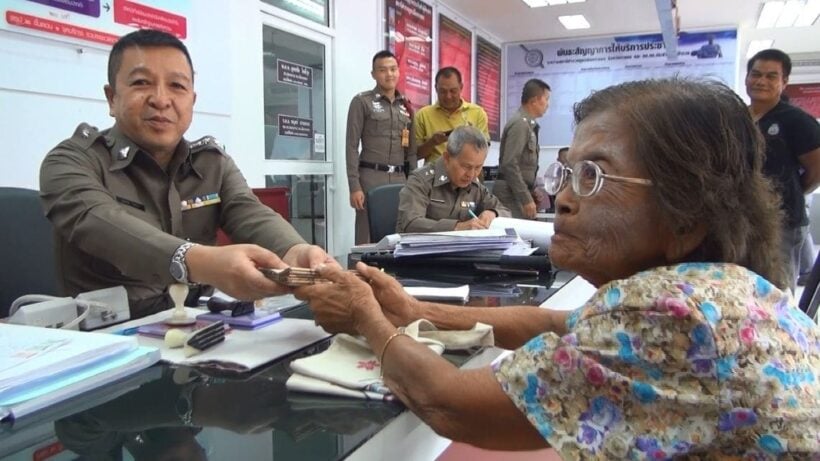 Good fortune has smiled on a Rayong grandmother after she got back 117,000 baht in Thai banknotes that had been partially eaten by termites from police, a week after she dumped them in a garbage bin.
83 year old Chaluay Saetiaw was taken by her grandson, 49 year old Wasant Boon-anukul, to Mueang Rayong police station to retrieve the damaged banknotes at 10am this morning.
Pol Lt-Colonel Yutthachai Phorung, inspector at the station, handed the cash back to the woman. Even better, the assistant manager of the Bank of Thailand's Rayong branch, offered to exchange the damaged notes for new ones for the elderly lady.
However, her grandson declined the offer, saying he would use the services of the Kasikorn bank branch near their home in order to replace the notes.
The banknotes were found in a garbage bin in front of Thessaban 1 Market in Mueang district on July 26 by Atchara Kanokpatcharakul, who handed the cash in to the police.
Khan Chaluay says she had been keeping 170,000 baht from lottery-ticket sales in a wooden cabinet at home. On July 24 she checked the cabinet and found that it was partially eaten away by termites, which had also eaten through some of the banknotes.
She then pulled out around 60,000 baht worth of the less damaged notes and exchanged them at the local Kasikiorn branch, but had dumped the rest, thinking they were too damaged. However, to her relief, she was later contacted by police, who informed her that the damaged money had been turned in and could be exchanged for new notes.
Suggest she buys a lottery ticket!
SOURCE: The Nation