Rayong grandmother gets back 117,000 baht in termite-damaged banknotes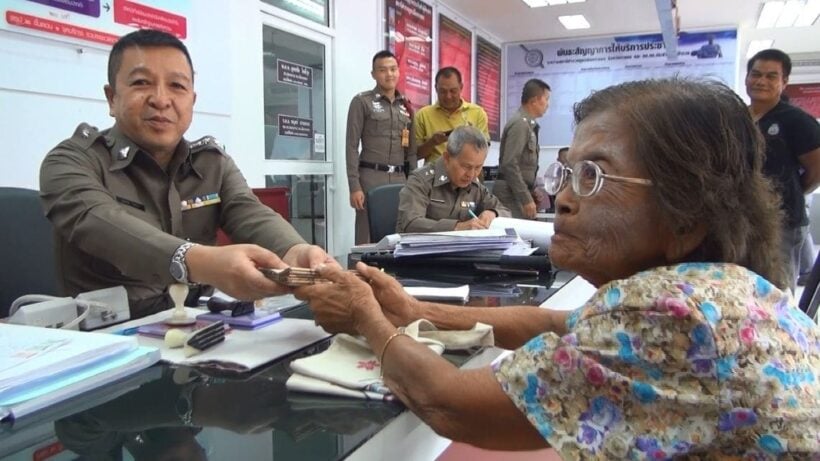 Good fortune has smiled on a Rayong grandmother after she got back 117,000 baht in Thai banknotes that had been partially eaten by termites from police, a week after she dumped them in a garbage bin.
83 year old Chaluay Saetiaw was taken by her grandson, 49 year old Wasant Boon-anukul, to Mueang Rayong police station to retrieve the damaged banknotes at 10am this morning.
Pol Lt-Colonel Yutthachai Phorung, inspector at the station, handed the cash back to the woman. Even better, the assistant manager of the Bank of Thailand's Rayong branch, offered to exchange the damaged notes for new ones for the elderly lady.
However, her grandson declined the offer, saying he would use the services of the Kasikorn bank branch near their home in order to replace the notes.
The banknotes were found in a garbage bin in front of Thessaban 1 Market in Mueang district on July 26 by Atchara Kanokpatcharakul, who handed the cash in to the police.

Khan Chaluay says she had been keeping 170,000 baht from lottery-ticket sales in a wooden cabinet at home. On July 24 she checked the cabinet and found that it was partially eaten away by termites, which had also eaten through some of the banknotes.
She then pulled out around 60,000 baht worth of the less damaged notes and exchanged them at the local Kasikiorn branch, but had dumped the rest, thinking they were too damaged. However, to her relief, she was later contacted by police, who informed her that the damaged money had been turned in and could be exchanged for new notes.
Suggest she buys a lottery ticket!
SOURCE: The Nation


Read more headlines, reports & breaking news in Pattaya. Or catch up on your Thailand news.
Belarusian 'sex trainer' deported from Thailand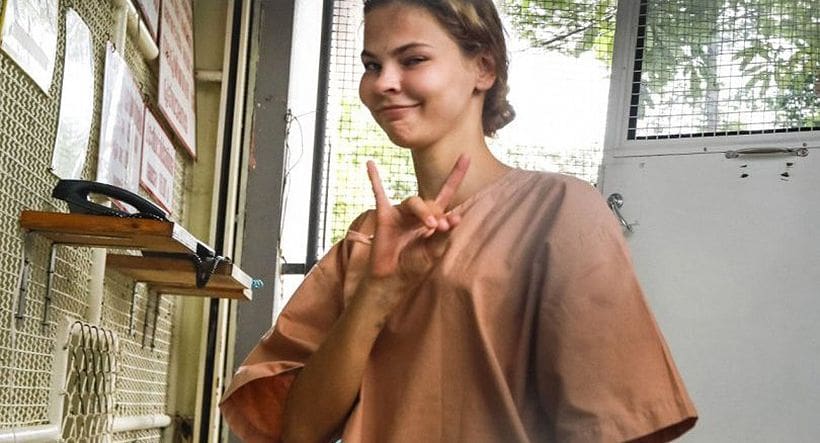 Anastasia Vashukevich, aka. Nastya Rybka, the Belarusian model who claimed she had 'dirt' on Donald Trump and Russian efforts to help win the US Presidency, has been shipped off to the airport and deported from Thailand.
She was convicted of participating in a "sex training course".
"I want to get a bed. I want to get a bed so much! I have been sleeping on the floor for nine months. Now, here, in the IDC (Immigration Detention Centre), I've got a pillow. I am awaiting my deportation, so I've got a pillow here. You cannot imagine how happy it makes me feel", she told Sputnik News in a phone interview from Thailand.
Along with seven others, she has been languishing in a Bangkok jail since police raided their 'sex classes'  last February in Pattaya.
Vashukevich claimed she had travelled to Thailand after becoming embroiled in a political scandal with Russian aluminium tycoon Oleg Deripaska, a one-time associate of Trump's former campaign director Paul Manafort. She then expanded the story with her promises to reveal details about Russian involvement in the 2016 US Presidential campaign, none of which could be verified.
According to AFP, Vashukevich pleaded guilty alongside seven others to multiple charges, including solicitation and illegal assembly at a Pattaya court on Tuesday. The court wound up the proceedings demanding the group be deported.
Vashukevich, along with most of her 'sex training class' associated boarded an Aeroflot flight for Moscow this afternoon.
Surachate Hakparn, the Immigration Chief, says the rest of the group would leave the country tonight.
Throughout the past year Vashukevich has pleaded with Thai authorities not to send her back to Russia saying that she would be in danger. She has more than 120,000 Instagram followers and has written a book about seducing Russian oligarchs.

PHOTO: Instagram/Nastya Rybka
Two Chinese arrested after fellow Chinese assaulted in Pattaya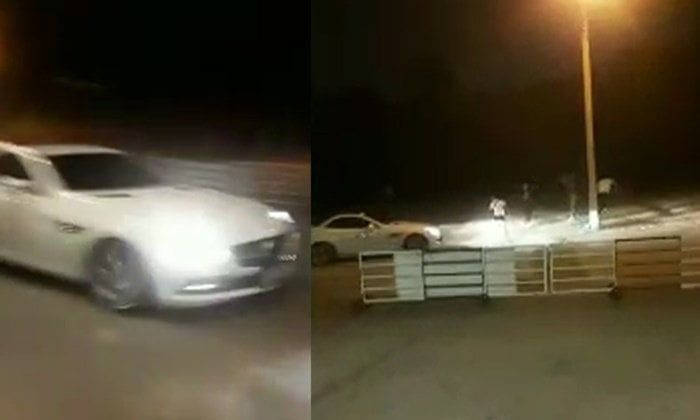 Two Chinese men have been arrested early this morning for allegedly assaulting a compatriot in Pattaya.
Police said 28 year old Zhang Hongxing and 33 year old Cao Lei were arrested at 1.30am while fleeing in two vehicles.
Cao and Zhang, in separate cars, were stopped at the North Pattaya Road before they turned onto Sukhumvit Road.
Police blocked the road after they were alerted that the two Chinese men were fleeing after they allegedly beat up another Chinese man behind the Tesco Lotus shopping mall and fled toward the North Pattaya Road.
The injured Chinese man was identified as 19 year old Huang Wanyou. He was admitted to the Pattaya Memorial Hospital.
Witnesses say they saw the three quarrel before Huang ran away and the two other followed him and attacked him.
SOURCE: The Nation
Real police charge three Filipino women working for 'fake' charity in Pattaya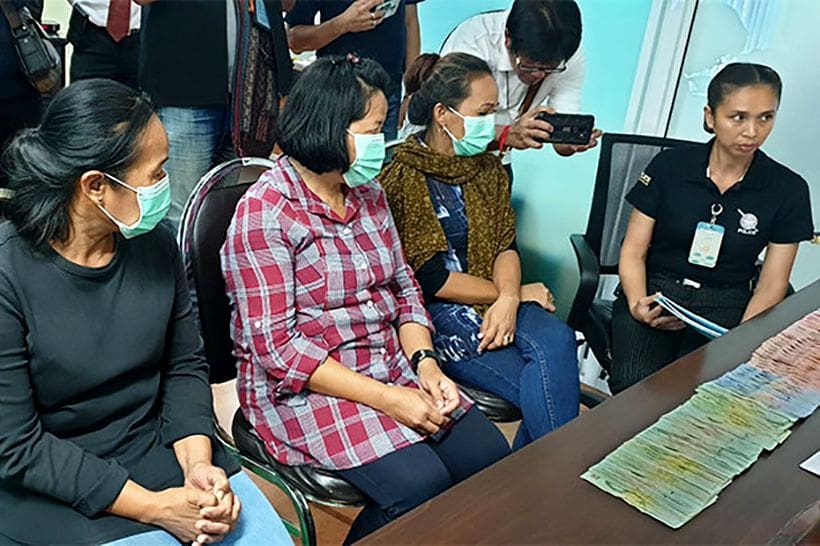 PHOTO: Chaiyot Pupattanapong
Pattaya police arrested three Filipino women for collecting donations from tourists for an 'imaginary' children's foundation.
The three women, 38 year old Ruthie Espina Babila, 50 year old Jessica Bayutas Ortega and 55 year old Belinda Austria Toledo claimed to represent the 'Children's Joy Foundation'. They were arrested while collection donations outside a restaurant in Pattaya today.
Two of the women would approach tourists asking them to help the children while the third would play guitar. The police seized two boxes of printed leaflets seeking donations, 5,690 baht cash, 10 books with details of donors, a guitar and other items.
Police reported the culprits had entered Thailand on a tourist visa and did not posses any of the necessary paperwork proving their ties to the charity which, anyway, does not exist.
The women confessed to having executed the scam before in several parts of Thailand for over a year. They have been charged with being foreign nationals working with no permission, having no work permits and colluding in raising funds without permission.
SOURCE: Bangkok Post