Pattaya
Pattaya leopard is legal, media go and check it out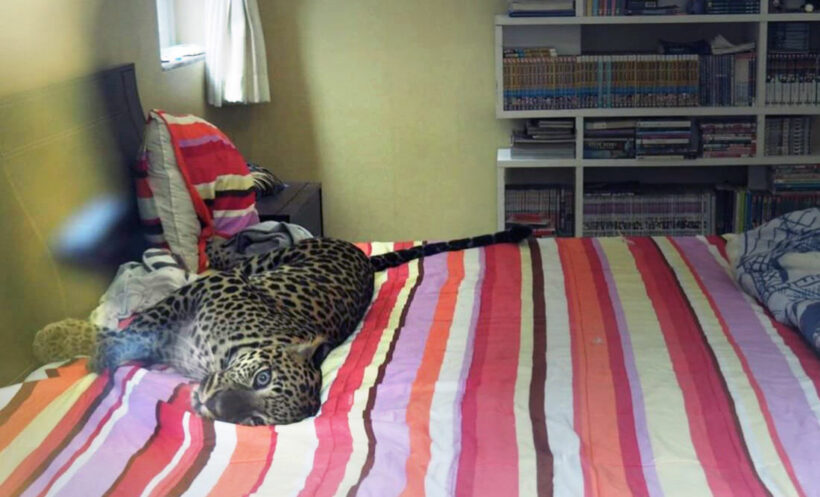 PHOTOS: 77khaosod
There's a family who own a leopard in their home? We'll have to go and check that out. So reporters from 77kaoded headed to the house in Na Jomtien in Pattaya where a Thai woman and her foreign husband have been keeping a leopard. Yes, a leopard. A very large cat with spots.
This week the couple have been slammed on social media for keeping such a dangerous pet – one of those large, strong, carnivorous mammals with huge teeth.
But a visit from the "Wild Hawk" animal authorities last Monday and police declared it was all legal. The couple have two leopards and one is being treated for sickness in Chiang Mai. They moved to the Pattaya area last week to a rented house.
The fully grown leopard at the Pattaya house was a four year old called Typhoon who animal rights activist Edwin Wiek described as potentially dangerous.
The couple have since been ordered to complete documentation about the animals and lodge at a Sri Racha office, and improve the fence security at the property. But they were allowed to keep the leopard.
Yesterday the 77kaoded reporters were not let in to the house by someone they described as 'minding the house'. No further details were revealed.
The occupants said that there was a high fence all around the property and that the foreign man, who is the wife of Nitaya Isarasin, was "prowling about inside the house" as their reporters took pictures outside.
The reporters continued to prowl around the outside of the house trying to get photos of the big cat.
SOURCE: 77kaoded