Pattaya foreigners claim damage caused by next door condo construction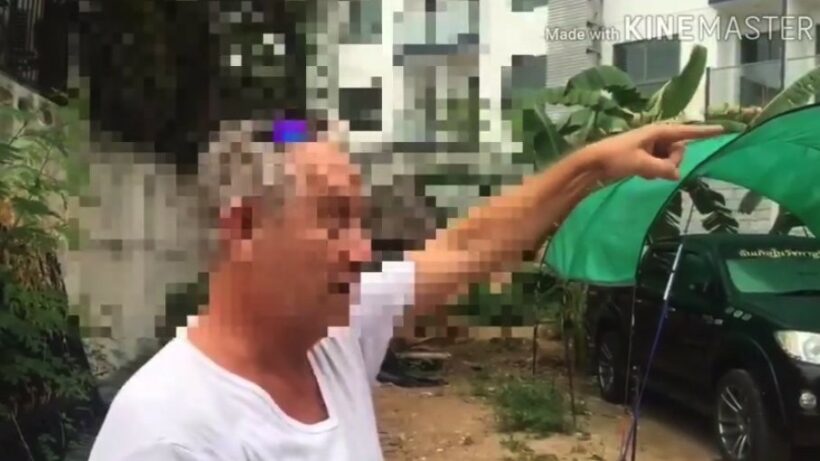 A group of European residents bought houses in Pattaya only for a an unexpected large condominium complex to be built next door. They say they've suffered damage to their houses in the construction phase and now claim they can't even rent out their properties due to the noise.
Complaints to the local authority and the police have fallen on deaf ears while the condo developers have just given superficial help. They say calls to police and City Hall proved useless.
Now they're turning to the media for some justice.
Pattaya Update News reporters went to see the "Europeans and Scandinavians" in their "Grand Thanyawan Home 2" project that has been there more than ten years.
The houses – valued around 4 million baht each – are towered over by the four buildings of Arcadia Beach Resort Condominium next door.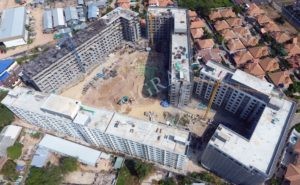 57 year old Bjorn Ingolf Soreng led the chorus of complaints saying that the piling next door caused cracks in walls, floors and fences. He says he fears a collapse of his home walls.
"The Arcadia management sent a few guys round who painted over some cracks and replaced a few ceramic tiles but didn't do anything more."
Waree Seuayoosai, married to a foreigner in the same street, said they bought their property for 4 million baht 12 years ago.
"It was all nice and quiet before and they could get a good rental income."
ฝรั่งโวย! โครงการคอนโดสร้างใหม่ติดบ้านไม่กั้นเซ็ตแบ็ค ทำบ้านที่อยู่มานานกว่า 10 ปี เกิดรอยแตกร้าว หวั่นโครงสร้างบ้านมีปัญหา ร้องสื่อร่วมตรวจสอบความจริงวันนี้ (16 ก.ค.) กลุ่มลูกบ้านชาวยุโรปและสแกนดิเนเวียนที่อาศัยอยู่ในเมืองพัทยารวม 4 หลังคาเรือน ภายในหมู่บ้านแกรนด์ธัญญวันท์โฮม 2 ประกอบด้วยบ้านเลขที่ 469/74, 469/76, 469/77 และ 469/78 ม.10 ต.หนองปรือ อ.บางละมุง จ.ชลบุรี ซึ่งได้รับผลกระทบจากการก่อสร้างคอนโดมิเนียมขึ้นใหม่ใกล้บริเวณพื้นที่บ้านภายใต้ชื่อ อาร์คาเดีย บีช รีสอร์ท ได้รวมตัวกันเพื่อให้สื่อมวลชนได้ตรวจสอบความจริง หลังได้รับผลกระทบในความเป็นอยู่จากการก่อสร้างโครงการดังกล่าวMr.Bjorn Ingolf Soreng อายุ 57 ปี ชาวนอร์เวย์ เล่าว่า เนื่องด้วยโครงการก่อสร้างคอนโดมิเนียมดังกล่าวไม่ได้เว้นพื้นที่เซ็ทแบ็คในการก่อสร้างตามมาตรฐานทั่วไป ทำให้เมื่อมีการตอกเสาเข็มเป็นระยะเวลานาน ส่งผลกระทบให้ผนังบ้าน รวมถึงกำแพง และพื้นบ้าน เกิดรอยร้าวเสียหาย ที่ผ่านมาเคยร้องเรียนไปยังตำรวจและเมืองพัทยาแล้ว แต่ก็ไม่ได้รับการแก้ไขที่เป็นธรรมมากนักทั้งนี้ หวั่นว่าในอนาคตจะกระทบในเรื่องของโครงสร้างของบ้านซึ่งอาจทำให้เกิดอันตรายและความเสียหายในชีวิตและทรัพย์สินได้ เมื่อมีการแจ้งเรื่องเดือดร้อนไป ก็นานวันกว่าทางโครงการคอนโดดังกล่าวจะส่งคนมารับผิดชอบ ด้วยการแก้ไขเบื้องต้นเท่านั้น เช่น ส่งคนงานมาใช้สีโป๊วปิดทับรอยแตก ช่วยเปลี่ยนกระเบื้องพื้นในบ้านที่เสียหายเพียงเล็กน้อย แต่ก็ยังได้รับผลกระทบอยู่เรื่อยๆ จนโครงการดังกล่าวก่อสร้างแล้วเสร็จและเริ่มเห็นคนย้ายเข้ามาอยู่ในคอนโดฯ บ้างแล้วด้าน น.ส.วารี เสืออยู่สาย อายุ 50 ปี เจ้าของบ้านเลขที่ 469/78 เล่าด้วยว่าบ้านหลังดังกล่าวเป็นของตนเองและสามีชาวต่างชาติที่ซื้อไว้เมื่อ 12 ปี ก่อนในราคาหลังประมาณ 4 ล้านบาท ด้วยเห็นว่าทำเลดีเพราะเงียบสงบรื่มรื่น จึงตัดสินใจซื้อไว้เพื่ออยู่อาศัยมาได้หลายปี ก่อนขยับขยายเป็นธุรกิจบ้านเช่าเปิดให้ลูกค้ามาใช้บริการ กระทั่งประมาณ 2-3 ปี ที่ผ่านมา โครงการคอนโดมิเนียมอาร์คาเดีย บีช รีสอร์ท ได้มาก่อสร้างอยู่ใกล้กันกับบ้านของตนเอง ซึ่งเป็นโครงการคอนโดมิเนียม 8 ชั้น 4 อาคาร พร้อมอาคารจอดรถสูง 3 ชั้น มีชั้นใต้ดิน 3 ชั้น 1 อาคาร โดยระหว่างการก่อสร้างพบว่าส่งผลกระทบมาโดยตลอด ทั้งผนังบ้าน กำแพงบ้านแตกร้าว เศษฝุ่นเศษปูนก่อสร้างตกลงสระน้ำและในบริเวณพื้นที่บ้าน รวมถึงเรื่องเสียงดังรำคาญ เพราะการติดตั้งเครื่องปรับอากาศตามห้องต่างๆ ของคอนโดอยู่ใกล้บ้านตนเองมาก ลูกค้าที่เคยเช่าอาศัยก็ต้องบอกเลิก เพราะมีเสียงรบกวนจนอยู่ไม่ได้ ทำให้ตนเองต้องสูญรายได้ไปโดยไม่ใช่เหตุ

Posted by PattayaupdateNews on Monday, July 16, 2018
SOURCE: Pattaya Update News


Read more headlines, reports & breaking news in Pattaya. Or catch up on your Thailand news.
Three million baht Central Pattaya stormwater roadworks – FAIL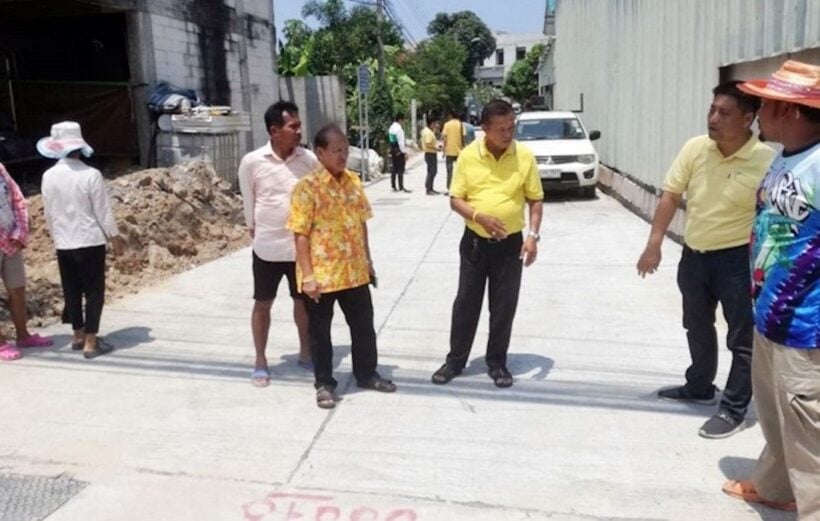 PHOTO: A representative of the City Engineering Department inspects two side streets in the Soi Arunothai Community. Central Pattaya residents are complaining that 3 million baht in roadworks has been a waste of money – Pattaya Mail
Three million baht spent but not a lot to show for the considerable investment. Central Pattaya residents say that nearly 3 million baht was spent on roadwork but has failed to alleviate the flooding in the sois where the money was invested.
Nattapong Santaveesuk of the city's Engineering Department toured two side streets in Soi Arunothai with neighborhood representatives Amnuay Muangthong this week.
The Pattaya Mail reports that residents living on Soi Charoensuk and Soi Udomsuk complain that their streets were ripped up, new drainage pipes laid and the road resurfaced, all with the goal of ending years of chronic flooding.
But it didn't work.
Both streets continue to flood and take a long time to drain according to residents
Both projects are under warranty for two more years, according to city engineers, so they will ask the contractors to appraise the situation and perhaps rip up the roads again to fix what they failed to do the first time.
SOURCE: Pattaya Mail
Pattaya's LONG Songkran comes to an end today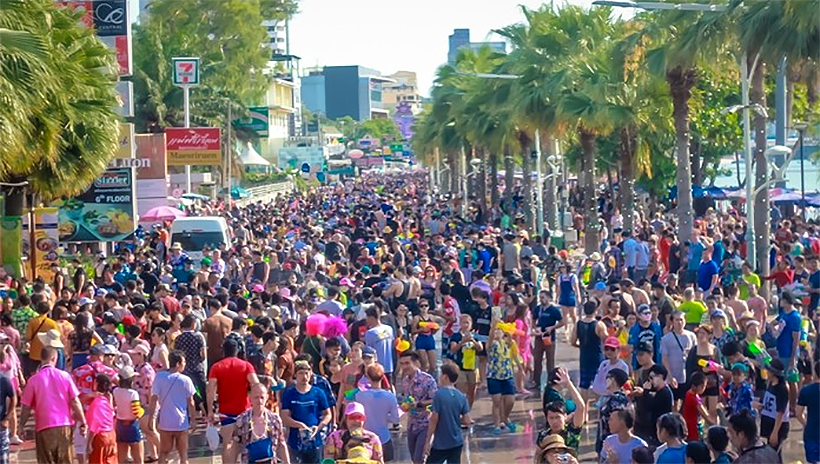 Whilst most of us have hung up our water pistols last Saturday or Sunday following Songkran revellry, punters in Pattaya have been hard at it all week.
But after 9 days of water wastage and Songkran celebrations, the annual festivities come to a close in parades and official festivities today and tomorrow.
Officially, according to the Pattaya Mail, April 19 is the final day of Pattaya's Songkran celebrations. Ceremonies are being held today at Chaimongkol Temple. Alms offerings and elderly blessing ceremony were held early this morning and cultural shows continuing during the day featuring dancing and traditional games.
Pattaya's Songkran parade started at noon along Second Road, Central Road and back along Beach Road to Bali Hai Pier before returning to the temple.
Pattaya officials reminded revellers that powder and chalk isn't permitted, along with high-power water guns. Water-throwing is 'meant' to stop at 6pm, but… well… Songkran!
Tomorrow, April 20, the Rice Festival in Naklua, with no water throwing, officially draws the mid-April events to a close.
SOURCE: Pattaya Mail
Severe localised storms predicted for central, north and north-east until April 16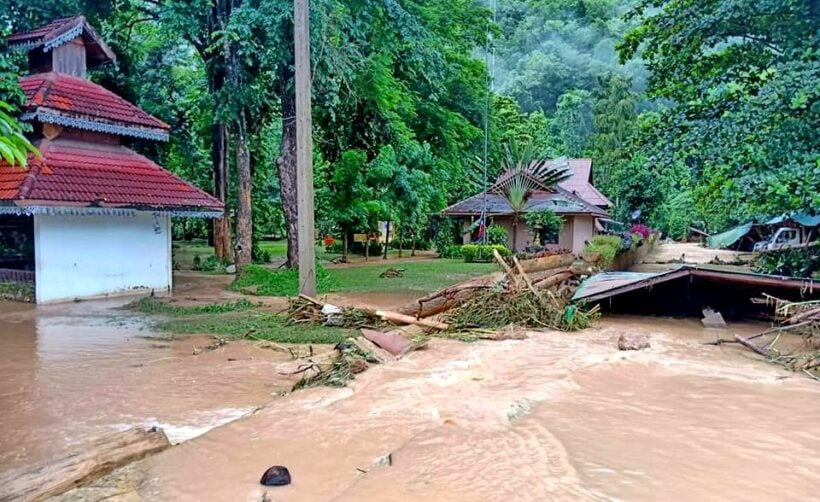 FILE PHOTO
The meteorological office (TMD) says there could be localised severe thunder storms for the entire upper area of the country until Tuesday.
The north, north-east, eastern seaboard and central regions, including Bangkok and surrounding areas could all be randomly hit by tropical thunderstorms.
The TMD office director Phuwiang Prakhammin has warned of rain storms, thunder and lightning, high winds and even hail.
"People were warned to avoid open spaces, not to stand under trees as it is a lightning strike hazard and be careful of unstable advertising hoardings."
Farmers have also been warned about protecting their livestock and crops in the agriculture-heavy northeastern provinces. Here are the provinces that may be affected…
Northeast: Bueng Kan, Sakon Nakhon, Nakhon Phanom, Mukdahan, Khon Kaen, Chaiyaphum, Kalasin, Maha Sarakham, Roi Et, Yasothon Loei, Nong Bua Lamphu, Khon Kaen, Chaiyaphum, Nakhon Ratchasima, Buri Ram, Surin, Si Sa Ket and Ubon Ratchathani
Northern region: Chiang Mai, Chiang Rai, Phayao, Phrae, Nan, Lampang, Tak, Sukhothai, Uttaradit, Phitsanulok, Kamphaeng Phet, Phichit and Phetchabun
Central: Nakhon Sawan, Uthai Thani, Chai Nat, Sing Buri, Ang Thong, Ayutthaya, Lop Buri, Saraburi, Suphanburi, Ratchaburi, Kanchanaburi, and Bangkok.
East: Prachin Buri, Sa Kaeo, Nakhon Nayok, Chachoengsao, Chon Buri, Rayong, Chanthaburi and Trat
SOURCE: Daily News