"Look out for, and eliminate, domestic violence" – Pattaya seminar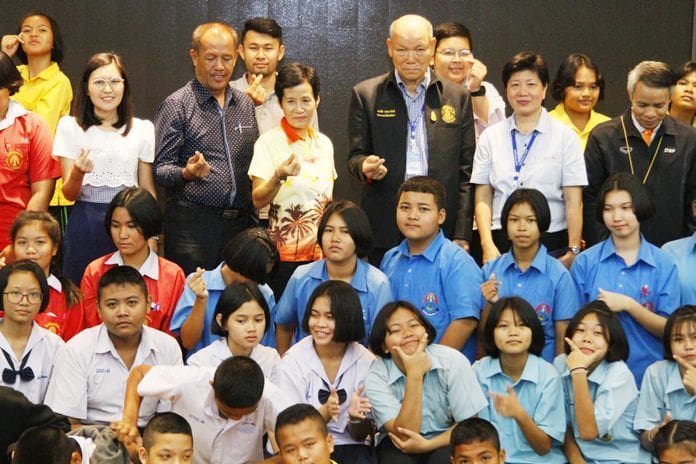 PHOTO: Pattaya Mail
Pattaya students and social workers are learning how to look out for, and eliminate, domestic violence against women and children. The seminar was held at the Pattaya City Hall last week.
The Pattaya Mail reported that Wisit Pondok and his team from the Department of Women's Affairs and Family Development spoke to the 100 students and 100 other social workers at the January 17 and 18 seminar. Women's advocates and other groups spoke about the history of domestic violence in Thailand and what can be done to eradicate it.
"Battering of wives and children has been a chronic problem in Thailand for generations, but in recent years the abuse has become more severe with some cases ending in mass murder, as has happened twice in Thailand since New Year's Eve."
Participants heard that abuse can be physical, mental, verbal, or sexual and, too often, society viewed abuse as a personal matter and refused to get involved using the excuse that "it was not their business".
Lecturers educated those attending on the Domestic Violence Victim Protection Act of 2007 and the Child Protection Act of 2003 so women and young people know their rights and protections.
STORY: Pattaya Mail
Keep in contact with The Thaiger by following our
Facebook page
.
Pattaya's beaches have re-opened but no beach chairs yet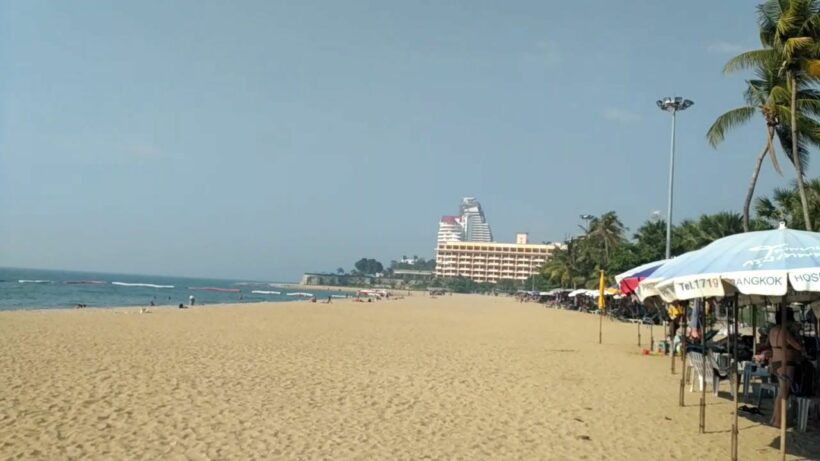 After two months of being closed off as part of the Covid-19 lock-down measures, Pattaya's beaches are once again open for everyone to enjoy. The beaches, in the normally swarmed tourist hotspot, reopened yesterday, with local officials hailing the day as a "success", albeit a quiet one initially.
The Pattaya News reports that some confusion was caused by signs that had been left up stating the beaches were closed, but it's understood authorities are removing them all as fast as they can. However, beach chair and umbrella vendors have still not received the necessary approval to resume business, with officials again saying that too is coming this week. All beach vendors will need to comply with agreed hygiene and social distancing arrangements.
While both Pattaya and Jomtien beaches were quiet yesterday morning, they got busier as the afternoon wore on and the heat of the sun was relieved by overcast conditions. Pattaya City Police say most people observed the social distancing requirements, but they cautioned beach-goers against holding any parties or alcohol-based gatherings, adding that the wearing of masks is still obligatory.
Officials will continue to monitor the situation as beach vendors set up shop once more and the (much hoped for) domestic tourists arrive.
SOURCE: The Pattaya News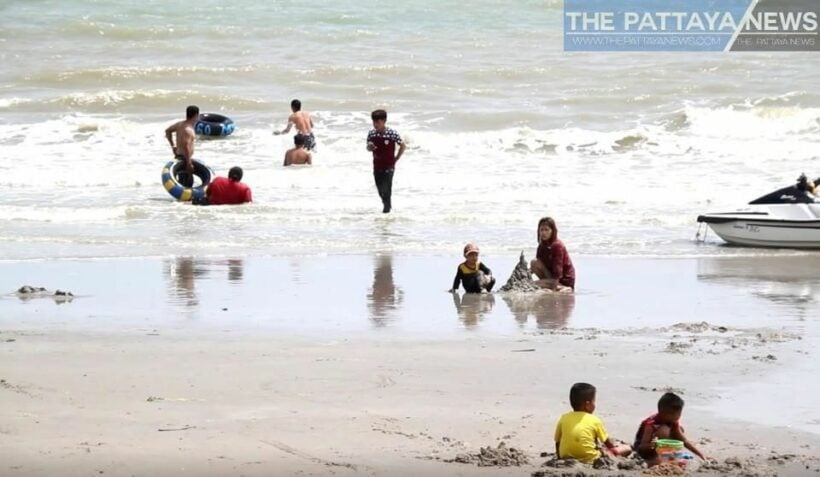 Keep in contact with The Thaiger by following our
Facebook page
.
Black water pours into the Gulf of Thailand right next to Pattaya's Walking Street – VIDEO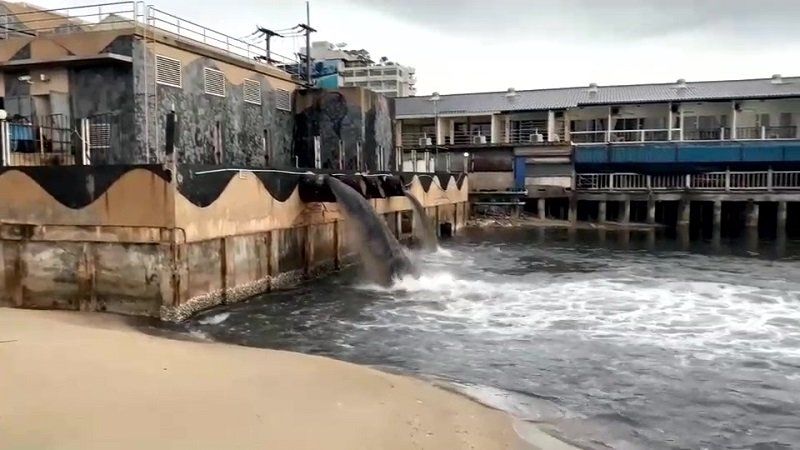 Just when you thought it was safe to go back into the water… some disgusting black water gushing back onto the Pattaya foreshore. It's meant to be the Gulf of Thailand, not the Black Sea. The video on the 'We Love Pattaya' Facebook page (below) showed the black water pouring into the sea from a pumping station near the entrance to Pattaya's Walking Street.
By the time reporters got there to collect more pictorial evidence, the damage done was evident although the flow of dirty water had stopped. Heavy rains from late last week had mixed with heaven-knows-what and ended up being deposited on Pattaya's foreshore, basically pristine up to this event after a 'rest' from tourists for nearly 3 months.
The local media called on Pattaya authorities to "act on the reports" but nothing is expected to happen. At this stage, seeing this video, social distancing may be more than just staying away from other people.
It seems the new Pattaya Beach Road drains are WORKING 🇹🇭🙏🇹🇭Big rain no beach road floods ❤️🤍💙

Posted by We Love Pattaya on Thursday, 28 May 2020
SOURCE: Thai Visa | We Love Pattaya
Keep in contact with The Thaiger by following our
Facebook page
.
Pattaya police arrest intoxicated Chinese man, Thai girlfriend in front of station – VIDEO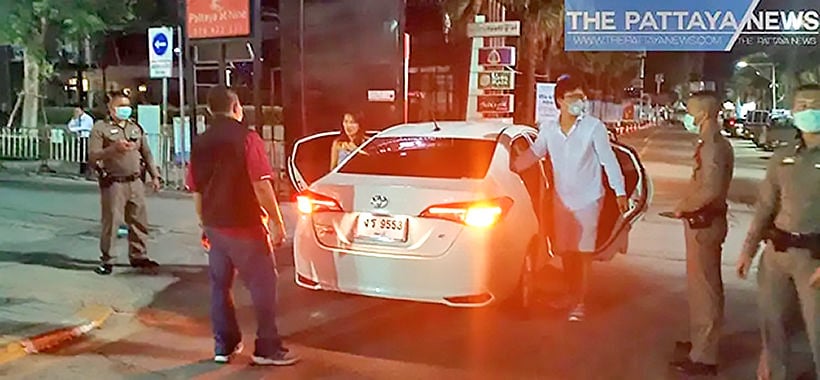 A Chinese man and his Thai girlfriend were arrested in front of the Pattaya City Police Station in the early hours of this morning, after causing a disturbance and allegedly damaging a police car. Officers say the man was highly intoxicated.
Authorities were notified at around 1:30am that a couple was having a domestic dispute at an apartment. Police arrived and took them to the Pattaya police station to find out what was going on and lay charges. But that was merely the start of the altercation.
Police told reporters that the woman wanted to break up with the man, her Chinese boyfriend. She asked police to take her to his home to fetch all her possessions, while he was to go back to his home with his friends in a separate vehicle. This was arranged in front of the police station.
Minutes later, the Chinese man, who according to a police report was visibly intoxicated, jumped onto the police car with his girlfriend inside and began attacking the vehicle.
It took his friends took more than 10 minutes to stop him, wrestling him to the ground. Police say the girlfriend also escalated the incident by involving herself despite being told not to.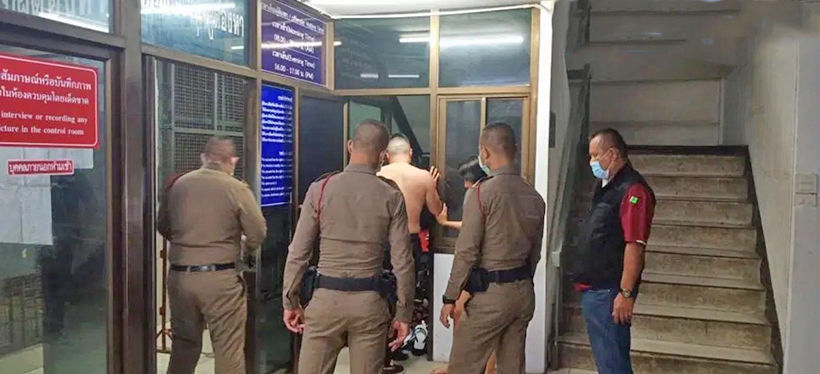 At this stage authorities say the couple is being charged with being a public nuisance. Although the incident occurred during curfew hours the couple will not be charged with violating the curfew as they were taken from their apartment for investigation earlier.
SOURCE: The Pattaya Mail
Keep in contact with The Thaiger by following our
Facebook page
.