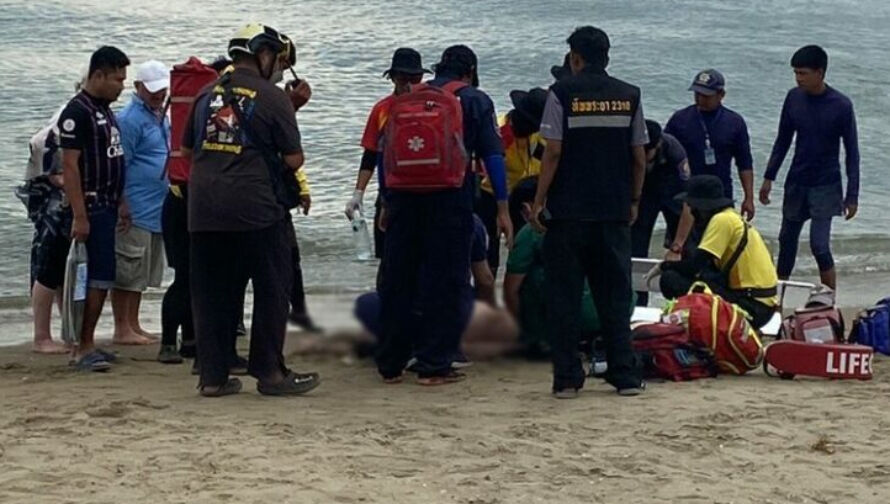 Tragedy was avoided on Jomtien beach in Pattaya, eastern Thailand, yesterday thanks to the expert skills of Pattaya City lifeguards who acted quickly to save a foreign tourist from drowning.
At 3pm, the Sawang Boon Rescue Foundation was informed that a foreign tourist was dragged out of the sea unconscious near the entrance of Soi 16 at Jomtien Beach in Pattaya's Bang Lamung district.
Rescue workers and a medical team from Bang Lamung Hospital rushed to the scene.
Pattaya City lifeguards carried an unconscious male tourist – nationality unknown – out of the water and onto the beach. It is estimated that he was submerged under the water for 5 to 10 minutes.
Lifeguards said that the tourist's airway was filled with water, so before starting first aid, they turned him sideways and used their fingers to remove the blockage.
Then, lifeguards performed life-saving CPR on the unconscious tourist until his pulse returned.
The rescue team soon arrived and put the tourist in an ambulance and took him to Bang Lamung Hospital for treatment.
Jomtien Beach lifeguard Thongchai Thiangcharoen said that he was on guard at the beach's tourist care station when a group of tourists informed him that a foreigner was unconscious in the sea.
Thongchai said he coordinated with the rest of the lifeguards and performed first aid according to his training. The CPR was successful and the tourist's pulse returned, said Thongchai.
On Monday, Russian tourists found the dead body of a male foreign tourist – nationality unknown – floating in the waters of Wong Amat Beach in Pattaya's Bang Lamung district.
No wounds were found on the man's body. He was estimated to be around 50 years old.
Meanwhile, in Bangkok, 27 of the city's 262 public defibrillators were reported as stolen yesterday.
The easy-to-use, life-saving equipment is stationed all around the capital to be used to help people experiencing cardiac arrest.