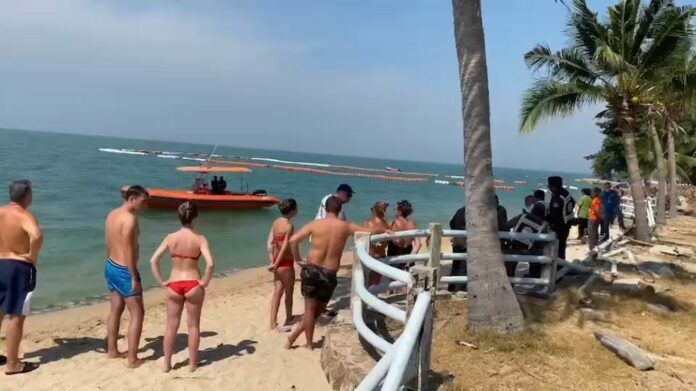 Russian tourists spotted a foreigner's body floating off a Pattaya beach as they were sunbathing on Monday. A hotel clerk said the tourists rushed to tell him to call the police after they discovered the body floating in the sea.
Pattaya Police and rescuers arrived to retrieve the man's body at Wong Amat Beach in front of Soi 16 in the Naklue sub-district of Bang Lamung district.
The dead man was found facedown 25 metres from the beach, wearing only blue shorts. The man was tangled in a line buoy. No wounds were found on his body, The Pattaya News reported. He was around 50 years old.
The man's nationality was unknown at the time of publication. The body was transferred to Bang Lamung Hospital to await identification.
This news comes after a few other deaths of foreigners in Pattaya in the past month.
On Sunday, a tourist collapsed and died on Pattaya's major party road, Walking Street, in the early hours of the morning. The man collapsed without making any noise and hit his head hard on the pavement. Rescuers tried to provide CPR, but the man died.
Initial statements seemed to reflect that police believed the man suffered sudden cardiac arrest, and there was no sign of foul play. The man was believed to be around 55 years old and of Middle Eastern or Indian descent. He was travelling alone and had no identification documents on him.
On January 16, a Chinese man fell to his death from a Pattaya hotel. Police and rescuers found the body of 33 year old tour agent Chen Pu Lin in a pool of blood on a walkway of the Mantra Pura Hotel in Bang Lamung district. Lin was dressed only in his underwear.
Lin had been part of a group of four from a Chinese tour agency that was surveying tourist spots in Pattaya.
The latest incident involving the body found floating off Wong Amat Beach is the latest case in this tragic string of deaths of foreigners in Pattaya.