Opinion: Need to revise drug laws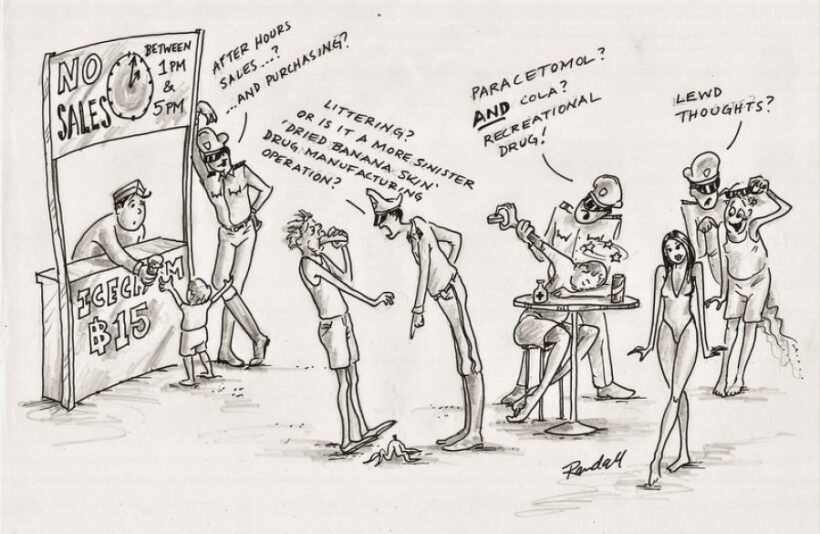 PHUKET: The recent arrest by Region 8 Police of two men for posing as officers of the law and trying to extort money from the families of teenage boys found drinking krathom leaf extract is just the latest reminder of the need for Thailand to reconsider and revise its draconian drug control laws.
It might strike some as futile to urge a military government to take such measures, but in reality there has never been a better time for Thailand to move forward in this regard. It is encouraging that the current government is the first in our memory to have floated the possibility of such reforms, but it is equally discouraging that it has yet to effect any real changes.
In many ways the current administration has just maintained and extended the policies of its elected predecessors, with the seldom-enforced yet supremely annoying alcohol sales time restriction measures brought in by Thaksin coming as just the most obvious example.
If the theme was "Bring happiness back to the people", why can't we legally purchase a can of beer at a 7-Eleven between the hours of 2pm and 5pm?
Despite having some of the harshest drug laws on the planet, Thailand has over the years managed to consolidate its international reputation as a recreational drug paradise. It is perhaps a sad fact that this comes in second only to its reputation as a sex tourism destination, though of course the two themes very often run hand-in-hand.
From the hallucinogenic, drug-fuelled 'Full Moon Parties' on Koh Tao to the heroin-soaked back sois of Bangkok's Khaosarn Road, the entire range of recreational drugs are cheap and readily available to any and all willing to indulge.
Krathom and marijuana are both 'Category 5' drugs that are among the most widely used drugs in Thailand, after state-sanctioned substances like alcohol and caffeine. Both are relatively harmless drugs with medically-proven medicinal effects, a fact which has prompted many governments around the globe to decriminalize them or even make their sale legal, providing new sources of taxable revenue in the process.
Yet here in Thailand, these substances serve as just two more devices in the extortionists' toolbox – and from the victim's standpoint it does not always matter whether the extortionists are state officials or sad imposters thereof.
What's the use of number plates if you can't read them?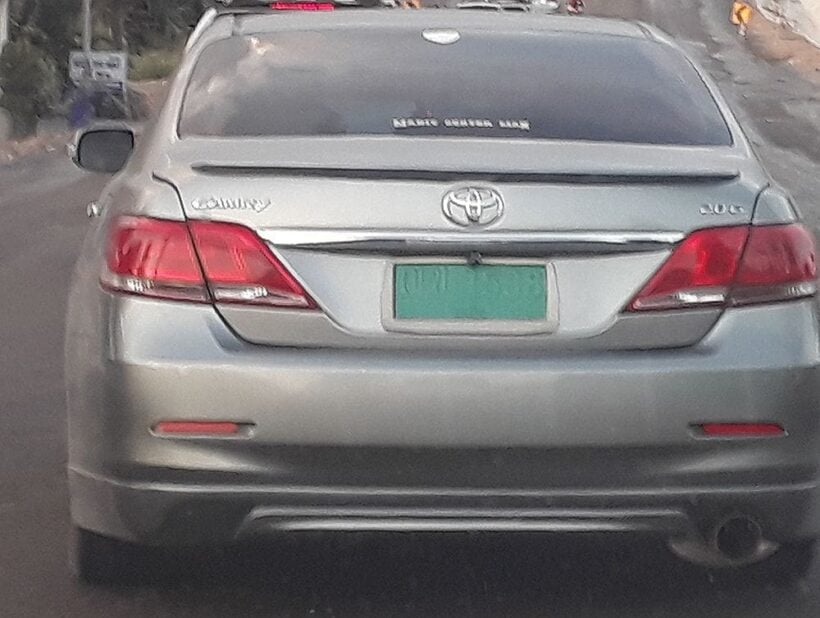 by DW (anonymously sent to The Thaiger)
Hiding in plain sight, and rarely noted—at least by anyone I've spoken with—are thousands of cars, vans, buses, trucks, and even motorcycles. Most are commercial vehicles … you know, the ones with green and yellow plates.
Now when I say they're "hiding in plain sight", I mean to say that yes, you can plainly see that it's a Toyota Camry, or white passenger van, but take a look at that license plate. Isn't it difficult to make out the numbers now that they're painted over with the same colour as the background?
Oh, wait a minute, maybe you're looking at one of those immaculate plates that have the highly reflective plastic covers. Yes, those ones that catch any bit of sunlight and bounce it back in such way that the plate numbers are near impossible to read.
Bad enough during the day, but at night, the glare from your own headlights is enough to blind you!
Speaking of which, there is another interesting observation to be made: Next time it's dark and you are in a line of cars waiting for the light to turn green, take a look around at the license plates.
You will likely see a lot of vehicles that have the small lights meant to illuminate the rear plate either not working or, dare I say, "modified" to disguise the numbers barely on display. If you're keeping tabs, you will also note that the vast majority of these modifications are associated with the green and yellow license plates.
Does that surprise you?
Now consider how many times you've seen vehicles racing through the streets, highways, and byways of this fine little island. And, for just a moment, stop and think, how many times have you noted green or yellow plates in those photos of horrific accidents that are all-too-often reported in our newspapers?
What of the speed cameras and prolific use of CCTV to monitor every street, lane, and intersection? Surely that must go some way to reducing the carnage. (It seems we hear less of drivers fleeing the scene, so maybe there is a return on the investment, after all.)
Now if disguising your license plate amounts to a traffic violation, you would be right to assume the police are missing an opportunity to collect a hefty sum in fines levied against perpetrators. Since speed cameras are effectively rendered useless in the face of 30% of vehicles carrying plates that are unrecognisable, there again is huge loss in revenue.
Well then, what to do? What to do?
Here's an idea: Police checks and road blocks are common enough; fines are given out for driving without a seat belt, no helmet, no insurance, improper registration or lack of a driving license, etc. So why not for license plates that are illegible, modified, or intentionally disguised?
What about a public reporting system that allows citizens to photograph a plate and send it directly to the police? Officers could issue fines from the comfort of their desks.
Before long, the practice of "hiding in plain sight" would lose its appeal. Instead of becoming more popular, it would diminish, possibly even stop altogether.
At the end of day, one has to ask: What is the purpose of a license plate if it cannot be read?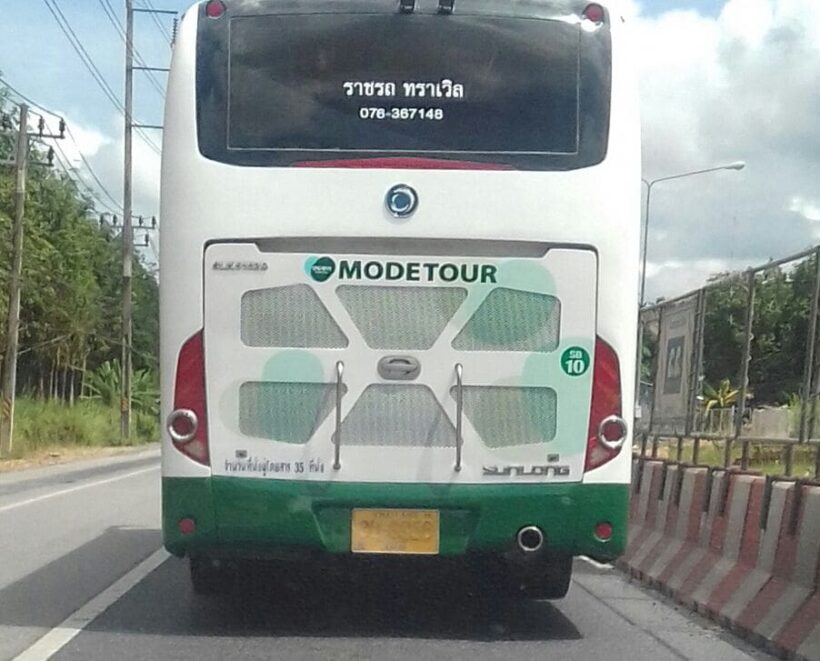 The 35 billion baht white elephant – Phuket's light rail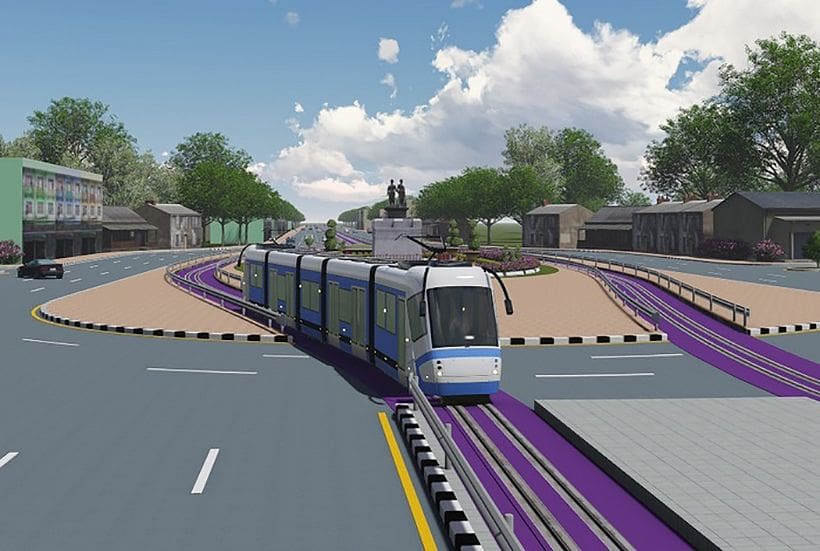 "About the only thing feasible in this rendering is the blue sky."
Spending 35 billion baht on infrastructure that few will use, is planned on the least useful route and will cause mayhem for a 3-5 year build time is a waste of money.
The Mass Rapid Transit Authority of Thailand (MRTA) is currently chatting to the private sector and local administrative bodies to support Phuket's planned light-rail/tram project.
Firstly, where will it travel?
The tram route plans to run from Tha Noon in Phang Nga province, across Sarasin Bridge onto Phuket, past the airport, through Phuket Town on the east coast and then finishing at Chalong's main intersection near the Chalong Circle.
Phuket's tourists, who mainly head for the west coast beaches, are being almost completely ignored in the planning.
Oh, but the tram will travel from the airport to Phuket Town (where less than 5% of Phuket's tourists stay). That route is already well connected with Airport and private buses – the least of Phuket's transport woes.
The two-way tram will be constructed right in the middle of existing, already busy, roads – principally Thepkasattri road from the island's north to Phuket Town. Then in the middle of the equally busy Chao Fah East road which, mostly, doesn't already have a centre-strip.
The MRTA expects to seek cabinet approval for the project in the middle of this year with construction likely to begin in 2020. They estimate it will be operational by 2023 (code for 'maybe before 2025').
At this stage, the MRTA estimates fares will be no more than 100 – 137 baht, less for shorter hops between the 21 proposed stations. This already puts the cost of daily use for many local Thais out of reach. If it costs about 80 baht to fill an average 110cc scooter which would last most of the week – you do the maths.
Then the locals will still have to use public transport, or their feet, to get to and from the nearest tram stop.
Here are four key problems with the whole idea…
The tram stops avoid most of the tourist hot spots along the west coast of the island and concentrates on locals living along the main Thepkasattri trunk from Thalang to Phuket Town and then Chao Fah East to Chalong.
Patong? Kata? Karon? Surin? Mai Khao? Kamala? Nowhere near them. We acknowledge that a tram would never be a solution to get to people to and between these locations.
The second point is a glaring failure in the concept to measure popular and cheap services currently available – mostly the trusty and cheap motorbike.
Thai users are unlikely to give up their point-to-point motorcycle transport for a more inconvenient, and expensive, tram that will necessitate them using expensive taxis, buses and motorcycle taxis at either end to get them to their destinations.
Next, imagine the three year construction period which, if following recent major road construction projects, is likely to blow out to four or five years. And the massive disruption of traffic during the construction time. Ask anyone living in Chalong and Rawai about how the roadworks at the Chalong circle has affected their lives in the past three years. It's been chaotic, time-wasting, dangerous and stressful.
Finally, the loss of road space along the route will restrict local road traffic even more, neutralising any nett gains of the new tram system. Tram rails, in both directions, 21 stations, the overhead walkways (to get people to the sidewalk areas), parking… where is all this going to go? It will chew up limited road space and bring traffic and people even closer together – a recipe for disaster.
Phuket badly needs public transport reform. Recent infrastructure to improve roads, add underpasses and improve existing services has gone part of the way to making life better for locals and tourists.
But this new white elephant completely ignores the real elephant in the room – the intransigent cabal of the taxis and tuk tuks on the island which 'could' be the island's best asset. But instead they are a feared, reviled and a much-discussed tourism killer.
Local people almost completely avoid taxis and tuk tuks (they already know their fares are ridiculously priced when compared to other parts of the country), and tourists use them because there's not a lot of alternative only to end up with occasional horror stories in social media, complaints to the Tourist Police and a lasting impression of Phuket as an over-priced tourism pearl that's lost its lustre.
Spending 35 billion baht (let's spell that out for you – 35,000,000,000 baht) on a shiny new tram system does little, if nothing, to address the island's key transport issues – better roads and better alternatives for transport in and around tourist zones.
Your comments are welcome on our Facebook page.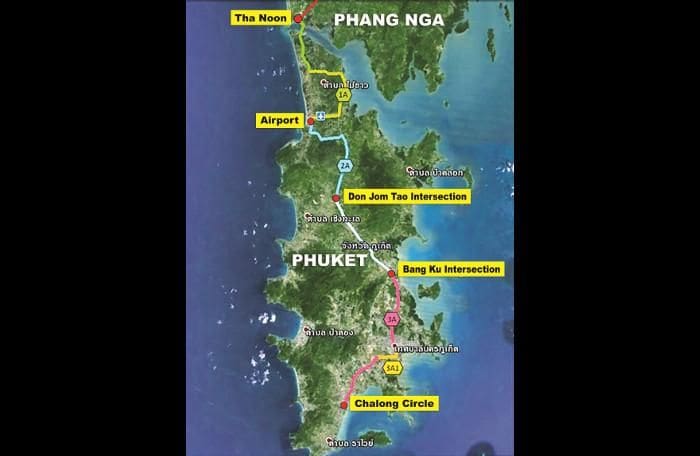 Opinion: Sovereignty, rights ignored in airport debacle – The Nation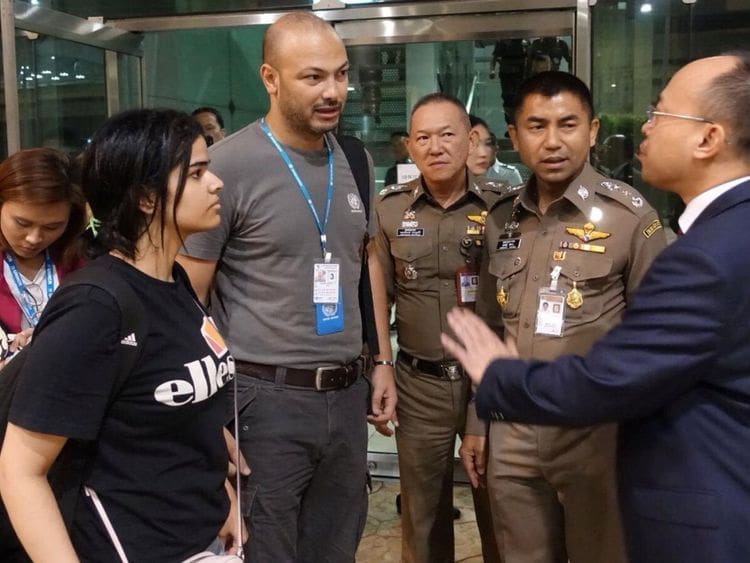 Thailand could have blood on its hands if it fails to protect a Saudi traveller on her journey to freedom.
The fate of a Saudi woman on her way to Australia, where she has a visa and seeks to obtain asylum, teetered in the balance in Bangkok at press time yesterday. Amid Thailand's apparent willingness to deport her back to Saudi Arabia, rights lawyers representing her failed to get a Bangkok court to accept an injunction against her repatriation, which could have spelled her doom. Then came an abrupt about-face as the head of Immigration announced that, contrary to his earlier remarks, she would not be deported against her will.
Rahaf Mohammed al-Qunun, 18, had barricaded herself in a hotel room near Suvarnabhumi Airport while Thai authorities fumbled over a case that could have grave repercussions for our country. She believed she would be killed if Thailand sent her back to Saudi Arabia, where her family has allegedly subjected her to physical and psychological abuse.
According to reports late Sunday, Saudi and Kuwaiti officials seized her as she deplaned at Suvarnabhumi and forcibly confiscated her travel documents. New York-based Human Rights Watch has backed up her claims, though its sources are unclear.
"They took my passport," al-Qunun was quoted as saying by news agency AFP, adding that her male guardian had filed a complaint in Saudi Arabia that was she was travelling "without his permission", as Saudi law requires of women.
"My family locked me in a room for six months just for cutting my hair," she said.
"I'm 100 per cent sure they will kill me as soon as I get out of the Saudi jail."
Thai Immigration chief Surachate Hakparn first told reporters that Qunun was barred from entering Thailand because "she had no other documents such as return airfare or money".
She insisted she had valid travel papers and was merely in transit through Bangkok en route to Australia, for which she had a visa.
Human Rights Watch was appalled by Thai Immigration's apparent readiness to accommodate the Saudi authorities. "What country allows diplomats to wander around the closed section of the airport and seize the passports of passengers?" deputy director for Asia Phil Robertson asked, pointing out Saudi Arabia's horrendous record on rights.
It will indeed be encouraging if the Thai government takes a firm stand in the matter after foreigners overtly trampled our sovereignty. Diplomatic relations with Saudi Arabia have gradually improved since the ruinous affair of a Thai stealing gems from the Saudi royal family more than two decades ago. We owe the Saudis nothing. If there is even the slightest possibility that this woman's life is in danger, Thailand must oppose her repatriation.
The incident comes just three months after Washington Post columnist Jamal Khashoggi, a Saudi who was critical of his country's rulers, was murdered at the Saudi consulate in Turkey. That case has roiled international opinion.
Thailand cannot afford to be at the centre of another such controversy, even if this one has a far lower profile. But there was Surachate early yesterday saying al-Qunun would soon be on a plane bound for Saudi Arabia.
"It's a family problem," he said, sounding devoid of compassion. Surachate appeared not to have heard – or not to care – that a member of her family vowed on record that Qunun would indeed be severely punished on her return, possibly even killed.
This is decidedly not a "family problem". It is a direct threat to the same fundamental human rights that Thailand has sworn to protect, even if Saudi Arabia does not extend such rights to women.
Al-Qunun has every right to flee harsh treatment at home and seek asylum in a country willing to protect her. Tragedy could ensue simply because, on her way to gaining freedom, she first touched down in Bangkok.
Published originally on The Nation