Koh Samui balancing on tourism razor's edge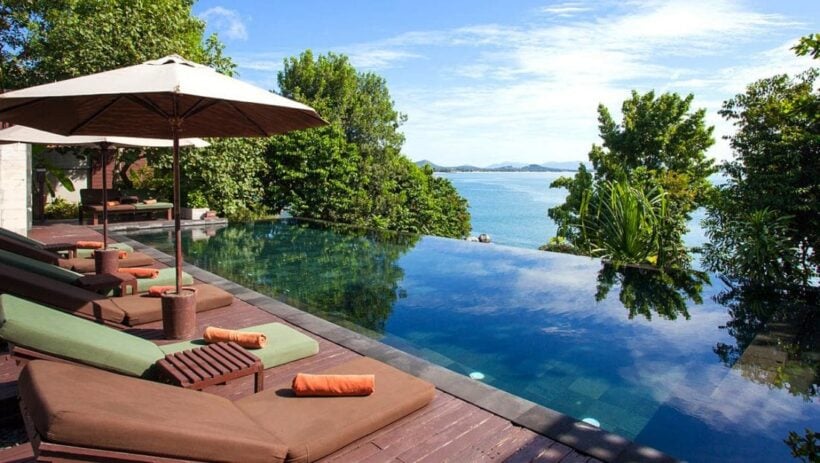 PHOTO: www.thekalasamui.com
"…shrinking Chinese demand due to the economic slowdown and depreciation for the yuan versus the baht"
The time has come to open the discussion about the troubling drop in one of Thailand's leading resort destinations, Koh Samui.
Looking into the island's performance numbers, according to data from international hospitality benchmarking group STR, at the end of August room night demand was down year-to-date by 4.4%.
Viewing a broader market metric C9 Hotelworks research has shown through September that hotel occupancy for the first nine months of the year declined by over 7% compared to the same period in 2017.
One cannot simply account for the dismal numbers as an effect of the China 'boat sinking' crisis which was triggered in the middle of the year. Airlift is the elephant in the room of island tourism destinations. During the first six months of this year, domestic arrivals at Koh Samui Airport dropped by 19%, with each month reflecting a negative variance compared to the same month in 2017.
Many industry watchers have pointed to the termination of Thai Airways International flights between Bangkok and Koh Samui in September as a trigger. The reality of the airlift in fact is TG retired an aging 737-400 jet that was used to service the route. It lacks an appropriate replacement given the island's short runway and negotiated a codeshare agreement with Bangkok Airways to ensure travelers transit seamlessly.
One telling indicator of the market malaise is Surat Thani Airport on the mainland. Over the past few years a rising number of Chinese travelers had used the gateway and were ferried on to Koh Samui. Diving into the latest available data, international arrivals at Surat Thani for the period of January through September dropped 36%, while domestic arrivals only slightly moved downward by 1%.
Armed with the numbers I started a dialogue with island hoteliers to better understand the situation. For the most part, there were similar stories about shrinking Chinese demand due to the economic slowdown and depreciation for the yuan versus the baht.
Arguably the legacy European markets were slower based on the impact of a World Cup year. Lastly is the rise of Vietnam's beach destination's including Da Nang, Nha Trang and Phu Quoc.
Ultimately there is little doubt though that the sheer cost of airfares to Koh Samui remain a vital barrier to entry. Phuket continues to see more low-cost airline carriers which has contributed to growth in price sensitive markets. Samui's environmental restrictions on the number of daily flights and lack of airline carrier diversity in the LCC space has created a glass ceiling.
For hotels, frankly there is no easy answer. The island has somewhat avoided the massive development crush of other resort locations in Thailand and Southeast Asia, but the nature of the island's economic dependence on tourism has caged the golden goose. Damned if they do or damned if they don't, the path to tourism maturity comes with a price tag with either staying small or going big. The hotel and tourism sector will likely remain stressed going forward, though certain niches such as luxury properties and wellness offerings tend to buck the trend.
To sum up the future, something has to happen with the airport issue to balance mounting infrastructure drains. The continued influx of Full Moon travellers transiting to nearby Koh Phangan and early stage development of Koh Tao are just another part of the equation.
In short, Koh Samui either needs to find a way to grow the existing airport or else find a new location and long-term solution to the airport conundrum.

Keep in contact with The Thaiger by following our
Facebook page
.
Samui airport 'spy cam' taken offline after police raid home of British expat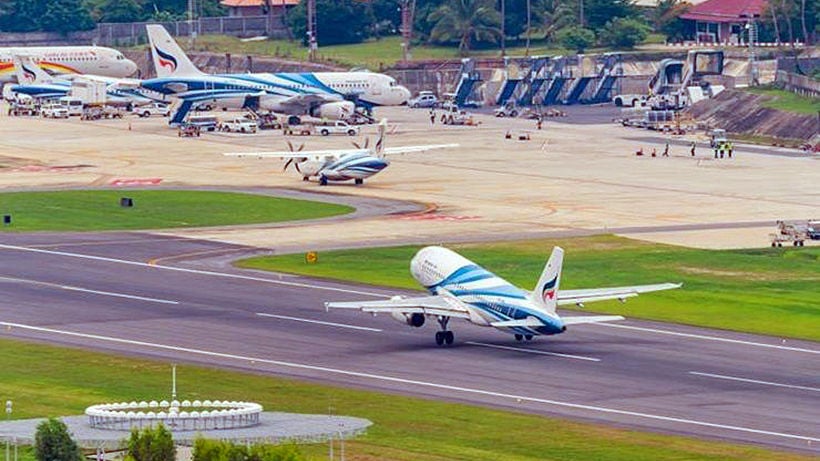 FILE PHOTO: panvimanresortkohphangan.com
Police, immigration and airport authorities have closed down a 'spy cam' that was providing real-time video of activities at Koh Samui's Airport.
Police headed to a house next to the Koh Samui Airport after complaints that a CCTV camera was recording take-offs and landings at the airport. The authorities deemed that the camera could pose a security risk.
The camera is one of many that give realtime views of locations on Samui for 44,600 followers on YouTube and Facebook. It is called "The Real Samui Webcam". The live cameras provide foreigners a snapshot of what is currently going on around the holiday island.
Authorities found a 72 year old British man whose passport and work permit were all in order. He works in the "detox" industry at a health company. He told police that the camera was located on his flat roof and had been put there by a friend. Channel 3 news reports the camera is now offline. The airport authority had claimed that the camera was a risk to security as the "airport is used by many important people".
But there are still plenty of live-streams of the Gulf island available. Looks like a nice day on Koh Samui!
SOURCE: ThaiVisa
Keep in contact with The Thaiger by following our
Facebook page
.
Russian man and his dog found dead on Koh Samui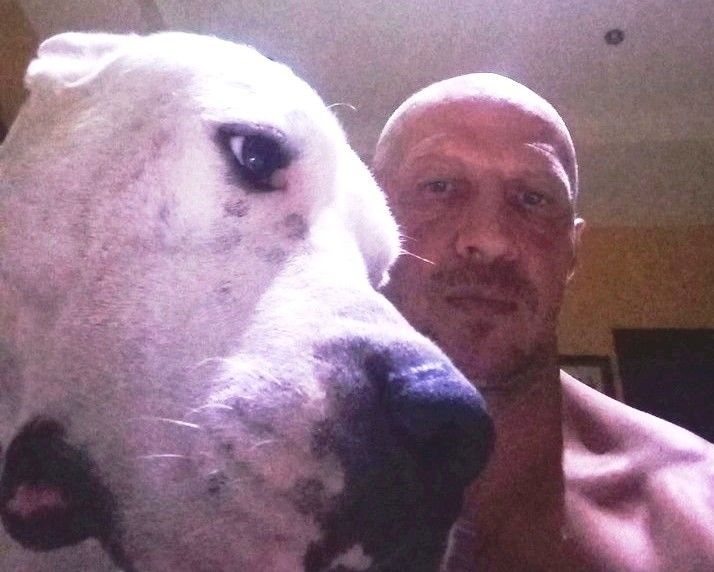 A 51 year old Russian man, identified as Vyacheslav Kolbunov, has been found dead at his home on Koh Samui.
A dead pit bull was also found in the room, with two other pit bulls discovered in an enclosure outside the home.
Koh Samui police and forensic officers discovered drug paraphernalia, along with a coffee cup and a glass containing brown liquid, which have been sent for testing. No signs of a struggle were found.
Mr Kolbunov's body was found on Friday night, after neighbours called police about a foul smell coming from the property. Police believe the man and his dog had been dead for several days.

Neighbours say the Russian had lived in the house for about 10 years and got along well with people. They say he loved animals and had three pit bulls and a cat.
Forensic experts will now carry out a postmortem examination, while Livestock officials will carry out checks on the pit bull. It's understood that Mr Kolbunov's gardener will also be brought in for questioning.
SOURCE: The Chiang Rai Times
Keep in contact with The Thaiger by following our
Facebook page
.
"Don't extend opening hours to 4am" – Tourist zones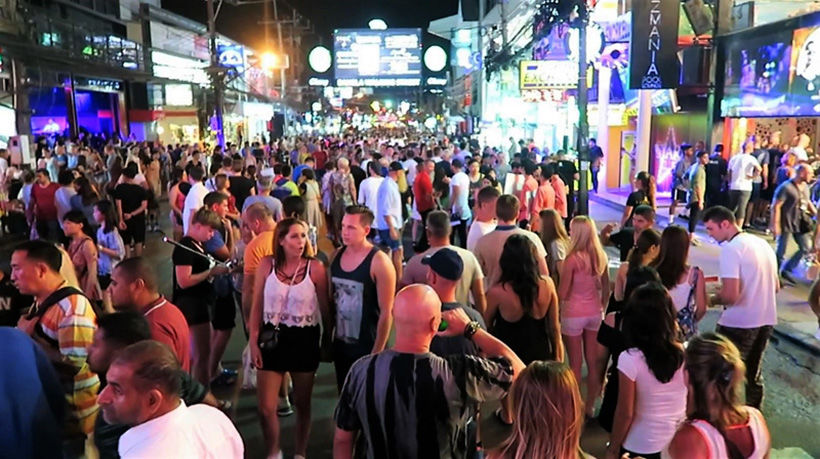 "Think again about extending pub opening hours to 4am in tourist areas".
That's the advice from Dr Mohamed Fahmy Tale, an advocate for alcohol control, directed to Thailand's tourism minister, Phiphat Ratchakitprakarn.
Manager Online says that he wants the government to focus more on safety rather than encouraging more drinking.
The Tourism and Sports Minister, Phiphat Ratchakitprakarn, had proposed an extension of official opening hours in tourism locations like Pattaya, Phuket, Chiang Mai and Koh Samui. He claimed that the tourism economy would be stimulated by as much as 25%, without providing any evidence to back his remarks.
(In reality many of the more popular venues are already open well past the 2am curfew with the 'co-operation' of local police and officials.)
But Dr Mohamed Fahmy Tale, who proposes measures to tackle Thailand's alcohol problems, disagrees.
In an opinion piece in Manager Dr Mohamed says that he was "shaking his head" when he read the proposals. He claims the proposal would "set Thailand tourism back and put it in the klong" (canal).
He said that tourists don't decide where to visit based on alcohol availability. He said that Thailand already has the moniker of the "Tourist Sex Capital" and there are far better ways to move forward and counter this perception rather than extending opening hours.
He said that Thailand has more than enough culture and environmental wonders like sea and mountains to take tourism in a new and more favourable direction and that the government should promote that.
He said that his surveys showed that safety is a tourist's number one priority and the government should focus on improving that too.
He urged a rethink saying that the minister's claims about closing times in Italy were broad brush remarks. Italy has a great deal of difference from one city to the next, he said and could not be compared to Thailand.
SOURCE: Manager Online
Keep in contact with The Thaiger by following our
Facebook page
.