Unwanted babies in Phuket are not to be abandoned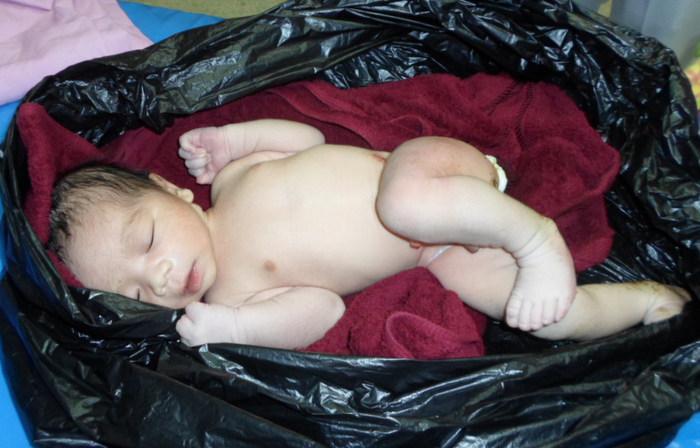 Special Report
The discovery of a newborn boy abandoned in the bed of a pick-up truck in front of a luxury resort on April 10 has highlighted the issue of unwanted pregnancies on Phuket. Many women, not knowing which way to turn, abandon their babies or seek illegal abortions.
The Gazette's Chutharat Plerin explores what options are available for pregnant women who are not prepared to be mothers.
PHUKET: The baby boy, weighing in at 3.2kg, still had his umbilical cord attached when he was found, much like the newborn boy discovered alive on December 8 last year in front of the home of Srisoonthorn Mayor Worrawut Songyot (story here).
Five other unwanted babies were found dead in Phuket last year: three newborns dumped in the trash and two fetuses, the apparent result of illegal abortions.
The Srisoonthorn baby was taken to the Phuket Shelter for Children and Families on Koh Sireh, as will be the baby found last week, once it is released from Vachira Phuket Hospital.
UNWANTED
"These babies are abandoned for the simple reason that their mothers didn't intend to get pregnant and are not ready to raise them," explained Jiranun Cheam-charoen, who runs the shelter.
"It's not only teenagers who find themselves in this position, but adults too. If you have sex without a contraceptive, it can create a problem."
Another reason may be that abortion in Thai society is considered a sin, and not an acceptable solution for unwanted pregnancy, Ms Jiranun said.
Abortion is legal only in certain circumstances: when the pregnancy is the result of rape or may physically harm the mother, or when the mother has mental or physical problems which make her unable to care for a child, she said.
"Getting approval for a legal abortion is a lengthy process and requires the approval of a panel of experts: doctors, psychologists, lawyers and social welfare workers.
Asked whether there were illegal abortion clinics in Phuket, Vachira Phuket Hospital psychologist Yaowanit Nongkom, who works with the panel, said, "I don't think so. If there were, I would know, because any time a woman is admitted to the hospital who appears to have had an abortion, I must be informed."
"There was one case a few years ago when the operator of an illegal abortion clinic in Phun Phol was arrested. Six women died before we were able to make that arrest."
However, in June last year a retired male nurse admitted to performing over 20 abortions after having been arrested moments before starting an operation in a hotel room.
"People learned about my service through word of mouth. I do not have a clinic," Prapak Thiparat told police.
WHERE TO TURN FOR HELP
"Anyone facing an unexpected pregnancy, or who has a friend who is, I want you to know that you have options," said Ms Jiranun.
"We are here to talk about what's on your mind, about what it means to raise a child. We welcome you and want to help you through your difficult time. You can either call us or drop by the shelter. We have officers standing by around the clock."
The shelter starts by helping women accept their unwanted pregnancies, then helps them prepare for their lives ahead.
"We empower people to live. This includes training them for jobs so that they can support their children," Ms Jiranun said.
"If she is a teenager who is afraid to tell her family, we can help mediate. Sometimes the family will support the girl and sometimes they won't. If they don't, she comes to stay at our shelter, where we take care of her until she gives birth. We provide medical care and psychological counseling for free."

LOVING SUPPORT
More than 80 per cent of the women who come to us for help, saying they don't want their babies, decide to keep them, Ms Jiranun said.
One reason may be the shelter's very flexible policies, which allow women to leave their babies for extended periods of time.
"We have two babies here temporarily. Their mothers will be back in a couple of years or whenever they feel ready to raise their child," she said.
If a woman decides not to take her child back, it is sent to a girls' or boys' home.
BABY LEGALITIES
Abandoning a baby is a crime, and a woman who does so faces up to three years in prison, a 6,000 baht fine, or both. However, most judges will not send these mothers to prison, Nucharee Longkaew of the Patong Police said, but will give them a suspended sentence.
"The babies still need to be taken care of," she said.
Should the child die as a result of the abandonment, the penalty is much stiffer. If the death is determined to be unintentional, the mother faces jail time of three to 15 years. A death determined to be brought about intentionally is murder, punishable by death or up to 20 years in jail.

BIRTH OF JOY
The success of helping a woman become a caring mother is what keeps Ms Jiranun moving forward, despite all the difficulties of her job.
One in particular she will never forget: "About two years ago, a woman who already had a child came to see me. She was married, but had separated from her husband because they fought all the time. She moved back to Phuket with her child to live with her family, and he stayed in Phang Nga.
"Time passed, and the woman started a relationship with a man in Phuket. She conceived, and when she told her boyfriend, he denied any responsibility.
"She felt she couldn't tell anyone. Her family already had difficulties – the mother was a barbeque pork vendor and her sister was HIV positive – and she didn't want to burden them.
"When she called me to tell me her story, she said she had two options: either have an abortion or kill herself.
"I talked to her for a long time and then asked her to meet me the next day. We talked again, but she still wanted to get rid of the baby, so we called in our interdisciplinary team. The team concluded that an abortion was not warranted because the woman did not meet any of the criteria that allow them.
"She stayed with us during her pregnancy and our team supported her completely.
"One day she decided to tell her family. They came to the shelter to see her, which was a tremendous relief for her.
"Then we started planning what to do with the baby. She said she wanted to leave it with the shelter after it was born.
"I convinced her to at least breastfeed the baby for three months.
"Then she really amazed me – she said she wanted to tell her ex-husband. She said she missed him and wanted to get back together with him. I counseled her to be strong and warned her it could be a painful experience. She said she had nothing to lose.
"She called the man, who was still in Phang Nga, and he took her back, along with the baby. I respected him very much, being willing to raise a child that was not his."
"I can't tell you how happy I was. A woman who was about to kill herself got her life back."
Phuket Shelter for Children and Families on Koh Sireh
Located opposite the monkey viewpoint in Koh Sireh
Hotline: 1300 Tel: 076-213 315 Fax: 076-214 369
Mobile: 081-891 1643
— Chutharat Plerin
Keep in contact with The Thaiger by following our
Facebook page
.
Thailand tourism recovery- are we doing enough?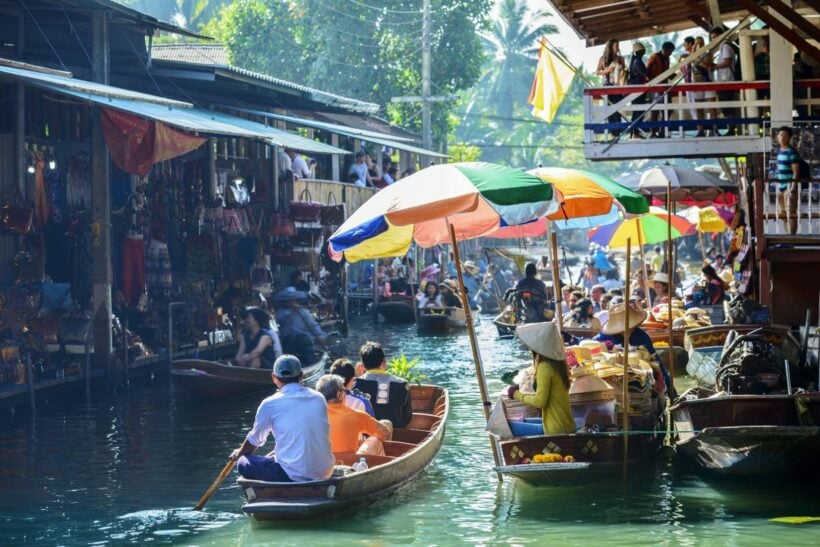 OPINION by Andrew J Wood
The wheels of Thailand's tourism industry are slowly turning. Travel and tourism is starting to move again. Weekends in Hua Hin hotels for instance are close to capacity (with some resorts experiencing 90% occupancy and some even higher). Being close to Bangkok; the weather, air quality and the fact that you can drive from the metropolis definitely helps.
But two out of seven days are not enough and our islands, away from Bangkok are suffering the most. Domestically they receive very few guests and are EXTREMELY reliant on international travellers.
International flights into Thailand are currently not allowed for tourists. The only flights in are carrying repatriated Thai nationals or those with jobs here and holding a work permit or are invited government guests. All have to enter 14 days of quarantine on arrival.
We need international arrivals to support our tourism industry but they will not travel without flights and on arrival having to spend 2 weeks in quarantine. We cannot survive on domestic tourism alone. Last year Thailand welcomed 39.8 million guests.
We are asking for your support. To all our industry friends and professionals we ask you to talk about what our industry decision makers, government and tourism agency/ association colleagues can do to help restart flights. We need to reopen our skies.
We are grateful for the Thai government's leadership in controlling Covid-19. Thailand was recently ranked second in the Global Covid-19 Recovery Index after Australia, and is first in Asia in the same index.
Thailand is regarded as a leading light, a flagship of Asian tourism. Thailand's tourism industry needs flights to recover and, in turn, protect valuable jobs. Opening up a dialogue to help make it more accessible for foreign visitors to travel to Thailand is vital.
The industry requests the help from Tourism Authority of Thailand Governor Yuthasak Supasorn and Tourism Minister Phiphat Ratchakitprakarn. PM Prayut Chan-ocha announced that international travel is possible on a bilateral basis. No further details however have been released.
The Thai Government has done an excellent job in controlling the coronavirus pandemic with only 3,135 infections and just 58 deaths. They are to be congratulated. It is encouraging to note that Thailand has logged no new local Covid-19 infections for the past 22 days. As we move into the recovery phase we need to now restart international flights into and out of Thailand.
Without air lift, recovery for some businesses, will simply not happen. 1,000 tourists, which is the maximum figure per day the government are suggesting, will in our opinion be too few to support the tourism industry. Thailand's tourism industry, is a major employer, which directly and indirectly affects millions. For almost two decades, the industry has been providing employment for 1-in-10 of all workers here.
The peripheral grey market that supports tourism has also been widely affected. The street vendors for instance and other low paid informal workers struggle daily.
It is important to all business owners to keep our valued employees and maintain trust with them. Please help support the tourism industry's call to allow international tourists to once again revisit these shores.
In your webinars and zoom meetings; in your social media interactions and discussions and industry meetings, please ensure that your opinion on restarting international flights and protecting tourism jobs are made known.
Respectfully,
Andrew J Wood, President
Skål International Bangkok
About the author…
Andrew J Wood was born in Yorkshire England, he is a professional hotelier, Skalleague and travel writer. Andrew has 48 years of hospitality and travel experience. He is a hotel graduate of Napier University, Edinburgh. Andrew is a past Director of Skål International (SI), National President SI Thailand and is currently President of SI Bangkok and a VP of both SI Thailand and SI Asia. He is a regular guest lecturer at various Universities in Thailand including Assumption University's Hospitality School and the Japan Hotel School in Tokyo.
Keep in contact with The Thaiger by following our
Facebook page
.
Bubble, bubble, toil and trouble – Thailand's international travel quandary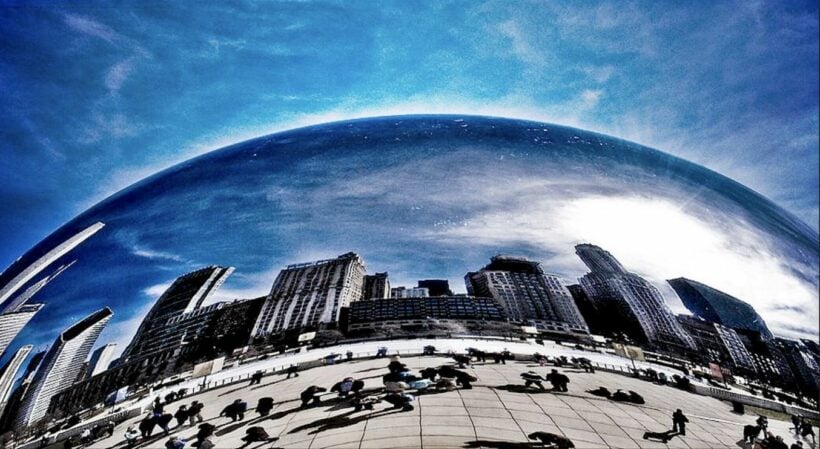 With apologies to William Shakespeare.
You're going to hear a lot more about travel bubbles in the next few months. Indeed it will become the 'new normal' in the short-term for Thailand's battered tourism and hospitality industry. The world is NOT going to magically re-open up and travel as they did before, at least not in the next few years.
Even if a viable and world-wide available vaccine appears in the next 12 months there will still be a long transition back to old travel habits, if ever. In the short to medium term anyway, potential travellers have debt, jobs and community changes to come to terms with. Discretionary spending, including travel, will not be high on their priority list. And if they do travel, it will most likely be regional instead of far flung exotic international ports.
Thailand's potential travel bubbles would likely include South Korea, Japan, Vietnam, Hong Kong, Taiwan, even Singapore (which has had a sudden spike in migrant labour Covid-19 cases but has otherwise largely controlled its community transmission). Beyond the region, Australia and New Zealand are also low-risk candidates for early international travel back to Thailand.
China remains the quandary for Thailand"s Centre for Covid-19 Situation Administration, under the leadership of the PM Prayut Chan-o-cha. Whilst China has led the way in bringing the virus under control, there are now bursts of 2nd-wave outbreaks in some Beijing suburbs. Chinese officials have jumped on the outbreaks with lockdowns imposed in 11 nearby neighbourhoods, and 10,000 people near the outbreak zone are now being tested.
The current outbreak is linked to Beijing's largest wholesale market, Xinfadi where 45 people out of 517 tested positive for the coronavirus. None of the infected people displayed any symptoms.
So creating a travel bubble with China, generally, will move to the back-burner although the Thai government may contemplate allowing Chinese travellers from low-risk cities to be part of the early travel bubbles.
But even the Tourism Authority of Thailand's China office is tempering enthusiasm that Chinese tourists are lining up at airports ready to board planes and visit Thailand. In fact they say it's just not going to happen in the short-term as outbound travel for most Chinese remains heavily curated. But even as travel restrictions ease, the prospects of a Chinese-led tourism recovery are low as Chinese purchasing power for outbound trips will remain extremely weak.
The surging Chinese unemployment rate of 6%, or 27 million people, remains a challenge even as regional tourism consultants and gurus in Thailand's hospitality industry wax lyrical about alleged "pent-up demand" and "Chinese-led tourism recoveries". Even the TAT's Lerdchai Wangtrakoondee, director of the Shanghai office says, after temporarily adopting new hygienic practices for months, the situation in China is "returning to normal", but outbound tour operators are "still on ice".
Thailand's Public Health Minister Anutin Charnvirakul announced last Friday that Thailand, now virtually Covid-19 free, has had early talks with China and New Zealand to create bubble tourism.
The Centre for Covid-19 Situation Administration says that creating travel bubbles, served by an airline corridor between nations or cities that are Covid-19 free, are now on the table. Despite the recent outbreak in the south western suburbs of Beijing, most of China is now deemed 'low-risk'. Even Japan is having a new outbreak – 48 new cases in one day, the most since early May – centered around Tokyo's nightclubs and entertainment establishments. But, in both cases, the countries' health officials quickly go into lockdown and contact-tracing mode.
Thailand's CCSA has announced it might open the country to international flights after June 30 but on a "limited basis" to kick-start travel but will cap a daily limit on arrivals and restrict the travel to business visitors, work permit holders and essential medical travel (no, a massage in Walking Street is not considered 'essential medical travel'). But no specific dates have been mentioned at the moment although a meeting of the CCSA tomorrow is said to put the 'bubble' issue on the table for some quick decisions.
It is also understood that the Civil Aviation Authority of Thailand will not extend the international travel ban after it expires and leave the CCSA, empowered by the emergency decree, to decide who will be able to enter Thailand and under what sort of restrictions. All things considered, it is unlikely that any of these bubbles will be in place before August.
Even when the travel bubbles are created, they will certainly be accompanied by restrictions. A "fit to fly" certificate as well as a 'clear' medical certificate, less than 72 hours before the flight. It is also likely that medical insurance with US$100,000 cover will be required, although medical insurance covering Covid-19 is difficult to find, or expensive.
Locally, the hopes are on domestic tourism. But tourists are visiting parts of the country where shops remain shuttered, many tourist attractions remain closed, bars and entertainment venues are closed and flights are few. Some hotels are open but most remain closed. Some shops, which eagerly re-opened in Phases 2, 3 and 4, are now being re-closed as business owners realise it's cheaper to stay closed in the short-term than open with draconian restrictions or social distancing making it difficult to operate efficiently. eg. Restaurants, which rely on a wafer-thin margin at the best of times, hardly even pay the rent with 50-80% of their seating capacity removed.
The international travel bubbles are a relatively safe way to kick off international travel but the best we can hope for, in the immediate future is more, or larger, bubbles. These bubbles will not burst until the vaccine arrives.
The Thaiger will continue to provide the latest information on all announcements about the return of international travel into Thailand.
Keep in contact with The Thaiger by following our
Facebook page
.
Will Pattaya bar customers want ID tracing and bar girls with masks and gloves?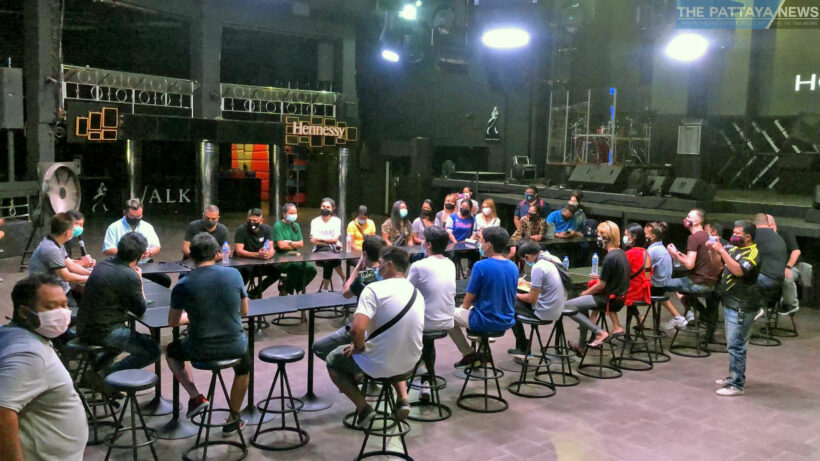 OPINION
Why do people travel to Pattaya? If it's for the legendary bar scene, they're going to be in for a surprise if proposed Covid-era measures are adopted. Likely it's not going to be the 'Pattaya' they were expecting, or had been accustomed to in the past.
Social distancing (surely a phrase to be added to dictionaries from this year), limiting customers inside a bar, and bar workers with face masks and gloves, are just some of the proposed ideas for bars and nightclubs in the party town when they are finally allowed to re-open.
Understandably owners of the popular bars are desperate to lift up the shutters and entice the customers back into their familiar domain of expensive drinks, loud music and attractive hostesses. The large band of young female employees are also eager to welcome back the tourists. But the 'new look' bar and club scene may not be a turn on for the city's expat crowd or future tourists.
In the suggested proposals, customers could also be asked to submit ID prior to entering a venue in case the information is needed for contact tracing in future. Screening checkpoints could also be set up at the entrances to popular haunts like Walking Street and Soi 6.
A meeting to discuss possible transition guidelines was held last Sunday at the Hollywood Club attended by representatives of Pattaya's bar and nightclub scene, and officials from City Hall and the local police.
The meeting also discussed the possibilities of waiving various taxes and licensee fees. The issue of intransigent landlords who are still demanding full rent payments, was also discussed.
The seaside resort is facing a wipe-out scenario until some safe means of opening bars and clubs can be found. But that's only the start of the recovery. At this stage there are no tourists and any early opening would only serve the city's expat community or a trickle of domestic visitors.
The Thai government have closed all international airports for incoming passengers until at least the end of May and, beyond that, have not disclosed the conditions whereby they'd be willing to allow foreigners to return. Many of the Pattaya's feeder markets for tourists are still in the midst of their own pandemic responses and are banning citizens from travel. Australians, for example, are being told it is unlikely to the government will allow international travel for the rest of this year. Airlines, meanwhile, remain largely grounded with their business models in tatters and many of the smaller, low-cost airlines facing closure.
Keep in contact with The Thaiger by following our
Facebook page
.