Phuket Opinion: Fire lanterns out of control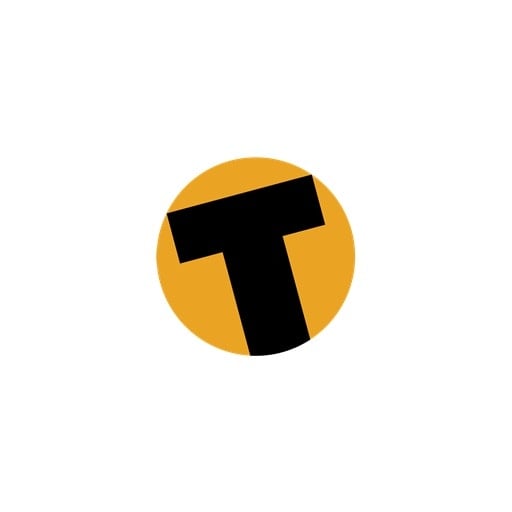 PHUKET: The festive season is upon us and visitors from around the world continue to pour into Phuket in what is shaping up to be a banner high season for tourism – at least in terms of arrivals.

Use of khom loy ("fire lanterns") is increasingly common during festivals in Phuket and the night sky above our island was replete with the glowing craft during the recent Loy Krathong festival.

With the monsoon season due to end soon, the skies are clearing and conditions for releasing the fire-driven lanterns are improving. This fact, coupled with the rapid rise in the number of tourists and the profits to be made from entertaining them, seems a sure-fire recipe for a record number of lanterns to be floating above us in the coming months.

The sight of these lanterns slowly rising aloft certainly holds a mysterious, romantic and quintessentially Asian appeal, but too much of anything is rarely good. Excessive, uncontrolled use of the khom loy is now becoming a problem, both in terms of safety and the environment.

What goes up must come down.

While mankind's successful launching of never-to-return space probes may have rendered that statement technically inaccurate, we have yet to hear of a khom loy achieving the escape velocity needed to carry it into the heavens.

They invariably return to the land, or as is often the case in Phuket, into local waters already overburdened with man-made debris. During the New Year celebrations in Patong, it is common to see them land on and around the scores expensive yachts anchored in the bay.

Because of the potential danger to aviation, Phuket International Airport year declared a 'no-fly zone' for fire lanterns within a radius of several kilometers from the airport. But that restriction seems to have either floated away or fallen into non-enforcement.

During the Red Cross Fair, lanterns were being sent off in windy conditions from an area next to the central stage at Saphan Hin. Many narrowly passed over the heads of hundreds of people eating at tables nearby. Another flew into the branches of a pine tree and set it alight.

Despite the obvious hazards the operator was creating, at no point did any official step in to tell him to give it a break.

The dangers posed by khom loy were a topic at the recent governor's gathering of honorary consuls. It is already against the law to release them without a permit, yet one can buy them openly at some of the island's best known shopping malls, and rogue vendors are ever-present at large public festivals.

The situation could be rectified overnight if existing laws were enforced. Police wouldn't even have to arrest offenders; consistent on-the-spot seizure of stock would probably be enough to dissuade them from trying it again.

Let's do this and restrict the khom loy to hotels and other private events organized by people who have respect for the law, public safety and the environment.
Poll – Will the Thai Baht rise or fall (compared to other currencies)?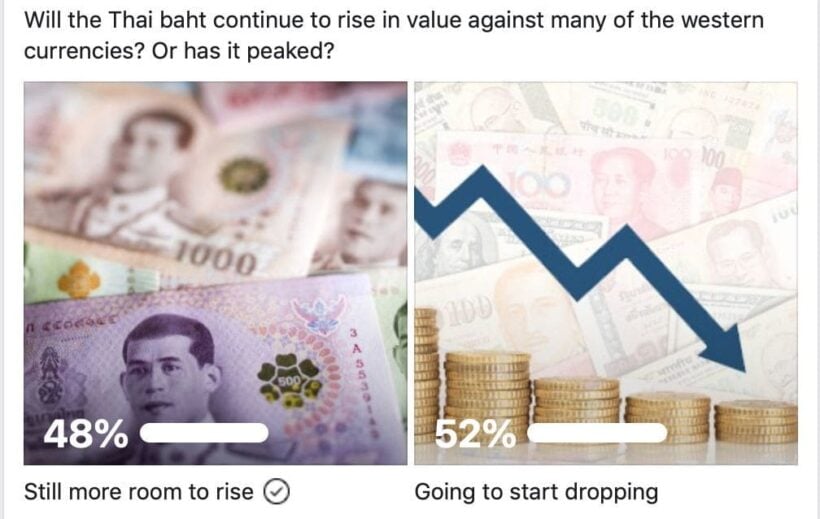 Yesterday The Thaiger polled our Facebook readers asking them…
"Will the Thai baht continue to rise in value against many of the western currencies? Or has it peaked?"
Your responses were very mixed but the result was a slight leaning towards the baht dropping, but only by 52% to 48%, from 585 votes. Thanks for participating!
Here are few of the responses (edited) ….
• A currency will always peak at some occasions due to the economic safety of that country. But unfortunately a strong Baht will make exports to other countries more expensive which could lead to countries going to other countries where their money goes further. The Thai economy is also dependent on tourism which a strong Baht will lead to more expensive holidays for foreign tourists. This could also lead to a shrinking of the economy. – Graeme B
For a country that relies so heavily on tourism and exports, an over inflated, domestically propped up currency is a very risky fiscal strategy. There was a 5.8% drop in Thai exports in May, this is a HUGE number, and alarm bells should be well and truly ringing. A lot of people linked the fall of the GBP to Brexit…. Although not great for FX, the effect on British exports has been seismic. – Simon H
Scottie blamed the rise of the Thai baht on the 'R' word…
• At the moment the west doesn't want to use the R word. But that's what it is, it's a recession. It will get worse before it improves. – Scottie C
Matt links a lot of the local currency movement to China's economy…
• Depends if China keeps draining the world of money in trade. If they do, THB goes up. If world finally pushes back, there is a correction in Thailand. Sadly, Thailand is now one of the largest proxies for constant Chinese credit creation. Suvarnabhumi 2.0 is basically being built for China to come deliver money. – Matt S
• Thailand is more expensive than the UK, many people how holidaying in Cambodia 🇰🇭 and Vietnam 🇻🇳 much more for your money. – David H
Anthony was perhaps closer to the truth…
• I wish I knew. – Anthony L
And Malcolm gave an answer without giving an answer…
• Watch this space, I am sure something will happen in the next six months, the question is what? – Malcolm N
The Thaiger will be conducting daily polls on our Facebook page. 'Like' us and join the conversation.
Deputy Thai PM rattled by students' Wai Khru anti-junta protests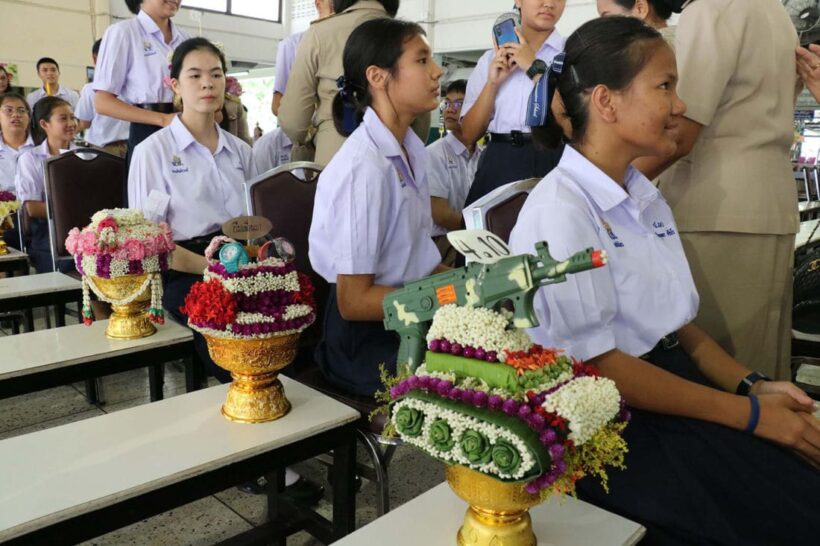 "It takes a child to see the junta has no clothes" – Opinion by The Nation
At a north-east school, and another in Phitsanulok last week, secondary students used the Wai Khru tradition to design the floral offerings given to teachers with an anti-junta theme. The soft protest from students drew criticism from conservatives, including the deputy PM Prawit Wongsuwan. The Nation have penned this response…
No one can be surprised that Deputy PM Prawit was unnerved by children's free expression during semester-opening ceremonies.
Read The Thaiger story about the incident HERE.
Those who fear the free expression of children also fear the future. Deputy Prime Minister Prawit Wongsuwan was among "respected elders" unnerved last week by the political views expressed in pedestals designed by high school students.
Students across the country, from northeastern Nong Khai province to Phitsanulok and southern Trang, were paying respect to their teachers by displaying independent thought in ceremonies to mark the start of the semester.
Traditionally, each student prepares a display of joss stick, candle and flowers, while each class creates a pedestal tray to place before their teacher.
This year, many of the pedestal trays drew their themes from political events – including the scandal over Prawit's multimillion-baht luxury watch collection.
Read the rest of the editorial from The Nation HERE.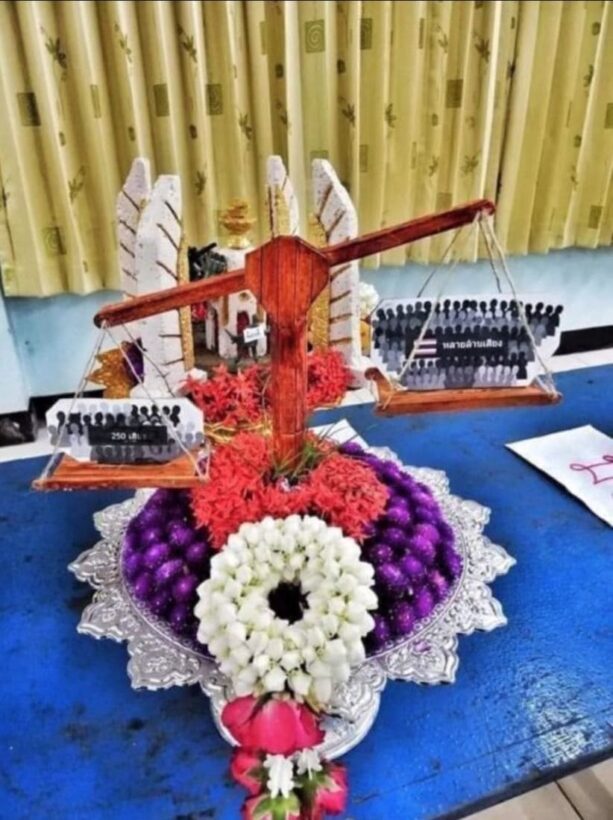 Wai Khru – setting a bad example for the future. Thailand's demand for respect from its young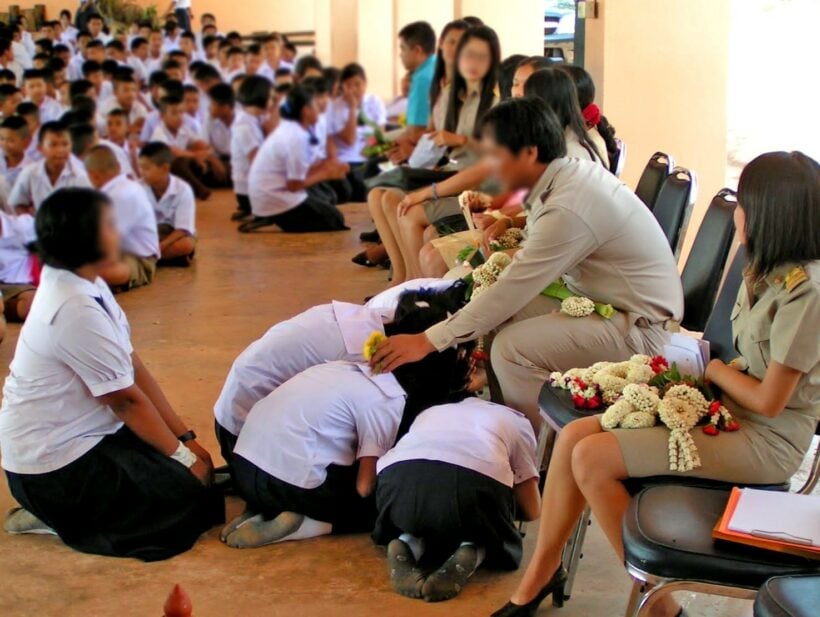 Hazing (US English), initiation ceremonies (British English), bastardisation (Australian English), ragging (South Asia), or deposition, refers to the practice of rituals, challenges, and other activities involving harassment, abuse or humiliation used as a way of initiating a person into a group including a new fraternity, sorority, team or club.
In Thailand, hazing is not only rife, it's seen as a rite of passage for young Thais as part of their cultural inculcation into the subservience they're expected to display elders or people with more money or higher positions than them. What's mistaken for 'respect' is actually a cultural party trick where children and young adults are 'trained' to be deferential from an early age.
In recent years there have a been a few high-profile deaths of army trainees, in the care of their Academy leaders, but allegedly subjected to initiations and bastardisation that is just 'par for the course' for the education of young Thais.
In a response to the recent death of Phakhapong Tanyakan at the Armed Forces Academies Preparatory School on October 17 last year, the Thai Deputy PM and Defence Minister Prawit Wongsuwan claimed that he "was not beaten to death, but just too weak to withstand tough training."
He went further saying "I was once beaten more than I could take and I fainted too. I didn't die. For this, before the school accepts kids for entry, they must give them a proper physical check-up."
When you get you get such official, public, responses from the top you can see how this hazing culture continues to thrive in the, otherwise, Land of Smiles.
We spoke to three foreign teachers in Thailand, all speaking on condition of anonymity, about the culture of hazing in their schools and the benign version of that in primary schools, 'wai khru'.
"Hazing is seen in many different types of social groups, including gangs, sports teams, schools, military units, fraternities and sororities. The initiation rites can range from relatively benign pranks and was khru, to protracted patterns of behavior that rise to the level of abuse or criminal misconduct."
For the families of hazing victims these ceremonies can be catastrophic, as in the tragic case of Phakhapong Tanyakan.
A 19 year old armed forces cadet, previously subjected to harsh physical discipline, suddenly died a day after returning to school from a break. His parents were told he suffered from a sudden cardiac arrest but became suspicious of possible foul play after a detailed autopsy report never came. – Khaosod English
But he's not the only one. Hazing and cruel or unusual initiations are conducted every day around the Kingdom but with a growing concern about the practices, both from the young students themselves and concerned older Thais, who realise the dangers of 'persuading' youngsters to respect elders needs examination in a modern 21st century Thailand.
We spoke to a respected senior Thai businessperson, again on the condition of anonymity, who said he had seen too much hazing going on during his time at school and then whilst training in the military.
"I was a victim of this type of bullying. I was told to 'be a man' and that all Thai men have to go through this. I think it is degrading and breaks human spirits. It teaches fear of those we are meant to respect. It has to change."
It all starts when young Thais are subjected to the Wai Khru or 'Teacher Wai' where students are expected to prostrate themselves in front of their teachers in a show of respect. But a broad spectrum of foreign teachers not only feel uncomfortable with this faux-deference, some of them go out of their way to be away for that day or, sometimes, even speak out about their concern with this tradition.
"I made the mistake of speaking out about the Wai Khru in our school. I just found it demeaning for the poor students who had to rehearse all week for this totally meaningless show of respect. I didn't feel respected, I felt sick. I ended up being ostracised and had to leave that school."
Whilst many Thais continue to wonder why westerners might find all this kowtowing and prostrating could cause concern, you just need to examine the deaths in the Army preparatory schools as the end result of 'demanding' obedience and deference to elders. In western culture, I have learned, respect is something that is earned, not demanded.
"Hazing is undignified, humiliating and cruel… not my words, but the words of students who are made go through this horrible experience. It's meant to be a sign of showing respect to your seniors but it's nothing more than a shameful indulgence at the expense of the students," said a long-term foreign teacher.
"Making students crawl around on the ground acting like animals in front of their peers, does nothing for either senior or freshie students. I have stopped attending Wai Khru day as I find it terribly uncomfortable for myself and for the students. You can see the look in their eyes as they approach you and are ordered to bow before the teacher. Teachers, like everyone else, should learn how to earn the respect of their students."
A young female foreign teacher first thought that the Wai Khru was 'cute' but has changed her tune over the years.
"Wai khru was the highlight of my first year teaching in Thailand. I was, and still am, extremely humbled and deeply touched by this beautiful tradition intended to recognise a teachers' role in children's life and to give said children the opportunity to express their gratitude to their teachers.
"But throughout the years I have started to look at this event with a more critical eye and I wish it weren't as rehearsed and staged as it unfortunately is. At our school, rehearsals for Wai Kru start a week prior to the event. During this week, children are drilled incessantly until they have mastered the walk, the bow and the wai leading up to the offering of the flowers that they are eager to free their sweaty little palms of."
Wai Khru continues to be practiced in all Thai schools as a long standing tradition and show of respect for teachers.
"Although I understand and commend the wonderful intentions behind such practices, I feel that much like other sorts of drilling that these students endure, this sadly takes away from the true purpose of it all. For want of a picture perfect event, meaning is lost and a demonstration of gratitude is transformed into a dreaded labour," she said.
An investigation into the death of Army cadet Phakhapong Tanyakan, by military investigators, found no wrongdoing by the Preparatory School. The parents have consistently called for a probe into their son's death and are still pursuing legal action.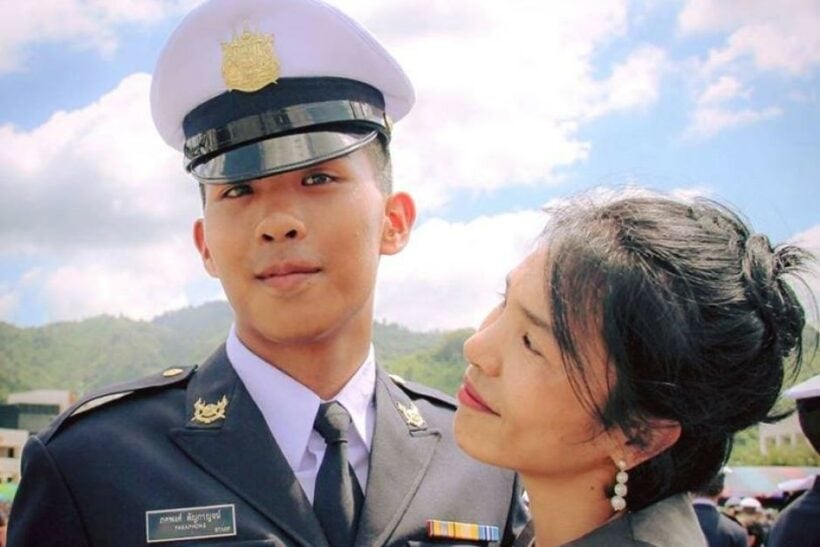 PHOTO: Army cadet Phakhapong Tanyakan, who died at the Armed Forces Academies Preparatory School on October 17 last year.