Opinion: Horrible history of dolphins in Thailand continues in Phuket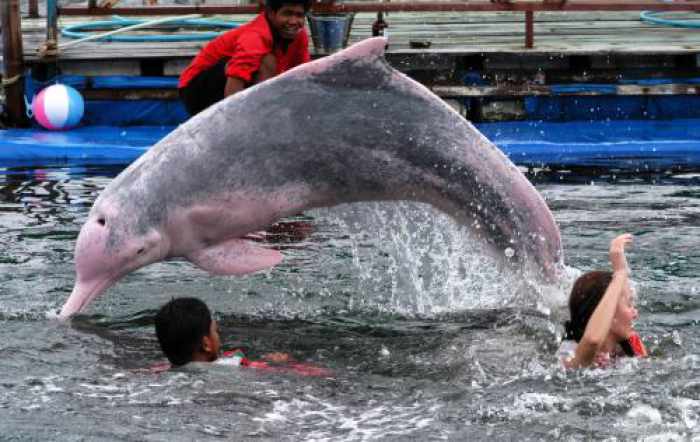 PHUKET: Thailand is witnessing an ever-increasing legal and illegal exploitation of local wildlife and marine life.
Dolphins have been kept in captivity in Thailand since 1986. The first wild pink dolphin was caught and kept at Laem Singh in Chanthaburi by Vichai Wattanapong at a venue that later became the Oasis Sea World. But it wasn't until recent years that interest in new dolphinaria developed within Thailand.
Several attempts to start up aquariums containing wild-caught dolphins in Phuket and Koh Samui did not eventuate. One involved a Danish scientist who tried and failed to win the support of local politicians and businessmen to start a dolphinarium in Phuket in order to treat autistic children, three years ago.
Likewise, a Koh Samui resort owned by a politically influential Thai family purchased a locally caught wild pink dolphin in an attempt to increase tourist interest. While they claimed that they had rescued the dolphin from a collision with a fishing boat, the dolphin was trained to perform shows instead of being medically treated, with evidence of which being printed in The Nation in February 2007.
The poor animal was later confiscated and freed back into the Gulf of Thailand, with the resort's further plans of obtaining more dolphins being cancelled.
Prior to this, two enterprises initiated the exploitation of dolphins many years earlier: Oasis Sea World in Chanthaburi (established in 1991) and the "Sanctuary of Truth" in Pattaya (established in about 2001).
Both resorts claimed to be merely rescuing wild dolphins that were harmed by the fishing industry, building ponds in order to nurse the "rescued" dolphins back to health. However, the dolphins were instead trained to perform shows, attracting tourists with the promise of rare and beautiful species of wild dolphins.
Oasis Sea World was even able to export six pink dolphins to Singapore in 1999, despite the international regulatory body the Conference on International trade of Endangered Species (CITES) clearly forbidding the trade of wild-caught specimens for entertainment purposes. The Sanctuary of Truth allegedly still does not even have a zoo permit to date.
Thankfully, a campaign led by the Thai Animal Guardians Association, the Wildlife Friends Foundation Thailand and Care for the Wild International, which called on the Thai government to enforce the CITES regulations and local laws, put an end to the export of dolphins after the financially lucrative deals undertaken by Oasis Sea world.
With such exports banned and its location a little inconvenient for tourists, Oasis Sea World was forced to look into other options to increase profits. This resulted in the "Pattaya Dolphin World and Resort" being developed last year. A soft opening on August 12 this year saw the transfer of seven of 18 dolphins at Oasis Sea World, but improved visitor numbers and profits are expected by the end of this year for both Oasis and Pattaya Dolphin Worlds.
On Phuket, there were serious plans last year and early this year to construct yet another dolphinarium by a Canadian national and a group of foreign investors. After several articles in a local newspaper and a number of open blog discussions, it was clear that a lot of the locals and expatriates did not agree with the plans, resulting in some investors since retracting financial support (story here).
People involved in the Phuket project wished to display local and imported species, but acquiring local species may be nearly impossible, and it could be similarly tricky to import species from the Solomon Islands after changes in the law disallowing any further export licences from January 1, 2012.
The Phuket project is not completely out of the question just yet, however, but with continued pressure from environmental organizations, it may be cancelled entirely.
The current figures on captive dolphins in Thailand are can be looked at by species of dolphin and the origin of the marine mammal.
Species:
Pink or Indo-Pacific humpback dolphin (Sousa chinensis) 7 to 8 individuals at 3 places.
Irrawaddy dolphin (Orcaella brevirostris) 14-15 individuals at 3 places.
Bottlenose dolphin (Tursiops truncates) 6 or more at 1 place.
Beluga or white whale (Delphina-pterus leucas) 4 or more at 1 place.
Origin:
Local dolphin species (wild-caught) 21-23 in total (both CITES Appendix 1 protected).
Imported (with CITES permits) dolphins or whales: 10 or more.
— Edwin Wiek / The Nation
Opinion
Pattaya News

Join the conversation and have your say on Thailand news published on The Thaiger.
Thaiger Talk is our new Thaiger Community where you can join the discussion on everything happening in Thailand right now.
Please note that articles are not posted to the forum instantly and can take up to 20 min before being visible. Click for more information and the Thaiger Talk Guidelines.