"We only intended to visit the cave for an hour" – Mu Pa 13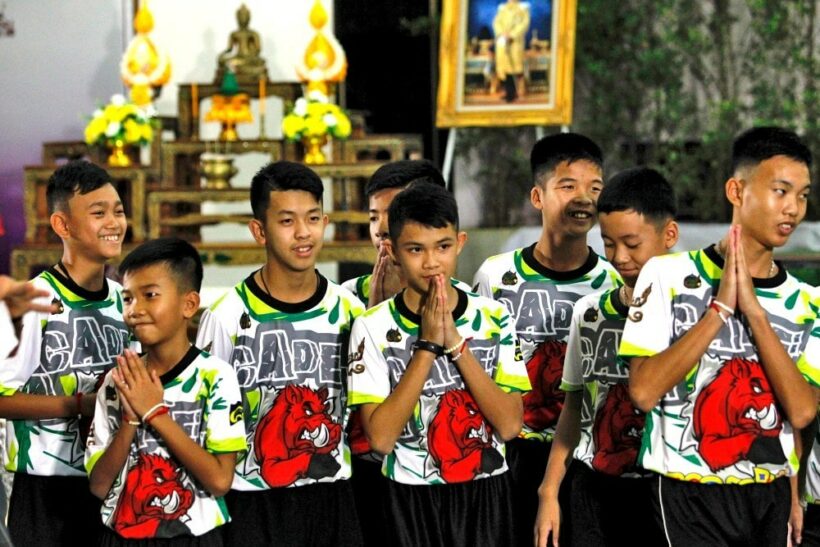 PHOTOS: The Nation
The Mu Pa Academy team and their assistant coach yesterday fronted the media as a group for the first and last time last night in Chiang Rai in a carefully staged media event. Questions from local and international media were carefully vetted before being addressed to the team members who, all dressed in match team T Shirts, appeared very relaxed and at ease.
The group also expressed their gratitude to Lt-Commander Saman Kunan, a former Thai Navy SEAL, who lost his life during the marathon operation to extricate the team from the cave. Assistant coach Ekkapol 'Ek' Chantawong said that he and the boys were upset and saddened when they learned of the death of diver Saman as he replenished air tanks for the mission. They expressed their gratitude and condolences by writing messages on a portrait of Saman, promising to grow up to be good persons.
Reflecting on how they were found 10 days after being trapped by flash floods in the cave, 14 year old Adul Samon, said Ekkapol heard the sounds of people talking. Ekkapol told the boys to stop talking and stay quiet so that he could verify the source of the sound. The boys then sat still. Adul said he told another boy, nicknamed Nick, to go down the ledge to examine the sound because Nick had a flashlight. But when Nick was slow, Adul says he grabbed the flashlight and that was when his eyes fell on the British divers.
"They were talking to each other when I saw them. At first I thought they were Thais but when I saw that they were foreigners, I said 'hello' to them. That was the miracle, the first in 10 days after we were trapped inside the cave. I was stunned and did not know what to say as we had been in the cave for many days. They asked me a question and it was quite some time before I was able to answer it," he said. One of the divers asked, "How are you?" to which Adul said he replied, "I'm fine." He then asked them, "Can I help you?" and they said no, no.

Coach Ek said they had planned beforehand to travel into the cave and since they intended to stay for only one hour, they did not take any food with them.
"At first, we planned to reach our destination – Muang Badan, the deepest section of the cave, within one hour, as I had to also escort Nong to a special class at 5pm," Ek said.
He said the water was shallow when they ventured into the cave, so they decided to go further by swimming through the submerged section.
"I discussed with the boys whether we should go forward by swimming through the submerged section. And since the water was shallow enough, the team agreed to go ahead until we reached Muang Badan," he said.
But the situation underwent a dramatic change when the boys found themselves at a dead-end. After successfully crossing the first submerged section of the cave, they found the way ahead was also flooded, preventing them from travelling further. At the same time, they could not retreat either, because the floodwater had risen to levels that made it impossible for them to swim back to the cave entrance, he said.
"At that point, we still had hope that the water level would recede and allow us to swim back to the cave entrance. But the following morning, when we found the water level had not subsided, we realised we were trapped," Ek revealed.
"At that moment, we considered our choices: we could dig our way out through the cave wall, or we should go further to the end of the cave, as some of our team members had heard that there is a secret entrance to the cave from there."
But they never had a chance to try out the second option, as the water level was too high for them to go further. So the only option before them was to wait for help at Noen Nom Sao, where they were found, he said.
Life inside the cave was difficult for them, one young footballer, seated next to coach Ek, said. When they ran out of food they had taken into the cave, they had to solely live on water dripping from the wall, which tasted just like normal drinking water.
Two days into the cave, they started to feel weak and were told by coach Ake to stay still and to use only one flashlight, he said. By the time they were found by the cave divers on July 2, most of them were very weak.
One 11 year old boy said he was very hungry and tried not to think of food. Another boy said he tried to fill his stomach with water and he would join with others to dig the cave wall with rocks. They started this activity 3-4 days after being trapped and by the time they were rescued, they had managed to dig a hole that was about 3-4 metres deep.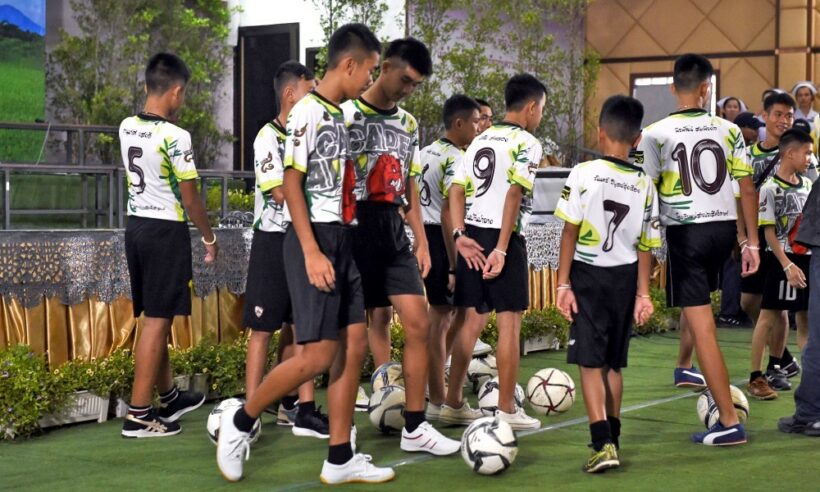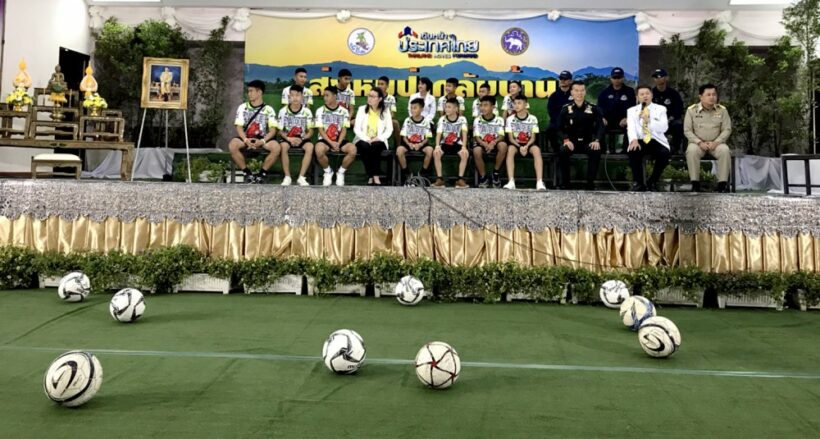 SOURCE: The Nation
Northern Thailand

Join the conversation and have your say on Thailand news published on The Thaiger.
Thaiger Talk is our new Thaiger Community where you can join the discussion on everything happening in Thailand right now.
Please note that articles are not posted to the forum instantly and can take up to 20 min before being visible. Click for more information and the Thaiger Talk Guidelines.