Chicken feet skin extracted by mouth, factory explains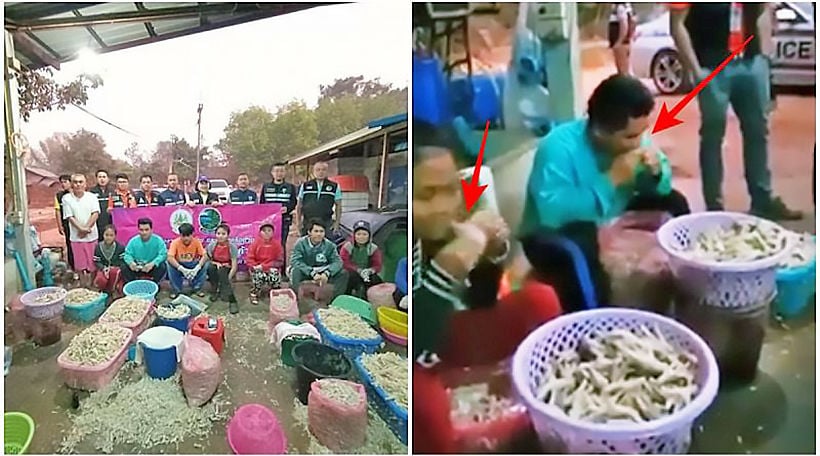 A factory in the northeastern Nong Khai province had some explaining to do after a video went viral showing employees using their mouths to extract the skin from chicken feet. The skin of chicken feet, (called leb mue nang in Thai), is a delicacy for many Thais that's often used in spicy salad dishes.
Netizens were shocked to see employees picking up chicken feet and using their teeth to separate skin from bone before spitting it into a tub, all done extremely quickly.
The provincial governor, authorities from the Nong Khai Provincial Public Health Office and other officials went to inspect the factory in Nong Khai City on Wednesday. Officials tested the product for contamination and dangerous chemicals, and results were negative.
The 31 year old factory owner Nonglak told authorities says she's been processing chicken foot skin for 5 years. The chicken feet are bought in bulk, and 400-500 kilograms of the skins are sold to customers every day.
Nong says at first the factory used pliers but it took about 5 minutes to skin one chicken foot and customers didn't want the product because the skin was mangled and unattractive. She discovered that allowing employees to use their mouths to skin the feet worked 5 times faster and yielded a better product.
Since the video went viral, Nonglak has promised to retrain her employees to use the pliers again. Other factories have also been warned and will be changing to pliers as well. Nonglak has temporarily closed her factory until her staff have mastered the use of the pliers. She also revealed that employees get regular dental health care.
SOURCE: Thai Residents
Keep in contact with The Thaiger by following our
Facebook page
.


Find restaurant and food listings around Phuket at Thaiger Bites.

Read more headlines, reports & breaking news in Thailand. Or catch up on your Thailand news.

Best eateries in Bangkok's Chinatown and beyond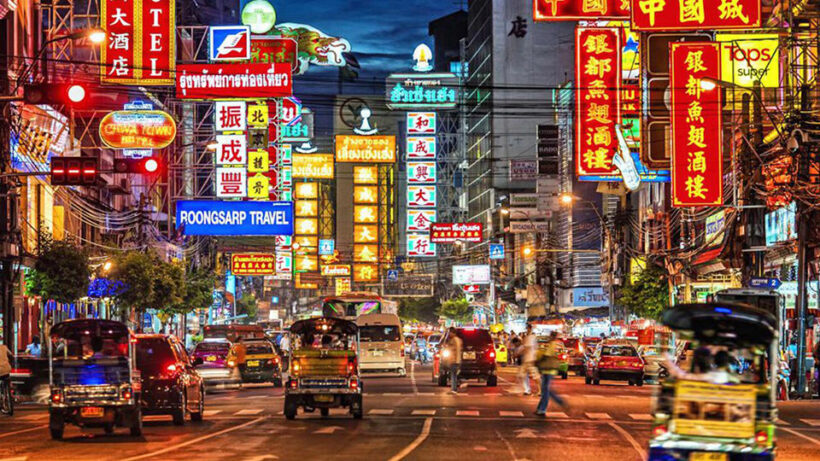 Bangkok's Chinatown and its historic Phran Nakhon district are home to some of the city's most storied and beloved restaurants. But rather than brave Bangkok's notorious traffic, The Thaiger suggests taking public transport, the MRT's Blue "heritage" Line for maximum convenience. There are heaps of historic landmarks and temples nearby like Sao Chingcha (Giant Swing), Wat Traimit, the Golden Mount/Wat Saket temple, the Phan Fa Lilat Bridge and the Rattanakosin Exhibition Hall, so take this opportunity to do some exploring.
The best three Chinatown eateries are about 1 to 1.7 kilometres from the splendidly designed Wat Mangkon station, while the four in Phra Nakhon are all within 1.6 kilometres of the next stop, Sam Yot station. While none has a Michelin star (yet!) here are a few from The Michelin Guide Thailand:
Phan Fa (Bib Gourmand)
This old school, family-run restaurant opened in 1939 and is famous for Hainanese chicken rice. Their succulent steamed crab claws bring back childhood memories for many long-time patrons. Other popular dishes include their exceptional, fragrant crab fried rice, deep-fried pork intestines, vermicelli with seafood, boiled snapper head soup with taro, and the obligatory plateful of sweet and fresh peeled Nakhon Chai Si pomelos for dessert.
S.B.L. (Bib Gourmand)
S.B.L. (short for Somboonlarb) has served traditional Teochew (Chiuchow) cuisine for well over sixty years. Elegantly furnished, the restaurant offers ten different set menus featuring a wide assortment of dishes including their highly recommended stewed fish maw and XO scallops. Other signature specialties are Peking duck, whole BBQ pork, boiled whole chicken, fried lobster with ginkgo seeds, stewed goose legs, and for dessert, ginkgo in hot syrup and fried rice balls (bua loy).
Sae Phun (Bib Gourmand)
Sae Phun has been serving our most beloved comfort food, Khao Na Kai (Chicken Stew on Rice), for over eighty years; a popular one-plate meal of juicy, tender bite-size pieces of chicken cooked in a rich, deeply flavorful gravy and poured over rice or noodles. It's served with a crispy fried egg on top and slices of sweet and fatty kun chiang (dry Chinese pork sausage) that balances out the savory stew, and garnished with fresh coriander and sliced green chilies. If you need some good old-fashioned comfort food, indulge yourself with this hearty and warming culinary staple.
The Thaiger recommends checking the Michelin Guide for addresses and opening hours.
SOURCE: The Michelin Guide Thailand
Keep in contact with The Thaiger by following our
Facebook page
.
MSG makes a comeback with a new campaign against the 'Chinese restaurant syndrome'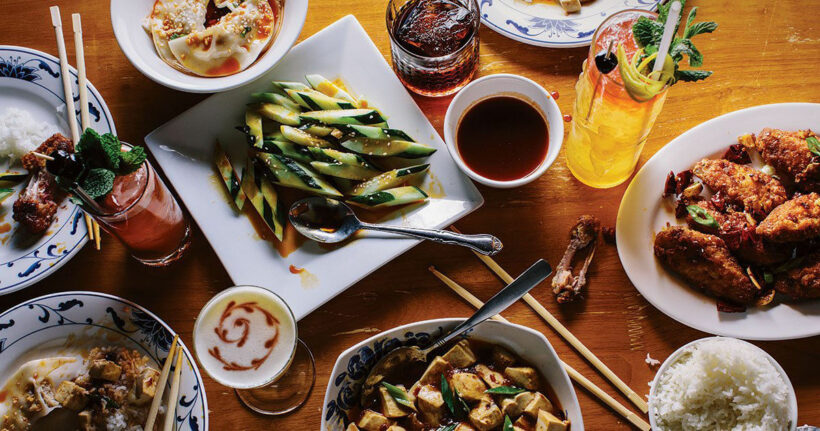 MSG, or monosodium glutamate, a common seasoning in many foods from Doritos, to salad-dressing and Thai food, is making a come back. Not that it really went away. But there was 50 years or so when it suffered, unreasonably, a poor reputation.
For years it was branded an unhealthy processed ingredient despite a lack of supporting scientific evidence. It became the whipping boy of Chinese restaurants with people alleging they would suffer from symptoms like dizziness and palpitations after eating Chinese food seasoned with MSG. It even earned the nickname "Chinese restaurant syndrome".
The Merriam-Webster even added "Chinese restaurant syndrome" to its dictionaries from 1993 after it became somewhat of an urban legend such that it became excepted that a lot of Chinese food contained MSG and that it was, somehow, bad for you. Despite hundreds of studies there has never been any repeatable experiments where it could be proven that monosodium glutamate was bad for consumer's health or could repeat the alleged side-effects in control groups.
It all started when a biochemist wrote a letter to the New England Journal of Science in 1968 saying that Chinese restaurant food left him "lightheaded and with odd aches and pains". The next issue of the journal published more purported side-effects.
That grew into a meme that Chinese food was dangerous for you and spread quickly, and even gained some early legitimacy by some medical professionals at the time. A 1969 scientific paper claimed that MSG was "the cause of the Chinese restaurant syndrome," and said it caused "burning sensations, facial pressure, and chest pain."
Subsequent scientific studies over the next half century have never been able to validate the 1969 paper's claims or find any link between the white salt-like substance and any side effects. Studies suggest that any correlation on side effects from eating MSG were probably psychosomatic.
MSG was first introduced in 1908 by a Japanese chemist Kikunae Ikeda, who was able to isolate unique flavour of a popular broth made from a seaweed called kombu. Ikeda described the flavour as neither salty, sweet, sour or bitter. It was unique. The taste came from the glutamate in the seaweed and earned the new, "fifth taste" which would be called "umami", neither salty, sweet, sour or bitter.
But MSG has been used as an active ingredient in many Asian foods, not the least Thai food where the white crystals are sprinkled liberally on favourite Thai dishes from the street stalls to the hi-so restaurants.
Now there's a campaign, "Redefine CRS" headed by Japanese food and seasoning company Ajinomoto to reflect the current knowledge about MSG and the impact of misinformation on the public's perception of Asian cuisine.
The whole Chinese Restaurant Syndrome was a western construct and never became a 'thing' in Asia. So Ajinomoto are calling out the half century of misinformation as "racist". If MSG was actually dangerous or could conjour up it's reputed side effects a long list of Asian countries and their populations would be walking around complaining about it.
"To this day, the myth around MSG is ingrained in America's consciousness, with Asian food and culture still receiving unfair blame. Chinese Restaurant Syndrome isn't just scientifically false, it's xenophobic."
In a video several Asian American figures, restaurateurs, and medical professionals spoke out against the misconceptions surrounding MSG and Chinese food. Famed restaurateur Eddie Huang, whose memoir was adapted into the hit sitcom "Fresh Off the Boat points out that MSG is not only delicious but found in hundreds of commonly used foods we use every day.
"Calling it Chinese restaurant syndrome is really ignorant."
The campaign proposes a redefinition of "Chinese restaurant syndrome"… "an outdated term that falsely blamed Chinese food containing MSG, or monosodium glutamate, for a group of symptoms."
Chances are, you've eaten it. You light be eating it right now as you snack and scroll through your phone. MSG is a common amino acid naturally found in foods like tomatoes and cheese, which people then figured out how to extract and ferment. This fermented glutamate salt is now used to flavour lots of different foods like stews or chicken stock and seasoning.
A joint study by the World Health Organisation and the UN Food and Agriculture Organisation "failed to confirm a link between MSG and the 'Chinese Restaurant Syndrome'. The syndrome itself was based on "anecdotal" evidence rather than any scientific fact."
As the new campaign points out, the public scare over MSG unfairly placed the blame on Chinese food. That myth persists in many western countries where Chinese food as is sometimes considered processed, unclean, or unhealthy.
So, head down to your local Chinese restaurant and thoroughly enjoy your meal because it tastes great, along with all the other Asian cuisines you love. If you feel 'icky, bloated and tingly' after your meal it's not the MSG, you probably just ate or drank too much.
As a side note, The Thaiger was involved in an experiment six years ago in Phuket when we had two control groups of three people. The six people were sat down and told we wanted to measure the effects of MSG in their food. All were given a standard Pad Thai Goong. One group was told the meal had been prepared with MSG, the other without MSG. In the interviews after, the group who ate the food prepared with MSG noted they had 'tingling around their lips', 'feeling of flush cheeks' and 'racing heartbeat'.
The other group, who were told their meals were prepared without MSG, had no complaints.
Then everyone was told that, in fact, the meals had been switched, so that the group who thought they had consumed MSG had eaten a Pad Thai Going without any MSG.
Hardly a scientifically-validated study but an indication how we can be easily convinced to believe anything.
Keep in contact with The Thaiger by following our
Facebook page
.
Thailand is making you fat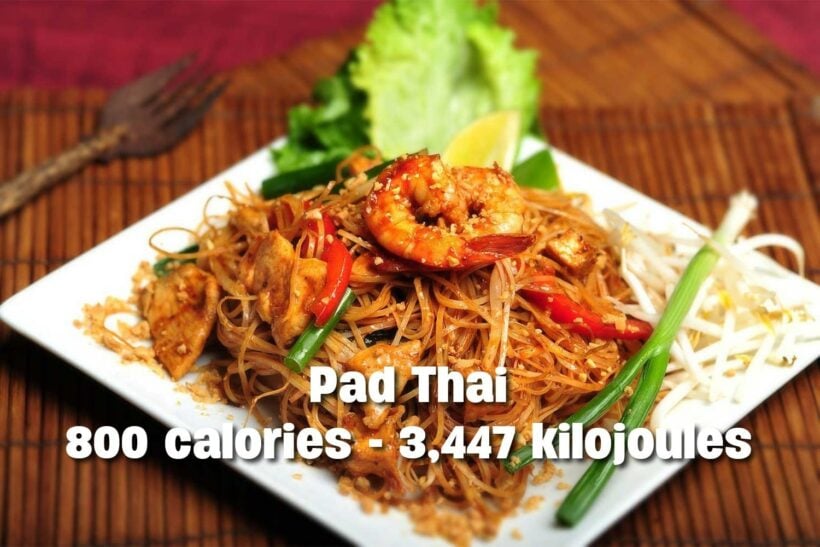 "…compare a Big Mac to an average Pad Thai and there's at least double the kilojoules in the Thai noodle dish."
I came to Thailand as a fit, healthy 70 kilogram Australian. After six years in Thailand I'm now a reasonably fit, healthy 76 kilogram Australian. Why? Well, Thai food, despite its healthy appearance and fresh origins is also full of fats, sugars and salt. For example, compare a Big Mac to an average Pad Thai and there's at least double the kilojoules (or calories) in the Thai noodle dish. (There's plenty of variation in Pad Thai servings but we took an average from three websites reporting on the nutritional value of Thai food). One website went as far as reporting that your average Pad Thai had FOUR times as many calories in it.
(A big Mac has 1075 kilojoules per 100 grams of weight and weighs approx. 200 grams)
Whilst Thai food is generally fresh, cooked quickly, full of nutrition (vegetables, carbohydrates and protein), it's also full of calories. But the problem goes deeper than this. And it partly answers the question as to why Thais, as a population, are growing taller and fatter than in the past – they're getting a lot more calories than in the past.
Head to your local convenience store and scan the shelves. Anything fresh is difficult to find. Many foods that would have traditionally come without sugar are now laced with additional sugar – yogurt, fruit juice, bread, and we're hardly past the front counter yet.
Anecdotally, I would suggest that the ingredients for your average Thai meal have evolved over the past 100 years and now there is a lot more salts, sugars, MSG and saturated fats than a century ago (the MSG argument is something for another time). Of course, all these things make most foods taste better, I won't deny it.
Thai food is still a great source of all the nutrients you need to get through the day but eating large Thai meals with lost of noodles and white rice is not going to help you return to your 20 year old surfer body. White rice has about as much nutrition as cardboard. Cook it in a sea of saturated fat (fried rice) and you're on the way to a big calorie intake.
Nutritionists recommend avoiding six types of Thai foods including Pad Thai, yellow, green and red curries, Tom Kha soup (Tom Yum is ok), stir fries and Thai tea (the orange sweet milky concoction).
Well, that's about every Thai meal I love 🙁
chefjohnhowie.com has a list of Thai food dos and don'ts.
Meanwhile Hayden Rhodes, Phuket nutritionist and well-being consultant, says there are three things to take into account when consuming our beloved Thai food.
1) Most food is fried, many times in cheap nasty rancid vegetable oils. Avoid fried Thai food.
2) Thai food over the years has followed the SAD… standard American & Australian Diet (very SAD) which means consuming more sugar per head per year. Sugar makes you fat. Period. Ask for no sugar to be added to Thai dishes (yes- it's in everything!)
3) A lot of Thai food is full of chemicals 'fresh from the farm'; detoxification processes will be hampered – body fat will be stored. Ask your fancy hotel or beach club where their food comes from and 99% will likely be 'Macro'. Find out who uses organic ingredients and eat there. Yes – this will have a direct impact on your energy, mineral content in your body and your fat line… oops I meant waist line."
Add to the high calorific content of all our favorite Thai foods is the relatively inexpensive and plentiful alcohol and street food stalls every 50 metres along any road and you're heading for a fright when you step onto the scales. It's also a lot easier to jump on the motorbike in Thailand to travel short distances we might have happily walked back in our home country.
So next time you see a friend heading into McDonalds for a Big Mac, rather than fat-shaming them, they might actually be trying to lose weight! (We certainly don't recommend eating Bic Macs or 'fast food' too often though)
Health aficionados and doctors would always recommend a balanced food intake with fresh food at the top of the list along with regular exercise, at any age.
Good advice! So it's back to the swimming pool and gym, and choosing Tom Yum over Pad Thai.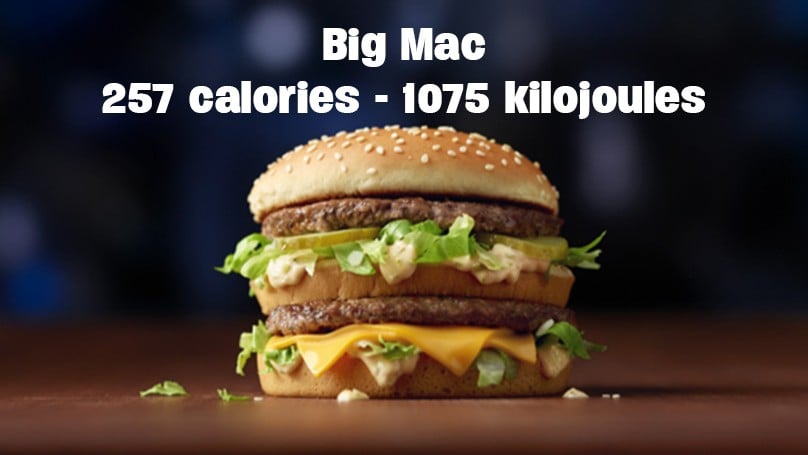 (per 100 grams of weight)
Keep in contact with The Thaiger by following our
Facebook page
.