Head-on collision kills five, injures three in Khon Kaen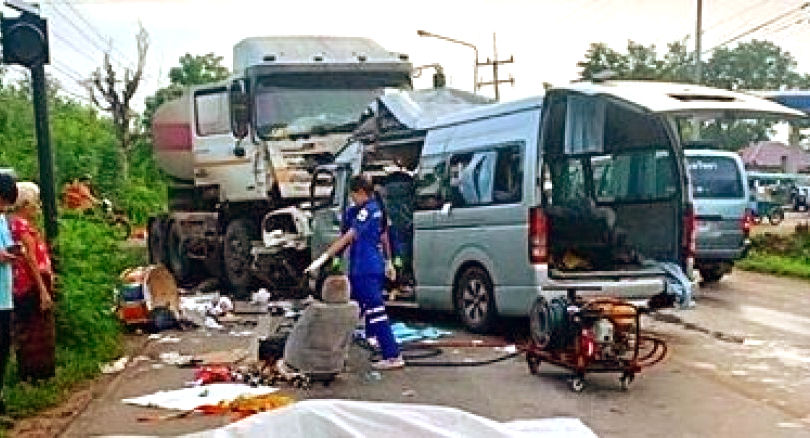 Five football fans, travelling to watch the Thai Port Football Club, have been killed when their rented van crashed head-on with a water tanker in Khon Kaen this morning.
Police said the incident occurred on the Chumphae Si Chomphu road in Moo 6 village in Tambon Wang Hin Lad. Three others people were injured in the collision.
Four men died at the scene and another died after being taken to Chumphae Hospital.
The truck driver, 41 year old Sayan Suwanchairob, says he was delivering water to a factory in Chaiyaphum when he saw the van travelling towards him on the wrong side of the road as it attempted to overtake another vehicle. The van smashed head-on into his truck.
37 year old Narongrit Wongmao, who was also critically injured, has been able to tell police that the group of Thai Port fans rented the van to travel to a match in Nong Bua Lamphu.
SOURCE: The Nation
Keep in contact with The Thaiger by following our
Facebook page
.
Thailand's health volunteers are 'unsung heroes' WHO rep says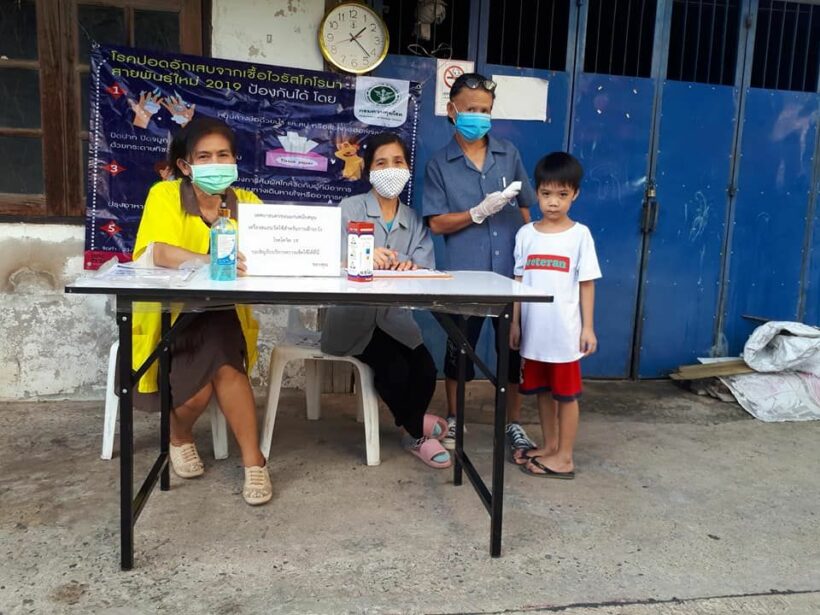 Thailand's village health volunteers have been deemed "unsung heroes" in the coronavirus pandemic by a World Health Organisation representative for Thailand.
"The volunteers have helped keep the number of cases low by educating villagers about the virus and prevention measures as well as collecting temperatures."
While Thailand had the first coronavirus case outside of China, the country has not been hit hard as others, with only 3,084 cases and 58 deaths (as of Thursday morning) since January. The Village Health Volunteers, which started in 1977 after the Cold War, has around 1 million people involved across the country, helping those in remote areas with little access to medical care.
Longtime volunteer 77 year old Surin Makradee told Reuters that she goes door-to-door in her village Saladaeng, Northeast Thailand, doing routine temperature checks. She also monitors those who have returned home and need to quarantine.
"I consider people in the village my family. If I don't educate them, they will not understand the risk of getting infected," Makradee told Reuters. "I have to educate those in quarantine to eat and live separately from their family members."
SOURCE: Reuters
Keep in contact with The Thaiger by following our
Facebook page
.
Woman found hanged in Nakhon Ratchasima, son found drowned nearby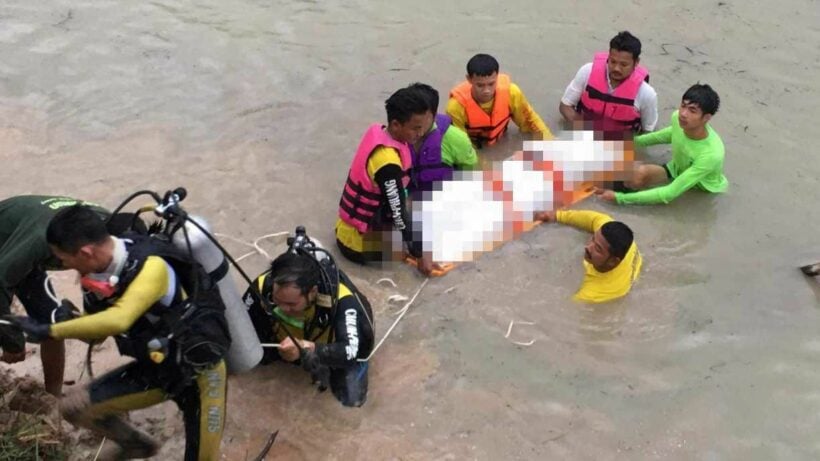 Police in the northeastern province of Nakhon Ratchasima report that a woman was found hanged in a workers' shelter and her 12 year old son drowned in a nearby pond at a sand depot yesterday. Workers arriving in the morning discovered the woman, hanged with electric wires from the beam of the shelter in tambon Chum Phuang, according to the district police chief.
After police and rescue workers arrived, the body was taken to Chum Phuang Hospital for an autopsy. The dead woman's parents went to the hospital to inspect the body, and confirmed it was their daughter, 33 year old Tukta Thongkasem.
They said Tukta's son, Surasak Thongkasem, who normally stayed by his mother's side, had also gone missing, prompting police and rescue workers to go to the sand depot for a search. They found a pair of yellow sandals near a pond about 2 metres deep. They scoured the pond and found the boy's body, which was also sent to the hospital for autopsy.
Prasan, the dead woman's father, said Tukta had married a Swedish man, and their son Surasak was a sixth-grader at a local school. The husband returned to Sweden 3 or 4 years ago and never returned. He occasionally contacted Tukta but never sent her any money, according to Prasan.
After her husband abandoned her and the boy, he said that Tukta had suffered from deep depression. Prasan said he and his wife went to work in nearby village about a month ago, leaving Tukta and her son at their home. They returned home yesterday to discover they were both dead.
It's believed Tukta had committed suicide, but Surasak's drowning is still a mystery. Police are investigating the causes of death of the mother and son.
If you or anyone you know is in emotional distress, please contact the Samaritans of Thailand 24-hour hotline: 02 713 6791 (English), 02 713 6793 (Thai) or the Thai Mental Health Hotline at 1323 (Thai).
SOURCE: Bangkok Post
Keep in contact with The Thaiger by following our
Facebook page
.
Phone hackers empty out woman's bank account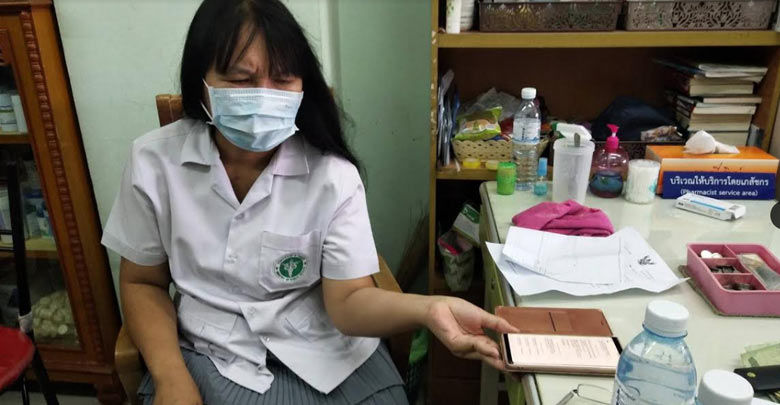 A pharmacist's phone was hacked. That was bad enough, but then 430,000 baht was taken from her bank account last Friday, only leaving behind 70 baht. It was the woman's life savings.
The 49 year old woman, 'Aree' from Nakhon Ratchasima in the Isan region, got a call from someone posing to be the phone's service provider, even stating Aree's ID card number to confirm her identity. They said they needed to give her a new phone number because her's was accidentally duplicated in the system. They told Aree she would get a text message with a number she needed to call.
After making the call, somehow the money in her account was transferred to an account under the name Suttiporn Yudee. Kasikorn Bank tried to freeze the hacker's account, but all the money had been withdrawn by the time they were notified of the incident.
A report was filed with the local police and the incident is now being investigated by the Technology Crime Suppression Division.
SOURCE: Thai Residents
Keep in contact with The Thaiger by following our
Facebook page
.