A week after Korat massacre, questions remain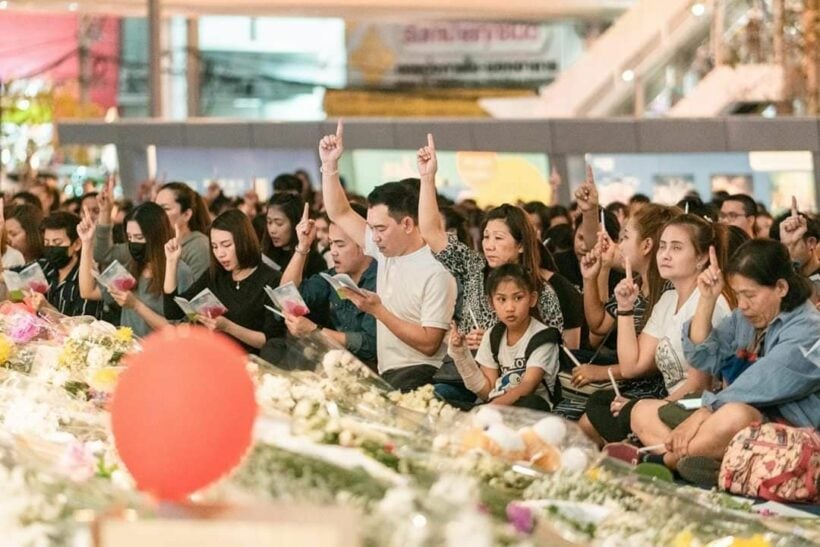 A week after a rogue soldier went on a shooting spree, killing 29 and injuring 58, no one seems willing to take responsibility for the Army's lack of security, which allowed the man to raid an armoury, steal weapons of war and kill and maim innocent civilians, Thailand Today reports.
The massacre has prompted many, from all walks of life, to call for army reform; for analysis to identify the causes of the horrifying incident and prevent it happening again; for the resignation of PM and Defence Minister Prayut Chan-o-cha and army chief Apirat Kongsompong; and for a truly transparent investigation (with neutral party participation).
A professor at Chulalongkorn University's Faculty of Political Science told Thai online media outlet The Standard that the army must take responsibility. If the army and the government don't handle the situation correctly, he warned, it could turn into a political hot-button issue driven by social media, which the defence minister, army chief, and others would find difficult to manage and might damage their careers.
"This tragedy requires the acceptance of responsibility, not just sending representatives to lay wreaths at funerals or presenting compensation money to the relatives of the victims."
"We're calling for the army to cleanse its forces of dirt. Society is today giving the defence minister and army chief an opportunity, so they should not shy away from taking responsibility. Even if society is silent and not making any demands right now, one day this issue will spill onto the streets."
In a press conference on Tuesday, reporters asked army chief Apirat whether he would resign to assume responsibility for the shooting. He replied that he wouldn't resign over an individual's wrongdoing.
"The shooter might have been an officer of the armed forces but what he did was certainly not an army mission, and he was driven by personal reasons. I have responsibility for the missions I command and have displayed responsibility in every position I've held and all the crises I've been through, from the beginning until now, when I am not far away from retirement."
"The moment that he fired at innocent people, he became a criminal, not a soldier anymore," Apirat told the press as he tearfully apologised. He admitted some army units were lax in guarding weapons and ammunition and this posed a risk that armouries could be robbed. He also says he has set about to clean up the businesses that operate from within the military infrastructure.
SOURCE: Thailand Today
Keep in contact with Thaiger by following our Facebook page.
Never miss out on future posts by following Thaiger.
5 killed, including 2 children, in north east Thailand bus disaster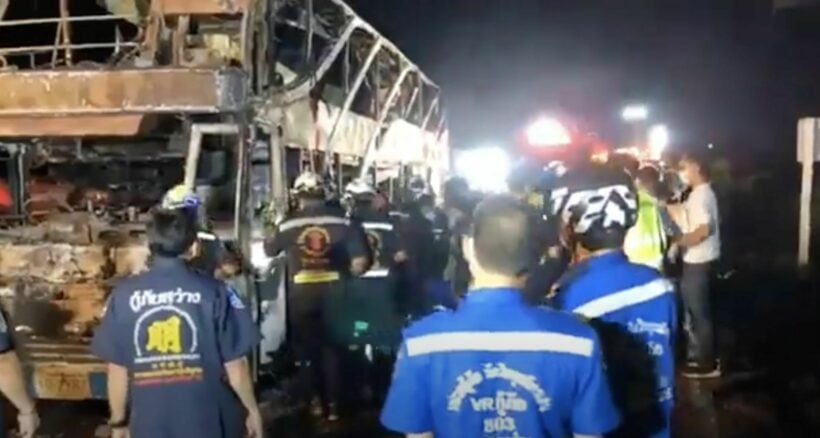 5 people are dead, including 2 children, and another 12 seriously injured after a double-decker interprovincial bus caught fire near Khon Kaen. It was heading to Bangkok. The bus erupted into flames just after midnight on the Mitrapap highway. There were 33 passengers on the bus. The bus driver was also injured.
The 407 Pattana Company bus left Bung Kan province on the Laos border, near Vientiane, last night, stopping in Udon Thani before making its way to Bangkok.
Witnesses say a rear tyre burst and then caught fire just after the bus had left Khon Kaen. The fire then spread to the engine compartment in the back of the bus. The bus soon became engulfed in flames, according to the Bangkok Post. Fire units got to the burning bus soon after but it took an hour to extinguish the flames.
12 people suffered serious burn injuries whilst 16 others were able to get out of the bus before it was engulfed in flames.
Police have spoken to the bus driver and will continue with their investigation.
SOURCE: Bangkok Post
Keep in contact with Thaiger by following our Facebook page.
Never miss out on future posts by following Thaiger.
Girl in a coma after being struck by skyrocket launched from temple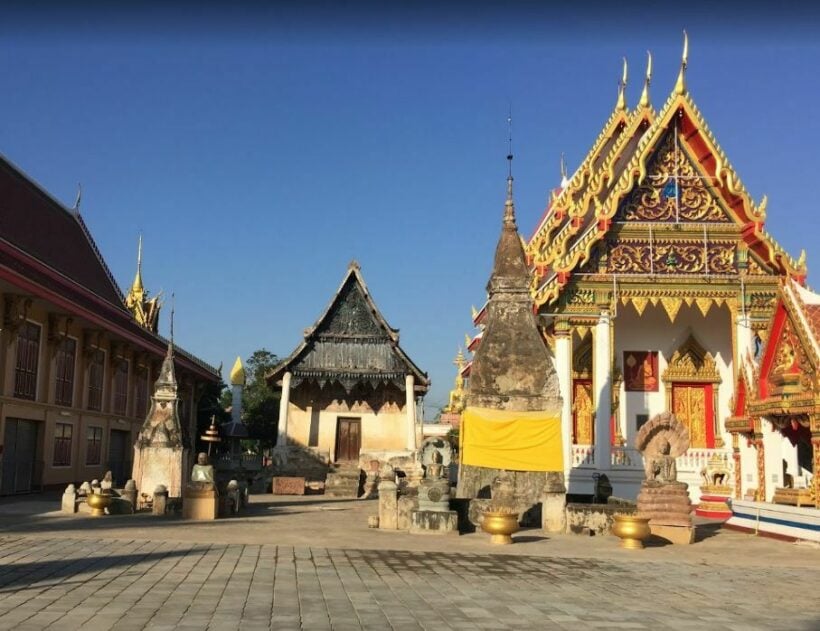 A 10 year old girl is in a coma and in critical condition after a piece of a wooden skyrocket struck the girl in the head. The firework was launched during a cremation ceremony at a temple in the Pak Thong Chai district of the Isaan province Nakhon Ratchasima. The girl was waiting to be picked up at the nearby Ardwitthaya School when part of the wooden firework hit her head.
Natcha "Nong Milk'' Sawasdee hit the ground, bleeding profusely. She was rushed to the local hospital and then transferred to the intensive care unit at Maharat Nakhon Ratchasima Hospital. The wood penetrated her skull about 10 centimetres deep, a recent scan shows.
Other students were hit by pieces of the exploded wooden skyrocket, but their injuries were minor.
The men who launched the skyrocket are facing charges for recklessness causing serious injury. They say they launched rockets at the cremation ceremony, but aimed toward rice paddy fields where there were no people. Due to the wind, pieces of the exploded rocket flew back into town, they say.
Wat Na Phrathat often lights fireworks during cremation ceremonies, residents say. But this time they used a different firework made from wood and PVC.
SOURCE: Bangkok Post
Keep in contact with Thaiger by following our Facebook page.
Never miss out on future posts by following Thaiger.
Senior official arrested in north-east Thailand on 2 million baht bribery charges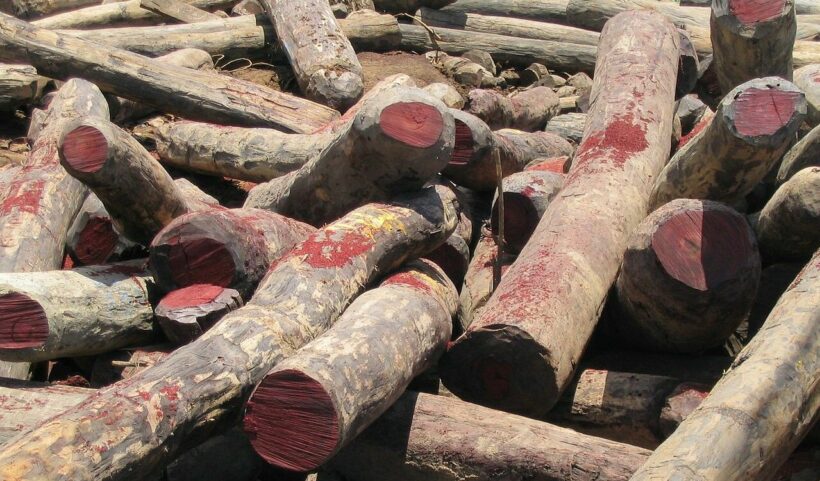 A senior Thai official in the north-eastern province of Mukdahan has been arrested, along with his assistant, on bribery charges. The provincial chief of the natural resources and environment office, Suradet Akkarach, and Ms Pan Saengviroon, are accused of receiving 2 million baht for facilitating the return of confiscated Siamese Rosewood timber to a merchant from Laos.
The timber, housed in 11 containers and valued at around 600 million baht, was impounded by the authorities in Mukdahan in 2006, on suspicion it had been illegally obtained. The case was heard in the provincial court, then the Appeals court, and then the Supreme court, which acquitted the defendants and ruled that the timber should be returned to its owner, EL Enterprise.
The arrests of 58 year old Suradet and Pan came about after a Laotian timber merchant filed a police report on February 24, accusing Suradet of offering to return the timber for a payment of 2 million baht.
The police subsequently set up a sting operation for when the merchant, named as Kamsavai Pommachan, arranged to meet Suradet and Pan to hand over the money. As soon as Pan took delivery of the cash, both suspects were arrested. According to a Thai PBS World report, Suradet insists he was not involved in the bribery, but Pan has confessed to the charges.
Panya Pinsuk from the Central Investigation Bureau, and Chivaparb Chivatham from the Royal Forestry Department, gave a press conference yesterday, in which they confirmed the arrests of both suspects and the seizure of 2 million baht in 1,000 baht notes, as well as 4 smartphones.
According to Chatupat Burupat from the Natural Resources and Environment Ministry, Suradet is an ex-employee of the Royal Forestry Department and would have known how to go about returning the confiscated timber.
Following the arrests, the Minister of Natural Resources and Environment, Varavut Silpa-archa, says he has ordered Suradet to be transferred to an inactive post while a committee investigates the case against him. The minister acknowledges that there is proof of bribery, but says an investigation is still required to ensure fairness. He says he expects the committee to report back within 15 days.
SOURCE: Thai PBS World
Keep in contact with Thaiger by following our Facebook page.
Never miss out on future posts by following Thaiger.