A week after Korat massacre, questions remain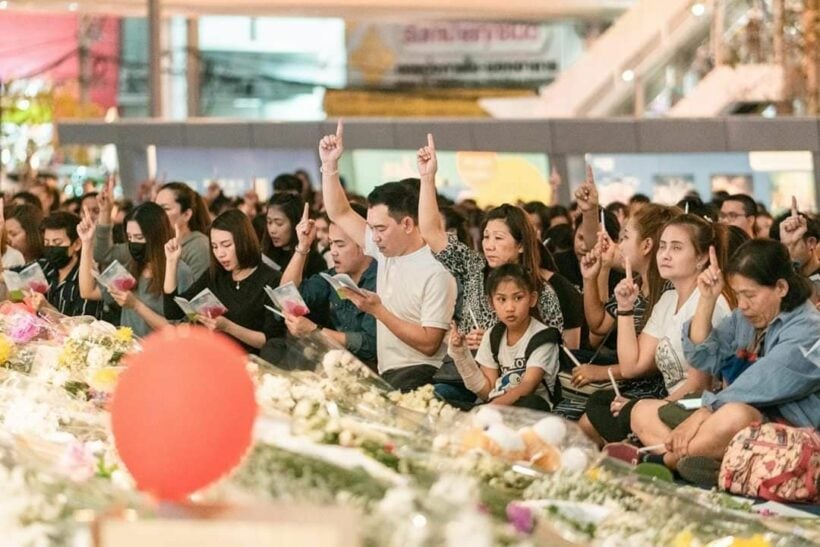 A week after a rogue soldier went on a shooting spree, killing 29 and injuring 58, no one seems willing to take responsibility for the Army's lack of security, which allowed the man to raid an armoury, steal weapons of war and kill and maim innocent civilians, Thailand Today reports.
The massacre has prompted many, from all walks of life, to call for army reform; for analysis to identify the causes of the horrifying incident and prevent it happening again; for the resignation of PM and Defence Minister Prayut Chan-o-cha and army chief Apirat Kongsompong; and for a truly transparent investigation (with neutral party participation).
A professor at Chulalongkorn University's Faculty of Political Science told Thai online media outlet The Standard that the army must take responsibility. If the army and the government don't handle the situation correctly, he warned, it could turn into a political hot-button issue driven by social media, which the defence minister, army chief, and others would find difficult to manage and might damage their careers.
"This tragedy requires the acceptance of responsibility, not just sending representatives to lay wreaths at funerals or presenting compensation money to the relatives of the victims."
"We're calling for the army to cleanse its forces of dirt. Society is today giving the defence minister and army chief an opportunity, so they should not shy away from taking responsibility. Even if society is silent and not making any demands right now, one day this issue will spill onto the streets."
In a press conference on Tuesday, reporters asked army chief Apirat whether he would resign to assume responsibility for the shooting. He replied that he wouldn't resign over an individual's wrongdoing.
"The shooter might have been an officer of the armed forces but what he did was certainly not an army mission, and he was driven by personal reasons. I have responsibility for the missions I command and have displayed responsibility in every position I've held and all the crises I've been through, from the beginning until now, when I am not far away from retirement."
"The moment that he fired at innocent people, he became a criminal, not a soldier anymore," Apirat told the press as he tearfully apologised. He admitted some army units were lax in guarding weapons and ammunition and this posed a risk that armouries could be robbed. He also says he has set about to clean up the businesses that operate from within the military infrastructure.
SOURCE: Thailand Today
Keep in contact with The Thaiger by following our
Facebook page
.
Coronavirus rumour prompts prison riot, some prisoners escape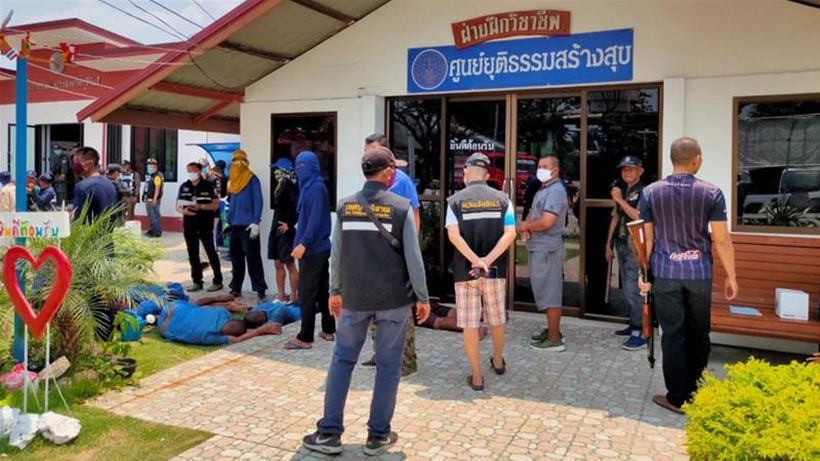 Rumours of a Covid-19 coronavirus outbreak in a prison in the lower northeastern province of Buri Ram sparked a riot. The riot erupted at the central prison after about 100 determined prisoners broke furniture and smashed windows and set a fire over rumours of a Covid-19 outbreak in the prison yesterday.
A number of prisoners escaped but 7 have been recaptured, according to Justice Minister Somsak Thepsutin. Somsak says the protest began at about 11.45am in the dining area while wardens were refurbishing an isolation cell for inmates infected with communicable diseases. The exact number of prisoners who escaped is not yet known.
Around 100 prisoners, some facing life sentences, set fire to the dining hall and destroyed the visiting room for relatives. Thick black smoke could be seen billowing from the prison into the sky.
"The fact is that none of the prisoners in Buri Ram were infected. They only started this rumour to find some supporters."
Police say mental health workers were called in to assuage prisoners "after some rumours were spread" about a coronavirus outbreak.
"The situation is under control."
SOURCE: Al Jazeera | Bangkok Post
Keep in contact with The Thaiger by following our
Facebook page
.
Gambling wife arrested after husband calls police in Nakhon Ratchasima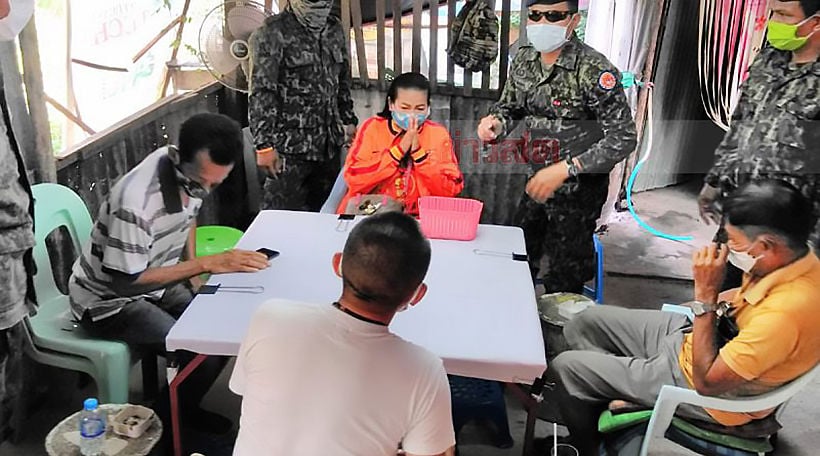 Thailand's recently declared state of emergency has meant the temporary closure of many businesses, leaving a lot of people with a lot of time on their hands. One woman in the northeastern Nakhon Ratchasima province grew bored and decided to invite some friends around for a bit of light home gambling playing cards. But her husband was afraid she might end up infected with the Covid-19 coronavirus, so he called the police (gambling is illegal in Thailand, officially.)
Police arrested 4 suspects, 3 men and and the wife playing the card game "rummy." The suspects have been sent to the Nakhon Ratchasima Court for prosecution. The province's deputy governor says officials received a complaint from a male citizen, later revealed to be the husband of the female suspect. The province has ordered 22 businesses to temporarily shut down in order to minimise the spread of Covid-19. This caused the husband and wife to have perhaps a bit too much free time.
It was not the wife's first infraction. She had been regularly spending her free time gambling in a village located behind the province's Saint Mary's Hospital. The husband, fearing the worst, decided strict action was required. He called police and gave the exact location of where the card games were taking place. The suspects were arrested with cards and 4,000baht in cash was confiscated. Thankfully, none of the suspects had a fever or showed virus symptoms.
We fear another headline in coming days… something along the lines of "wife beating up husband in north eastern Thailand".
SOURCE: Thai Residents
Keep in contact with The Thaiger by following our
Facebook page
.
Northern Thailand's air pollution reaches hazardous levels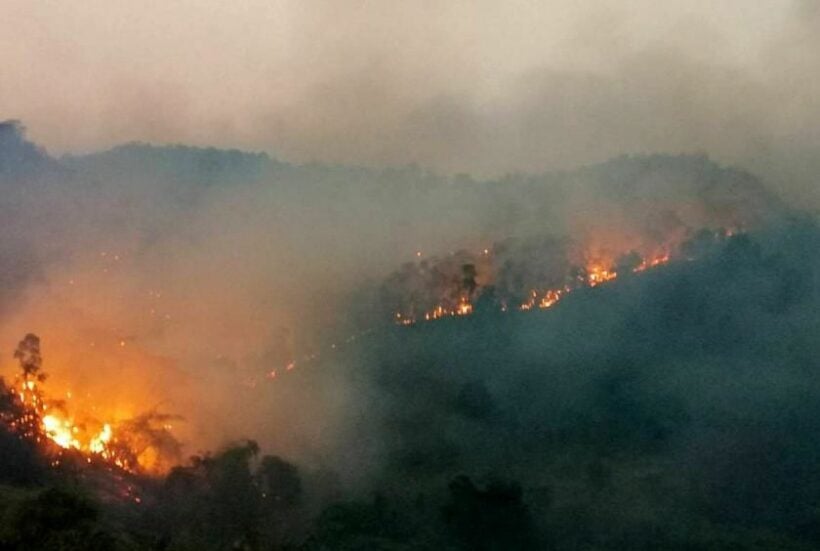 Air quality in the north of Thailand is actually 'hazardous' today, as bushfires in Chiang Mai's Doi Suthep-Pui National Park have caused air quality to become nearly 20 times higher than Thailand's already lax "safe" limit of '50'. PM2.5, (dust particulate matter with diameter of 2.5 microns or lower), rose to 925 micrograms per cubic metre in some locations yesterday. It has dropped this morning but still remains 'hazardous' in many locations around the region.

Due to the Covid-19 coronavirusoutbreak, all national parks, wildlife sanctuaries and other protected areas in Thailand are closed until further notice. Some tourist destinations such as the Similan Islands and Surin Islands are within national parks and are also closed.
The bushfires in the parks and crop burning, in plantations and farms in the region and in neighbouring countries, has pushed air pollution readings in Chiang Mai and other provinces in the region up to nearly 1,000 micrograms for short periods, specifically near the areas of the fires.
Not helping the situation is a week of temperatures around 40C every day (with more on the way), and no rain (the temperatures are from stations in the city area, not in the mountains surrounding the main town). The fire at the national park near Chiang Mai also poses dangers to residents as it has raged near communities in and many landmarks, such as temples.
Hundreds of officials and soldiers have been called in to fight blazes over the past week. Helicopters have dropped water to control one fire that's been raging since Wednesday evening around the Doi Suthep area, north west of Chiang Mai city, in the Doi Suthep Pui National Park.
"They've spent more than 14 hours a day trying to being the blaze under control."
Local officials say the massive fire has now been "brought under control," but the air pollution persists with more smog from plantation fires burning in the area and to the north in neighbouring Myanmar.
PM Prayut Chan-o-cha has expressed concern over massive damage caused by the fire, primarily for the health of the elderly and children. He's asked them to avoid going outside because of the smoke and poor air quality.
Chiang Mai isn't the only northern province plagued with air quality issues. The PM2.5 dust index also revealed severely unhealthy levels of air quality in Chiang Rai, Mae Hong Son and Nan provinces.
The government says it's working with Myanmar officials to address the issue.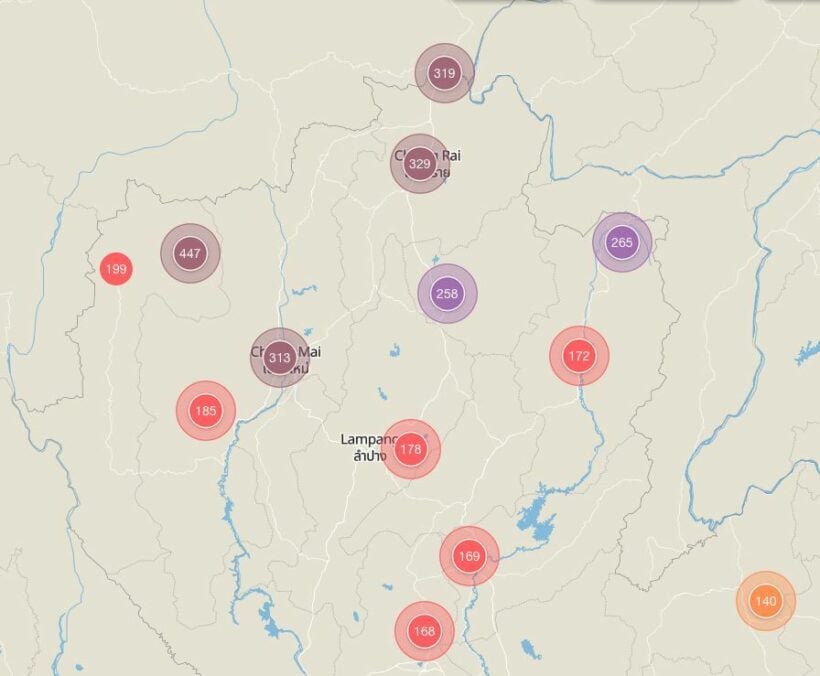 Airvisual.com (Sunday morning 9am – Thai Time)
SOURCE: Chiang Rai Times
Keep in contact with The Thaiger by following our
Facebook page
.