Embattled tourism sector to get lifeline from the government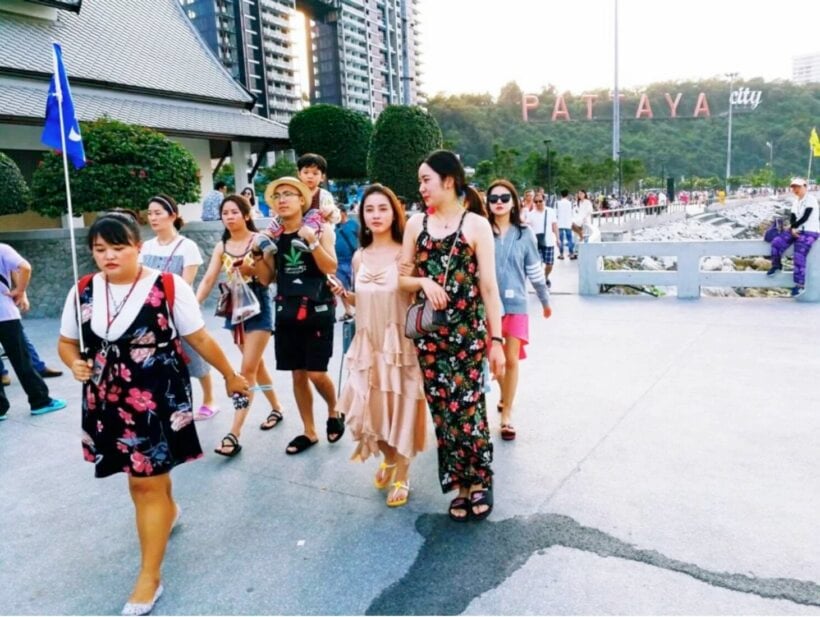 Thailand's government is prepared to throw a lifeline to tourism operators ravaged by the COVID-19 coronavirus outbreak, in the form of soft loans, tax incentives and training in return for income. Relief measures are urgently needed to protect tourism operators, according to Deputy Prime Minister Somkid Jatusripitak. State agencies have been tasked with proposing measures to the cabinet, which he says should be rolled out by March.
The impact of the deadly virus on tourism has been devastating and the government is concerned because the sector comprises a significant portion of the economy, Somkid said after chairing a meeting with Finance Ministry officials to brainstorm solutions.
"Measures would include covering costs and boosting income. Both monetary and fiscal measures will then be needed to alleviate the impact over the next 3-4 months."
"Tax measures should be established to help business owners take care of employees."
The ministries of Labour, Tourism and Sports, and Social Development and Human Security, will hold joint training courses related to sustainable tourism development for freelancers affected by the epidemic.
"We must offer tourism operators training courses to earn some income. They can take short courses to gain knowledge and generate income."
Somkid says the Finance and Tourism and Sports ministries must design projects to boost domestic tourism. Those who sponsor domestic travel for their parents will be allowed deduct such expenses from personal income tax, he says, while the Finance Ministry and the Bank of Thailand have been assigned to jointly come up with relief measures for struggling tourism operators.
Finance Minister Uttama Savanayana said the ministry will offer soft loans and seek ways to alleviate the burden of regular expenses like credit card loans and utilities for tourism-related operators.
The ministry will issue tax measures to enable tourism operators to keep hiring staff, while it will stimulate domestic travel through the Chim-Shop-Chai (Eat-Shop-Spend) scheme.
In another development, Bank for Agriculture and Agricultural Cooperatives (BAAC) executive vice-president Somkiat Kimawaha said the bank stands ready to inject 34.4 billion baht in cash for recapitalisation of local village funds if the government's policy is cleared.
Somkid earlier ordered the BAAC and Government Savings Bank (GSB) to pump 1 million baht each into 77,000 village funds to enable communities to invest in infrastructure. Of that total, 42,600 are under the responsibility of GSB and the rest under the state-backed Farm Bank.
SOURCE: Bangkok Post
Keep in contact with The Thaiger by following our
Facebook page
.
Pattaya all but deserted due to virus, travel restrictions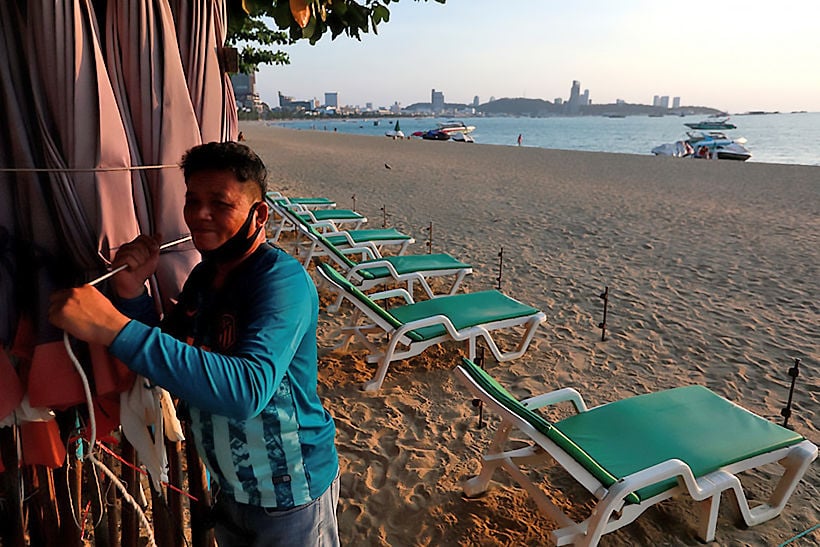 For years, Pattaya has struggled to shed its seedy image as a haven of sex tourism, which started in the 1970s when it became a rest and relaxation spot for US soldiers during the Vietnam War. It's continued to develop into a much more diverse city with world standard attractions offsetting the seedier bars and walking streets.
Now it faces a much bigger threat.
Pattaya's beaches are deserted, go-go bars sit empty and cabarets have shut their doors as business has ground to a standstill after worldwide travel restrictions due to the Covid-19 coronavirus pandemic.
As one of the world's most famous, perhaps infamous, tourist hotspots, the economic devastation is almost total. Business owners say haven't seen anything like it for four decades. One cabaret owner said…
"Our organisation has halted business 100%. Pattaya is a tourist city, we rely mostly on them. The whole city is affected by the virus."
In normal times, his theatre, featuring high-kicking dancing girls with elaborate feather headdresses and sequined dresses, sees more than a thousand tourists daily. Now there are literaly none. While the cabaret isn't planning on laying off its staff for now, the future seems grim. Thailand overall depends on tourism for around 12% of its GDP (some reports claim up to 17%), but in Pattaya, nearly the entire economy runs on visitors, either semi-permanent or on holiday.
Pattaya saw over 15 million visitors in 2018, according to a 2019 government report, already a 20% drop from the previous year.
"I would say that this is the worst that has ever hit Pattaya. And during the past two to three weeks, so many businesses have already folded, have already gone bankrupt, closed down due to the coronavirus."
SOURCE: Reuters
Keep in contact with The Thaiger by following our
Facebook page
.
Hundreds of Thai hotels seek aid to protect employees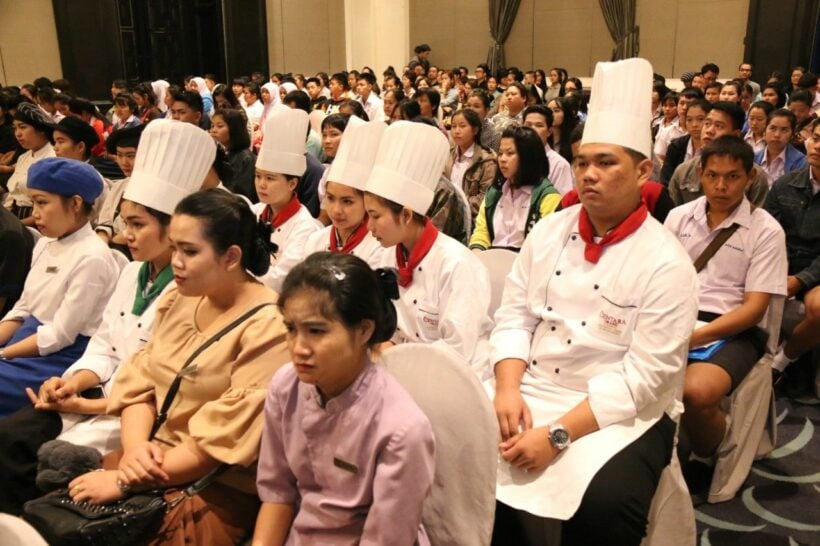 Will the Thai Social Security Office compensate hundreds of hotels pursuing emergency assistance? Hotels are doing it hard as tourism has come to a virtual halt inside Thailand and hotels are either closing or scaling back their operations substantially.
Yesterday, The Thai Hotel Associations sent a letter to the Thai Chamber of Commerce notifying them that hundreds of hotels are seeking emergency assistance from the government, to protect employees during the temporary closure of Thai hotels due to the spread of the Covid-19 virus.
However, according to 'Section 75′ of the Labour Protection Act, hotels operators must cover 75% of employees' salaries when shutting down their businesses. But at times like this, when occupation rates have tanked, most hotel operators are running out of cash and can't make those payments to employees. Hence the THA is requesting for more measures to support employees and hotel operators
Chairman of the chamber Kalin Sarasin, says…
"The THA asked the government to open a registry for hotels that have to temporarily stop operations because of the 'force Majeure' under Section 79-1 of the Social Security Act. If the government authorises this measure, the office can pay 50% of salaries to employees for 180 days."
"This is an urgent issue for the chamber. We'll submit the request to the centre for the resolution of emergencies, aiming to settle it soon, because as up to a hundred hotels have suspended their businesses."
"Operators in some provinces will not have this problem, as there is a clear official order to close hotels in the area, meaning employees automatically have protection under Section 79-1."
Tourism and Sports Minister Phiphat Ratchakitprakarn says that, "he asked the THA to submit the letter to both the Tourism and Sports and Labour Ministries directly on Monday for further discussion."
Hundreds of hotels around Thailand have already closed their doors.
SOURCE: Bangkok Post
Keep in contact with The Thaiger by following our
Facebook page
.
Thailand closes many of its land borders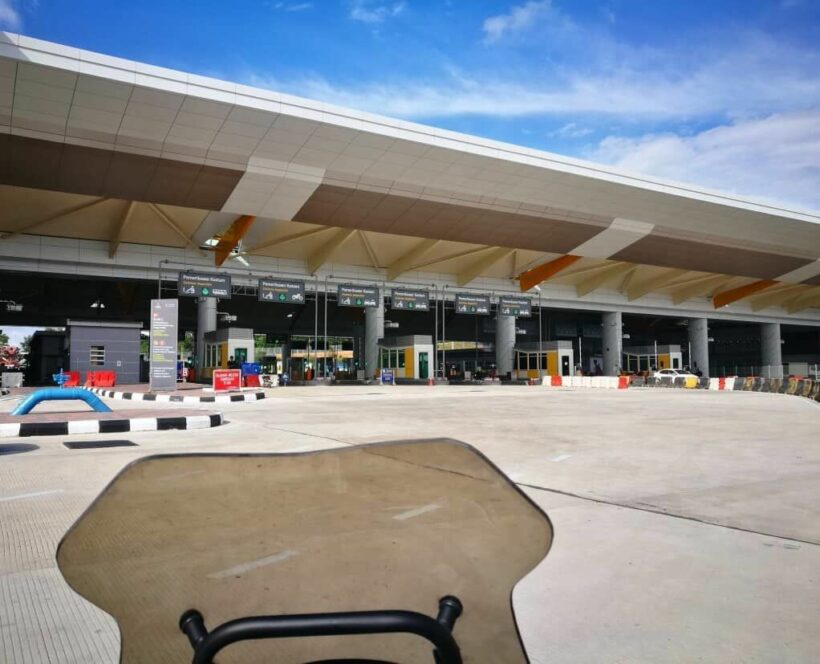 Interior Ministry, Anupong Paojinda, has given governors full authority to close all border provinces, but must leave one international checkpoint active for special circumstances. The move is the latest in Thailand's attempts to block any arrivals to contain the Covid-19 outbreak, which has spiked sharply with new cases this past week.
"The only exception will be Chiang Rai as it borders with Myanmar and Laos and will be allowed to maintain one checkpoint for each country for general trade purposes."
Key checkpoints to be temporary closed…
1. Thai-Mayanmar Friendship Bridge in Tak
Tak governor Anrasit Samphanrat, placed the order on Friday 20th that the closure of the first Thai-Myanmar Friendship Bridge as of today which will be closed until further notice.
The second Thai-Myanmar Friendship Bridge across the Moei River in Mae Sot district, which opened last October, will be the province's only checkpoint open to travellers.
2. The Phu Nam Ron and Three Pagodas passes linking Kanchanaburi and Myanmar will be shut from today to April 3.
Kanchanaburi governor Jirakiat Phumsawad, ordered the temporary closure of the Phu Nam Ron (the main crossing on the route to Dawei in Myanmar) permanent checkpoint in Muang district and the Three Pagodas crossing in Sangkhla Buri is the main pass connecting Sangkhla Buri and Payathonsu in Myanmar.
3. The Ban Khao Din in Sa Kaeo, which will be closed from Monday to April 5.
Sa Kaeo governor Woraphan Suwannus, has ordered three closures of Ban Nong Preu temporary checkpoint in Aranyaprathet district, Ban Ta Phraya temporary checkpoint in Ta Phraya district, and the Ban Khao Din permanent checkpoint in Khlong Hat district from Monday 23 to April 5.
Only the Aranyaprathet checkpoint will remain open to connect the country with Cambodia.
According to the Thai News Agency of the Public Relations Department, Mukdahan yesterday halted ferry service across the Mekong River to Savannakhet province in Laos until April 20.
Checkpoints with Malaysia were already closed for all intents and purposes after the Malaysian government locked down the country for two weeks from last Monday. Malaysia has reported 900 Covid-19 cases, the most in Southeast Asia. Read more HERE.
Keep in contact with The Thaiger by following our
Facebook page
.