News Desk
Malaysian man takes 11 year old Thai girl as third wife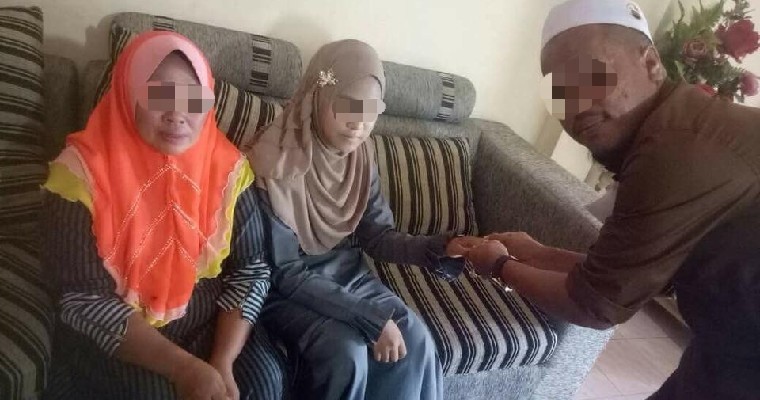 The Star Online is reporting that a 41 year old Malaysian father of six has is poised to marry an 11 year old Thai girl, more than 30 years younger than him, as his third wife.
He went to Golok, a town on the border of Malaysia and southern Thailand, two weeks ago during Hari Raya to have the marriage solemnised with the 11 year old Thai girl.
The man, who already has two wives, is said to be a self-proclaimed imam at his village in Gua Musang, Kelantan. His children are aged between five and 18.
The young bride, who has never been to school, is a friend of one of the man's children. She is said to have given her "consent" to the marriage after the man voiced his intention to her parents about marrying her.
The girl's parents live in Gua Musang and are rubber tappers. According to the story in The Star Online, the father is an employee of the man.
The 11 year old child bride has declared that she is in love. She claimed to be in love with the man whom she calls "abe" since she was nine years old. She does not mind being his third wife.
The parents agreed to the marriage but imposed a "condition" that their daughter would only be allowed to live with the "husband" when she turns 16.
The case became a hot topic when the 34 year old second wife of the man posted photographs of him and the girl and their alleged solemnisation ceremony. She captioned the picture: "Selamat pengantin baru suamiku. Suami 41, maduku 11 (Congraญtulations on your wedding, my husband, 41, his other wife, 11)."
The article says she resorted to social media after her husband blocked all communication with both his wives. She deleted the post after it went viral and said in another post that she had referred the matter to the courts, the ustaz and the Welfare Department. She also said that a wedding was not a joke.
The man had earlier denied everything when his second wife showed him the photographs, saying that the images were doctored. He only admitted after she pressed him further.
"I never expected this to actually happen. If he marries a woman and not a child, I can accept it. I even tried to match-make him with another woman but he declined. "What angers me is he married my child's friend," she said, adding that she wanted a divorce as she could not stand her husband anymore.
She claimed that her husband had told them that if they could not accept the third wife, the best solution was to split up.
Read the rest of this story HERE.