Wife missing after pickup is swept into a Ranong canal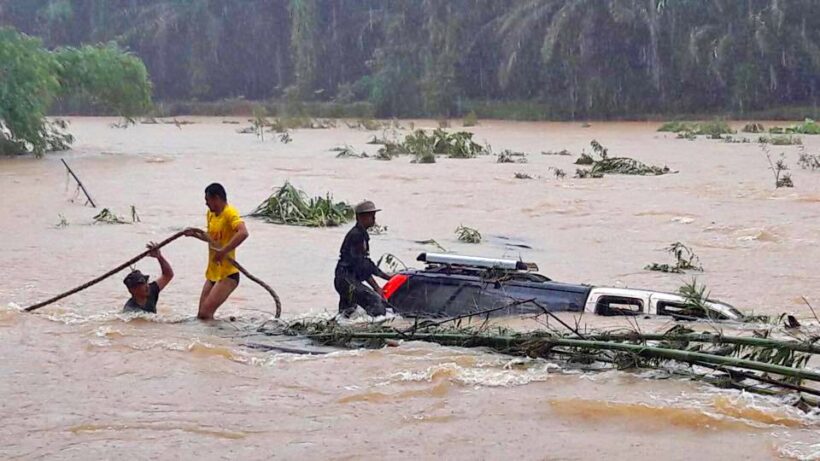 By Kanita Seetong
Storms, high winds and flash flooding have wreaked havoc across the Andaman region over recent days.
Flash floods have swept a pickup into a canal in Ranong's Suk Samran district last night (Saturday), with one of the victims missing and feared dead.
Ranong's disaster prevention and mitigation chief Kittipon Wuttipongpat said the accident happened near the Wang Phak Bung Bridge during a tropical storm.
"A couple were inside the pickup when it was swept off into the water and sank. The male survived but his wife has gone missing," Kittipon said.
Rescuers searched for her throughout the night, but could not find her or locate her body.
Sutas Kaewpradit, the village head of Moo 5 area where the accident occurred, said the missing victim was 39 year old Nokkaew Namsantiah.
"Her husband, Samart Namsantiah, was the driver at that time. He managed to get out of the vehicle after its plunge into the water," Sutas said.
The village head said it was unclear whether Nokkaew could manage to escape in time too.
"But after a long search, we located the pickup floating in the water at 7am Sunday," he said.
"We managed to bring it up by 11am but could not find anyone inside".
Trang Governor Siripat Patkul meanwhile warned locals to brace for natural disasters related to heavy downpours and rough sea over the next few days.
"With a tropical storm hovering over the western South of Thailand, there are risks of heavy rain, flash floods, landslides and mudslides," he said.
Siripat added that fishermen should be cautious about going to sea as the waves could be a few metres high.
He also advised relevant authorities to nudge tourists and locals to be very careful about venturing into the sea. Relevant agencies in Trang are now preparing rescue and relief operations.
STORY: The Nation


Read more headlines, reports & breaking news in Thailand. Or catch up on your Thailand news.
Whale shark sighted off Koh Racha – VIDEO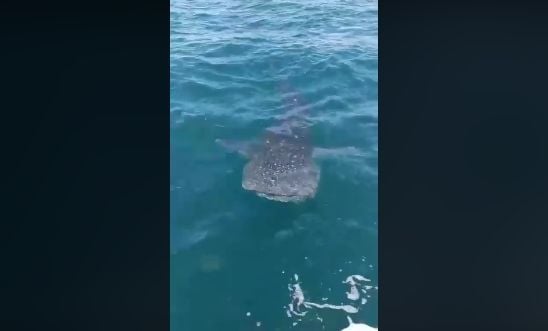 VIDEO/PHOTO:  บังดำ นายสุวัฒน์ บาเร็ม/Saranyu Hassanai
A whale shark was sighted off Koh Racha, south of Phuket, yesterday.
A Facebook user 'Saranyu Hassanai' has posted the video clip with a message saying "A whale shark has showed up near the boat while we were travelling near Koh Racha."
"Tourists on the boat were very happy to see the whale shark."
ฉลามวาฬขึ้นมาอวดโฉมนักท่องเที่ยวตื่นเต้นที่มีโอกาสได้เห็น วันนี้เจอฉลามวาฬโพล่เหนือน้ำขึ้นมาให้ชม และฉลามวาฬวิ่งตามเรือเข้ามาไกล้ๆ วันนี้ประมาณ 11.00 น เรือโชคณรงณ์ กับคันเรือ นายสุวัฒน์ บาเร็ม กับตันเรือ ได้พานักท่องเทิ่ยวไปเกาะราชา ระหว่างทางตอนวิ่งเรือได้พบเจิอฉลามวาฬระหว่างเกาะเฮและเกาะราชา ขึ้นมาให้นักท่องเที่ยวดูเป็นขวัญตา ทำให้นักท่องเที่ยวดีใจมากๆ และปลาวาฬตัวนี้คุ้นกับเรือกับคนเหมือนว่าไว้มาที่ท้ายเรือ ในรอบปีนี้ได้เห็นฉลามว่าอีกครั้งเมื่อก่อนหน้านี้ได้เห็นมาแล้วเมื่อต้นปี ธรรมชาติทะเลบ้านเรายังสมบูรณ์ อยากให้ทุกๆคน ไม่ว่านักท่องเที่ยวหรือผู้ประกอบการณ์ คนขับแรือและทุกคนช่วยกันรักษาทรัพย์ยากรและช่วยกันอนุรักษ์ให้คงอยู่คู่กับทรัพยากรณ์บ้านเราตลอดไป….ขอบคุณวิดีโอจาก บังดำ นายสุวัฒน์ บาเร็ม By Saranyou. Hassanai

Posted by สรันยู หัสนัย on Monday, May 20, 2019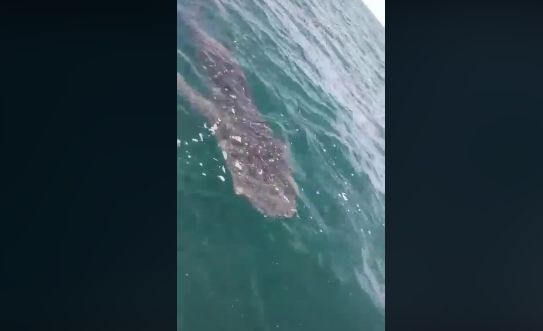 Thousands of young coral being moved to deeper water at Maya Bay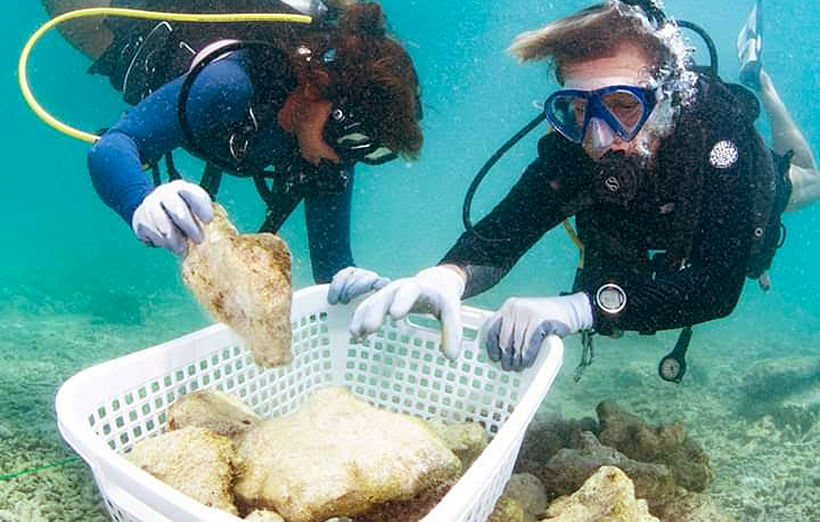 PHOTO: Thai PBS
Coral bleaching and the annual monsoon are the only threat to the ongoing recuperation of Maya Bay, now that tourists have been away for a year, and probably another two years as well.
Maya Bay, on Koh Phi Phi Ley in Krabi province, has been closed since June 1 last year after the environmental destruction of the pristine beaches ecology became obvious, even to the national park chiefs who were under a lot of pressure from tourism operators to keep it open.
Now, park officials are busily relocating about 23,000 young corals from the shallows into deeper water to prevent them being damaged by strong waves during the monsoon season which runs from May to the end of November each year.
Worapote Lomlim, chief of Haad Nopparat Thara Phi-Phi Islands national park, told Thai PBS that the ecological system and environment of Maya Bay have improved satisfactorily after the bay was closed to all unauthorised visitors and tourists almost 12 months ago.
He noted that coral bleaching has not been as serious as last year, the corals have regenerated and black-tipped coral sharks have returned to the bay. But he noted that the young corals may sustain damage from powerful waves if they are not relocated into deeper waters during the current monsoon season in the Andaman Sea.
Maya Bay will remain closed for at least the next two years for the protection of its environment and ecological system. A new system of limited tourism, protective walkways and boat mooring facilities is being prepared whilst the bay is closed in preparation for an eventual re-opening to tourism.
SOURCE: Thai PBS
Police searching for building owner after two die in Bangkok shophouse fire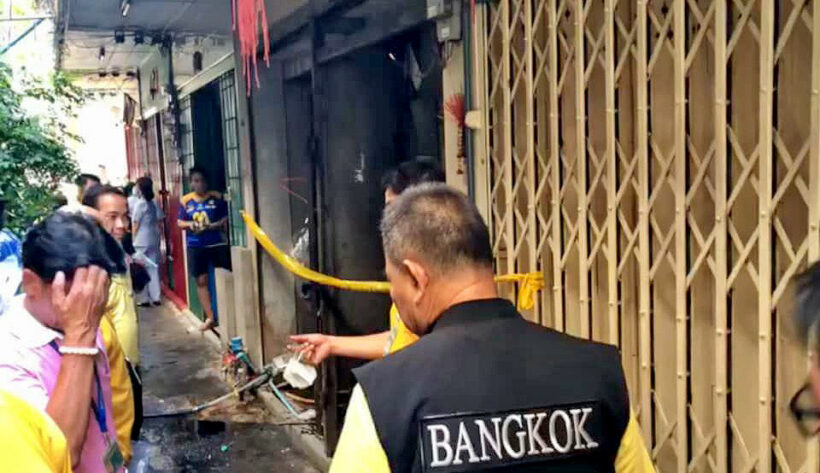 PHOTO: The Nation
A 67 year old woman and a 60 year old man have been killed after a fire engulfed a five-storey shophouse modified to provide rented rooms in Bangkok's Phra Nakhon district early today.
The Samrarnraj police station was alerted at 1.15am of the fire at the shophouse near Chao Phor Sua shrine on Boon Siri road. Five fire engines were dispatched to the scene.
Fire fighters took about 40 minutes to put out the blaze, which started in a second-floor room and spread to the fourth floor. People living in other rooms fled outside with everything they could grab as fire fighters fought the blaze.
After the fire was put out, they found the charred body of 67 year old Rat Noonsup on her bed on the fourth floor. She had been confined to her bed with chronic illnesses. Her nephew, Suksan Seangchan, told police he was sitting and talking to friends on the ground floor outside the building when he heard an explosion. He said he looked up to see fire had broken out and then tried to put it out with neighbours.
He said he then remembered his aunt was in the building so he tried to run up the stairs, but an iron beam fell on him and a fire fighter dragged him out.
Police will investigate the cause of the fire and will summon the 64 year old owner of the modified building for questioning.
At 9am, fire fighters and police checked the scene again and discovered another body, identified as that of a carpenter known only as Tum, who was about 60 years old.
Police say the shophouse was modified to provide 10 rented rooms at a rate of 100 baht a day for vendors in the area. Police are looking for a man, identified as Tong, who was seen drunk and shouting threats that he would set fire to the building.
SOURCE: The Nation