Tourism
Top 10 islands to visit in Thailand (Part Two)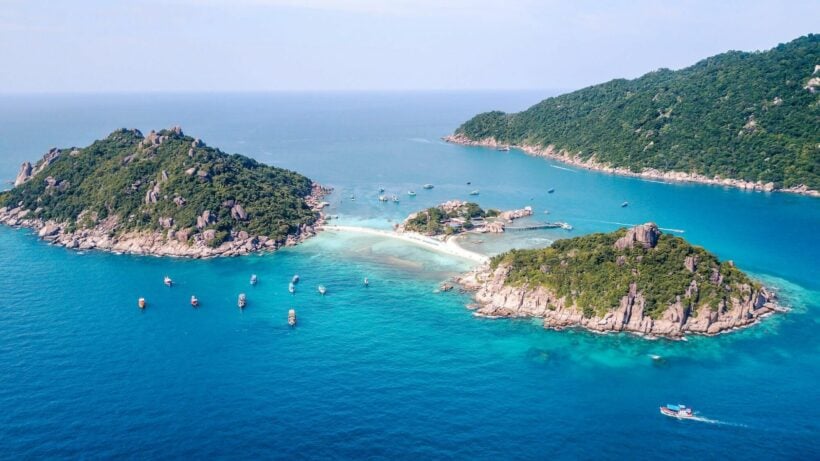 And now the Top 5…
Those who are seeking a peaceful and relaxing holiday experience will be left amazed by what Surin islands have to offer. Famously known as a destination that promises peace and tranquility, Surin islands are relatively secluded and have little to no human interference, leaving it unspoiled. Most tourists who visit the Surin islands often do so to learn more about the Moken community or simply known as the Moken sea gypsies. It is not surprising to find that the Moken Village is a top destination to be considered when visiting the Surin islands. One can experience the most natural way of survival, such as learning a thing or two from the sea gypsies in primitive living and fishing.
Surin islands are open for visitors from October 15th to May 15th, but the high season is between December and April, where the conditions are the best for diving and snorkeling with calm and stable waters. An abundance of marine life when diving and snorkeling here around Surin islands with angelfish, butterflyfish, and sea turtles commonly sighted when carrying out the sports. Whale sharks around Koh Surin Nuea will amaze those curious tourists. Snorkeling is a favorite sport on Koh Surin Nuea and Koh Surin Tai, where the best coral reefs are while diving around Richelieu Rock often comes with the sightings of the manta rays, sea turtles and whale sharks.

An expedition to Similan islands is usually on the list of most diving and snorkeling lovers, where it is a paradise on earth for both nature and sea lovers alike. The waters that surround Similan islands are shallow and stable, making it an ideal environment for beginners to practice their skill in diving. Koh Bangu, Koh Bon and Koh Tachai are the islands that often come to mind when finding an island to practice diving while Koh Ha and Koh Payu are frequently explored by those who are into the sport of snorkeling. The beauty of snorkeling here on the Similan islands is that one does not need to go too deep in order to have a magnificent view underwater.
Tourists can visit the Similan islands from November to May 15. Still, it is worth mentioning that December to February is where many visitors visit due to the high season for island hopping. Nevertheless, one should visit between November and May to enjoy the best weather condition. Pictures are a must when exploring Donald Duck and Sail Rock while diving and snorkeling are sure to please the avid explorers.
The shallow waters of both Honeymoon Bay and Princess Bay make for great snorkeling where the underwater scenery is beautiful beyond imagination. Diving around Christmas Rock and Turtle Rock with majestic arches and canyons, not to mention the vibrant marine life that one can experience on Koh Ha. A unique experience when exploring Koh Payu often comes with the sightings of the colorful manta rays, while one will be surprised by the mountain land crabs when visiting the secluded Koh Bon.

Racha islands, a perfect destination for those seeking a peaceful escapade from their busy lifestyle. Racha Noi and Racha Yai are what make up the famous Racha islands, where each offers its charm and beauty. Those who are into a great holiday experience need to give Racha islands a try as one can only be left amazed by the soft and powdery white sand, beautiful bays, and the mystifying wrecks. Racha Noi is wild and rugged, suitable for the more adventurous ones especially those who are seeking a pleasurable diving experience.
The beautiful and colourful marine life underwater makes for an exciting fishing experience too. Racha Yai, on the other hand, is more known for its pretty and stunning sandy bays, including Ao Patok, Siam Bay, Thu Bay, Ao Lan, and Ao Khon Khae which deserve a space on your Instagram.
Perfect as a day trip for those holidaying in Phuket, travellers visit Racha islands from November to May as the water is said to be most stable and calm, and visibility is the highest. These serve as great news for the avid divers and snorkelers as they are then able to explore the beauty of the underwater world around the Racha islands. The healthy coral reefs are a part of the great diving and snorkeling experience, while those who simply want to relax on the beach can do so on the soft white sand, which is a sight to behold. Diving is made more exciting for those seeking a more active experience with the five known wrecks, not to mention the fantastic reef-building cubes and possibly the best staghorn reefs in the area. Giant manta rays often come and greet divers as one enjoys the incredible underwater topography.

It is an undeniable fact that the Phi Phi Islands often come to mind when discussing the best destination to explore in Thailand, as seen by its beautiful sceneries and enjoyable underwater experience. A perfect destination with majestic limestone cliffs and secret lagoons waiting for you to discover, one can only expect the ideal island holiday here on Phi Phi islands.
Nature lovers will be left enchanted by the beautiful underwater world of the Andaman Sea with high visibility, ideal for an excellent diving and snorkeling experience with the accompaniment of various marine life. The adventurous explorers can embark on a journey to conquer the Tonsai Tower on Phi Phi Don to enjoy the panoramic view that awaits.
Ideal for those seeking for a summer holiday, the weather is generally stable and pleasant on Phi Phi islands, especially between November and May. Still, it is ideal for visiting the islands from January to March as the weather condition is said to be the best. Specially catered to those into diving and snorkelling, various locations around the islands are paradise.
Whether it is swimming or snorkeling in the waters around Maya Bay or be entranced with the green shade of water and majestic limestone cliffs around Pileh Lagoon, one can never be satisfied enough with the beauty of Phi Phi islands. What better way to get closer to nature than to swim with the colorful fishes on Loh Samah and encountering seahorses and turtles as you make your way through the rocks of Nui Bay. Even the interesting long-tailed macaques are a sight to behold. The reefs between Phi Phi Don and Mosquito Island make for memorable diving while those who wish to go on a historical expedition can explore the King Cruiser and the Viking Cave.

And the Number Thai island… Phuket
Phuket is often on every traveller's bucket list when considering a destination for an enjoyable holiday. Due to the boom in the tourism industry, Phuket is a well-developed destination to cater to the needs of both locals and tourists alike. Despite being a tourist attraction with many facilities for the convenience of the tourists, one can still experience natural beauty when traveling to Phuket, as seen by its long stretch of beautiful beaches and remains the most popular launch place for trips to hundreds of offshore destinations and islands around Phuket.
The island is also strategically located with close access to other famed destinations of the Andaman Sea, where many tourists opt to go on day trips to nearby Koh Phi Phi, Similan Islands, and Koh Racha. Tourists are spoiled for choice when it comes to activities in Phuket with pleasurable activities such as shopping and enjoying local cuisine and culture along with the beaches that offer not only relaxation but parties as well.
Those who are into eco-adventures will benefit from traveling to Phuket as various activities allow tourists to get closer to nature, such as trekking, exploring hidden waterfalls, and the famous elephant sanctuaries that one should not miss. The best period to travel to Phuket is between October and early May, where one can experience many fun and exciting activities on the beautiful beaches of Phuket and even other outdoor activities under the bright sun. It is worth mentioning that April is when many tourists visit Phuket for the Songkran festival, but other than that, the overall atmosphere is more of a pleasant and relaxing one.



Join the conversation and have your say on Thailand news published on The Thaiger.
Thaiger Talk is our new Thaiger Community where you can join the discussion on everything happening in Thailand right now.
Please note that articles are not posted to the forum instantly and can take up to 20 min before being visible. Click for more information and the Thaiger Talk Guidelines.