Three dead in light aircraft crash in Khon Kaen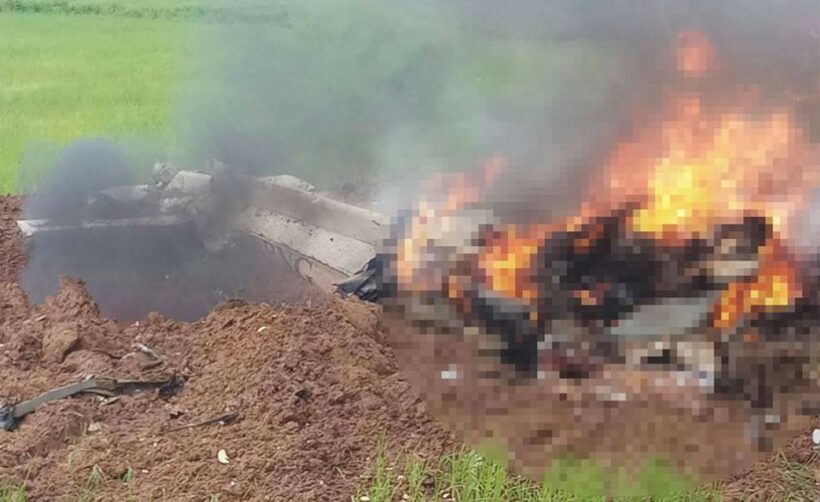 PHOTO: National News Bureau of Thailand
A small privately-owned plane* has crashed in a field in Khon Kaen, north-east Thailand, this morning (July 18). Three people are reported dead.
Chonnabot Police in Khon Kaen were notified of the incident from locals saying that a small aircraft crashed into a field and burst into flames in Baan Hooling in Chonnabot district at 9am.
Three people have been reported dead including the captain and two passengers. Police, rescue workers and fire fighters rushed to the scene. The national Police Commander Jakthip Chaijinda has ordered the Region 4 police to investigate the incident.
*Thai PBS has reported that it wasn't a light plane but a helicopter…
A private helicopter crashed in Chonnabot district of the northeastern province of Khon Kaen on Wednesday morning (July 18), killing three people on board, police said. Pol Col Kirati Amornpatpanin, the Chonnabot police chief, said the helicopter crashed at about 9am in a rice field near Ban Nong Pling in Tambon Wang Saeng and went up in flames.
SOURCE: National News Bureau of Thailand
Keep in contact with The Thaiger by following our Facebook page.
Never miss out on future posts by following The Thaiger.
Injuries and arrests as Bangkok protests turn violent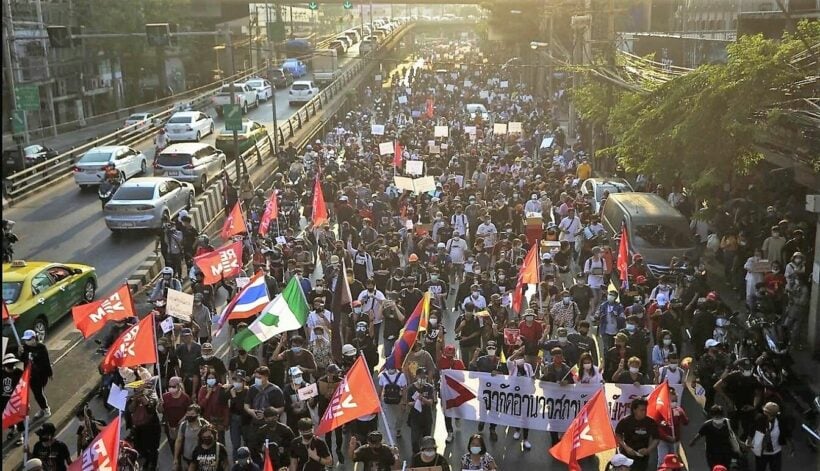 Pro-democracy protesters clashed with police in Bangkok yesterday, leading to injuries and arrests as activists attempted to reach the residence of PM Prayut Chan-o-cha. At least 33 people were injured, including 23 police officers. The clashes happened in front of 1st Infantry Regiment barracks, King's Guard on Vibhavadi Rangsit Road and involved around 1,500 activists from REDEM (Restart Democracy), part of the Free Youth group. The group has been protesting against the government and calling for reform of the monarchy since protests began in July of last year.
Yesterday, the Metropolitan Police Bureau deployed over 2,000 riot police, with barricades erected to prevent protesters reaching the PM's home. The Bangkok Post reports that at around 6.30pm, activists clashed with police. Officers deployed tear gas and water cannon and allegedly used rubber bullets as protesters threw objects their way.
Piya Tawichai from the MPB has denied that police used tear gas or water cannon, accusing protesters of instigating violence by using weapons and vandalising government property. Thai PBS World reports that yesterday's demonstration was the most violent anti-government protest in recent weeks. Protesters' demands include the PM's resignation and reform of the monarchy.
SOURCE: Bangkok Post | Thai PBS World
Keep in contact with The Thaiger by following our Facebook page.
Never miss out on future posts by following The Thaiger.
Public Health Minister gets first Covid-19 vaccine shot in Thailand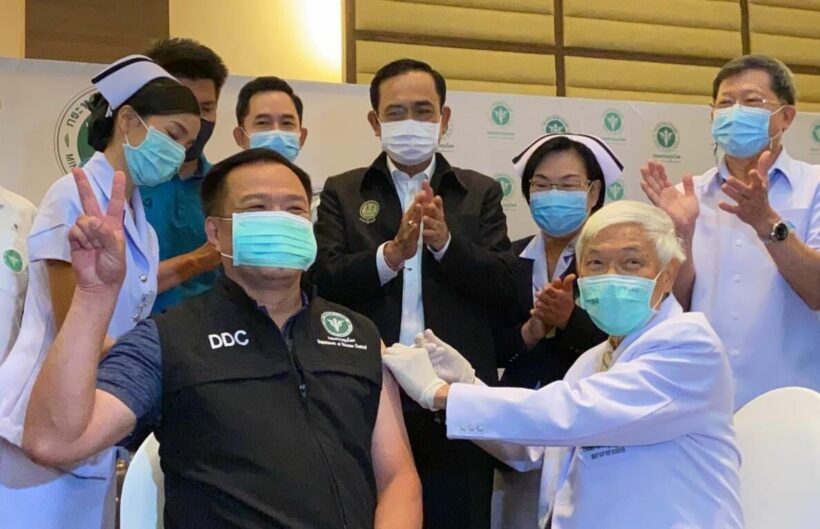 Thailand's Covid-19 vaccine campaign started with Public Health Minister Anutin Charnvirakul who was jabbed with China's Sinovac vaccine. PM Prayut Chan-o-cha was initially planned to be the first to kick off Thailand's immunisation plan with the AstraZeneca vaccine, but due to problems with paperwork, the prime minister's injection was postponed. Doctors advised Prayut to get the AstraZeneca vaccine due to his age. Prayut is 66 and doctors say the Sinovac vaccine has been declared safe for people ages 18 to 59.
Both shipments of the Sinovac and AstraZeneca vaccines arrived last week, the AstraZeneca vaccine still needs to be endorsed by the Medical Science Department. Anutin says the pharmaceutical company has not submitted documents and samples needed for the endorsement.
Along with Anutin, a number of other government officials and health professionals were vaccinated against the coronavirus. Anutin's shot was administered by Thailand's top virologist Yong Poovorawan.
SOURCE: Bangkok Post
Keep in contact with The Thaiger by following our Facebook page.
Never miss out on future posts by following The Thaiger.
Royal Thai Police accused of "ticket" promotion system to buy senior positions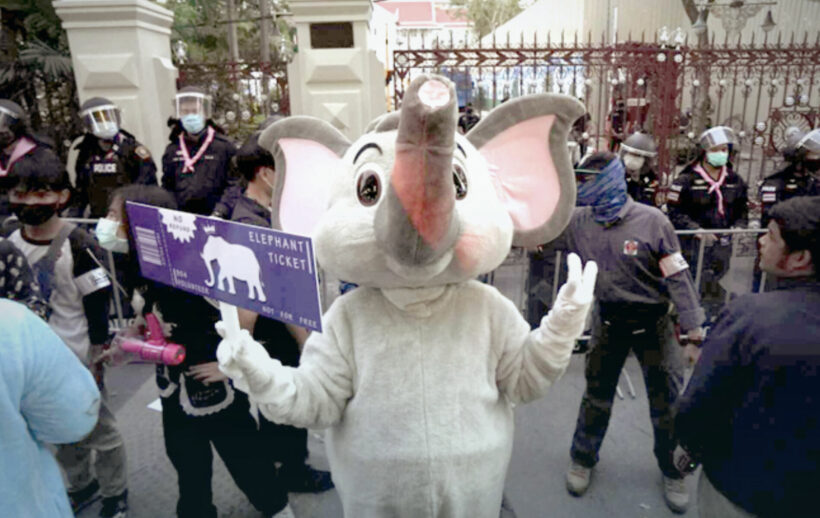 The Royal Thai Police are being accused of using so-called "elephant tickets" to buy their way into promotions and pay their way up the police force's chain of command. The corruption among the police force and the buying of positions without meeting the requirements for a promotion has been a longtime problem, according to the Bangkok Post.
The "elephant ticket" issue was recently brought to light by an opposition MP at a censure debate who said it fast tracked the promotion system and allowed some people who were unqualified and undeserving to raise their rank. Some Thais have protested the "elephant ticket." Many gathered in front of the Royal Thai Police headquarters in Bangkok last week, including one person who dressed up as an elephant.
At the censure debate on February 19, Move Forward Party MP Rangsiman Rome called out PM Prayut Chan-o-cha, who chairs the Police Commission overseeing the Royal Thai Police, and said the prime minister allowed the "elephant ticket" promotions. Prayut later said there were problems within the police force and that he would handle it.
Police who want a promotion need a ticket, which is basically just a reference or a stamp of approval from a senior officer or even a politician or business person. To get an "elephant ticket," some can pay for the ticket. A source told the Post that positions for police superintendents cost between 5 to 10 million baht.
Others can get a ticket by doing favours for their superior or even just serving their superior for a long time, sources told the Bangkok Post. The higher the position a senior officer has, the more tickets they have to give out.
To read the full special report by the Bangkok Post, click HERE.
Keep in contact with The Thaiger by following our Facebook page.
Never miss out on future posts by following The Thaiger.