Thailand's fusion of religious beliefs: Buddhism, Animism and Brahmanism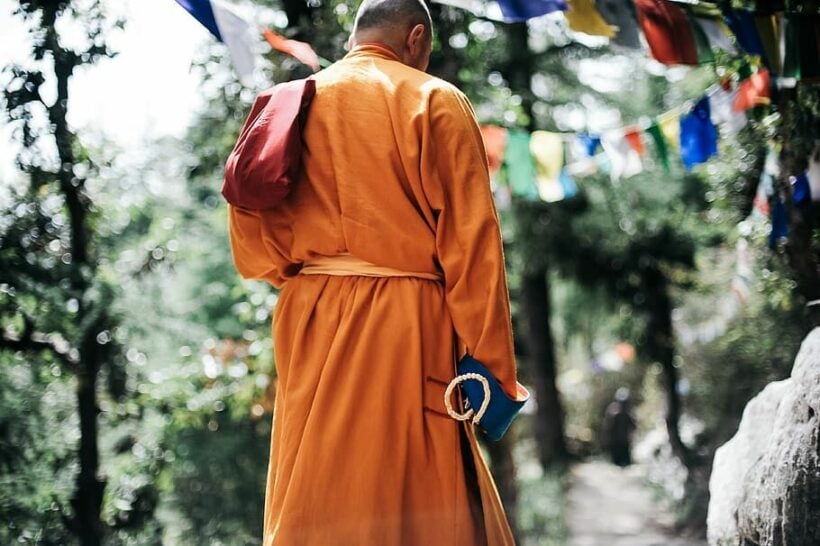 Thailand's people are known for being devout Theravada, or orthodox, Buddhists. In fact, the country's government is a theocracy in which many public holidays and ceremonies are officially recognised in its calendar of events. Schools close and government institutions shut down in order to give its residents the day off to celebrate and to take part in national Buddhist ceremonies.
But upon strolling through the temple-adorned cities and villages, it becomes hard to distinguish if everything you see is connected to traditional Buddhism. In fact, Thai people classify themselves as adherents to Buddhism, but many things they believe and practice, are inherently part of Brahmanism, an early form of Hinduism, as well as folk animist religions. Such folk animist religions are better known as Animism.
Animism is best described as the worship of spirits, or ghosts. The word Animism comes from the Latin word anima and means breath, spirit, and life. Animists are said to believe that almost everything possesses a spirit including plants, animals, rocks, rivers, wind, sun, and other inanimate natural objects and that the physical world and spiritual world are intertwined.
Animists say what they practice isn't a belief system, but more of a worldview. In essence, the worldview means: The world is a sacred place, and we are part of it. Furthermore, it can be considered as more of a value system over any other kind of adherence.
Satsana Phi, is the Thai word for the belief system that worships spirits. Animism is included in Satsana as it involves using shamans and the worship of ancestors. Satsana followers believe that buildings, territories, things, and natural places all have tutelary gods or supernatural deities residing in them.
Animism believes that there are guardian spirits of people, which often include ancestors or angelic-beings who arrive at various points in life, better known as thewada. Malevolent spirits, phi phetu, include those khwan of people who were bad in past lives or died of tragic deaths. Khwan, is the finite amount of spirit that exists within an individual, with Thais believing that the khwan has the ability to wander or escape from the body.
It is believed that a spirit that is suffering from demerit could be a dangerous ghost, while those who have merit are thought to be good ghosts. Preta, the ghost, for example, is said to be stuck in the stage of liminality, or the right of passage, and wanders the human realm hoping to gain the merit needed to pass through. Thailand's most famous ghost, Mae Naak Phra Khanong is feared by many, although it is believed that she corrected her past lives and gained merit.
Since Thais practice the worship of their ancestors as part of Animism, one popular ancestor, who was part of the Thai monarchy, is the late King Chulalongkorn. And, generally speaking, Thai people practise venerating dead Theravada Buddhist monks who are thought to possess supernatural powers.
Examples of Animism can be seen around Thailand if you know what to look for. Things such as spirit houses, or phi houses adorn almost every building or home, in what Thai people say, is an attempt to appease the property's spirit. Thais will offer food and drinks to the miniature shrines daily and ask for protection from the ghosts that are thought to inhabit the houses. Guardian deities of places, such as the phi wat of temples and the lak mueang of towns are celebrated with communal gatherings and offerings of food.
Apart from Animism and Buddhism, Brahmanism is another belief system that is fused together with other practises by the Thai people. Brahmanism, like Animism, practices focus on the thewadas, which are angelic beings or gods. Thais look to these deities to ensure health, prosperity, and good luck. Such gods as Bhrama and Indra are examples of popular deities.
Interestingly, almost all ceremonies in Thailand that commemorate the various points in the life cycles and season cycles are rooted in Brahmanism, not Buddhism. One ceremony, The First Plowing or Raek Na Kwan in Thai, was actually adopted by the Thai royal court with its auspicious day and hour still set today by Brahman astrologers.
Thais also consider astronomical, heavenly bodies to be deities. This can include material astronomical objects as well. One example is of Rahu, who is considered the god of luck and fortune and is often worshipped in the central areas of Thailand. The worship of planetary deities is sometimes linked to the Hindu belief in Navagraha, which recognises 9 heavenly bodies as deities. For almost every ceremony a monk or a Brahmin priest will divine an auspicious time. Thailand's current King was invested as Crown Prince at an auspicious time given by a royal astrologer.
Other practices by the Thai people include following pre‐Buddhist traditions such as monks wearing robes and shaving their heads. This sight is often thought of as part of Buddhism, but it actually stems from the Semana tradition which predates Buddhism by about 4,000 years. Holy Days, or Uposatha, in Thai, which are designated for observing half and full moons, were also derived from pre‐Buddhist times. In Thailand these are called the Wan Phra, with Thais traditionally visiting temples in white clothes on these days.
Obviously for anyone visiting the Land of Smiles, determining what belief systems the Thai people have can be daunting. Thais don't have a word for Animism in their language and tend to classify all of their adopted belief systems under Buddhism. And, indeed, this may be the best way to describe Thailand's fusion of beliefs and practices. The reasoning behind using Buddhism as an umbrella term is due to other adopted belief systems all sharing similar components with the kingdom's officially recognised 'religion' (although Buddhism is not generally considered a religion in the same vein as Abrahamic religions).
Buddhism, Animism, and Brahmanism (or Hinduism), all incorporate the worship of spirits and gods who may or may not have merit or good karma. Such beings are used by the Thai people to ask for protection, luck, riches, health and help with moving on to the next life. However, because Animism is strictly based upon the worship of spirits, who may or may not be controlled, it is thought of as being less certain to aid Thai people in their quests for a better life.
Animism also stands in contrast to Buddhist values such as sobriety and self‐control as animist rituals encourage the use of whisky, dancing, and smoking. Regardless of the differences between Animism and Buddhism, monks still play a vital role in both practices. However, at the end of the day, most Thais believe that being a devout Buddhist will lead to them possessing the strongest magical powers.
Keep in contact with Thaiger by following our Facebook page.
Never miss out on future posts by following Thaiger.
"Mommy, there's a snake!" – Expat in Phuket shares her story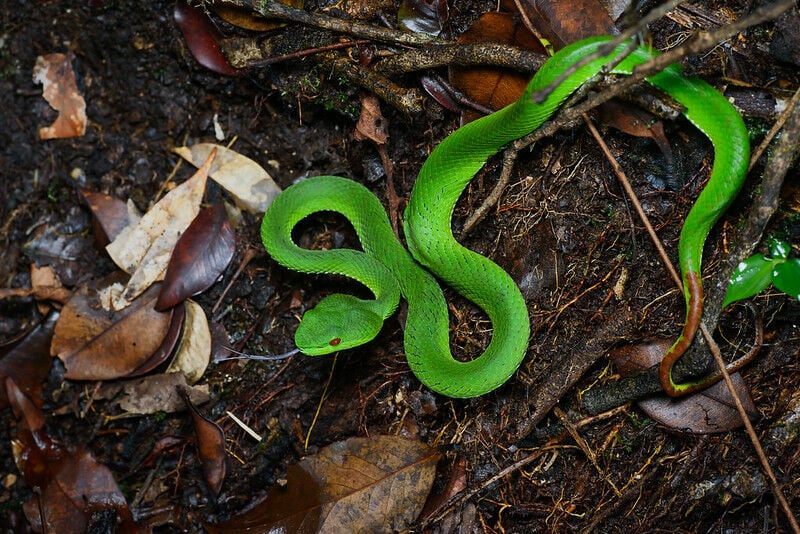 The following story was written by Amy Sukwan, an American who has been living in Thailand for 7 years.
To share a story with The Thaiger, click HERE.
"Mommy, there's a snake!" my 8 year old daughter Eliza said, waking me up in the middle of the night.
I came out of our modest bungalow in Phuket at some unholy hour in the middle of the night, to see what my daughter's whole "snake" thing was about. In the light of our front porch light, about 3 metres from our front door, 3 of our cats were surrounding something that looked at first to me to be a stack of rotting bananas.
"Eliza it's nothing." I tried to assure my daughter. Right at that moment the rotting bananas rose up into an aggressive posture as 3 cats circled it, hissing viciously. It was a surreal sight in the porch light.
"Mommy can you kill it!" My daughter begged me, as the thing, about four feet or over a meter long, lashed at one of our cats, who was quick enough to jump away. The snake had a big head that I could see in the porch light. It was distinctively mallet shaped, in what I was pretty sure was the viper class.
As much as I wanted to go back to sleep and pretend that this was all a bad nightmare, I now had a crying, frantic daughter who was terrified for her cats and a situation that I was quickly recognizing was pretty bad. Mai dee.
I needed to call in backup – my Thai husband. Eliza was already screaming his name. "Ka! Loon Ka!" My 8 year old screamed.
---
There are many venomous snakes in Thailand. Most people know about cobras but the viper class is the most deadly in the world, as vipers are both unpredictable and very difficult to charm. I was looking at a pit viper of some sort, I was pretty sure.
Snakes normally don't bother you if you don't bother them. But interactions are most common late in the dry season in Thailand, as it is now, in late March, as the snakes slither around houses in search of water. Thais don't want them around for obvious reasons. You don't want venomous snakes to breed and make babies close to your homestead.
If you are not sure if a snake is venomous or not, a good rule of thumb is to look at its head size in proportion to its body size. If the snake head is close to the same size as the rest of its body, and the snake is generally more wormlike in appearance, it is probably not venomous. If the head is large, say two or more times the diameter of the body, it might be poisonous. This does not constitute medical advice. If you get bitten by a snake, you should go to the hospital.
---
My husband woke up as Eliza was screaming for him. He came out groggily but as soon as my daughter pointed at the snake he saw the problem. "No good! I kill!" Ka said as he grabbed a machete from our kitchen rack. He wasted no time in coming to this decision.
So after being bathed in the surreal sight of three cats circling a hissing, striking, and very likely deadly serpent under our porch light, I got to be treated to an even weirder view. Ka went full Steve Irwin on the snake as he danced around with the machete. The viper sideswiped and tried to strike him. Then, it suddenly backlashed and made contact with his knee. Both me and Eliza cried out from the sidelines.
"She bit me!" Ka said as he macheted the viper's mid body, and then its neck. Among my many shortcomings is a complete inability to gender snakes. So I will remain with my husband's classification of the viper as female.
The snake stilled over the course of several minutes as my eight year old screamed in terror. It still seemed to be wiggling even five minutes later, though its body slowly stilled. Ka helped me put it in a plastic bag.
"You go hospital now!" I screamed at him.
"No worries. She don't bite me with poison." Ka seemed sure of this. He'd grown up on a 50 rai spread of backwoods in Phuket and was something of a designated snake killer.
My husband had tracked and killed a 5 foot long snake months before, which he had assured me had no poison, but which he had not wanted around the house. I was able to identify that one through Google images and a snake discussion group as an Indochinese Rat snake, which was indeed not venomous.
There was only one bite mark on his knee the viper had come in from an unusual angle and only one fang had punctured through. But I could see from closer inspection of the now dead snake what I had already known. It looked like a dark green Pit Viper. She was about 4 feet long, or maybe 130 centimetres. The poor girl had probably been looking for water.
Symptoms of a poisonous snake bite include pain at the site, swelling, and changes in heart rate or breathing. Needless to say Ka is still alive and well, and probably had enough experiences of snakes to know that this was a dry bite, or one without venom, as about 50% of snake bites are. I wouldn't have taken my chances on this, though.
The reason that poisonous baby snakes are thought to be more deadly is not because they have more venom, but because they always release venom when they do bite. I prayed in Buddhist style for the snake to have a better life next time, as she had made merit by not killing either our cats or my husband. But for the amateurs out there, I wouldn't advise going to Steve Irwin about these things. Normally snakes bite you because you bother them.
---
It turns out that sometimes you chase the story. And sometimes the story chases you.
I'd seen a recent post on The Thaiger asking for guest bloggers to share their stories regarding Thailand. I think I laughed out loud on reading it. After 7 years in the "Land of Smiles," with 2 Thai husbands and after giving birth to 2 children here, I'd like to think I've seen it all. I probably have 10,000 stories.
But what do I want to write about? Should I mention my early days as a farang in Thailand, during the time when I was working as an OPC for a timeshare? Do I want to give advice on making visas, as an American staying in Thailand or for a Thai going to America? Should I talk about going to Thai hospitals? Or maybe I should write something about Thai Buddhist funeral proceedings? I've put my first husband and both my mother and father in law in the ground at Wat Prathong. Should I talk about ASQ and travelling during Covid madness? Or should I mention the Full Moon Party on Koh Pha Ngan? I've been to five of those, personally.
This weekend I was harvesting cashew fruit with a Thai friend of ours in Phuket who has a large spread of family land. We burnt the cashew nuts, and I thought that this would make a great story, as many farang ask me about growing and harvesting practices in my little outback area. Unfortunately a quick Google search revealed that cashew nuts are dangerous, even to people without allergies, as they contain a chemical close to poison ivy. Only professional processors should deal with cashew nuts, in short. I've been eating the fruit and burning the nuts for years. But I gathered that life is too dangerous. So much for that story.
Keep in contact with Thaiger by following our Facebook page.
Never miss out on future posts by following Thaiger.
Thai Airways food landing in 7-Eleven next month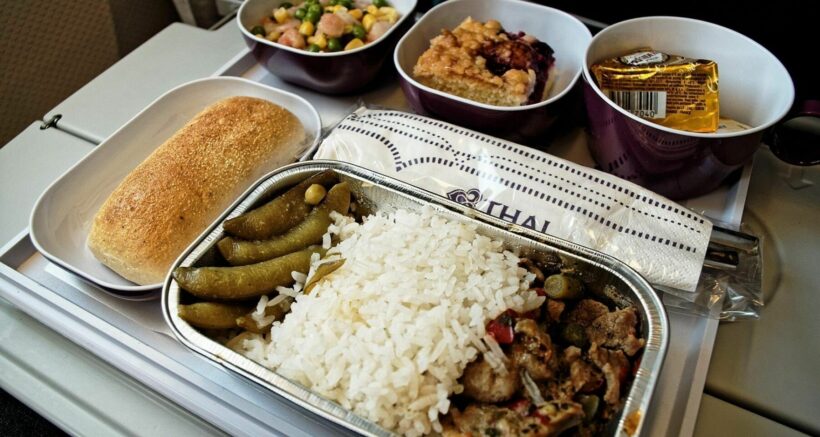 Warning. Some low-altitude turbulence is coming to a 7-Eleven near you. Thai Airways has cooked up a new money-making scheme during Covid-19 to sell its airline food in 7-Eleven. Set to take off on April 15, the mostly grounded and indebted airline will attempt to offset its losses during the pandemic by selling food in the ubiquitous convenience store and other supermarkets throughout Thailand.
It's a clever strategy for a struggling company, but will customers take the bite? Surely a few crispy pork and rice dishes will knock the edge of that 300 billion baht debt!
Claiming that their busy flight schedule has always previously stood in the way of the airline's foray into the fast food market, Thai Airways now has the supply (and time) with most flights grounded by the pandemic's decimation of the travel industry and less hungry mouths to feed in the sky.
The first meals schedule to arrive on the shelves of 7-Eleven just after the Songkran holiday are Thai Airways' halal chicken biryani dish, and the traditional Thai dish nam phrik long ruea, crispy and fluffy fish and sweet pork served in a fermented shrimp chilli paste. The primary push into the food industry will be more unusual meals to stand out in 7-Eleven's selection.
The question remains whether the food selection will fly off the shelves, but the airline's hopes are high after their airline launched pop-up restaurants in September and the public ate it up. It seems that, contrary to a million stand-up comedy jokes about how terrible airline food is, people have really missed it with so much cancelled travel due to border closures and restrictions.
Thai Airways hopes this creative departure from their main business will help bolster the struggling airline, who were previously denied a government bailout after declaring bankruptcy last year. They have tried everything from the pop-up restaurants to jumbo yard sales to renting out flight simulators. Even with the sharp reduction of flights due to the pandemic, flying will still be the company's main mealticket, but they hope meal sales will make up for low ticket sales until the travel industry recovers.
So stow your tray table and fasten your seat belt as we see if the 7-Eleven offerings of Thai Airways' food takes off.
(The Thaiger has a better solution. Let 7-Eleven lease Thai Airway's grounded planes and run the whole business instead)
SOURCE: Coconuts Bangkok
Keep in contact with Thaiger by following our Facebook page.
Never miss out on future posts by following Thaiger.
Banquet for ghosts held in Chon Buri cemetery – some food left over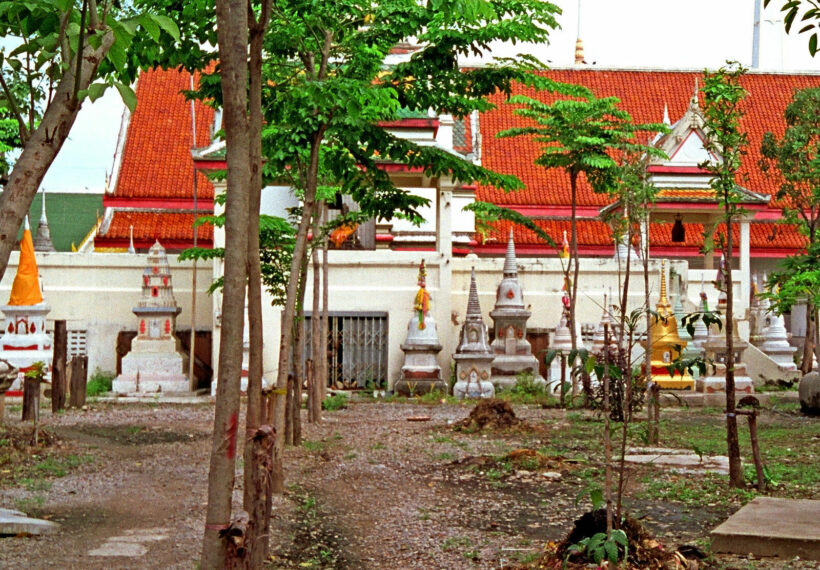 To fulfill a woman's dying wish, townspeople in the Panthong district of Chon Buri hosted an elaborate banquet for ghosts in a local cemetery this week. The 36-table extravaganza was set up 43 year old Tanawan Choti. His mother had asked him to give a free banquet for all the ghosts of her friends and family that had died before her… a welcome party to the afterlife.
Tanawan honoured his mother's request earlier this week before she passed away, with a no-expense-spared feast featuring food and drinks, luxury dishes and silverware, and entertainment for the ghosts of honour. Living speech-makers imparted their best wishes to the Chon Buri ghosts. The locals set up the 36 tables for a Chinese-style banquet and entertained the guests for about an hour.
A local event food service worker said that, despite years in the industry, this was the first ghost dinner he'd catered for. He said he found it "abnormal to serve the paranormal and was left with a ghastly feeling working in the cemetery". (We figure there was quite a lot of food left over as well.)
While graveyards are not common in Thailand, since Buddhists cremate their dead, burials still occur amongst descendants of Chinese-Thai people. Regardless of religion or heritage, belief in ghosts or other paranormal phenomenon is common throughout Thailand. Spirit houses are frequently built outside local homes for ghosts to live in, and serviced every day with fresh offerings.
While the otherworldly banquet may be viewed by some with confusion or scepticism, the feast did have a real-world happy ending, Eakkaluck explained…
"After finishing the banquet ceremony, the food was given to poor people in the area as unfortunately, it appeared the ghosts could not actually consume earthly substances."
SOURCE: The Pattaya News
Keep in contact with Thaiger by following our Facebook page.
Never miss out on future posts by following Thaiger.