Thailand News: World Justice report ranks Kingdom 80th in serving civil justice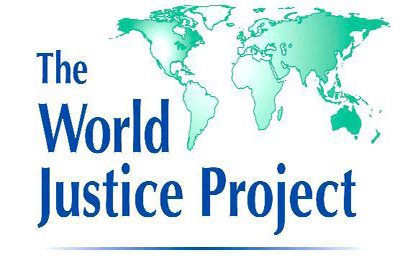 World Justice report ranks Thailand 80th in serving civil justice
Phuket Gazette
PHUKET: The World Justice Project (WJP) ranked Thailand 80th among 97 countries in delivering effective civil justice in its international Rule of Law Index 2012 report issued on Wednesday.
However, despite the low ranking in dispensing civil justice, the report also recognized Thailand's strong performance in the control of crime and in serving criminal justice.
According to the report, "Thailand earns high marks on absence of crime and effectiveness of the criminal justice system (ranking 35th globally and seventh among its income peers). However, civil conflict and political violence are significant problems…
"The country's lowest scores are in the dimension of civil justice (ranking 80th), partly because of delays in processing cases and difficulties in enforcing court decisions."
The report noted that Australia, Japan, New Zealand and Singapore lead the East Asia & Pacific region in most dimensions of the rule of law.
"Achieving the rule of law is a constant challenge and a work in progress in all countries. The WJP's Rule of Law Index is not designed to shame or blame, but to provide useful reference points for countries in the same regions, with comparable legal cultures and similar income levels," said World Justice Project founder William H. Neukom.
Factors considered in delivering the rankings were listed as: limited government powers; absence of corruption; order and security; fundamental rights; open government; regulatory enforcement; civil justice; criminal justice; and informal justice.
Also observed in delivering the rankings were the "Four Universal Principles of the Rule of Law", namely:
1) The government and its officials and agents are accountable under the law.
2) The laws are clear, publicized, stable and fair, and protect fundamental rights, including the security
of persons and property.
3) The process by which the laws are enacted, administered and enforced is accessible, fair and efficient.
4) Justice is delivered by competent, ethical, and independent representatives and neutrals who are of sufficient number, have adequate resources, and reflect the makeup of the communities they serve.
In explaining the importance of the rule of law in everyday life worldwide, the report cited several examples, among which just one was the impact in public works.
"Safe and reliable physical structures are essential to a thriving economy and an efficient society. Yet corrupt practices in the construction process abound, discouraging honest practitioners from entering the market through prohibitive bribery and kickback costs.
"In many cases, for instance, it has been alleged that government officials and contractors have been complicit in using low-quality materials in order to pocket the surplus. Transparency in the procurement process and effectively enforced regulations and safety codes help curtail illegal practices and increase the reliability and security of physical infrastructure," said the report.
To see the full report, click here.


Read more headlines, reports & breaking news in Thailand. Or catch up on your Thailand news.
STUDY: Daily marijuana use increases risk of psychotic disorder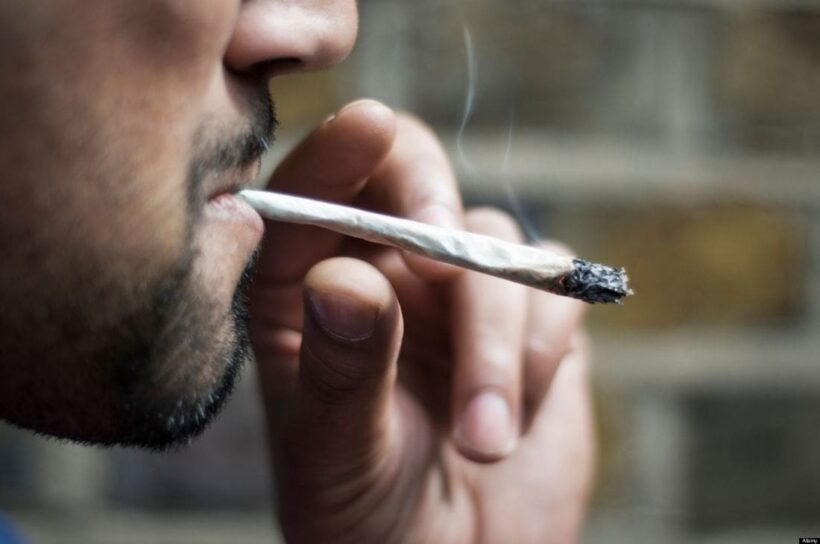 The legalisation of medical-use marijuana continues to sweep across the globe, recently in Thailand where the roll-out and enactment of practical uses of the new legislation are underway.
But this spread of a new legal credibility of the drug continues whilst possible health risks (or benefits) are not fully understood. Properly medically supervised or scientifically conducted studies continue to come out weekly with varied results about the benefits or dangers of long-term cannabis use.
According to new research published in 'Lancet Psychiatry', a weekly peer-reviewed general medical journal, people who use cannabis daily, as well as those who use high-potency weed, may be three times more likely to develop psychotic disorder than never-users.
The new evidence is consistent with previous experiments that suggest heavy use and high THC concentration cannabis – a 10% concentration of THC (the psychoactive substance within cannabis) or higher – can be harmful to mental health.
Dr. Marta Di Forti, lead author and a clinician scientist at the Institute of Psychiatry, Psychology & Neuroscience, King's College London said the 'Psychotic disorder' was precisely what was studied.
"We are talking about people who meet diagnostic criteria and come to the attention of mental health services to receive treatment for psychosis. So they have to have symptoms of psychosis across the spectrum – hallucination, delusions – that have lasted at least for a week."
Currently, medical cannabis is legal in most European countries, though recreational use is only legal in Netherlands, Czech Republic and Spain (in certain situations). Meanwhile many other countries continue to discuss legalisation.
Di Forti and her co-authors pf the paper looked at data from five countries in Europe… UK, the Netherlands, Spain, Italy and France. Brazil was also included in the sample where cannabis is illegal.
They found 901 patients with a first-time episode of psychosis over a five-year period and compared them to 1,237 matched non-patients.
Daily use of cannabis was more common among patients with psychosis compared to the controls, they found. About 30% of patients reported using cannabis daily compared to just 7% of non-patient controls. And use of high potency cannabis was also more common among patients than controls – 37% compared to 19%.
The study results do not provide enough information for her to say "use only this amount, only this often" to remain safe.
At this stage, the paper estimates one in five new cases of psychosis may be linked to daily cannabis use, and one in 10 cases linked to use of high potency cannabis.
You can read the full report in Lancet Psychiatry.
UPDATE: Latest poll results, Monday 11am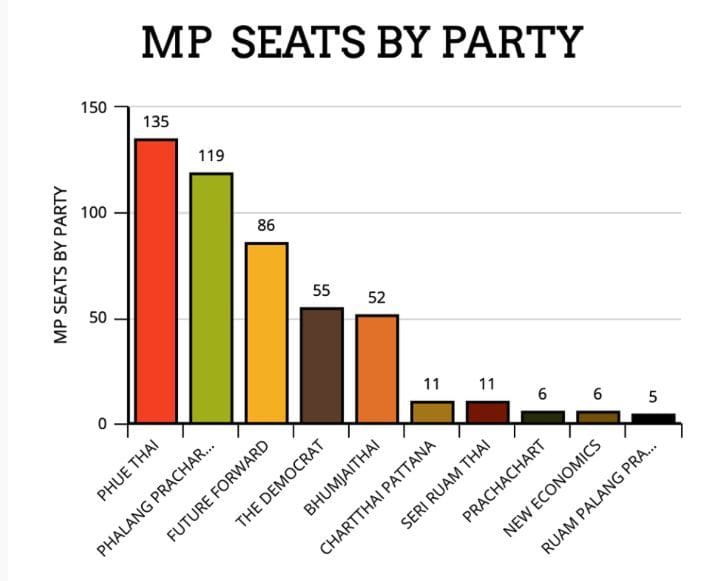 RESULTS: Election Commission
Updated poll results as of 11am this morning. The latest votes reveal some changes in the total seats each party has now won. There are also some changes to the wins of the small parties. Pheu Thai continues to pull ahead, Future Forward continues its very impressive showing as a brand new party and the Democrats, with their leader resigning last night at 9.50pm, are in tatters.
The Election Commission will continue counting the votes today from 2pm.
Currently 93 per cent of the votes have been counted and tallied.
Thai poll results, for newbies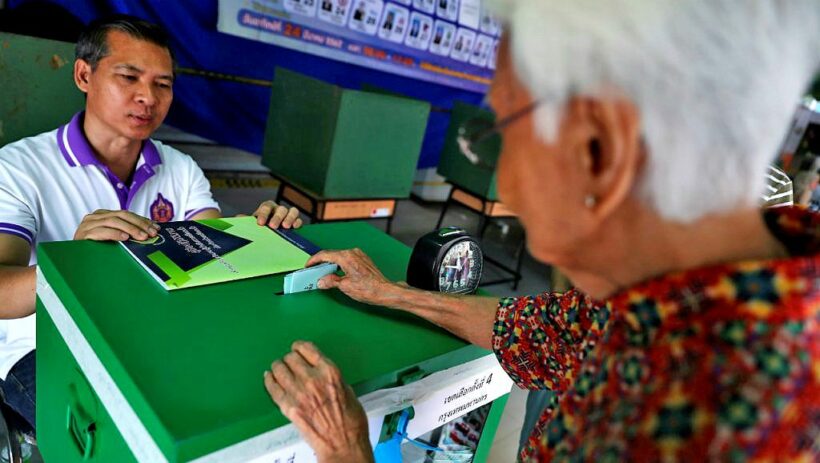 PHOTO: France 24
The numbers are still being counted but the trends are now quite defined so that any changes are unlikely to affect the final result.
According to popular vote figures from the Election Commission, with 93% of the total votes counted, Palang Pracharat garnered the most votes with 7.5 million, with Pheu Thai following at 7.3 million. But these figures do not necessarily reflect the actual makeup of the parliamentary seats to be announced some time today.
The lower house is made up of 500 members, 350 will come from single-seat districts. The remaining 150 will be distributed among parties based on how they fared nationwide.
The new constitution, voted on in 2017, states that the PM should be chosen by a majority of all 750 legislators, a number that includes 250 Junta-appointed senators.
An anti-junta coalition would need 376 lower house seats if its preferred candidate is to become PM. That's the magic number any coalition would need to reach to overcome the votes of the 250 pro-military Senators in the upper-house.
But a coalition will be a tough compromise for many of the minor parties, including Future Forward, who campaigned heavily on the 'break from the past' platform.
Palang Pracharat may also be forced into a coalition if they can't get a lower house majority.