Thailand News: Biggest drug bust in Thailand's recent history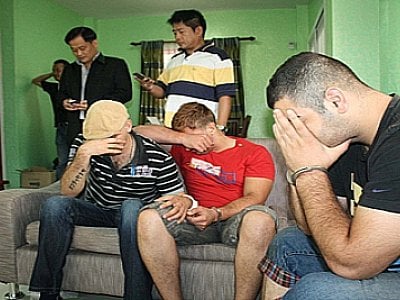 PHUKET MEDIA WATCH
– Thailand news selected by Gazette editors for Phuket's international community
Pattaya Police arrest Iranians in three hundred million baht drug raid
Pattaya Radio 103FM / Phuket Gazette
PHUKET: The biggest drug raid in Thailand's recent history took place in Pattaya City yesterday, in a three hundred million baht sting operation. This is without doubt the largest drug sting in Thailand's current anti-drugs operation.
For months, senior detectives from the Banglamung police serious crime division, in a combined operation involving Thailand's Narcotics Suppression Bureau, had been tracking one of the most prolific drug producing operations in the the nation.
Over a period of months, detectives pieced together the operation and knew that the major players were of Iranian nationality, living in Thailand. The difficult task was to trace them, since they operated under a cloak of anonymity.
The breakthrough came when officers arrested minor dealers who offered up their suppliers to gain favor in their sentencing. Those dealers, in turn arrested, supplied police with a traceable middle man and so the trail began.
The arrest of an Iranian middleman on the November 25 and his subsequent questioning by the team, resulted in a list of the top dogs, along with addresses where the drugs were manufactured and stored. The middleman had been delivering drugs to Bangkok at the time of his arrest in the Lat Krabang area of the capital Bangkok.
In the early hours of yesterday morning, two police teams were finally allowed to raid the Pattaya addresses, as warrants were issued for what was expected to become major drug raids. Prior to the raid, undercover officers had monitored the house to assess the activity and also to make sure that the operatives were at the address when the raid took place.
The first address to be raided was in Green village Park, on Soi Chayababruk in Pattaya, where the owner had already been questioned and officers knew that several Iranians had rented the secluded house, situated within a 40 Rai estate, for 25,000 baht a month.
Officers gained entry during a dawn raid and discovered nearly 19 Kilograms of ya bah and ya ice (methamphetamine), which had been freshly manufactured, along with the chemicals used to manufacture the drug and dilute it to its normal street strength. The upstairs of the house had been converted into a drug factory and the raw chemicals were found along side drug manufacturing equipment.
Two Iranian nationals, Ali Behnam Asadollahi and Mohammad Mehdi Manaei along with Behtd Gharhyoz were arrested at the scene and taken, along with the substances found, under the strong guard of Pattaya based police, to the Banglamung Regional Police station for further enquiries.
During a 12 month investigation, drug enforcement officers established that one of the manufacturing kingpins was, in fact Ali Behnam Asadollahi, a fully trained chemist and that the drugs were manufactured in the Chonburi province, for sale within Thailand. A large percentage of the product was also exported overseas and, as we shall see, some of the main ingredients were imported illegally from the Republic of Ireland.
Following the morning raid on the house, officers quickly established that more than one address had been used by the dealers, and around midday, a police team was sent to a warehouse on the east-side of Pattaya, rented to a company calling themselves AEE Hardware.
At the scene they met with the 57-year-old warehouse security guard along with the property owner. Once access was gained to the store, police found a supply of air compressors and soft furnishing which appeared to be a furniture factory, however they also found numerous ceramic containers, each of which contained a white, so far unidentified, powder, along with more chemicals used in the manufacturing of methamphetamines.
In a weird twist, the warehouse owner told police that the current tenant was a 41-year-old "Northern Irishman", who was identified as "Manocheher Eskandari" who paid 15,000 baht a month to rent the premises. There is an obvious doubt as to his nationality and police have contacted British authorities to try and secure information of his whereabouts and history.
The security guard told officials that the warehouse had numerous foreign visitors, but that he assumed that they were conducting legitimate business transactions.
A total of 4 men have so far been arrested, but police are aware of at least 8 being involved in the gang. Its believed that the escapees may have fled toward the Burmese border in the hope that they can escape arrest, however Pattaya Police have liaised with Thailand's immigration police and an "all persons bulletin" has been released to border guards with a detailed description.
Currently the team believe that the escapees are still within Thailand's borders and are desperate men, determined to escape.
The combined value of the raid is conservatively estimated at over three hundred million baht (US$10 million).
Thailand has seen a massive effort being made over recent years to reduce the drug trade, both for export and domestic use and police have arrested anyone who can be associated with the trade, from the minor street dealer to the king pins.
With the penalties for illicit drug trading as high as they are in the kingdom, ( life imprisonment and even the death penalty are common), those involved are usually quick to assist the authorities in the hope that their sentences might be lessened.
Pattaya Police, along with those from the Banglamung region, have worked tirelessly on cases such as these, starting with the one- and two-pill dealers and working up the chain of supply.
— Udomgeyit Thipsrigul
Want more from the Thaiger family?
📱 Download our app on Android or iOS for instant updates on your mobile
📧 Subscribe to our daily email newsletter
👍 Like/Follow us on Facebook
🔔 Subscribe to or Join our YouTube channel for daily video updates
Illegal border crossings bringing in new Covid-19 infections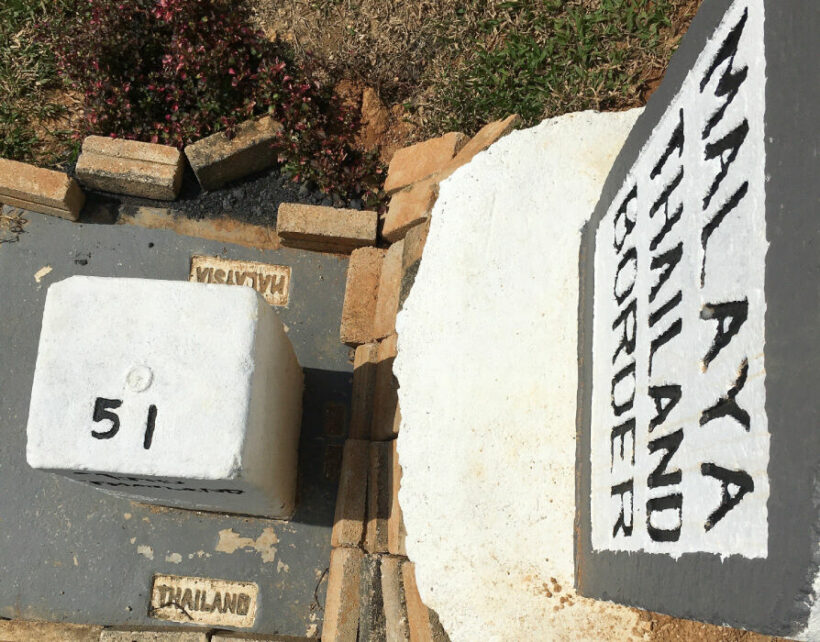 Authorities are worried about illegal border crossings into Thailand bringing in the Coronavirus after 5 recent Covid-19 infections from such crossings. Bypassing all health and security checkpoints along the border, 5 Thai nationals were identified today as being positive for Covid-19 after they snuck into the country, according to the Centre for Covid-19 Situation Administration.
Authorities nabbed 2 after border crossings from Malaysia illegally on April 28 and May 3rd, while another snuck across the Burmese border into Tak on May 2. The last 2 came from Cambodia on Thursday across the Sa Kaeo border. All 5 illegal border crossers are now in state hospitals for Covid-19 treatment.
According to CCSA data in the first four months of 2021 a total of 15,378 people were arrested by Thai authorities while sneaking across borders. Even after security forces increased patrolling along the borders, people managed to sneak in from Myanmar, Malaysia, Laos, and Cambodia. 6,700 of those who crossed the border were Burmese citizens, while another 1,700 of them were Thai nationals.
With nearly 400 lives lost to Covid-19 and over 83,000 people having been infected in the pandemic, the CCSA declared that Prime Minister Prayut Chan-o-cha and National Security Council Secretary-General Natthapol Nakpanich agree that these illegal border crossers without Covid-19 screening are a serious problem.
Many Thai people work in Malaysia and as the pandemic drags on they are sneaking across the border, desperate to make it home to their family. Another recent case found illegal Burmese border hoppers in a taxi en route to Hat Yai after they crossed into Thailand from the Malaysian border. They were trying to travel incognito across Thailand in order to cross the border again back into their home country of Myanmar.
The dilemma is even worse at the Burmese border as the often violent protests following the February 1 military coup has been pushing much of the country into poverty, and creating refugees who are flocking to the border in hopes of crossing over to safety. Many are seeking to escape the conflict and find work in Thailand.
SOURCE: Bangkok Post
Want more from the Thaiger family?
📱 Download our app on Android or iOS for instant updates on your mobile
📧 Subscribe to our daily email newsletter
👍 Like/Follow us on Facebook
🔔 Subscribe to or Join our YouTube channel for daily video updates
Thailand Consumer Confidence Index hits record low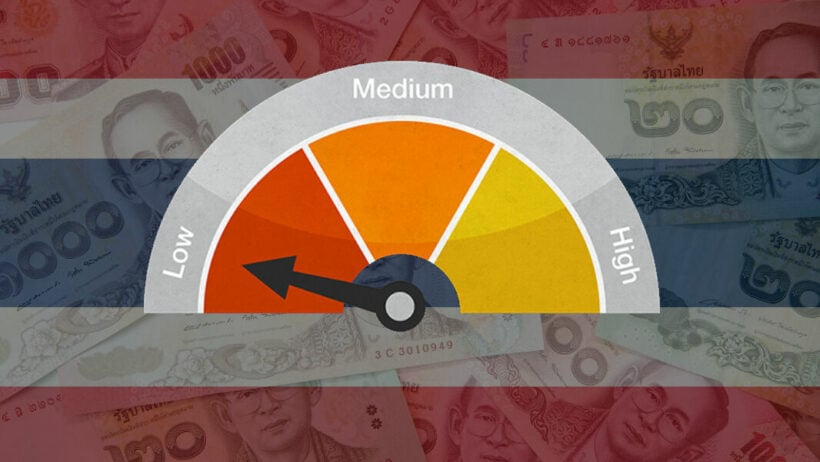 The University of the Thai Chamber of Commerce has reported that the Consumer Confidence Index has hit another new record low of 46.0 in April. The Covid-19 global pandemic has had a devastating effect on the economy and consumer confidence has fallen frequently to the lowest points that it has seen since 1998.
The president of the UTTC believes that consumers generally don't feel like there has been much of a recovery for the economy since the global pandemic began and without a stimulating event to motivate economic growth, the index is expected to continue to fall further. The university estimated that if the third wave of Covid-19 continues past the end of May the economy can expect to lose 400 to 600 billion baht.
The UTTC president stressed that the government should hasten to step up relief measures and make sure they continue relief and economic stimulus throughout the pandemic to avoid economic catastrophe. He predicted that the economy and the Consumer Confidence Index will continue on a downward slope without any hope of improvement until the vaccine rollout gets well underway towards herd immunity, and new Covid-19 infections are decreased dramatically.
Today saw another 2,101 new Covid-19 infections and 17 deaths in Thailand. Vaccination efforts are continually being stepped up, but still remain woefully slow.
The Consumer Confidence Index first started falling last year, with a drop below the previous record low in 1998 in April of 2020, when it fell to 47.2. A few months later, by July of last year, it had recovered significantly, climbing back over 50. But by March of this year, the index had fallen again to 48.5. With April's tumble of 2.5 points, the Consumer Confidence Index pushes once again to a new record low.
SOURCE: Thai Business News
Want more from the Thaiger family?
📱 Download our app on Android or iOS for instant updates on your mobile
📧 Subscribe to our daily email newsletter
👍 Like/Follow us on Facebook
🔔 Subscribe to or Join our YouTube channel for daily video updates
Thailand searches for cow vaccine for lumpy skin disease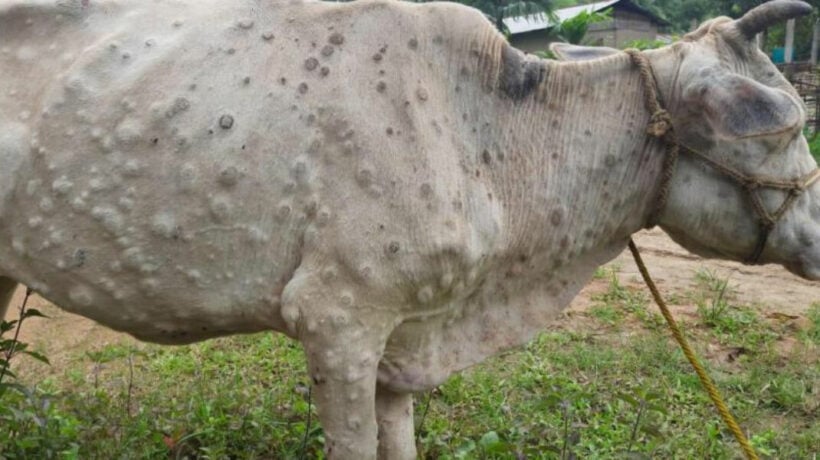 Move over Covid-19 there's a new disease sweeping the country as Thailand's cow population is afflicted with a lumpy skin disease. The Department of Livestock Development is now working on procuring vaccines from overseas manufacturers to import and treat the cattle population in Thailand. The lumpy skin is caused by pustules that are the most visible symptom, perhaps more detectable than other bovine signs such as drooling, loss of appetite and drowsiness.
The cow disease is spreading in the North, Northeast, and Central Plains area of Thailand and has been found in 18 provinces total. First identified in Roi Et, it has now spread in Chiang Rai, Kalasin, Kanchanaburi, Khon Kaen, Maha Sarakham, Nakhon Pathom, and Nakhon Phanom. The first case of the lumpy skin disease was reported in Don Daeng village last month and on April 9th officials reported it to the World Organisation for Animal Health.
The lumpy skin disease is found in cow pens and spread through flies, ticks, and mosquitoes, but the DLD says not to panic, it is not transmissible to humans. The department is distributing important information about symptoms and how the disease spreads to breeders and farmers in the area. They're requiring the breeders to monitor their cattle closely and have imposed measures to control the disease in heavy hit areas.
To prevent the spread of disease in livestock, traders are being requested to not buy and sell cattle within 50 km from disease-stricken regions. And for farmers caring for cattle, the DLD recommends spraying insecticide in all areas to prevent transmission via insects. Finally, in case the cattle were jealous of traveling humans, the DLD is advising farmers to prevent disease spread by isolating any new cow that comes into their farms with a 28-day bovine quarantine where they should be kept under nets to keep insects away.
SOURCE: Bangkok Post
Want more from the Thaiger family?
📱 Download our app on Android or iOS for instant updates on your mobile
📧 Subscribe to our daily email newsletter
👍 Like/Follow us on Facebook
🔔 Subscribe to or Join our YouTube channel for daily video updates