Thailand News Today | Thai army trim the Generals, sugar making Thais fat | March 8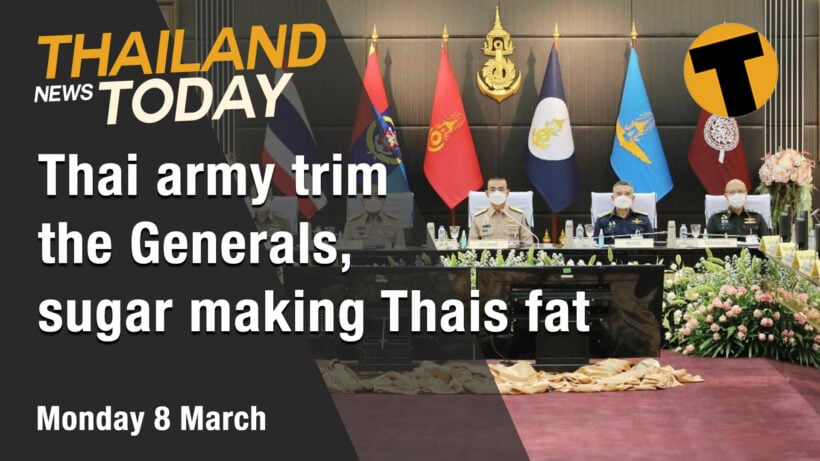 71 new Covid cases in Thailand today, the generals are being told they're going to face pay cuts and a Thai doctors has issued a warning about the link between Thai's love for sugary sweets and life-threatening diseases… there goes my afternoon donut. And don't worry, I'm not going to sing my way through the news today, it's just nice and cool in my home studio so you can enjoy the cool with me. We've also got a new segment at the end of the news today… you'll see that soon enough.
71 new coronavirus cases have been announced today, 31 of them from the hotzone of Samut Sakhon, just south of Bangkok. This beings the total number of confirmed cases in Thailand to 26,441.
The death toll remains at 85 people.
The Thai Army, Navy and Air Force are aiming to trim the number of generals in the ranks by 25% by 2029. But plenty of critics say the plan is probably just more words and won't ever happen.
A Thai doctor is reminding Thais about the clear links between eating sugary foods and the risk of various life-threatening diseases, including cancer. The doctor warns that high consumption of sugar can trigger everything from fatty liver, clogged arteries and liver cancer. 4 million Thais have been diagnosed with diabetes.
Hotels in the northern province of Chiang Mai have been forced to slash rates by up to 90%, desperately trying to attract more local tourists. The northern chapter of the Thai Hotels Association, claims, with tourists mainly favouring the southern beach destinations over the past month month, hotel operators in the north are now planning for low season.
Anti-government activists gathered at Bangkok's Democracy Monument yesterday. Although the anti-government protests have kicked off again after a 2 month hiatus, the numbers are well down on last years crowds, now measuring more in the hundreds than the thousands.
Meanwhile the protest leader Panusaya aka "Rung", has been hit with a fine of nearly 6 million baht. Her crime? Allegedly removing plants at the Democracy Monument. Panusaya and 5 other activists have been charged with removing plants placed as decoration around the monument, during a political rally back on February 13.
Various groups, including Amnesty International and the UN Human Rights Committee, continue to criticise the Thai government's use of the country's lèse majesté laws, with Amnesty International describing it as an attempt to silence dissent.
📱 Download our app on Android or iOS for instant updates on your mobile
📧 Subscribe to our daily email newsletter
👍 Like/Follow us on Facebook
🔔 Subscribe to or Join our YouTube channel for daily video updates
17 medical staff isolated due to dishonest Covid-19 patient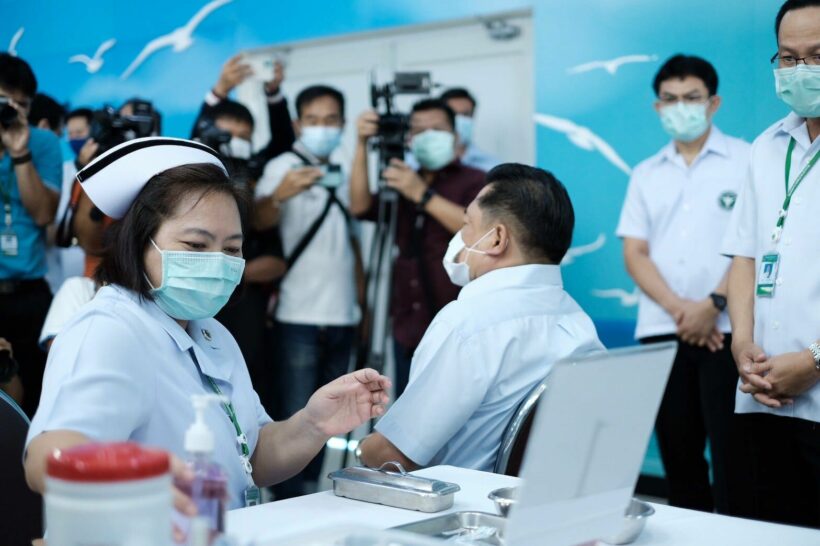 The already-strained Samut Prakan provincial hospital isolated 17 medical staff members today after a patient was dishonest about interaction with a Covid-19 infected patient. The patient was not forthcoming with details about coming in contact with a person that had been diagnosed with the Coronavirus. As a result, the hospital announced the mandatory quarantine of 17 medical staff members who had come in close proximity with the patient. In total, 2 doctors, 6 medics, and 9 nurses had to be relegated to self-isolation and removed from the hospitals already thinly spread staff roster.
In a Facebook post just 2 days ago, the hospital announced a sweeping reduction in services to handle the increase in Covid-19 infections. They announced they will no longer take customers from outside of the Samut Prakan province, nor are they doing any surgical procedures that are not urgent. They are advising only the sickest patients come to the hospital in person, offering a mail service with the post office to send medications and fill prescriptions.
Losing 17 medical staff members – doctors, nurses and medics – at such a crucial time will put a heavy strain on the hospital, especially if Covid-19 infections continue to spread. Samut Prakan province reported 27 local Covid-19 infections plus 13 more who transferred to Samut from other provinces, for a total of 40 new Coronavirus cases today alone.
The hospital reminded everyone that failure to disclose information about your Covid-19 infection or contact with any infected people or high-risk location can be prosecuted. Violators may be punished by up to 20,000 baht in fines and possible further legal action. The provincial hospital issued several requests for truthfulness on their Facebook page, stressing that dishonesty harms your own medical care, along with the much-needed medical staff, and only helps proliferate the spread of the Covid-19 pandemic's third wave in Thailand.
SOURCE: Thai PBS World
📱 Download our app on Android or iOS for instant updates on your mobile
📧 Subscribe to our daily email newsletter
👍 Like/Follow us on Facebook
🔔 Subscribe to or Join our YouTube channel for daily video updates
Thailand News Today | New record infection report, CCSA announces new restrictions | April 16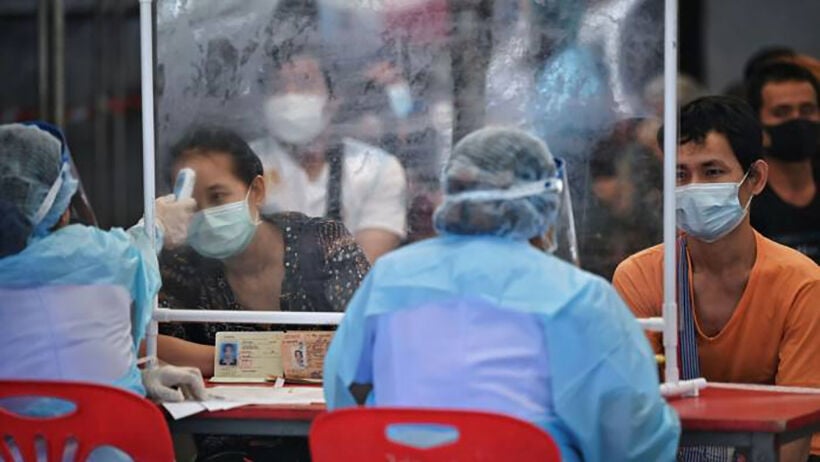 Here's the latest information about upgraded restrictions for Thai provinces HERE.
In today's episode we look at… CCSA announced 1,582 new Covid infections across Thailand in the past 24 hours, 18 provinces are to be designated as red zones, Thailand's mercurial Public Health Minister says he is "confident" the Kingdom can overcome the current Covid-19 crisis without imposing a nationwide lockdowns and insists the AstraZeneca vaccine will remain Thailand's primary Covid vaccine,
📱 Download our app on Android or iOS for instant updates on your mobile
📧 Subscribe to our daily email newsletter
👍 Like/Follow us on Facebook
🔔 Subscribe to or Join our YouTube channel for daily video updates
BREAKING: Covid Provincial restriction update – latest from the CCSA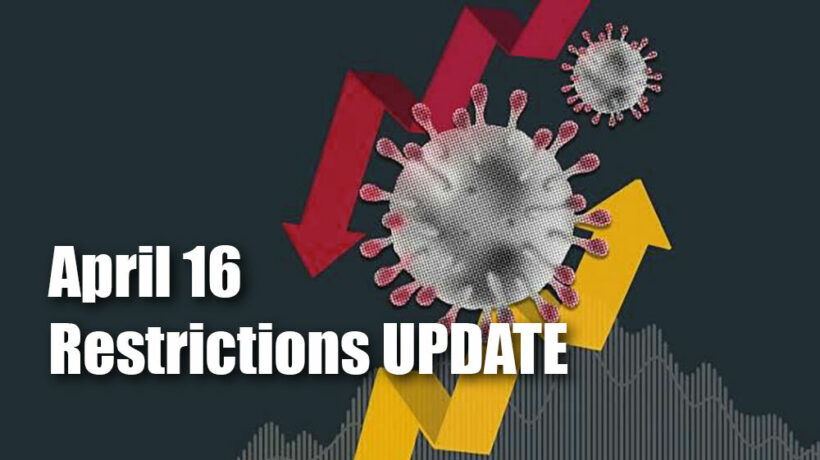 The CCSA has announced its updated restrictions for the 18 'red zone' provinces this afternoon. The new measures start on Sunday, April 18, and will be in place for at least 2 weeks. The restrictions are basically as we published earlier today. There are no 'lockdowns' or curfews despite a popular blogger jumping the gun and posting that there were curfews announced.
There's also no specific travel restrictions imposed although the PM 'discouraged' travel to Red Zone provinces. Provincial governors are still able to add their own local restrictions if they deem necessary.
Here are the key points as announced by the CCSA late this afternoon…
Across all provinces…
• Closures of schools, all nightlife venues, pubs and clubs, karaoke bars and massage parlours
(except for international schools running exams)
• No events can have more than 50 people
Provincial red zones (listed below)…
• Dining-in allowed until 9pm (but can do takeaway until 11pm)
• Serving of alcohol banned
• Shopping centres and fitness centres to be closed by 9pm
(Sporting fields, exercise places, gyms and fitness clubs must close at 9pm)
• Convenience stores, markets, supermarkets must be closed by 11pm
Everywhere else…
• Dining-in allowed until 11pm
• Serving of alcohol banned
• Shopping centres to be closed by 9pm
Additionally, people are being discouraged from traveling to "Red Zone" provinces. Businesses are also being 'asked' to allow staff to work from home or introduce other measures to minimise risk of infection at the workplace.
The Red Zone provinces are, in no apparent order…
1. Bangkok
2. Chiang Mai
3. Chon Buri
4. Samut Prakan
5. Prachuap Khiri Kan
6. Samut Sakhon
7. Pathum Thani
8. Nakhon Pathom
9. Phuket
10. Nakhon Ratchasima
11. Nonthaburi
12. Songkhla
13. Tak
14. Udon Thani
15. Suphanburi
16. Sa Kaeo
17. Rayong
18. Khon Kaen
Earlier today Public Health Minister Anutin Chanvirakul said that the government is "confident it can overcome the current Covid-19 crisis without needing to impose a nationwide lockdown".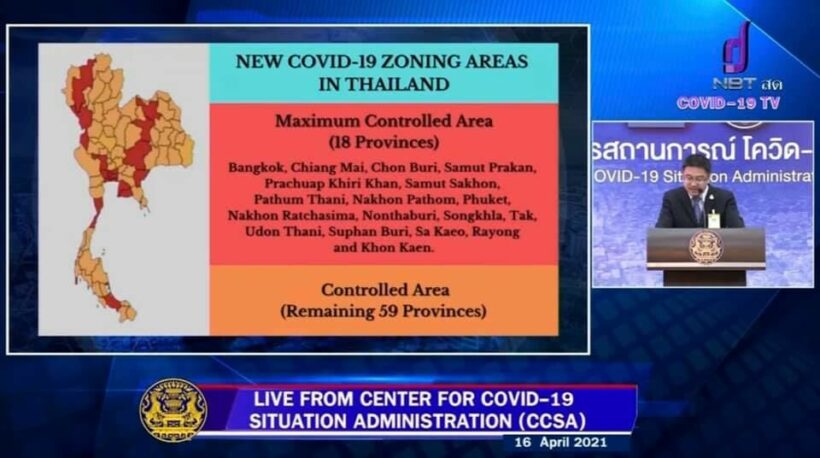 📱 Download our app on Android or iOS for instant updates on your mobile
📧 Subscribe to our daily email newsletter
👍 Like/Follow us on Facebook
🔔 Subscribe to or Join our YouTube channel for daily video updates