Thailand
Thailand News: Billboard kills worker; Senator shoots relative; Thai Olympics review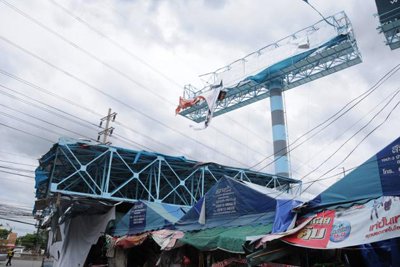 PHUKET MEDIA WATCH
– Thailand news compiled by Gazette editors for Phuket's international community
Fatality spurs BMA to check billboards
Phuket Gazette / The Nation
PHUKET: More than 900 billboards across Bangkok will be inspected, and if they are found to be unsafe they will be torn down, Bangkok Governor MR Sukhumbhand Paribatra said yesterday.
The measure was announced after Janya Suwannabut, a 50-year-old mason, was killed by a falling billboard in Bangkok on Sunday. Heavy rain and strong winds toppled the billboard.
Manaphan Wisutthiphong was the billboard's owner, police said.
The Bangkok Metropolitan Administration has filed a police report against the owner and will rush to discover the cause of the incident, Sukhumbhand said after his inspection of the scene.
He has ordered the city's 50 district offices to quickly to inspect all billboards, estimated at more than 900.
"If any of them are illegal, they will be demolished," the governor said.
BMA executives would have a meeting today to discuss the safety and strength standards of billboards as well as remedies against owners of illegal billboards, Sukhumbhand said. Officials will also aim to find ways to strengthen new and old billboards to prevent further accidents.
Sunday's toppled billboard had received a permit in 2004, but its owner was still "in the process of requesting" a document guaranteeing its strength.
The accident occurrred on Rama II Road in Chom Thong district
Janya suffered a fractured skull when the billboard struck her and was rushed to Bangpakok 9 International Hospital, where she later died from her injuries.
Senator charged over accidental shooting
Phuket Gazette / The Nation

PHUKET: A Mae Hong Son senator is facing charges of manslaughter following the accidental shooting of his wife.
The fatal accident took place during a family dinner for Mother's Day on Sunday at a resort in Phrae.
Mae Hong Son Senator Boonsong Kowawisarach, 56, was removing ammunition from his gun when it suddenly discharged, shooting 46-year-old Chanakarn Dedkhad in the abdomen.
She died on her way to hospital.
Wang Chin Police Station received the report on the shooting at 10pm on Sunday.
Police will submit a letter to the Senate president for permission to prosecute Boonsong, who is now protected by parliamentary immunity.
"At this point, he is charged with reckless action causing the death of another person," Phrae police chief Maj General Wisut Wongkham said.
Chanakarn's relatives said they have no intention of taking legal action against Boonsong because they believe it was an accident.
An informed source said Boonsong was partially paralysed and his condition could have contributed as a cause of the accident.
UPDATE: The Phuket Gazette contacted the Senator's office following conflicting reports of the incident in other media. It has now been confirmed that it was indeed his wife who was the victim of the shooting accident.
Thailand's performance at Olympics not so bad overall
Phuket Gazette / The Nation
PHUKET: After 17 action-packed days at the 30th Olympic Games in London, Thai athletes returned with just three medals – no golds – in a result below expectations and a far cry from their previous Games.
Thailand first participated in the quadrennial sports spectacle in the 1952 Helsinki Games and since then has won a total of 21 medals, mostly in boxing.
It was not until Atlanta in 1996 when featherweight Somluck Khamsing made his mark in the ring, and captured Thai hearts, by winning the country's first ever Olympic gold.
From then, until this year, Thai athletes returned from every Games with at least one gold. The 2004 Games in Athens was the most successful. Thais fought tooth and nail to win eight medals, including three gold.
However, things turned sour for Thailand in London this year, which saw only 37 athletes from 16 sports associations test their mettle in the biggest Games of all. The size of the Thai team was well down on the 51 athletes who went to Beijing four years ago.
Results were down too. Thais left the Chinese capital with heads high after winning four medals, two of them gold. In London, Thailand claimed three medals, one silver apiece from light-flyweight boxer Kaew Pongpra-yoon and weightlifter Pimsiri Sirikaew, plus a bronze from Chanatip Sonkham in taekwondo.
Many critics said Thai athletes' performances in London were below par. The national team was a mix of young talents, many of them teenagers, and former Olympic athletes, who, despite having valuable competitive experience, failed to make the grade in fierce battles against the world's best.
With the weight of past success at the Games becoming a heavy burden, the boxing team faced an uphill task to extend the country's proud record of winning at least a bronze from the sport in every Games.
Preparation was far from ideal. In fact Thai boxing had just come through one of its most turbulent periods, with a new national body set up following a row with the sport's ruling organisation, the International Boxing Association (AIBA). These distractions were cited as a major reason why Thailand had only three fighters in London, the smallest team in years to compete in an Olympics.
With the early exit of Sailom Ardee and Chatchai Butdee, only Kaew Pongprayoon, 32, from Kamphaeng Phet, was left to fly the flag. He doggedly forced his way into the men's 49kg final against three-time world champion Zou Shiming of China.
Despite losing the showdown, Kaew produced a display that encapsulated a rugged, fighting spirit against an accomplished fighter. His silver was hailed as remarkable success for Thai boxing, given the circumstances.
Meanwhile, seven weightlifters representing Thailand in London were also young. More experience and foreign exposure is required to make them physically stronger and better prepared for the future, when they will compete against stronger opponents.
In taekwondo, with in-form exponents such as the Guangzhou Asian Games silver medallist Pen-Ek Karaket, the Thai squad had high hopes of some glory. However, the draw played a key role in negating Thai prospects. An easy draw would have helped the Thai fighters but it was not to be. Pen-Ek and world champ Rangsiya Nisaisom put up good fights but suffered first-round losses. Only Chanatip saved pride by taking bronze.
Thailand set an initial target of two golds from the London Games, but Gen Yuthasak Sasiprapha, head of the Olympic Committee of Thailand (OCT), was convinced only one gold was within their reach.
His prediction was almost right, with Thai athletes returning with only two silver and a bronze after the Games ended on Sunday night.
Key sources agree that changes are needed to improve the country's prospects at the next Games in Brazil in 2016.
The OCT's vice president and secretary-general, Maj-General Charouck Arirachakaran, feels that sending a small number of athletes to the Olympics reduces their chance of winning gold medals.
"To increase our gold chances
— Phuket Gazette Editors