Thai man who found rare orange pearl arrested on drug charges
The Thai man who found what is believed to be a rare orange pearl worth millions of baht was arrested on drug charges. Turns out he's a suspect in a drug case. And with his multimillion baht find getting both national and international media attention, Thai police were able to track him down and arrest him at his home by a beach in Nakhon Si Thammarat.
37 year old Haschai Niyomdecha said he was called to the Koh Phet beach by a spirit who told him there was a gift waiting for him. Reports say he found the 7.6 gram pearl in either an oyster or a Melo Melo snail shell. If the orange pearl is a genuine Melo pearl, it could be worth 10 million baht.
Thai media says police had previously found 16,000 methamphetamine pills, known as yaba, by Haschai's home. After seeing reports that Haschai was back at his home, Thai police obtained a search warrant and raided the home, seizing drug paraphernalia. Haschai was arrested on charges of using and possessing crystal methamphetamine.
SOURCE: Thai Residents
Keep in contact with The Thaiger by following our Facebook page.
Never miss out on future posts by following The Thaiger.
Gunman kills mayoral candidate, injures 4 other municipal candidates at funeral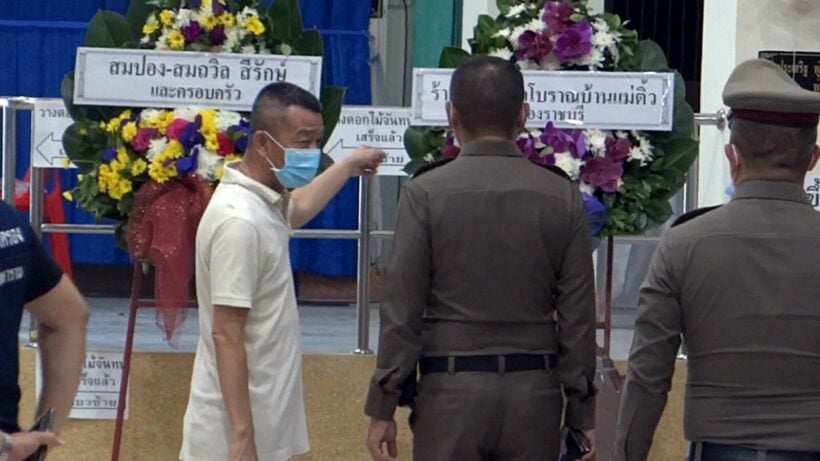 A gunman shot and killed a woman running for mayor and wounded 4 others at a funeral in Ratchaburi, a province west of Bangkok near the Myanmar border. Police say they suspect the shooting was politically motivated. Out of the 4 people injured, 3 were running in the March 28 municipal election while another was the kamnan, a government official of a tambon, which is a sub district.
The gunman is still at large, but police say they suspect the shooter is Wanchart Niamraksa, a member of the Ratchaburi provincial administration organisation.
The gunman opened fire just as the kamnan of tambon Don Sai, Yingpan Kanket, was lighting candles and incense sticks under a Buddha image to start the ceremony, witnesses say. Shots were fired from behind the main Buddha image at the temple's open prayer hall, witnesses say.
Bullets hit 5 people, including Yingpan who is in critical condition. Varaporn Niamraksa, who was running for mayor of the municipality, was shot and died at the hospital. Nakhon Wanpen, Somthawil Srirat and Monthien Jaitham, who are all running for the municipal council of tambon Don Sai, were shot.
Police found 2 spent .22 cartridges and a 11mm spent shell at the scene. The suspect faces charges of murder, attempted murder, carrying firearms and ammunition without permission and carrying them in public without a proper reason.
SOURCES: Nation Thailand | Bangkok Post
Keep in contact with The Thaiger by following our Facebook page.
Never miss out on future posts by following The Thaiger.
Police investigate reports of women's underwear stolen from Phuket homes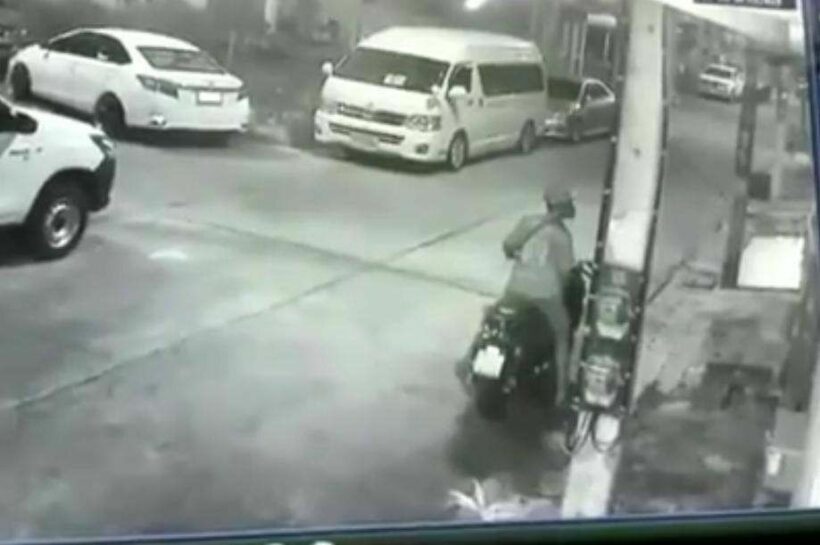 Police in Phuket are looking for a suspect who residents say has been stealing women's underwear. Surveillance camera footage from a resident's home shows a teenager driving through a neighbourhood, then stopping and stealing ladies panties that were hanging up to dry.
One resident told Phuket News that numerous residents in Thalang's Baan Lipon area have reported missing underwear.
"Recently neighbors have been reporting that many items of their underwear have been stolen. Many residents are worried about the man hovering around here trying to steal underwear."
A man told the Phuket News that his wife's underwear was stolen and he's now worried about his family's safety. Another resident says he's also concerned.
"As a resident in this area, I am worried about the safety of the local residents. Underwear has been stolen, something else could happen as well."
In a similar case back in October, a 46 year old man was arrested for allegedly breaking into homes in Ratchaburi and stealing women's underwear. Police says they seized 70 pairs of panties.
SOURCE: Phuket News
Keep in contact with The Thaiger by following our Facebook page.
Never miss out on future posts by following The Thaiger.
Suspect arrested in Hat Yai murder and rape of schoolgirl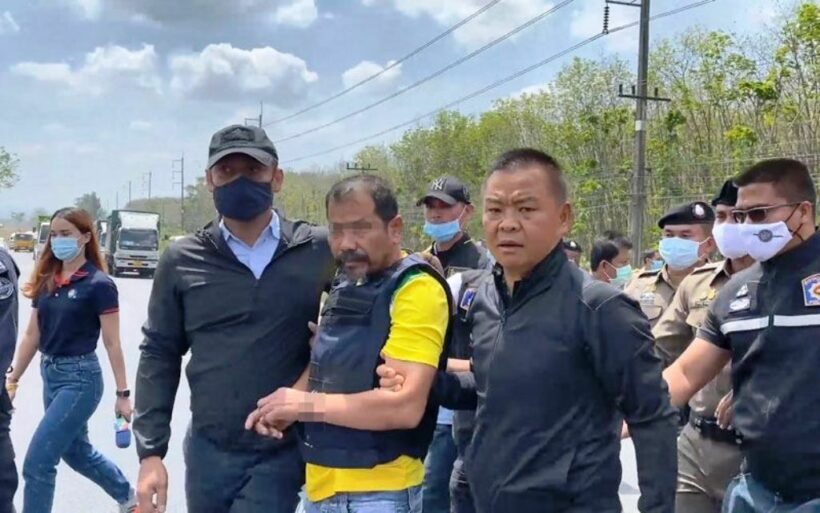 The suspect of a schoolgirl's disturbing rape and murder in Hat Yai is now under arrest. The alleged criminal, 49 year old Prathom Iadkhao, known as Bangmad Kongra, was already a convicted sex offender who spent 1 year in prison back in 2002. He was convicted of taking a young girl from her parents for lewd purposes in Songkhla.
Now, a top police officer in Songkhla province has given details of how the 15 year old girl on her motorbike was allegedly hit from behind by the suspect who then beat, robbed, raped and murdered her at around 12:30am last Saturday morning. Her body was found by police under her motorbike in a ditch in the middle of a local highway in Hat Yai.
Police tracked her last movements to a local petrol station where she filled her motorbike at 12:30 am approximately on Saturday morning. Prathom had pulled into the station just minutes before the girl arrived.
Prathom was arrested in the Kongra district of neighbouring Phattalung province, and was brought to the crime scene to stage a crime reenactment. Local residents were in tears with some being restrained by police from attacking the suspect.
Police say the suspect confessed to hitting the girl with his car, beating, raping, stealing and murdering her. His account matches the police's description of what happened along with his DNA matching DNA found under the victim's fingernails.
Prathom told police that when he saw the girl at the petrol station, he waited for her on the road and let her overtake him on her motorbike. Then, he rammed the girl's motorbike from behind sending her into the ditch. The suspect told police he pummelled her 3 times in the stomach before raping her and stealing 1,300 baht from her bag.
He then allegedly used a tyre wrench from his car to hit the girl on the head 2 or 3 times to kill her. Then, he used the girl's clothing to wipe off the semen from his body. He said he then put the motorbike on her body to make it look like a traffic accident.
Prathom has been charged with premeditated murder and rape of the girl as well as one count of theft.
SOURCE: Thai Examiner
Keep in contact with The Thaiger by following our Facebook page.
Never miss out on future posts by following The Thaiger.