Thai man finds rare orange pearl possibly worth millions of baht in Nakhon Si Thammarat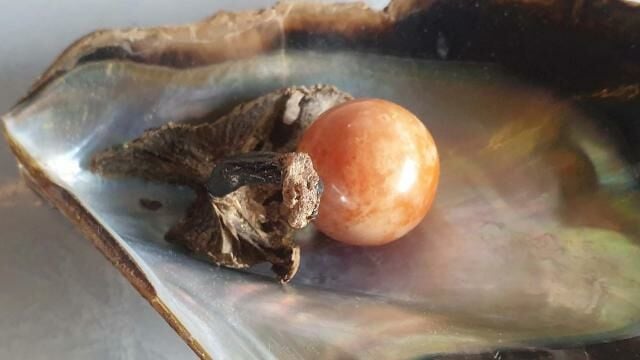 A Thai fisherman man found a 7.6 gram orange pearl that is supposedly worth millions of baht on a beach in Nakhon Si Thammarat. A potential buyer even plans to fly to Thailand and undergo a 14-day quarantine to see the pearl in person.
In the same province just a couple months ago, another Thai man struck it rich when he found a big load of whale vomit worth more than $4.2 million USD. Yes… whale vomit. The hardened bile is known as the more elegant name "ambergris." The so-called "floating gold" is so expensive because it's used as a fixative in perfume.
For Haschai Niyomdecha, who found the orange pearl, he says he went looking for pearls on Koh Phet beach after a calling from a spirit who, he says, was helping him out of poverty. Haschai, from the Isaan province Nakhon Ratchasima, says an old man with a long beard and dressed in white came to him the night before in his dreams and told him to visit the beach because there was a gift waiting for him.
When Haschai woke up, he went down to the beach. He walked along the coast and picked up 3 oysters, Thai media reports. He waited until he got home to open them. When he pried open an oyster, a large orange pearl. It appeared to be a marble and was about the same diameter as a 5 baht coin.
Media reports say the gem is a Melo pearl which is found in the Melo Melo sea snail rather than an oyster. However, Thai media reports the pearl was found in an oyster and photos show the pearl in an oyster shell.
Haschai has already gotten offers of 1 million baht and 5 million baht for the pearl. But Haschai has refused both offers and will check the authenticity. If the pearl is a genuine Melo pearl, then it's worth at least 10 million baht, Haschai says.
SOURCES: Thai Residents| Daily Mail
Keep in contact with The Thaiger by following our Facebook page.
Never miss out on future posts by following The Thaiger.
Samut Sakhon shrimp market, recent Covid-19 wave's epicentre, is back open and bustling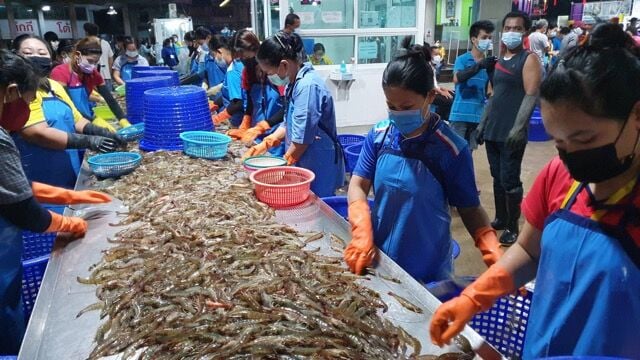 The Samut Sakhon seafood market, the epicentre of the recent wave of Covid-19 infections, has reopened. The Central Shrimp Market had been shut down, sealed off and sprayed down after hundreds of vendors, migrant workers and visitors were infected with the coronavirus. Now, 10 weeks later, the market at a fishing hub just southwest of Bangkok, is not only back open, it's bustling.
A waiting area now has rows sectioned off by plastic dividers to ensure social distancing. Those bringing fish to the market to sell must take a queue card and sit in the proper seat. The seafood will also be now sorted on a raised platform.
Market operators, vendors and customers are required to follow disease control measures. Screening points are set to check all vehicles entering the area including trucks delivering seafood as well as vendors and customers.
Workers are required to wear face masks, gloves, rubber boots and rubber aprons. Members of the market must have documents from a recent health screening.
SOURCE: Bangkok Post
Keep in contact with The Thaiger by following our Facebook page.
Never miss out on future posts by following The Thaiger.
CCSA Update: 80 new Covid-19 cases, active infections on a downward slope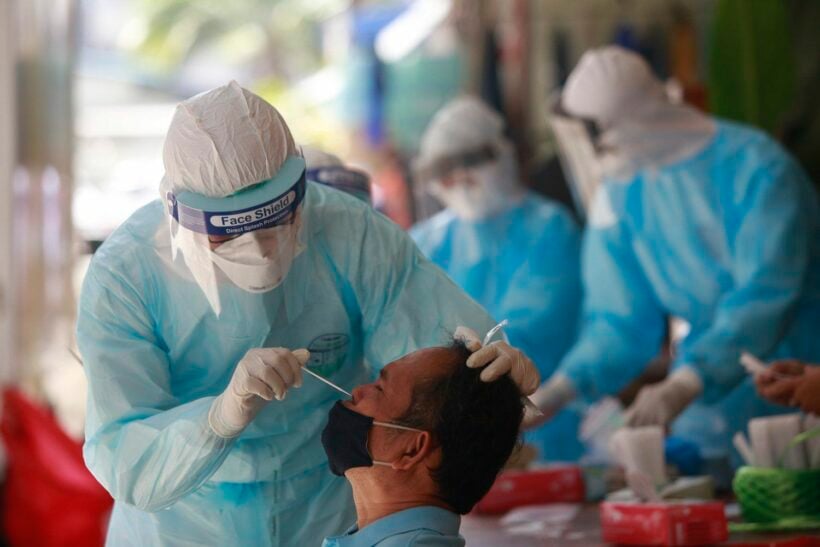 80 new Covid-19 cases were reported today in the Centre for Covid-19 Situation Administration's daily briefing while 142 new cases were reported on Saturday and Sunday. Since the start of the pandemic, Thailand has reported 26,031 coronavirus infections and 83 deaths.
There are currently 624 active Covid-19 infections, a record low for Thailand since the December outbreak at a Samut Sakhon seafood market. The number of active Covid-19 over the past month drastically dropped after health officials slowed down mass testing efforts in high risk areas.
Out of the 80 new cases reported today, 28 were exposed to the virus in areas considered to be at "high risk," including 19 in Samut Sakhon, 3 in Tak, 2 in Nakhon Pathom, 2 in Bangkok, 1 in Chon Buri and 1 in Ratchaburi.
36 cases were detected through proactive testing, including 35 cases in Pathum Thani and 1 in Nonthaburi.
The other 16 cases were detected in quarantine for those arriving to Thailand from overseas.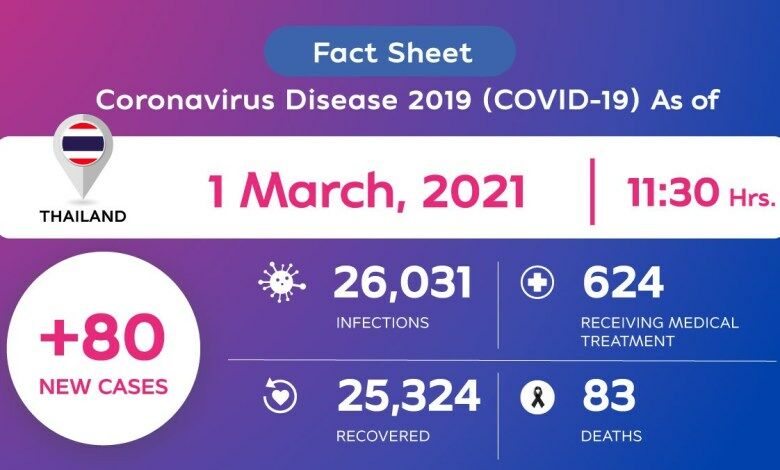 SOURCE: Nation Thailand
Keep in contact with The Thaiger by following our Facebook page.
Never miss out on future posts by following The Thaiger.
Police seize 920 kilograms of cannabis smuggled across the Mekong River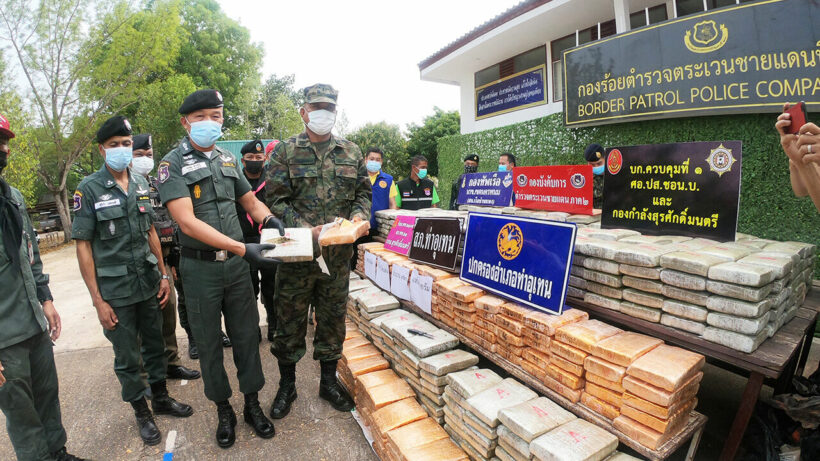 In a major bust on the Mekong River, notorious for drug smuggling, border patrol police seized 920 kilograms of dried, compacted cannabis from a boat along the Nakhon Pathom riverbank, bordering Laos.
Police were tipped off about a large shipment of drugs being trafficked across the Thai-Laos border. Police spotted a boat around 4am yesterday. When police moved in, men onboard the boat jumped onto a smaller boat and sped off. Police found 23 sacks filled with 1-kilogram packages of compressed cannabis.
In the recent months, police have seized more than 5 tonnes of cannabis. While the Thai government has been loosening measures on cannabis, allowing parts of the plant with low traces of the psychoactive component tetrahydrocannabinol, or THC, to be used in food and medicinal products, trafficking cannabis is still illegal. Cannabis with high amounts of THC is still classified as a Category 5 narcotic.
SOURCE:Bangkok Post
Keep in contact with The Thaiger by following our Facebook page.
Never miss out on future posts by following The Thaiger.