Tesco Lotus gets rid of single-use plastic bags. For one day.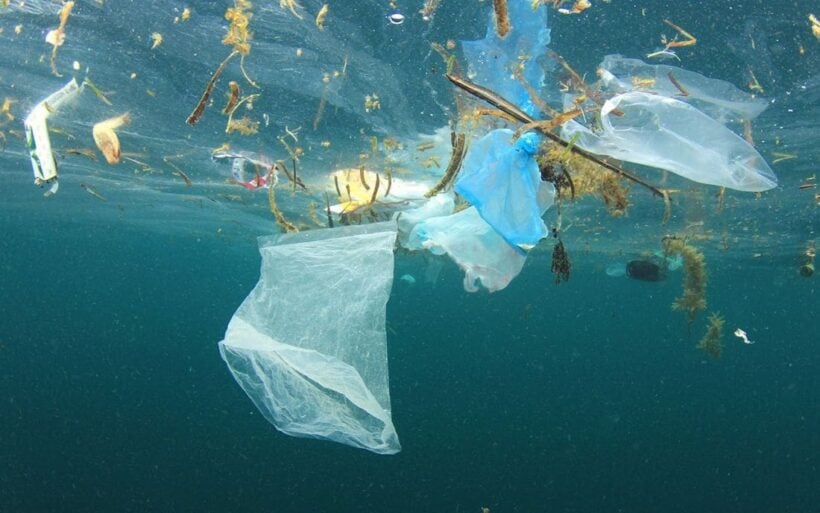 Tesco Lotus had netizens talking yesterday after the retail giant released plans to abolish plastic bags for shoppers. Except that it was a mistake.
It will only be for one day.
Khaosod English jumped onto the Tesco media release earlier yesterday with the news that Tesco Lotus were jumping on the no-plastic bandwagon with a major commitment to get rid of the ubiquitous plastic bags at check-outs, only later to publish this retraction…
Tesco Lotus has apologised for misstating its plans in a news release. The company later said it would only join the campaign for one day, not indefinitely as it was originally worded.
On December 4, Tesco Lotus will replace the plastic bags it offers customers with paper at all of its 2,000 stores around Thailand. The store will also encourage customers to bring their own cloth bags.
It's part of a one-day campaign by several department and convenience store chains on Thailand's Environment Day in an effort organised by the environmental ministry. Other participating firms include 7-Eleven, Central, Makro, Foodland, Robinson, Big C and Tops.
The hundreds of stories of dying marine life, massive toxic waste dumps and environmental degradation have made plastic bag use a pressing issue this year, with calls for commercial interests to show responsibility.
In the meantime, retailers and malls such as Tops, Robinson, Big C have been urged to offer points and discounts to customers who refuse plastic bags. It was announced in June that all national parks would ban plastic and styrofoam containers, though enforcement appears lacking.
So far the loud trumpeting of support for the reduction of single-use plastics by the nation's major retailers has resulted in a few photo-opportunities and 'words' with little changes to their actual policies.
Keep in contact with The Thaiger by following our Facebook page.
Never miss out on future posts by following The Thaiger.
Gambling crackdown continues, 400 slot machines seized in warehouse raid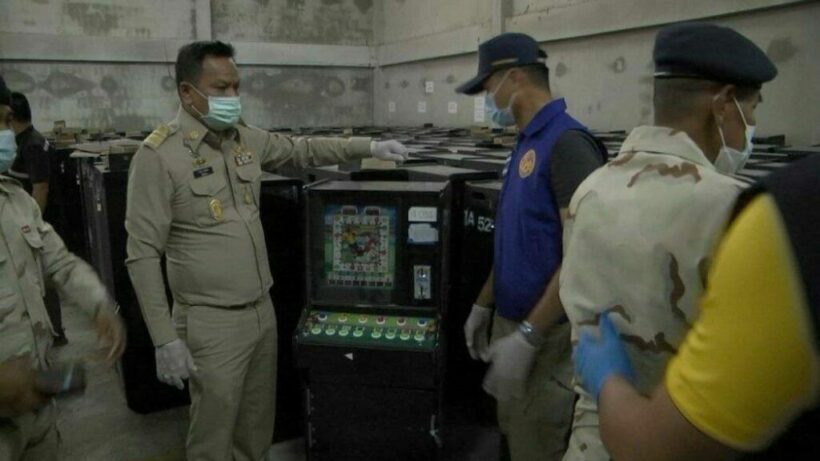 In a nationwide crackdown on gambling, police in the Isaan province Khon Kaen raided a warehouse and seized more than 400 slot machines.
Acting on a court warrant, police searched the warehouse in the Mueang district. The locks on the door had been changed and police had to break the locks to enter the warehouse. Inside, canvases covered 418 slot machines. Police say the machines were "plug and play" ready.
Officers say they believe the warehouse was linked to an illegal gambling den in the province. No arrests have been made and police are still investigating.
There have been numerous gambling-related busts and raids in recent weeks. A nationwide crackdown on gambling was launched after a cluster of Covid-19 cases was reported at a Rayong gambling den.
SOURCE: Nation Thailand
Catch up with the latest daily "Thailand News Today" here on The Thaiger.
Keep in contact with The Thaiger by following our Facebook page.
Never miss out on future posts by following The Thaiger.
Samut Sakhon governor remains on ventilator with serious lung infection after Covid-19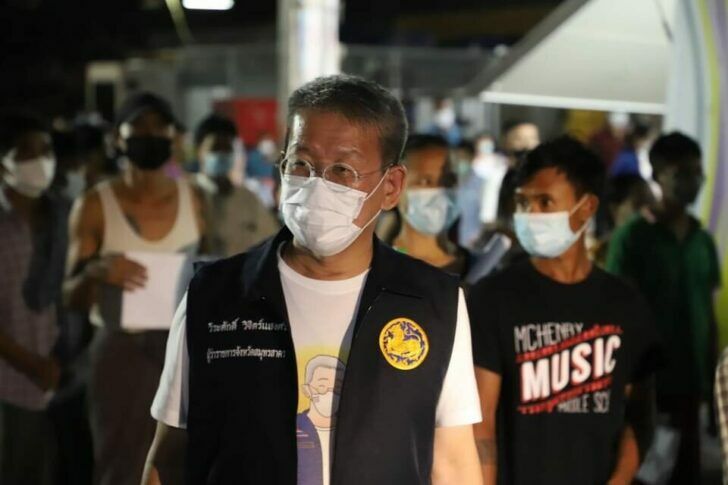 After nearly recovering from Covid-19, the Samut Sakhon governor was diagnosed with a bacterial infection in his lungs and now remains on a ventilator after nearly a month of the breathing treatment. Doctors are now doing hourly checks to monitor governor Verasak Vichitsangsri's condition.
While the 58 year old governor's Covid-19 infection has subsided, the virus negatively affected his lung function, doctors say. The bacterial infection is now destroying some of his lung tissue. Verasak is also diagnosed with cerebrovascular disease, which affects blood flow to the brain. The governor's brain function has been affected by the infection, according to dean of the Faculty of Medicine at Siriraj Hospital, Prasit Watanapa. He did not go into detail about how the brain function was affected.
"All we have to do is administer antibiotics and remove mucus as much as possible to reduce infection in the body. As for the work of the brain, there has been an effect because the governor is older and has underlying cerebrovascular disease. The medical team is doing their best. "
The bacterial infection was resistant to the first round of antibiotics and doctors are now trying another antibiotic, according Prasit. Doctors will monitor the governor's condition for the next 72 hours to see if his body responds to the medicine.
Verasak tested positive for Covid-19 last month reporting symptoms of a sore throat and cough. He was diagnosed with lung inflammation and put on a ventilator a few days later. Doctors treated him with the antiviral drug Favipiravir.
Last week, doctors announced Verasak's condition was improving and he would be taken off the ventilator.
SOURCE: Nation Thailand
Keep in contact with The Thaiger by following our Facebook page.
Never miss out on future posts by following The Thaiger.
Shoppers disgruntled as registration for co-payment scheme fills up in 10 minutes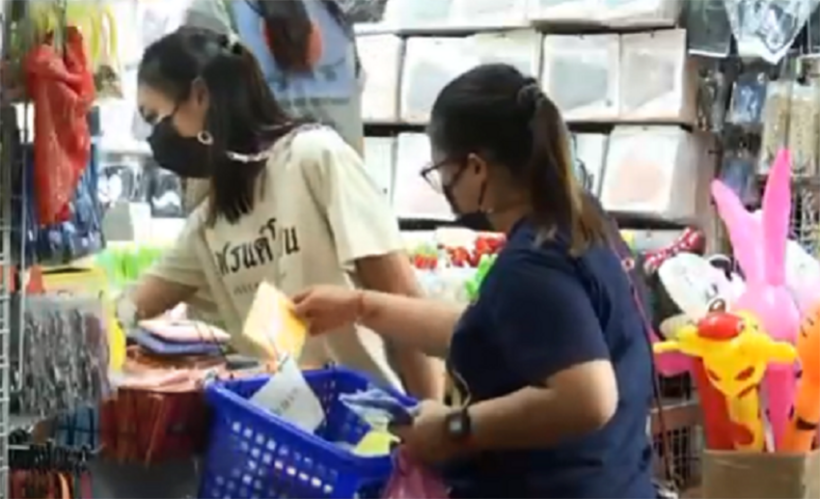 Social media users are up in arms after registration for the government's Kon La Khreung ("Let's Go Halves") co-payment scheme filled up within 10 minutes. The scheme, first introduced as an economic stimulus measure in the wake of the Covid-19 crisis, gives shoppers 50% off the purchase of everyday items, up to 150 baht a day and capped at 3,500 baht for the duration of the scheme.
The third phase of registration had a quota of 1.34 million users, but interested parties had to be quick. Having lost their chance to register, many disgruntled people took to social media to complain, with the hashtag #คนละครึ่งเฟส3 (#Let's Go Halves3) trending on Twitter.
Several netizens say they filled out the online registration form at exactly 6.01am but were then forced to wait for the one-time password to be delivered to their phones before they could complete the process. In many instances, by the time they received the OTP code, registration was full. Some say they had to wait over 5 minutes to receive the password, which caused them to miss the small window for registration.
According to a Nation Thailand report, one person has described the scheme as nothing more than a government PR stunt, pointing out that, despite being funded by taxpayers' money, only some people can avail of it.
SOURCE: Nation Thailand
Keep in contact with The Thaiger by following our Facebook page.
Never miss out on future posts by following The Thaiger.