Sightings of pink dolphins off coast of Nakhon Si Thammarat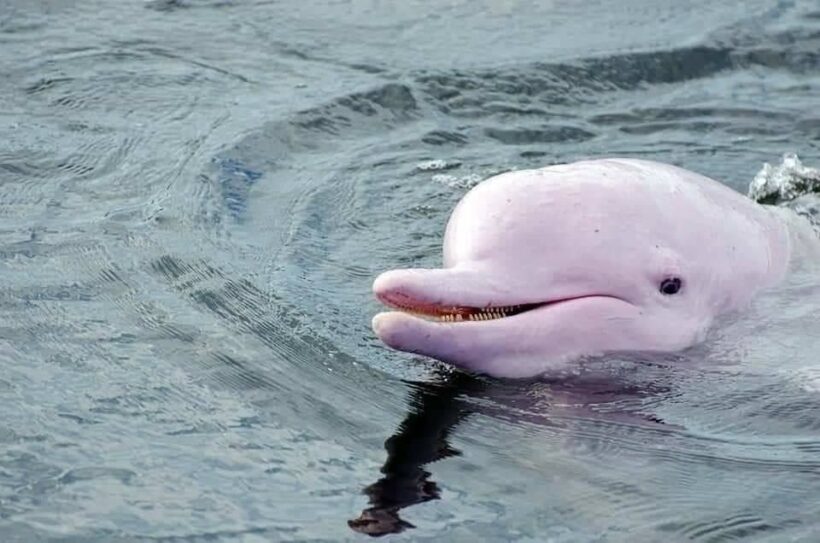 A pink dolphin has made our Sunday better with these photos in the Gulf of Thailand. The breed is quite famous for the Gulf waters off Khanom in Nakhon Si Thammarat, near Koh Samui.
According to the Department of Marine and Coastal Resources Conservation, there are around 60 dolphins living in the area. They can swim as fast as 37 kph, and come to the surface every five minutes to breathe.
Note from a tourist blogger about the famous local pink dolphins…
"Not that much is known about these pink dolphins who are a sub-species of white Chinese dolphins. It is thought there are around 2000 in the wild and around 150 in Thailand.
The dolphins were much bigger than dolphins I had seen before and at one point even came really close to the boat. We could hear them making noises through the blowholes and at one point even heard them 'squeak' to each other."
PHOTOS: คาเธ่ย์ หมี #NewshawkPhuket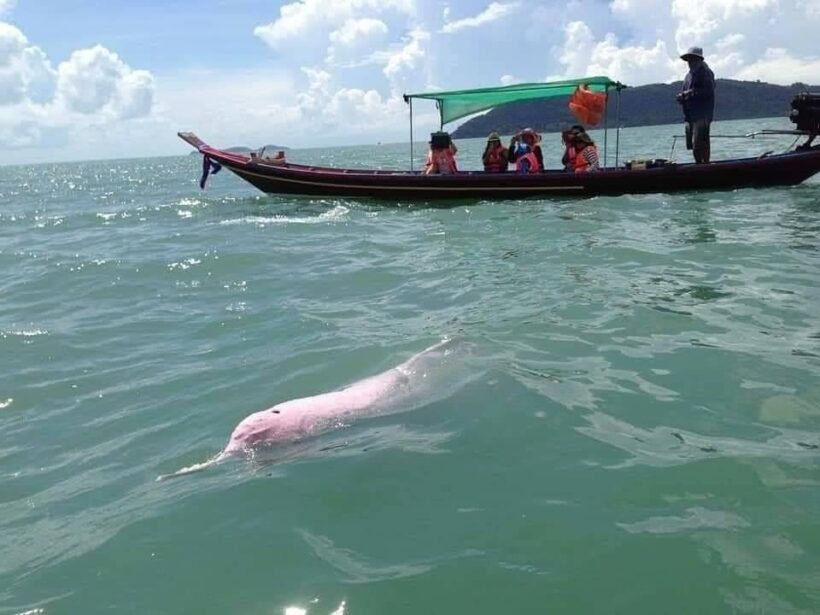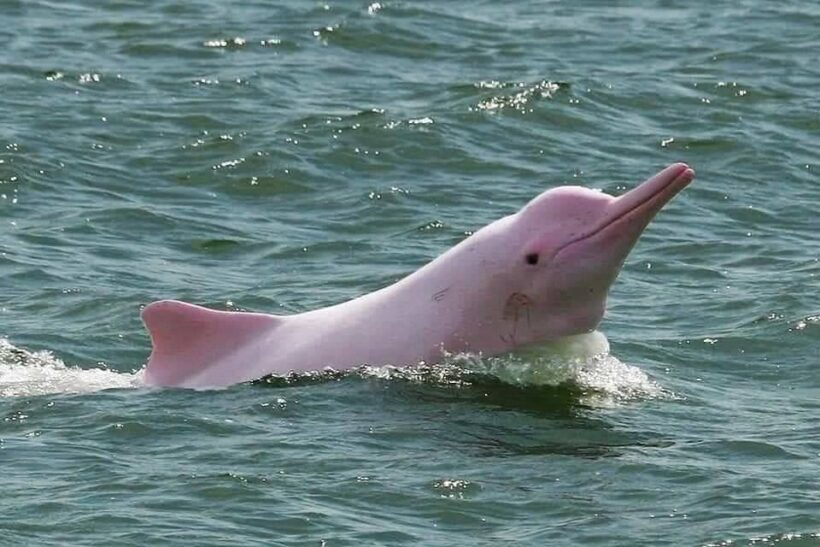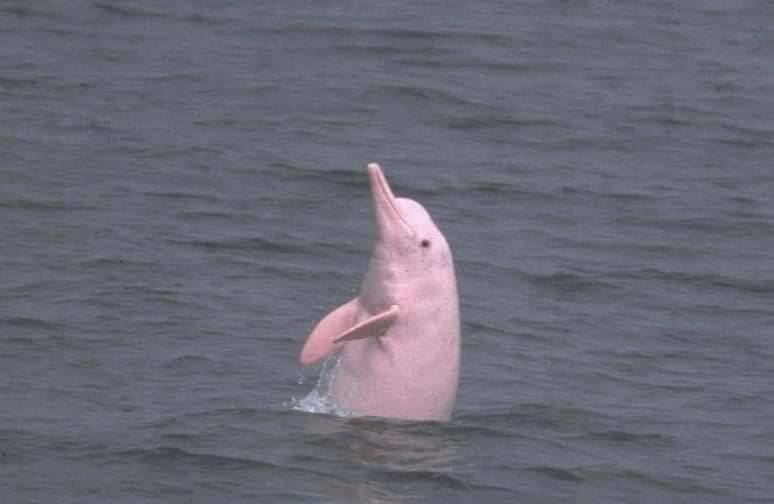 Keep in contact with The Thaiger by following our
Facebook page
.
Thai Cabinet approves same-sex marriage bill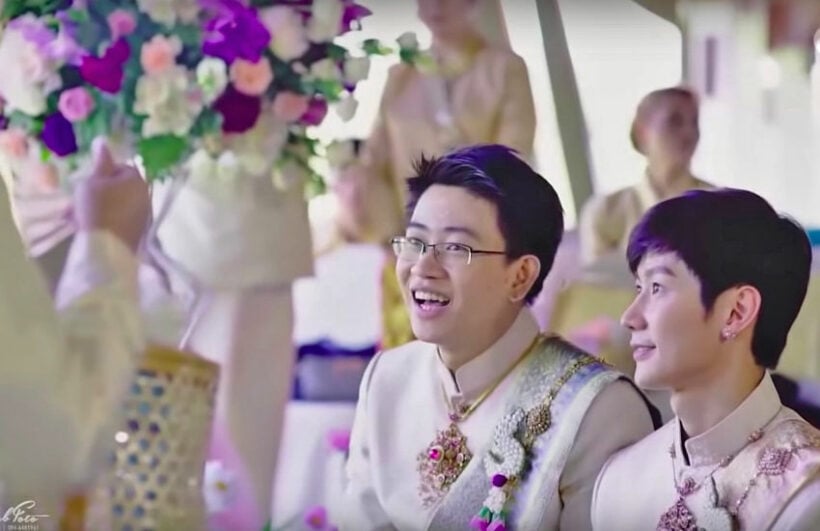 The Thai cabinet has today endorsed a bill allowing marriage registration of same-sex couples, as well as legal amendments to ensure same-sex couples have the same rights and privileges as opposite-sex couples. The bill and the amendment will now be put to a vote in the Thai parliament.
The government's deputy spokeswoman says the new Civil Partnership Bill and the amendment to the Civil and Commercial Code will "ensure fairness for people of all gender identification". The bill defines civil partners as couples born with the same sex. Marriage registration will be available to consenting same-sex couples who are at least 17 years old. One or both must be Thai.
"The Civil Partnership Bill is a milestone for Thai society in promoting equality among people of all genders… This strengthens the families of people with sexual diversity and is appropriate for the present social circumstances."
Minors who seek such marriage certification must have the consent of their parents, legal guardians or a court.
Spouses of civil partners will have the same legal rights as married husbands and wives, notably including with regard to personal and jointly-held property. Civil partners can adopt a child, or a partner can adopt an adoptive child of a spouse. When a partner dies, the survivor will have the same inheritance rights as conventional married couples under the Civil and Commercial Code. Sections of the code concerning married couples will also apply to civil partners.
The amended Civil and Commercial Code will prohibit a man or a woman from getting married if he or she already has a civil partner.
A man or a woman can face a divorce lawsuit if he or she treats someone else as a civil partner.
The Justice Ministry, which proposed the bill and the legal amendments, will monitor the effectiveness of the changes and plan other legal amendments to ensure compliance with those already enacted.
Keep in contact with The Thaiger by following our
Facebook page
.
What will happen to foreigners with expired visas after July 31?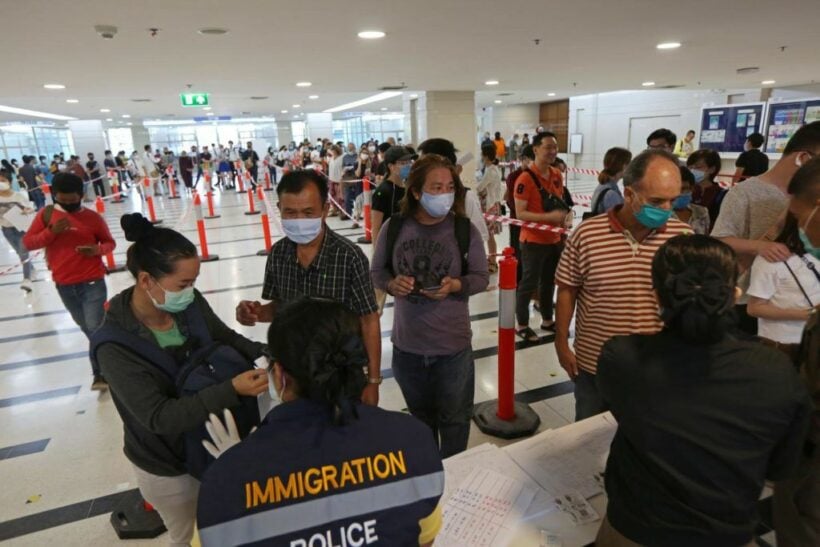 Before you read further, seeking a definitive answer, we don't have one.
But stranded foreigners, who have been able to stay in Thailand via a visa amnesty, have an approaching D-Day – July 31, 2020. This is the sunset of the current amnesty for foreigners who have, through no fault of their own, been stuck in Thailand whilst the borders have been closed. Whilst sitting out the Covid-19 outbreak in the pleasant Thai sunshine, the clock is ticking and the end of the amnesty is in sight.
Whilst there are now a few opportunities for foreigners to leave or return to Thailand, most are still unable either due to a lack of flights or closed borders in their home countries. At the time when the amnesty was announced, and the July 31 date set, it was hoped that the world would have opened back up. Whilst Thailand has largely got its Covid-19 house in order, much of the rest of the world is still battling through its first phase of the disease or coping with isolated spikes in new cases.
Thailand's land borders with Myanmar, Cambodia, Malaysia and Laos also remain officially closed to all foreigners unless they have permanent residency or permission from the Thai government to re-enter.
Even early talk of possible travel bubbles with a bespoke handful of low-risk countries appears to be on hold for now as Thailand continues to repatriate citizens and allow its first foreigners in under special conditions. Certainly the process of re-opening Thailand's borders is not going to allow all stranded foreigners to magically return home before July 31.
Now Thai immigration officials are battling with other government departments about how to deal with the tens of thousands of affected visitors who have been able to remain in Thailand until the end of July. It's a complex situation where individuals will have varying situations for Immigration to sort out. Even a quick trip across a land border to re-new a visa is unlikely under the current situation.
The existing amnesty allowed foreigners to remain in Thailand without any new paperwork, payments or additional reporting.
So what will happen to foreigners whose visas are long expired, after July 31?
The prospect of madness at Thai Immigration offices on August 1 is surely something on Thai Immigration officials' minds at the moment. Even the need to do 90 reporting has been put on hold until July 31, another possible headache for August 1.
An extension of the amnesty is likely but the current situation leaves tens of thousands of foreigners 'untracked', an anathema to Thai Immigration who have always made tracking of foreigners a hallmark of policy.
Short of actually expelling foreigners with expired visas, there will have to be some sort of system to either extend the current amnesty or find a way for foreigners to report their location, and possibly having to pay for another extension. Actually communicating any decision to affected foreigners will be a herculean task too.
With much of the visas processed by shuffling paper around busy offices, land checkpoints and airports, the actual tracking of the foreigners left in Thailand will be difficult.
Expect a decision in the next few weeks, and expect some sort of extension. But also expect that the gracious generosity of your hosts will not last forever. All foreigners with expired visas would be well advised to gather information about flights out of Thailand and to make contact with their country's Embassies and Consulates in Thailand to register their current whereabouts and keep track of the situation.
The Thaiger would warmly suggest that foreigners become aware of their options as the end of the current amnesty draws closer.
For locals, required to do 90 day reporting, it would also be advisable to visit your local immigration office before July 31, or report online (if you've registered), to avoid a crush on August 1.
The Thaiger will continue to follow this important story and report any formal announcements from Thai Immigration.
Keep in contact with The Thaiger by following our
Facebook page
.
Thai activist cries foul on government over US diplomat skirting quarantine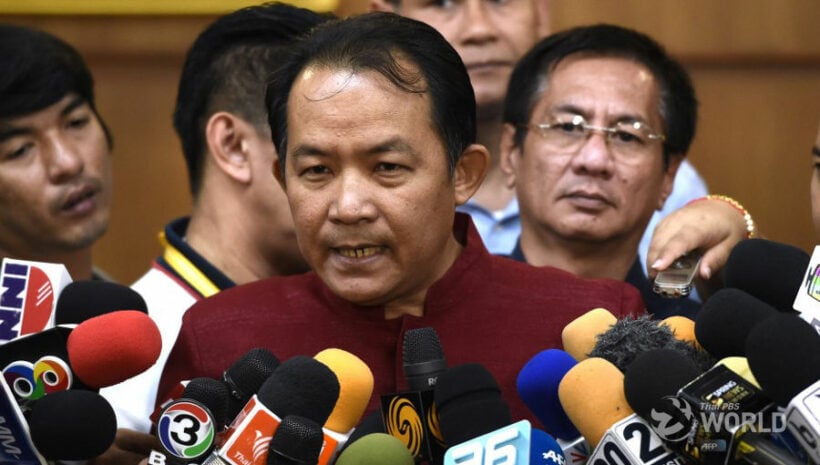 A transparency campaigner dubbed " Thailand's complainer-in-chief " is accusing the government of negligence for allowing the chief of the US army to enter the country without having to go through a mandatory quarantine upon arriving. Activist Srisuwan Janya says he fears the visit of a delegation from the country with by far the most Covid-19 cases (not to mention deaths) in the world might reintroduce the virus to the Thai population.
"The US army chief and his delegation will come from the country with the world's highest confirmed cases. We can't be certain whether they will be free of the virus. The government has taken the promised measures for granted, to exclusively subserve the delegation's benefit. " The delegation, led by the US army chief of staff James McConville, will visit Thailand tomorrow and Friday, but the government says they'll be required to follow strict measures.
Thailand began a partial border reopening on July 1 , in which limited groups of foreigners are permitted to fly into the country with the condition of a mandatory 14 day quarantine at specified facilities. However, exceptions are made for official guests and business people traveling on a special agreement with the government.
Srisuwan says he'll file a complaint tomorrow against the government's Center for Covid-19 Situation Administration at the Anti-Corruption Commission. He also criticized Deputy PM and Health Minister Anutin Charnvirakul for not wearing a mask and failing to observe social distancing measures during the Fourth of July party held by the US embassy in Bangkok on Saturday.
"The government has repeatedly preached to the people to not let their guard down, but it turns out that people within the government have the privilege to be spared from those measures."
American diplomats also did not wear masks in photos posted online by Anutin. The photos have since been deleted.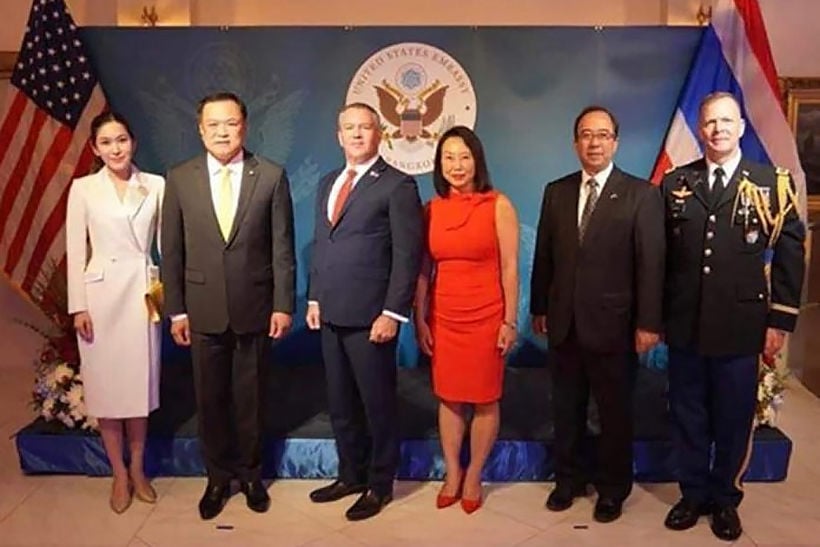 Taweesin Visanuyothin, the spokesman of the CCSD, says the Thai government could not impose a mandatory quarantine for the delegation because it is only a short visit. The US officials will still be required to take virus tests before and after their arrival in Thailand, and to wear masks at all times. Health and security officials will follow them throughout the trip and they won't be allowed to stray from the itinerary during their 2 day visit.
The American delegation will be the first group of foreigners to pay an official visit to Thailand on a special agreement during the pandemic. The group is scheduled to meet PM Prayut Chan-o-cha and the army chief Apirat Kongsompong on Thursday.
The US ambassador to Thailand, Michael George DeSombre recently paid a courtesy call on Deputy PM Somkid Jatusripitak at the beginning of his tour of the Kingdom. DeSombre chose not to wear a facemask during the visit.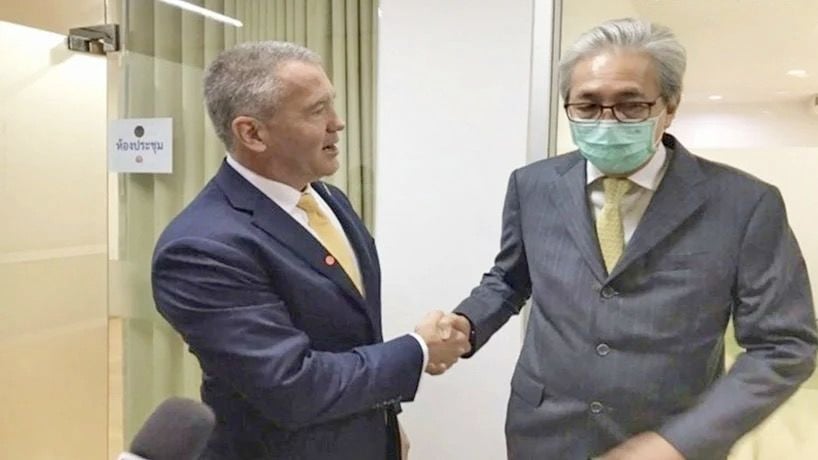 SOURCE: Khaosod English
Keep in contact with The Thaiger by following our
Facebook page
.