Sexual harassment is rife in Thailand – survey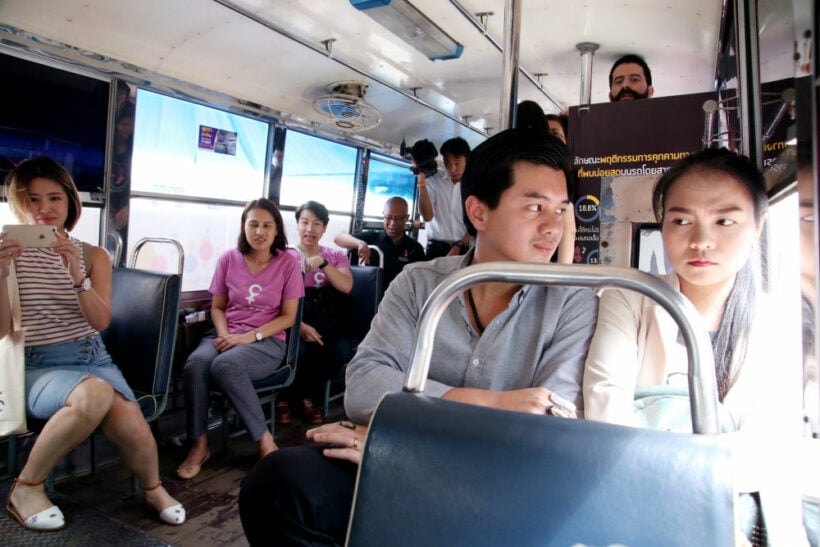 "I've seen women in Thailand begin to collectively speak out, sharing their stories and pushing back on this victim-blaming which previously has gone completely unchecked here."
A recent survey of 1,107 Thais found that 21% of respondents say they have experienced sexual harassment.
The survey was conducted by YouGov, a UK-based market research company.
Sexual assault was the most common form of sexual harassment reported by 44% of respondents. The second most common form of sexual harassment, 42%, was verbal comments of a sexual nature, and then "flashing" at 35 %.
According to the survey, most experiences of sexual harassment took place at public places, such in public transportation (27%), nightclubs (18%), schools and universities (17%).
While one in five Thais have experienced sexual harassment, more than half of the respondents (57%) told someone that they had been sexually harassed.
Of this percentage people are more likely to tell a friend (55%) or family members (39%) than the police (10%). Men were more likely to report their experiences of sexual harassment than women.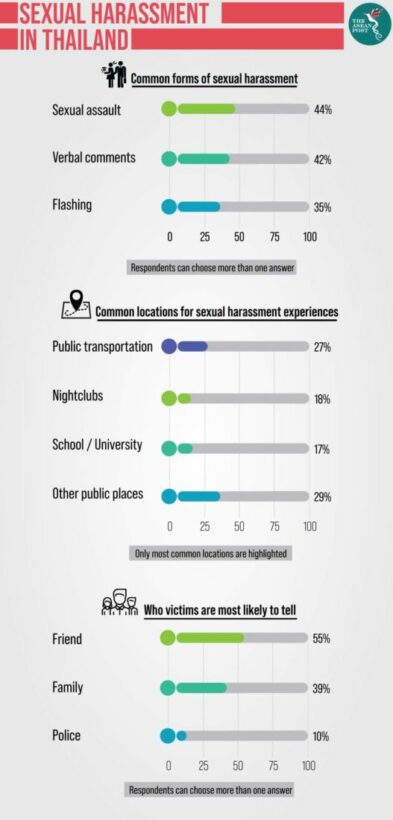 According to theaseanpost.com, a common recurring theme in several ASEAN countries is victim-blaming. Thailand, while being one of the more progressive member states in ASEAN is not free from this practice either.
In March 2018, authorities in Thailand came out telling women to avoid dressing in "sexy" outfits as they tried to prevent sexual harassment or sex assault cases during the popular Songkran festival, including the Thai PM Prayut Chan-o-cha.
Later, in November 2018, The Nation published an opinion piece in which the writer noted that no sexual harassment case in the country has ever gone to court, adding that legally, "sexual harassment doesn't exist in Thailand."
"To say sexual harassment doesn't exist in Thailand doesn't mean that improper behaviour doesn't occur. The term is a legal one, though, and in this country the public rarely hears about what happens. Reactions to the occasional incidents that do emerge are flash in the pan at most, and no case has ever gone to court.
A month after Thai authorities had urged women to not dress "sexy" to avoid sexual assault during Songkran, Thai model Cindy Sirinya Bishop began the popular #donttellmehowtodress hashtag.
"Our culture is not one that is so confrontational, and it's going to be a while until a woman comes out and names names or points a finger in the media. But over the last few months, I've seen women in Thailand begin to collectively speak out, sharing their stories and pushing back on this victim-blaming which previously has gone completely unchecked here."
SOURCE: YouGov | theaseanpost.com
Keep in contact with The Thaiger by following our
Facebook page
.


Are you considering a medical procedure abroad? With Thaiger Medical you can research hospitals and doctors, choose a destination in Thailand or abroad, and book an appointment today.

Read more headlines, reports & breaking news in Thailand. Or catch up on your Thailand news.

World body bans Thai weightlifters from Tokyo Olympics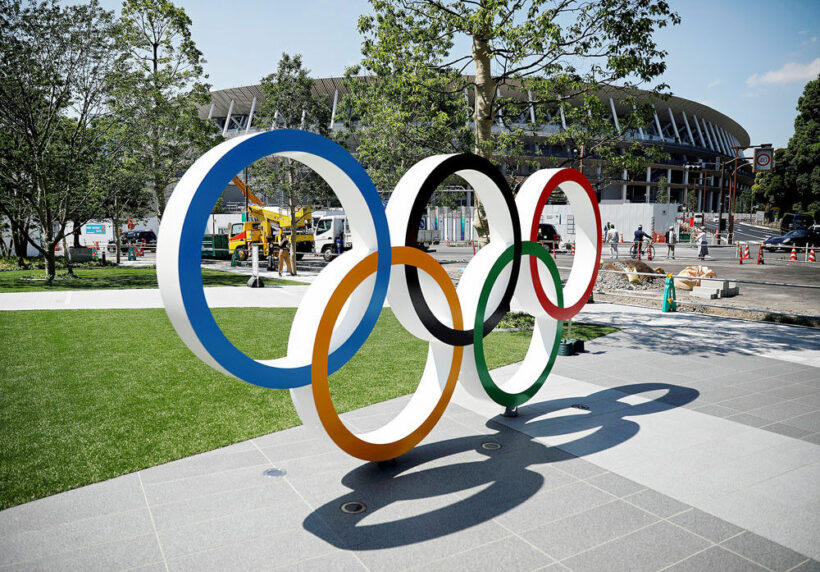 Thai and Malaysian weightlifters will be barred from the Tokyo Olympic Games, whenever they're held, over their high numbers of doping cases. The sport's governing body, the International Weightlifting Federation (IWF) said in a statement that the two countries' lifters can't compete at the Tokyo Games, regardless of the change of date.
Previously there had been some hope in Thailand that its lifters might get a chance to compete in a rescheduled Olympics if the local federation could clean up its act.
The 2020 Olympics have been postponed for a year due to the Covid-19 coronavirus outbreak, and are currently scheduled to be held from July 23 to Aug 8, 2021.
The Thai and Malaysian federations can appeal the ruling to the Court of Arbitration for Sport (CAS) within 21 days.
The IWF also imposed a 6.6 million baht fine on the Thailand Amateur Weightlifting Federation (TAWA), which has already voluntarily banned itself from all weightlifting, including the Tokyo Games, because of its recent doping record.
8 Thai lifters, including 2 reigning Olympic champions, tested positive for banned substances at last year's World Championships. They were caught when the IWF carried out extra tests in Germany, on samples taken last November from "target athletes" and using "the most sophisticated techniques available" at the World Championships in Turkmenistan.
Thailand was also involved in a doping scandal in 2011 when 7 teenage girls were banned after testing positive, 2 of whom are among the 6 new cases.
The IWF suspended TAWA's membership status for three years, saying the sanction would be reviewed on or after March 2022 if "Tawa can demonstrate it has met pre-defined criteria".
The Malaysian Weightlifting Federation has been suspended for a year. The the IWF says sanction will be reviewed and may be lifted as early as Oct 1.
SOURCE: Bangkok Post
Keep in contact with The Thaiger by following our
Facebook page
.
Thailand News Today – Friday, April 3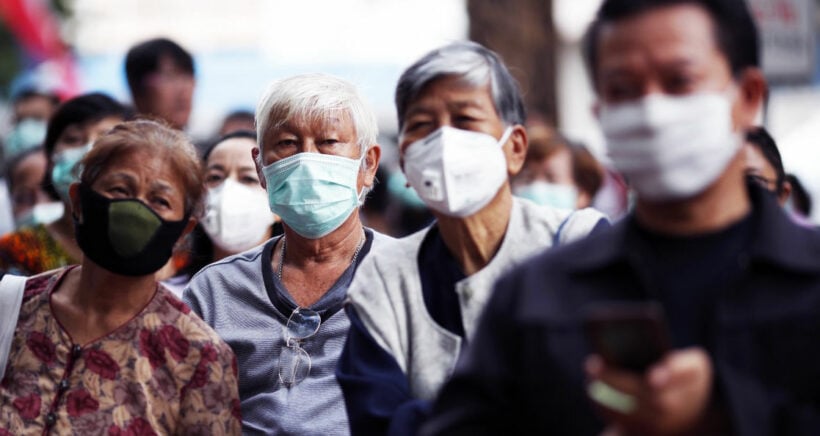 hosted by Tim Newton
103 new virus Covid-19 coronavirus cases confirmed, 4 more deaths
Covid-19 coronavirus cases in Thailand rose to 1,978 with 103 cases confirmed since yesterday, and another 4 patients dying. 
Today's number continues a the trend of new cases in Thailand levelling out. 104 new cases were reported yesterday, 120 on Wednesday, 127 on Tuesday.
Nationwide curfew goes into action from today
A nationwide curfew goes into effect in Thailand today.
The curfew will prohibit the public from leaving their homes between 10pm and 4am. All arrivals to Thailand are banned until April 15 while the government prepares quarantine centres and field hospitals.
Exemptions from the curfew include medical and banking personnel as well as logistics workers handling consumer goods, agricultural produce, pharmaceutical products, medical supplies and equipment, newspapers, fuel, post, products bound for export and imported goods. The latest details about that story at thethaiger.com
Massive pay cuts for Thai Airways staff
Beginning tomorrow, employees of Thai Airways will no longer work and will be forced to take a significant cut in pay – some up to 50%. The announcement comes after the airline said it would halt all flights due to the Covid-19 outbreak, which has forced many countries to close their borders. Airlines around the world are becoming increasingly grounded as international travel grinds to a halt.
All public transport in Bangkok to stop in time for nightly curfew
Public transport services in the Bangkok area will be closed from 9.30pm – 4am.
Normally service hours for the MRT, BTS and Airport Rail Link end at midnight but due to the current situation, services will cease at 9.30 so staff and passengers have time to make their way home.
Bus services will finish a bit earlier so buses can reach their depots by 9pm.
More than 100 horses dead as African Horse Sickness strikes Thailand
The director-general of the Department of Livestock Developmentsays more than 100 horses in Thailand have died from African Horse Sickness.
It's the country's first instance of the illness, which only affects animals. Latest government data show at least 131 horses have died across 4 provinces. The government has quarantined sick horses to limit the spread of the disease. Horses that contract the illness can have fevers of over 39C, difficulty breathing and bleeding in the eyes, according to officials.
Summer storm warning for 55 of Thailand's 76 provinces
Today Thailand's Meteorological Department warned people in 55 northern, north-eastern, central and eastern provinces to prepare for possible "strong winds and hail from summer storms", 
The storms are expected through to Sunday. This time of the year is also know as the bridging season between the annual dry and wet seasons. Weather can be unsettled in parts of Thailand during this time.
According to the forecast, the storms are due to the convergence of southerly and south-easterly winds, driven by the cold front over Vietnam, Laos and the South China Sea, and the increasingly warm weather over northern Thailand.
Keep in contact with The Thaiger by following our
Facebook page
.
Onerous new document requirements for stranded foreigners announced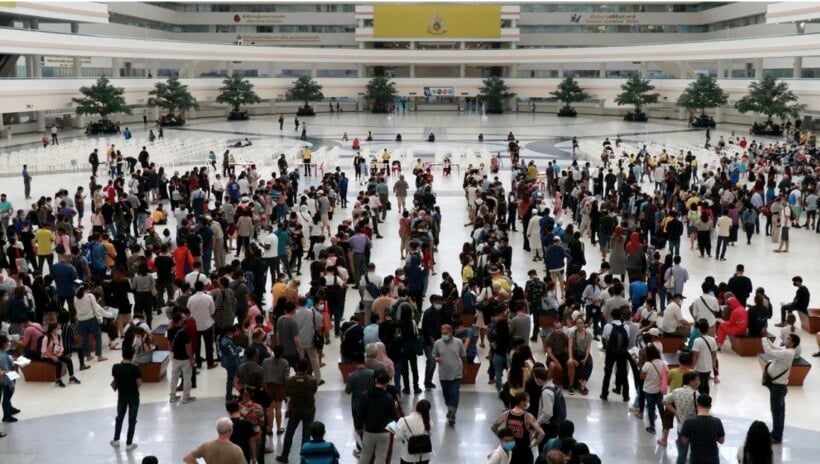 Thailand's Immigration Bureau announced yesterday that 9 separate documents are now required for foreigners stranded here to extend their stay for up to 30 days. New requirements include land deeds, rental contracts, even selfies of foreigners at their accommodations, even as scenes of chaos and massive queues at immigration continue unabated. A Thai Immigration spokesman defended the inconvenience on the grounds of "national security."
Countless long queues have been packing immigration offices around Thailand as foreigners scramble to sort out their visa situation and apply for extensions to avoid overstays. The long queues, many in stinking hot conditions around the country at the moment, are putting Thai immigration staff, and the applicants, in a dangerous NON social distancing situation.
Be aware that the same requirements may not be required at every immigration office on every day as the situation remains fluid and immigration officials are working hard to process all the paperwork and adapt to the changes in rules.
"Indeed, we are requiring more documents than usual because there are those who want to exploit the opportunity. We are doing our best to provide the best service, but bearing in mind that national security is our utmost priority."
The new rules were brought to public attention in a photo posted yesterday by longtime British expat Richard Barrow.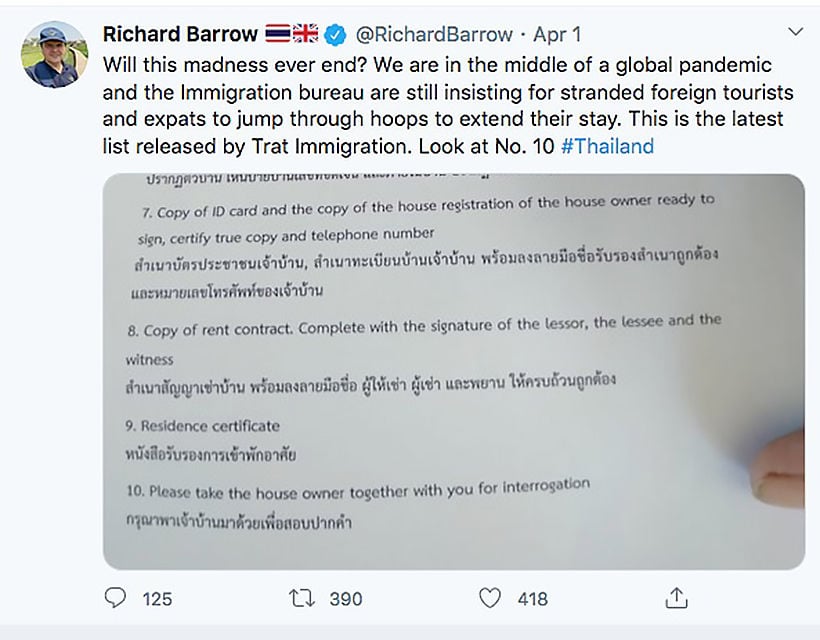 Apart from the usual TM7 application form, copies of passports, and applicants' photos, the new rules require a certificate from their respective embassies, a copy of a rental contract, a document confirming their stay at the accommodation, a copy of the landlord's ID card and house registration, and a map showing the location of their residence.
The landlord must accompany the applicant in person when submitting the documents (!!!??###!!!???) The applicant must also provide at least four photos of themselves at the accomodation, preferably showing the house or apartment number, to prove their residency.
The spokesman said these new regulations are "in accordance with immigration protocols."
Speaking by phone, the spokesman also shot down news reports that the Cabinet has approved automatic visa extensions for foreign tourists.
"In fact, the matter is still being deliberated."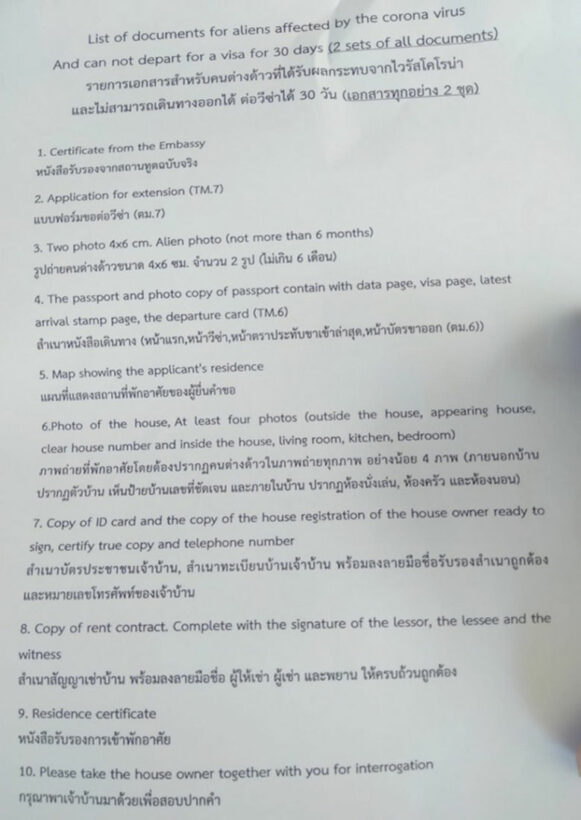 SOURCE: Khaosod English | Twitter/Richard Barrow
Keep in contact with The Thaiger by following our
Facebook page
.