Safari park in Thailand responds to bungee cord incident that nearly killed Hong Kong tourist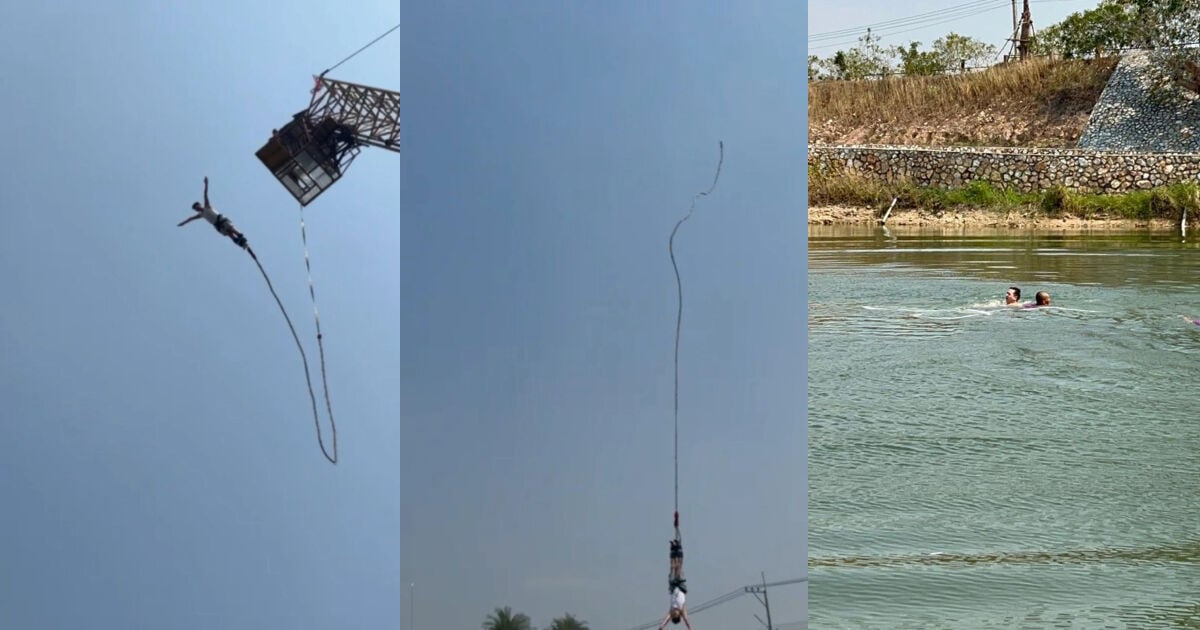 UPDATE
Today, staff from Chang Thai Thappraya Safari Park in Pattaya, Chon Buri province, eastern Thailand, commented on the broken bungee cord incident that nearly killed a tourist from Hong Kong last month.
The bungee jump operator, 41 year old Natthaphon Yokcharoen, took reporters to see the scene of the incident, a platform about 30 metres high above a lake.
Nattaphon said that all bungee jumpers are required to sign a document before jumping and staff demonstrate how it's done before tourists take the leap.
KhaoSod reports that Nattahphon said…
"That day, tourists came bungee jumping and there was an accident. The cord snapped and a tourist fell into the water. We took him straight to a private hospital and the doctor said he was not injured whatsoever, as stated in the medical certificate he received from the hospital.
"I asked the doctor whether it was safe for the tourist to fly out of the country, and the doctor said there was no problem.
"Then, I spoke to the tourists and the accounting department and asked them to provide compensation until the tourist was satisfied. At that time, the tourist was okay with the compensation that we offered.
"Thappraya Safari has been open for seven years and nothing like this has ever happened. All of our equipment is licensed. I would like to apologise for this incident."
It appears that Natthaphon didn't address the tourists' lung infection, trips to the hospital upon returning to Hong Kong, or the emotional damage caused by narrowly escaping death.
Chang Thai Thapparaya Safari is yet to release a formal statement on the matter.
ORIGINAL STORY: Hong Kong tourist narrowly survives bungee cord snapping midair in Thailand
Distraught onlookers thought the moment a Hong Kong tourist's bungee cord snapped after he leapt from a height of ten storeys in Pattaya, Thailand, would surely send him plummeting to his death. But, he survived.
One of Mike's colleagues went first and had a blast, and Mike was up next, raring to go. The staff tied the bungee cord to mike's feet and shuffled him off the top of the crane.
Mike flew with his arms outstretched for 30 metres before, around five metres above the water, the rope tied around his ankle snapped – shooting him down to the bottom of the lake below.
Staff scrambled to help Mike who blacked out under the water. Moments later, Mike resurfaced. He regained consciousness and swam up to the surface himself.
The injured tourist told HK01 that the pain he felt was so intense that he was dizzy.
He was pulled from the water and rushed to the hospital but miraculously did not require any surgery or even hospitalisation.
Having hit the water first, Mike's armpit lost an entire layer of skin. His legs were bruised, his left eye was red and swollen, and his body ached all over. But his organs were intact.
Doctors said he was "fine" and sent him on his way with some painkillers without even cleaning or bandaging his wounds.
Only 10,000 baht compensation
Once Mike was feeling better, he emailed the bungee jumping park to demand compensation for nearly dying.
The park only offered Mike a refund of 2,000 baht for his ticket and to pay for his immediate medical expenses which cost only 8,000 baht.
Mike was obviously offended at the offer and didn't sign the document.
Upon returning to Hong Kong, Mike underwent a CT scan, MRI and X-ray and was also treated for a lung infection – either acquired from the concussion or accidentally swallowing dirty Pattaya lake water.
He was in the hospital for three days in Hong Kong, racking up HK$50,000 (220,000 baht) in medical bills. Mike was responsible, unlike hundreds of other travellers in Thailand, and had taken out travel insurance, so luckily he didn't have to fork out the money.
Mike keeps emailing the bungee company to no avail, so he's tried contacting the Tourism Authority of Thailand to ask for help. They didn't reply either, said Mike.
The incident happened during a work trip to Thailand in February and around one month later he still hasn't received any compensation or even a reply.
In an email, Mike said…
"My friends and I have suffered losses due to the accident, including changes to our travel plans, my injury and my suffering, and the time and income lost from constant check-ups and treatments after returning to Hong Kong.
"I have declined the park's proposed compensation plan, as it is unfair to me. If the accident had been slightly more severe, I could have lost my life. After the accident, I discovered that a similar accident has been happened in the same park before already.
"I believe the park's irresponsible attitude towards visitors is unacceptable, safety is the most critical concern of every visitor."

Pattaya News
Thailand News
Tourism News

Join the conversation and have your say on Thailand news published on The Thaiger.
Thaiger Talk is our new Thaiger Community where you can join the discussion on everything happening in Thailand right now.
Please note that articles are not posted to the forum instantly and can take up to 20 min before being visible. Click for more information and the Thaiger Talk Guidelines.